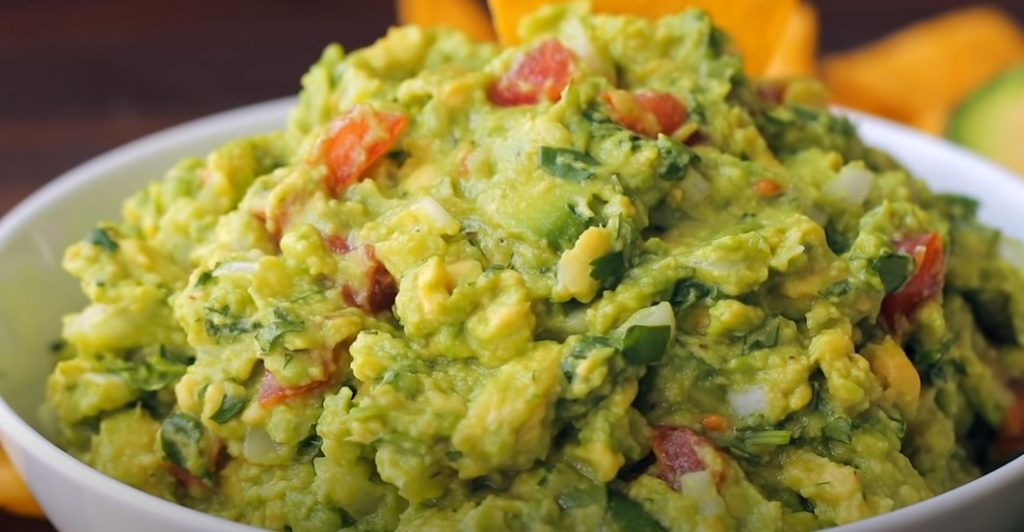 Spicy Three-Chile Guacamole Recipe
How To Make Spicy Three-Chile Guacamole
Add a kick to your snack with this three-chile guacamole. It's made with grilled peppers, onion, and cilantro tossed with lemon juice.
Ingredients
2

poblano peppers,

(approx. 6-inch long)

4

serrano peppers,

(3 to 4-inch long)

2

jalapeno peppers,

(3 to 4-inch long)

4

ripe avocados

1½

tsp

lime juice

¼

cup

red onion,

diced

¼

cup

cilantro,

chopped

1

tsp

ground cumin

¾

tsp

kosher salt
Instructions
Set the oven's broiler or the grill's searing compartment to high. Roast the peppers for 7 to 8 minutes until the skins are charred and blistered, turning the peppers as they begin to shake, and the seeds inside make snapping noises.

Once the peppers have been charred, remove them from the heat. Put the peppers into a shallow dish or bowl and cover them with a towel to steam.

After the peppers steam, their skins are easy to remove. Use the back of the knife to scrape the charred, papery skins from the peppers, then discard.

Once the skins have been removed, slice off the stem end of each pepper. Cut the poblano and jalapeños in half lengthwise, then scrape away the white membrane and the seeds with the backside of the knife. (This helps prevent scraping away valuable pepper flesh).

Because serrano peppers are so skinny, rather than slice them in half, use the back of the knife blade and drag it down the length of the pepper to push the seeds out from the cut end.

Dice the peppers into ¼-inch pieces.

Cut the avocados in half and remove, then discard the pits. Scoop the avocado flesh into the mixing bowl and use a fork or potato masher to smash the avocado into a semi-chunky paste.

Gently stir in the lime juice to help delay the browning of the avocado. Try to avoid stirring too much as it will break up the avocado.

Fold in the chiles, red onion, cilantro, cumin, and salt until the ingredients are well incorporated. Taste the guacamole and adjust the salt to preference.

Press a piece of plastic wrap against the surface of the guacamole and cover the bowl with a lid. Refrigerate the guacamole for at least 15 minutes to allow the flavors of the chiles and the cumin to meld and deepen.

Enjoy the guacamole within 3 days. Store leftovers covered in the refrigerator. If the guacamole browns, scrape off the brown layer and discard before serving.
Nutrition
Calories: 

227.51kcal

Fat: 

19.80g

Saturated Fat: 

2.87g

Monounsaturated Fat: 

13.19g

Polyunsaturated Fat: 

2.48g

Carbohydrates: 

14.34g

Fiber: 

9.66g

Sugar: 

2.32g

Protein: 

3.25g

Sodium: 

247.34mg

Calcium: 

25.35mg

Potassium: 

745.89mg

Iron: 

1.22mg

Vitamin A: 

25.16µg

Vitamin C: 

58.22mg