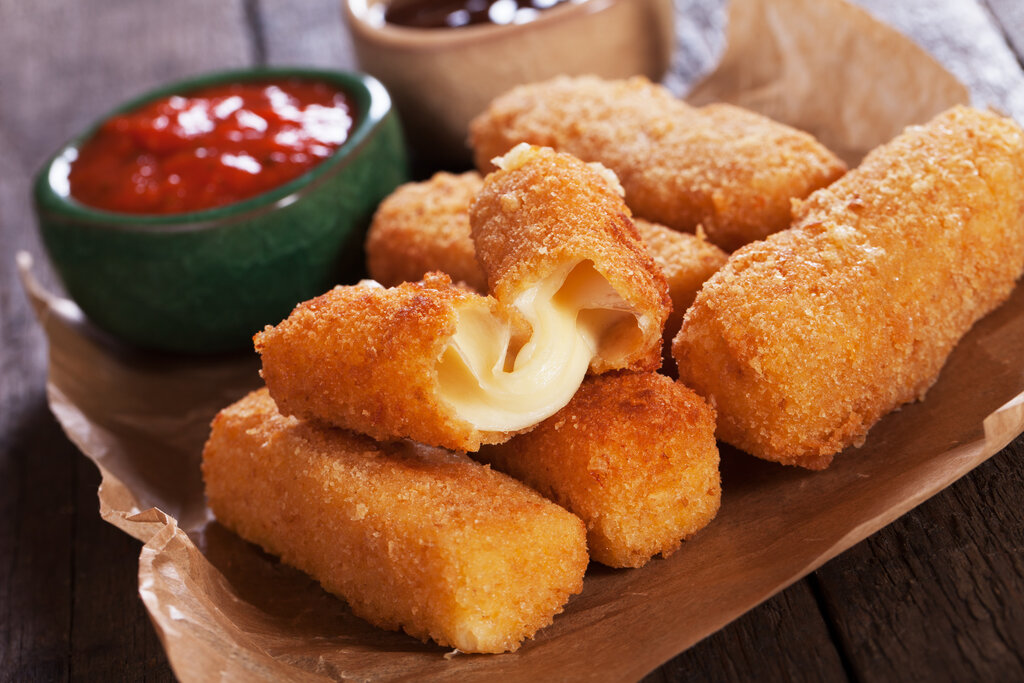 Fried Mozzarella Recipe
Fried mozzarella sticks are my go-to cheese appetizers at home. It's so addicting to munch on each of these crispy fried cheese sticks, especially when there's a delicious on the side for dipping. I always make these whenever I have guests or relatives coming over since it's very easy to make. This homemade fried mozzarella cheese stick recipe is the perfect make-ahead appetizer since they keep well in the refrigerator.
That's why I'm sharing this recipe so that you can also have a prepared and ready-to-serve appetizer on hand. You don't need to buy those premade mozzarella sticks. These homemade cheese sticks taste a lot better when they're freshly made and fried. It's similar to fried mozzarella balls. The only difference is the shape since I used packaged mozzarella cheese sticks for this recipe. Then, I started coating each cheese stick with egg wash, panko bread crumbs, and then flour with cornstarch so it holds everything together.
Instead of a frying pan, I used a large saucepan to deep fry the coated mozzarella sticks. Make sure to maintain the cooking oil temperature so that it doesn't burn or unevenly fry the breaded mozzarella cheese sticks. If the temperature is too hot, the mozzarella cheese inside will leak, so avoid overcooking. That's why deep frying these mozzarella sticks is better than pan frying them. Aside from that, don't overcrowd the pan when frying so that it doesn't stick with each other.
After a few minutes, the mozzarella sticks were golden brown and crispy so I transferred them to the cooling rack to remove the excess oil. I made a lot of fried mozzarella this time so I shared them with some of my friends. I served it with a marinara sauce on the side, and also garnished a bit of parmesan cheese and fresh basil for added herbal notes. And, of course, it also makes it a bit more appetizing.
So, if you're looking for recipes with mozzarella, these tasty fried mozzarella sticks are definitely worth a try. I had a delightful time eating these fried mozzarella sticks, and thoroughly enjoyed the gooey melting cheese with every bite. They were so good that they had me munching while I watched a movie. I packed some of the uncooked leftovers and stored them in the refrigerator so that I could make more the next day.
How To Make How To Make Fried Mozzarella
Enjoy a gooey cheese surprise in every bite with this crispy fried mozzarella cheese sticks recipe. Serve alongside a tasty marinara sauce.
Ingredients
2

eggs,

beaten

¼

cup

water

1½

cup

panko bread crumbs

½

tsp

garlic salt

⅔

cup

all-purpose flour

⅓

cup

cornstarch

1

qt

oil,

for deep frying

1

pkg

mozzarella cheese sticks,

(16 ounce package), or fresh mozzarella slices

grated parmesan,

for dusting, optional

fresh basil,

chopped, for garnish, optional
To Serve:
marinara sauce,

or alfredo sauce
Instructions
Line up three bowls to make a breading station. In a small bowl, mix together the eggs and water. For the second medium bowl, mix the bread crumbs and garlic salt. In the last bowl, blend the flour and cornstarch.

In a large heavy saucepan, heat the oil to 365 degrees F.

One at a time, coat each mozzarella stick in the flour mixture, then the egg wash mixture, then in the panko bread crumbs and finally into the oil. Fry until golden brown.

Remove from heat and transfer to cooling rack. Pat dry with paper towels to remove excess oil.

Sprinkle a bit of parmesan cheese and basil, if you want. Serve alongside marinara sauce and enjoy!
Nutrition
Calories: 

1088.43kcal

Protein: 

4.31g

Cholesterol: 

43.14mg