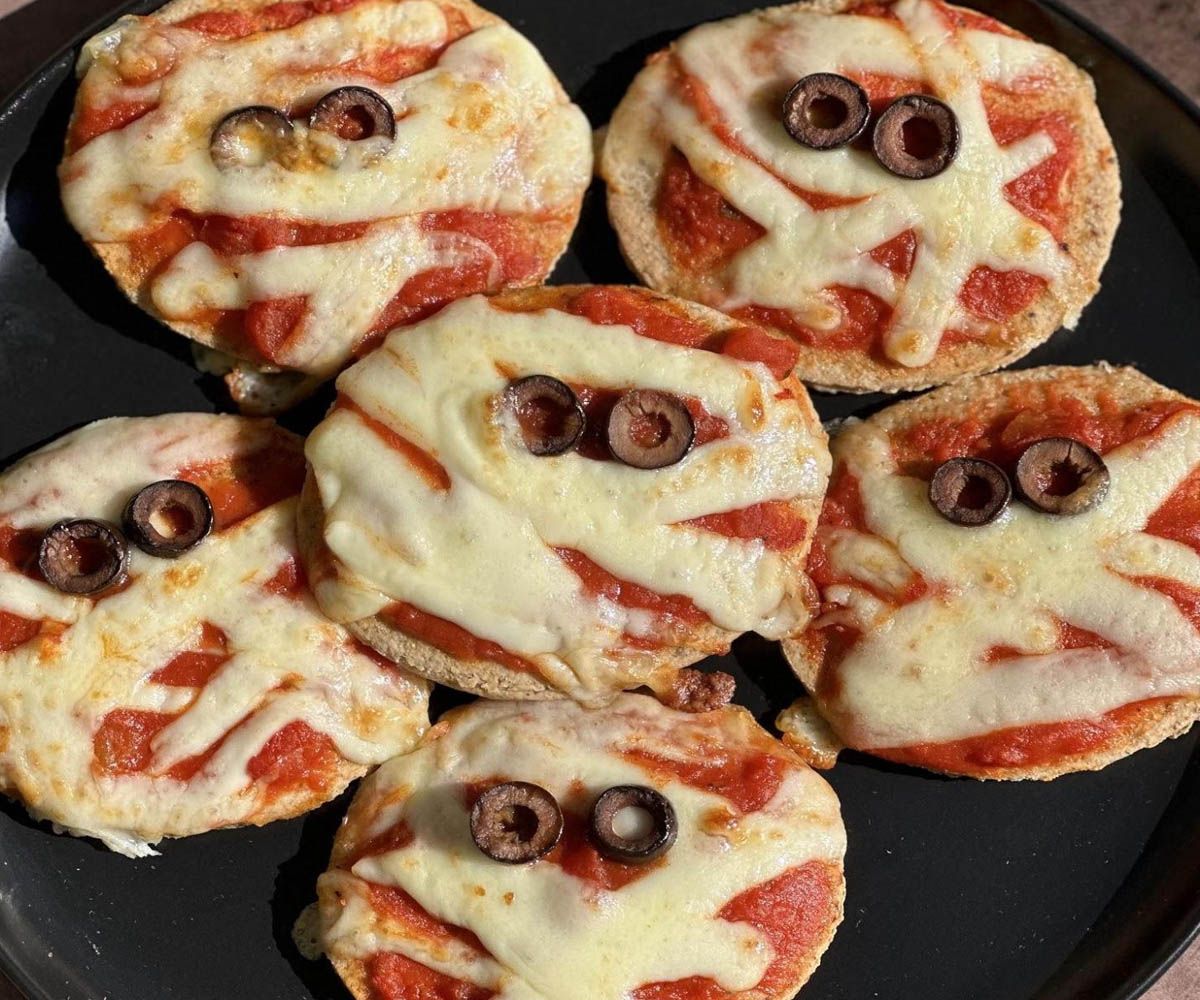 Vegan Halloween Mummy Pizzas Recipe
How To Make Vegan Halloween Mummy Pizzas
A spooky and delicious vegan pizza perfect for your Halloween party!
Ingredients
4 whole wheat pitas
1 cup of tomato sauce
1/2 tsp of garlic powder
1/2 tsp of dried oregano
1/2 tsp of dried basil
1/4 cup of chopped black olives
1/4 cup of diced green bell pepper
1/4 cup of sliced mushrooms
1/4 cup of vegan shredded cheese
16 sliced black olives
8 strips of vegan bacon
1 tbsp of vegan mayo
Instructions
Preheat oven to 375°F.

In a small bowl, mix tomato sauce with garlic powder, oregano, and basil.

Spread sauce evenly on pitas.

Add black olives, bell pepper, mushrooms, and vegan cheese on top.

Bake for 10-12 minutes until crispy.

Cut vegan bacon strips into thin strips and set aside.

Make "mummy" bandages by slicing black olives lengthwise.

Once pizzas are done, place six strips of vegan bacon across each pizza in a "mummy" pattern.

Top with olive "bandages" horizontally and vertically across the bacon.

Add 2 slices of black olive for eyes on each pizza.

Mix vegan mayo with a small amount of water and use a squeeze bottle (or small plastic bag with a corner snipped off) to add "scream" lines across each mummy pizza.

Serve and enjoy!
Nutrition
Calories :

311kcal

Total Fat :

10g

Saturated Fat :

1g

Cholesterol :

0mg

Sodium :

926mg

Total Carbohydrates :

45g

Dietary Fiber :

9g

Sugar :

3g

Protein :

10g