What can you do with ripe avocados? Well, you can turn it into a tasty chilled avocado soup dish. You don't need a stove to make this cold and creamy soup. Traditional cold soups like a homemade gazpacho made from fresh raw tomatoes require peeling and boiling your tomatoes first before blending it. A ripe avocado is creamy and fleshy enough to be pureed without any heat. All you need is a food processor to combine your fresh and ripe avocados, chicken broth, onion, and heavy cream. Serve this delicious dish with a kale caesar salad on the side. 
Tips on Making Chilled Cream of Avocado Soup
There are fun variations to try when making this avocado cream soup. It's a simple dish that promises a lot of flavors when you try adding in other ingredients. That's why we listed some helpful tips on how you can make your avocado soup even more delicious.
Use ripe avocados.

Your avocados are ripe when they yield to a bit of pressure when pressed. The feeling should be soft, but not too "mushy." If they're not yet ripe, you can put them in a brown paper bag at

room temperature,

and they should be ready in 2 to 5 days. Adding an apple or banana to the bag speeds up the process, because they give off ethylene gas, which promotes ripening.
Substitute chicken broth with vegetable stock

 for a healthy, vegetarian alternative. You may need to add extra salt for taste.
Add in lime and cilantro

as alternative additions for this recipe. It gives the cream soup an extra kick of tang and herb flavors that blend well with the rich avocado taste.
Try adding chili pepper or chili sauces

for some spice. You can use jalapeño chile pepper, serrano chile, or other chili flakes. Make sure it's seeded and chopped before adding into the mix. For chili sauces, you can use Tabasco sauce.
Garnish with watercress leaves or caviar.

Finish off the dish with some delicious topping choices like watercress leaves for a fresh and peppery taste. Alternatively, adding caviar would bring a subtle saltiness to mix with your cold and creamy avocado soup. 
How To Make Chilled Cream of Avocado Soup
A smooth and savory cold soup with minimal effort to prepare! This is a tasty avocado soup combined with heavy cream and good chicken stock for an explosion of flavors.
Ingredients
3

ripe avocados,

large and pitted

2½

cups

chicken broth,

chilled and solidified fat removed

1

cup

heavy cream

1

small onion,

chopped

1

garlic clove,

minced

1

lemon,

juiced

salt,

to taste

pepper,

freshly ground

watercress leaves,

for garnish

caviar,

optional garnish
Instructions
Place avocado in the food processor. If possible, keep the shell of each avocado intact and reserve it for serving, keeping them covered with plastic wrap in the refrigerator.

Add the onion, garlic, and half of the lemon juice to the avocado in the food processor.

Process until smooth pureed, stopping a few times as necessary to scrape down the bowl.

Set a fine-meshed strainer over a large mixing bowl and use a rubber spatula to press the puree through the strainer.

Stir in 2 cups of the chicken broth and all of the cream until thoroughly blended.

Season with salt and pepper to taste. Add more lemon juice if needed.

Cover the bowl and chill in the refrigerator for at least 2 hours.

Taste the chilled soup and, if necessary, adjust the seasonings with a little more salt, pepper and lemon juice.

If you'd like it a little thinner, stir in some of the remaining chilled chicken broth.

Place the avocado shells, if using, inside individual bowls to hold them level.

Ladle the soup into the shells, or into chilled serving bowls.

Garnish each serving with watercress leaves and, if you like, a small dollop of caviar.
Nutrition
Sugar:

1g

:

Calcium:

36mg

Calories:

233kcal

Carbohydrates:

9g

Cholesterol:

41mg

Fat:

22g

Fiber:

5g

Iron:

1mg

Potassium:

467mg

Protein:

3g

Saturated Fat:

8g

Sodium:

286mg

Vitamin A:

547IU

Vitamin C:

15mg
Nutrition Disclaimer
Commonly Asked Questions
How long can you keep avocado soup in the fridge?
Your chilled cream of avocado soup can last up to 3 to 4 days in the fridge. If placed in the freezer, it can last for up to 2 months. Make sure that you keep it in a freezer safe airtight container. When ready to serve, let the avocado soup thaw at room temperature on the counter.
Can you use frozen avocado in soup?
It's best to use fresh and ripe avocados for this recipe since it's soft enough to be pureed. Frozen avocados work best when you're making smoothies or dips, but adding it onto the soup mixture might ruin its texture. However, if you only have frozen avocados, we highly recommend thawing the avocados first at room temperature for at least 8 hours.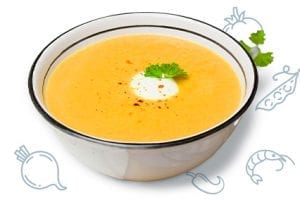 Conclusion
This creamy and chilled avocado soup recipe is the perfect dish to serve to your family and friends. It's an easy homemade soup recipe that you can make with just avocados, chicken broth, heavy cream, and other seasonings. Enjoy it with a complementary salad on the side.
Topics: