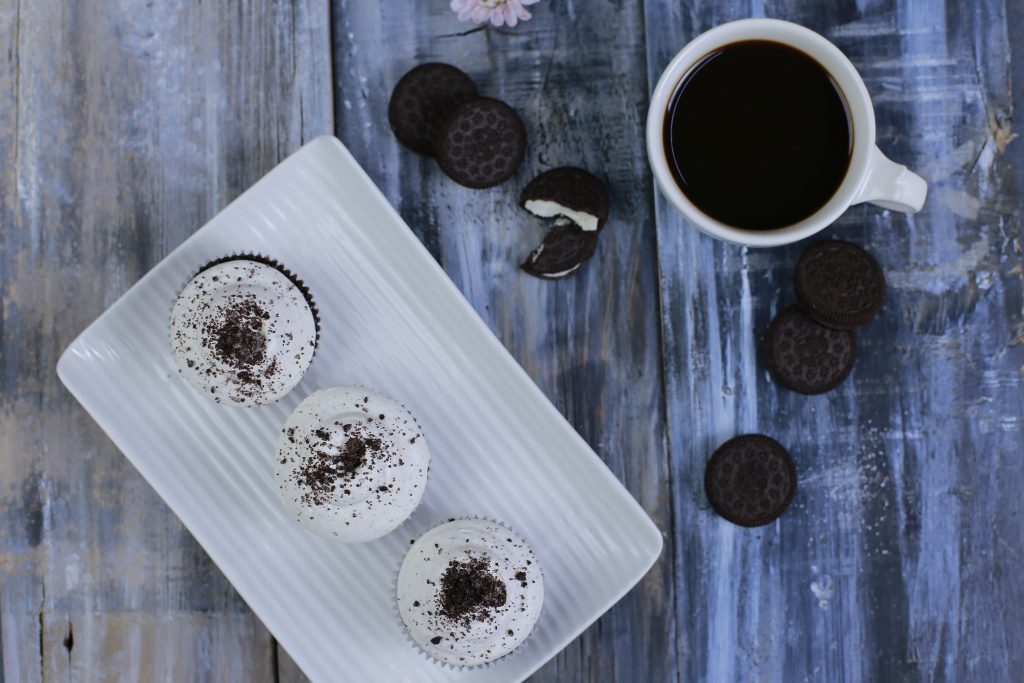 Oreo Cupcakes Recipe
Twist, link, dunk! Oreo tagged itself as "milk's favorite cookie" but it's definitely not just milk who's fond of this chocolate cookie with creamy filling. What I love more about Oreo cookies is that they can be used in making many comforting desserts. But I can attest that one of the best tasting and easiest desserts that you can serve at parties or have at home would be these moist and rich Oreo cupcakes. I'm confident enough that these treats will surely satisfy anyone's craving!
Let's break down some important things that I did in making these cookies and cream cupcakes. First, to make sure that I can really taste the Oreo, I mixed in some cookie crumbs in the batter and the buttercream mixture. Just a reminder to check that the cookies in the icing are really crushed into tiny bits because you don't want the Oreo buttercream frosting blocking the piping tip. A food processor or blender can really help. Mini Oreos are now available so you can place a couple of them on top of the cookies and cream frosting. Cute, isn't it?
Overall, this Oreo cupcake recipe is really easy to follow so I hope you'll make it too. After trying them, you can also add a bit of pizzazz to the original and make some ! Serve them to your loved ones, take them to bake sales, or just eat them on your own (no judgement *wink*). 
How To Make Oreo Cupcakes
Indulge your taste buds with these rich Oreo cupcakes! They're baked in with those classic cookies and topped with creamy frosting for a decadent treat.
Ingredients
For Oreo Cupcakes:
2

cups

all-purpose flour

1

cup

sugar

¼

tsp

baking soda

1½

tsp

baking powder

½

tsp

salt

¾

cup

unsalted butter,

room temperature

3

egg whites

1

tsp

vanilla extract

½

cup

sour cream

½

cup

whole milk

1

cup

chopped Oreos
For Buttercream Frosting:
1½

cups

unsalted butter

4

cups

confectioners' sugar

¼

cup

cream

1

tsp

vanilla extract

crushed Oreos
Instructions
Oreo Cupcakes:
Preheat the oven to 350 degrees F. Add papers to a cupcake baking sheet. Roughly chop enough Oreos to fill up about a cup.

Sift the dry ingredients(flour, sugar, salt, baking soda and baking powder) together in a large bowl then set aside.

Next, mix the egg whites, sour cream, milk and vanilla extract in a medium bowl.

Cream butter in a stand mixer fitted with a paddle attachment, or a large bowl if using an electric hand mixer.

Beat the dry ingredients into the butter, scraping the bowl at least once, until the mixture is well-incorporated and crumbly.

Add the wet mixture to the butter and dry ingredient mixture, and mix on Low until just combined.

Fold in the chopped Oreos and mix until well distributed.

Using an ice cream scooper, divide the mixture evenly into cupcake papers.

Bake for about 15 to 20 minutes or until slightly golden at the edge and bouncy in the middle.
Buttercream Frosting:
Beat the butter until light and fluffy. Add the confectioners' sugar, vanilla, and cream and mix.

Crush the Oreos, add to the buttercream and mix until combined.

Transfer buttercream to a piping bag.

Pipe the buttercream on top of the cupcake and sprinkle with crushed cookie dust and or top with an Oreo if desired.
Nutrition
Calories: 

653.29kcal

Fat: 

38.99g

Saturated Fat: 

24.39g

Trans Fat: 

1.40g

Monounsaturated Fat: 

10.16g

Polyunsaturated Fat: 

1.59g

Carbohydrates: 

74.38g

Fiber: 

0.59g

Sugar: 

57.31g

Protein: 

3.91g

Cholesterol: 

104.30mg

Sodium: 

200.22mg

Calcium: 

82.31mg

Potassium: 

78.47mg

Iron: 

1.22mg

Vitamin A: 

333.06µg

Vitamin C: 

0.12mg