If you haven't tried cooking with huckleberries, then this easy huckleberry pie recipe is definitely a must-try dessert treat. This delicious dessert is packed with blue huckleberries that have the perfect balance of sweet and tart flavors. It has a smooth and rich fruity filling that goes well with our flaky homemade crust. Serve it with a delicious plate of roasted chicken with lemon sauce and a cool beverage on the side.
What is a Huckleberry?
Huckleberries are small and round berries with large and firm seeds. They come in a variety of colors from dark blue, purple, or black to a deep red. The darker colored ones have a much deeper and sweeter taste while the red ones are more sour and tart. That's why we're using blue huckleberries for this recipe which has the right amount of sweet and sour. 
Tips on Making Huckleberry Pie
Making this humble huckleberry pie is a delightful way to spend your afternoon. It's an easy recipe that promises a uniquely sweet and tart flavor. To make the most out of your cooking experience, here are a few tips and reminders on how to best make this huckleberry pie recipe:
Use fresh or frozen huckleberries

. It's a pretty versatile dish so you can either use frozen or fresh ones, and still get the same sweet and tangy taste. Just make sure to thaw and wash frozen huckleberries first before adding them into the mix.
Add tapioca as a thickener.

To prevent your huckleberry pie from being runny, use a quick cooking tapioca as a thickening agent. If you don't have tapioca, then use cornstarch as a substitute. 
Sprinkle sugar on top

for the perfect golden brown crust. If you want that beautiful golden brown on top, then don't skip this step. It's the finishing touch to your delicious sweet pie.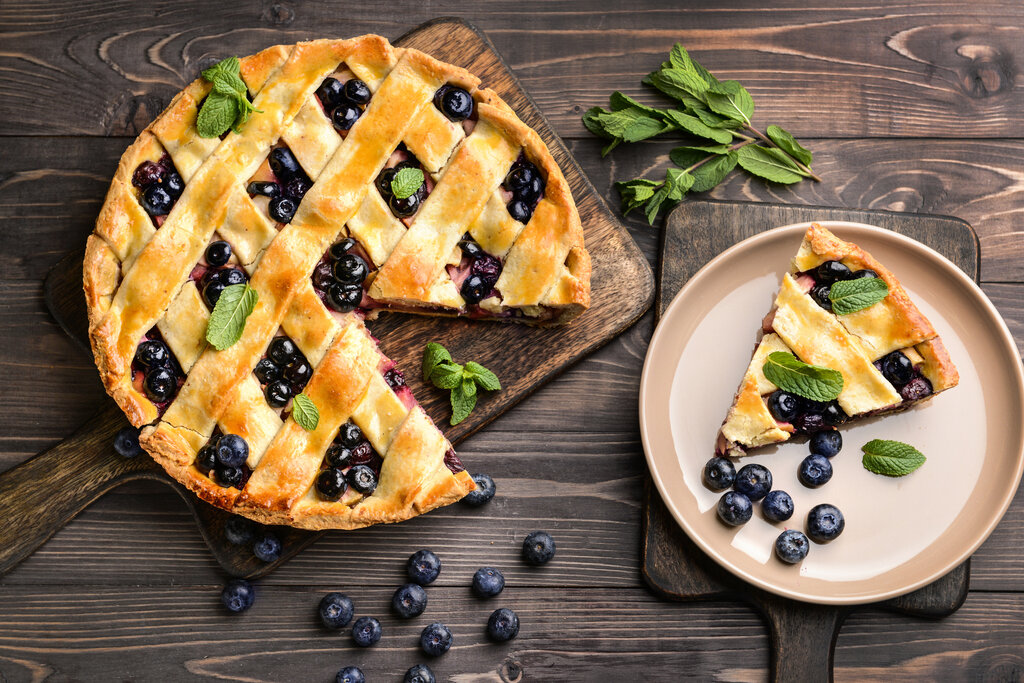 Humble Huckleberry Pie Recipe
How to Make Humble Huckleberry Pie
Indulge in a wild huckleberry pie that is bursting with flavor. From its pie crust to its huckleberry pie filling, we can't get enough of its uniquely sweet goodness.
Ingredients
For Double Pie Crust:
2

cups

all-purpose flour

¾

cup

Crisco all-vegetable shortening,

chilled

½

tsp

salt

4

tbsp

water,

ice cold, can add more if needed
For Filling:
3½

cups

huckleberries,

frozen or fresh

1

cup

sugar

¼

cup

all-purpose flour

1

tbsp

tapioca,

quick-cooking, plus 1 tsp

1

tbsp

butter,

or margarine
Instructions
Preheat the oven to 375 degrees F.
Double Pie Crust:
Sift together flour and salt into a large mixing bowl.

Add in the chilled vegetable shortening. Use a fork to break into smaller pieces.

Add the ice cold water, one tablespoon at a time. Continue mixing until the dough thickens and holds together.

Form the dough into a ball, then divide in half. Shape into two balls then wrap in plastic.

Chill for 30 minutes.

Unwrap the rolled dough, and transfer to a lightly floured flat surface. With a rolling pin, flatten the dough into a disk from the center going outward. Make an 11-inch circle. Repeat for the remaining dough.

Transfer the first dough disk to the 9-inch pie plate, then gently press down for the bottom crust while leaving an overhang. Set aside and do not bake.

For the lattice top crust, roll out the remaining dough, and cut evenly into ½-inch to ¾-inch strips. Set aside.
Filling:
Gently combine huckleberries with sugar, flour, and tapioca in a large bowl. Set aside for 15 minutes.

Using a spoon, add in the huckleberry pie filling into the unbaked pie crust. Then, dot with butter. Moisten the pastry edge with water as well.

Cover the pie with a woven lattice top using the dough strips.

To make the woven lattice top, start by laying out 4 to 7 parallel strips horizontally and evenly spaced on top of the filled pie crust. Then, fold back alternating strips.

Place another long strip of dough vertically on top of the parallel strips. Unfold the folded strips over the vertical strip.

Place another vertical strip, then fold the other alternating strips running under the first vertical strip. Unfold the folded horizontal strips again.

Repeat the process, and start weaving across the pie.

Trim the edges of the pie, and secure the rim by folding the edges over the lattice strips.

Cover with foil, and bake at 375 degrees F for 25 minutes.

Remove foil, then bake again for 25 to 30 minutes. Sprinkle lightly with sugar, if desired.

Cool until barely warm or to room temperature before serving.
Nutrition
Sugar:

25g

:

Calcium:

22mg

Calories:

451kcal

Carbohydrates:

62g

Fat:

21g

Fiber:

1g

Iron:

2mg

Monounsaturated Fat:

9g

Polyunsaturated Fat:

6g

Potassium:

39mg

Protein:

4g

Saturated Fat:

5g

Sodium:

174mg

Trans Fat:

3g

Vitamin A:

144IU

Vitamin C:

3mg
Nutrition Disclaimer
Frequently Asked Questions
Are huckleberries blueberries?
Huckleberries and blueberries may look the same with their common shade of deep and dark blue or black colors, but they're actually different. Fresh huckleberries have a round indentation with a small circle inside located on its ends. Meanwhile, blueberries have that extra flap that allows for easy peeling. In terms of taste, huckleberries have a more intense flavor than your regular blueberries, but it's not too sour to add as an ingredient. It still has that subtle sweetness to it that's perfect for this recipe. If you do end up being short on huckleberries, then you can switch up to a classic blueberry pie since they taste similar with the perfect blend of sweet and tart.
Why is my huckleberry pie too runny?
It's common for huckleberry pie recipes to have a runny filling, but it's an easy fix. Use a thickening agent like cornstarch, flour, or tapioca. Since this recipe uses tapioca, add in 1 or 2 more tablespoons to make the huckleberry pie filling thicker.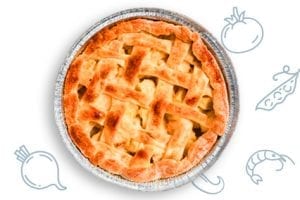 Conclusion
If you're looking for easy pie recipes, then this deliciously sweet and tangy huckleberry pie recipe is just for you. With simple ingredients, you can easily make and share this dessert with your family and friends. Enjoy it with a cold drink or wine on the side.