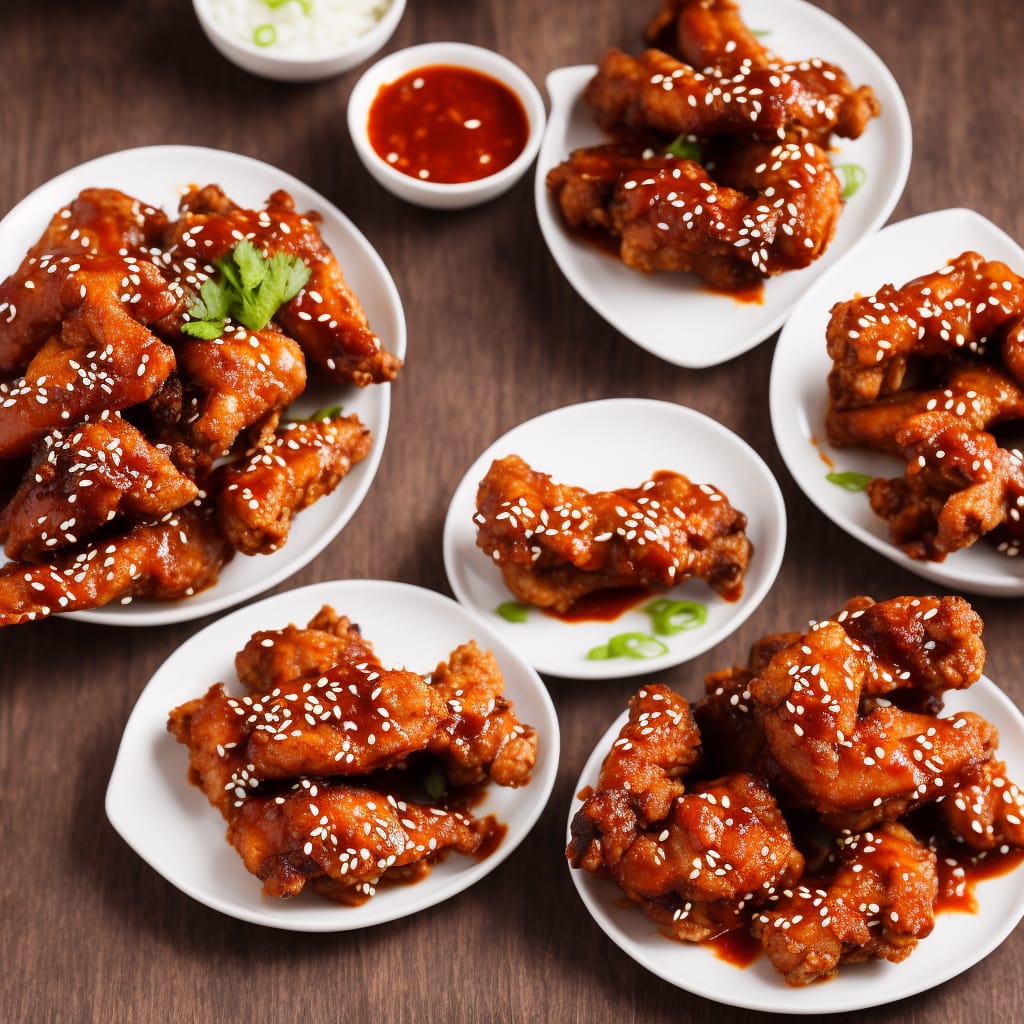 Spicy Korean Fried Chicken with Gochujang Sauce Recipe
How To Make Spicy Korean Fried Chicken with Gochujang Sauce
If you think K-pop is the only thing to stan about Koreans, then you haven't tried these cool Korean recipes yet. Make K-style fried chicken, wraps, and drinks with these Korean recipes.
Ingredients
2 lbs chicken wings
1 cup all-purpose flour
1/2 cup cornstarch
1 tsp baking powder
1 tsp salt
1/2 tsp black pepper
1/2 tsp garlic powder
1/2 tsp onion powder
1/2 cup buttermilk
1/4 cup gochujang (Korean chili paste)
2 tbsp soy sauce
2 tbsp honey
1 tbsp rice vinegar
Vegetable oil, for frying
Sesame seeds, for garnish
Green onions, chopped, for garnish
Instructions
In a large bowl, combine flour, cornstarch, baking powder, salt, black pepper, garlic powder, and onion powder.

Toss the chicken wings into the flour mixture until well coated.

In a separate bowl, whisk together buttermilk, gochujang, soy sauce, honey, and rice vinegar.

Dip each flour-coated chicken wing into the gochujang mixture to coat it well, then place it back into the flour mixture to double coat.

Heat vegetable oil in a deep pot or fryer to 350°F (175°C).

Carefully drop chicken wings into the hot oil and fry until golden brown and crispy, about 8-10 minutes.

Remove the chicken wings from the oil and drain on a paper towel-lined plate.

In a separate saucepan, heat the remaining gochujang mixture until warm.

Toss the fried chicken wings in the warmed gochujang sauce until evenly coated.

Serve the spicy Korean fried chicken hot, garnished with sesame seeds and chopped green onions.
Nutrition
Calories :

420kcal

Total Fat :

14g

Saturated Fat :

2g

Cholesterol :

186mg

Sodium :

1513mg

Total Carbohydrates :

49g

Dietary Fiber :

5g

Sugar :

6g

Protein :

24g