Whether you're on a diet or you just simply want a good breakfast, granola is among your best options. If this is your first time having granola, you might want to get to know more about it first. Basically, granola is a mixture of oats, nuts, and sometimes rice crispies that are bound together by honey. There are a handful of brands that sell different varieties of granola. Luckily, you no longer have to go to the supermarket to buy one. Read on and discover how you can make your own homemade granola recipe just like how they do it at Steve's Paleogoods.
The key to making good granola is having the best kind of nuts. Pecans and walnuts are the most common nuts you can find in granola, but feel free to use almonds as well. In binding the nuts, raisins, and other ingredients, we are going to mix it with sweeteners. For the sweetener, you can use honey alone, but, if you are a sweet tooth, this mix is perfect for you.
For this granola mix, we're using maple syrup, brown sugar, and some molasses. Steve Liberati, the founder of Steve's Paleogoods, believes in the power of the paleo diet. He then established Steve's Paleogoods to provide portable paleo snacks and the gourmet granola is one of those products that were born. 
You certainly don't need to compromise taste to get your healthy fix! Start your day right with this granola mix and we guarantee that you'll be filled throughout the morning. Switch up your mornings with another tasty granola mix by making our Peanut Butter-Coconut-Raisin Granola recipe.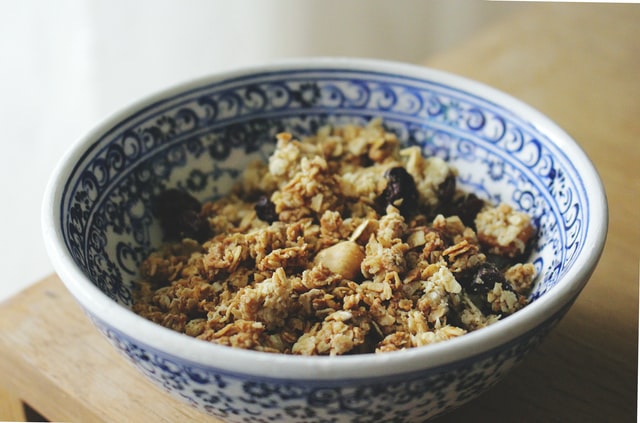 Steve's Gourmet Granola Recipe
How To Make Steve's Gourmet Granola
Start your day right with a sweet and healthy treat just like Steve's Gourmet Granola. It's also perfect for starting a paleo diet!
Ingredients
6

cups

rolled oats

½

cup

walnuts,

chopped

1

cup

pecans,

chopped

½

cup

sesame seeds

¾

cup

sunflower seeds,

raw

1

cup

dried coconut

½

cup

date,

dried

½

cup

raisins,

can use dried cranberries

½

cup

light oil

½

cup

brown sugar

½

cup

honey

½

cup

maple syrup

¼

cup

molasses

1

tbsp

vanilla extract

1 ½

tsp

cinnamon

½

tsp

salt
Instructions
Preheat the oven to 350°F. 

In a separate pan, roast the oats, walnuts, pecans, sesame seeds, and sunflower seeds until they are lightly toasted. Let them cool afterwards.

In a large bowl, combine all the toasted ingredients with the coconut, date, and raisins. Set the bowl aside. 

Combine the oil, brown sugar, honey, maple syrup, molasses, vanilla, cinnamon, and salt in a saucepan. Stir them over low heat until they are well-combined and warm to touch.

Pour the liquid mixture over the dry ingredients in the large bowl and mix well.

Scoop the overall mixture onto a greased cookie sheet pan, flatten it, then roast it in the oven for about 20 minutes, stirring every five minutes. 

Remove the granola from the oven, then store it in tightly sealed containers in a cool and dry place.
Recipe Notes
Dry granola is a result of baking it at a high temperature. Make sure to cook the granola at the right temperature to avoid it from getting dry. 
Nutrition
Sugar:

39g

:

Calcium:

146mg

Calories:

627kcal

Carbohydrates:

79g

Fat:

33g

Fiber:

9g

Iron:

4mg

Potassium:

566mg

Protein:

11g

Saturated Fat:

7g

Sodium:

113mg

Vitamin A:

5IU

Vitamin C:

1mg
Nutrition Disclaimer
Frequently Asked Questions
Why is my granola not sticking together?
Your granola is not sticking together basically because it lacks sweeteners. Honey, maple syrup, or anything you use as sweeteners also acts like a glue that binds all the ingredients together. We also suggest adding some chia seeds into your batter before baking because they gel and get bigger when dampened, making it a good binder for our granola.
Is it okay to eat granola daily?
Granola is packaged as a beneficial alternative to the usual calorie-rich breakfast. However, experts will argue that while granola is rich in fiber and proteins from nuts and fruits, it can also be rich in calories and fat content due to the sweeteners and sugar. Eating granola daily may trigger weight gain because of the fat and sugar it contains. It is recommended to eat granola in moderation to prevent dangerous weight gain and complications.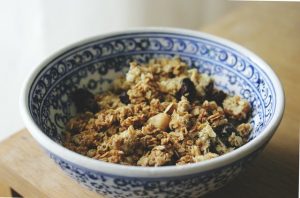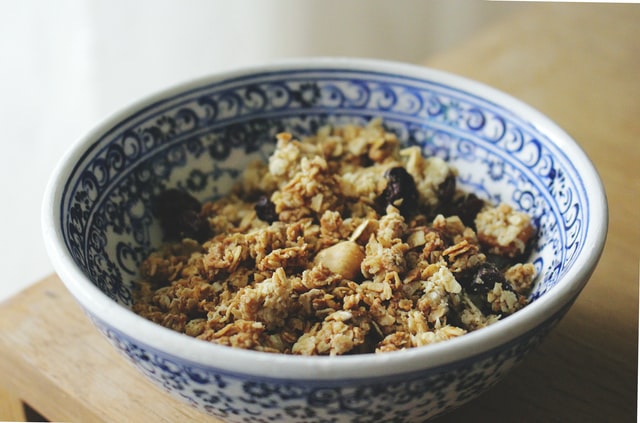 Conclusion
Start your morning ritual with a healthy bowl of granolas. Make one batch of granolas using this quick and easy recipe, store it in a tight lid jar, and have it any time you want! We're serving a bowl of tasty oats, nuts, and raisins for a sweet and crunchy morning treat. Make this recipe and meet your next healthy breakfast staple!