Combine any softened, flavored ice cream with self-rising flour and sugar to get this tasty ice cream bread dessert! Simply bake all of these ingredients together in a loaf pan to create the perfect sweet bread for your family and friends. The flavor possibilities are endless for this light and fluffy ice cream bread. You can start with a classic and simple vanilla ice cream base, or impress your guests with a flavored bread made with other ice cream flavors! 
Tips on Making Ice Cream Bread
With just a handful of ingredients, you can make this homemade dessert bread in 40 minutes or less. It's an easy dessert which you can customize to suit your taste! We listed a few helpful tips for you to get the best out of your ice cream bread: 
Avoid low-fat or low-sugar ice cream.

Make sure you get full fat ice cream for this recipe to work. You can't use reduced sugar ice cream when making ice cream bread with self-rising flour. Its consistency and texture won't be the same if you make any substitutions with the ice cream. 
Sprinkle it with other delicious toppings.

You can enjoy this sweet loaf of bread with different kinds of toppings like multicolored sprinkles, chopped nuts, chocolate chips, or fruit slices. Just remember not to add flavored sauces, syrups, and other toppings that can increase the amount of liquid in this recipe. 
Try different flavors of ice cream.

Any

flavor of ice

cream can work for this recipe! It's what makes this such a great dessert bread to make for the family. Check out some of our favorite flavors down below. 
More Ice Cream Variations to Try
This homemade ice cream bread tastes a hundred times better when it's made with different flavors of ice cream! We listed a few of our favorites that you can easily make at home: 
Grape Ice Cream

– This no-churn ice cream recipe only needs five ingredients to make. The combination of grape juice, heavy cream, condensed milk, and sugar make for a delectable frozen dessert. Creamy and thick, grape ice cream is perfect for flavoring for this dish. 
Pink Guava Ice Cream

– Upgrade this dessert with a unique ice cream flavor that comes from pink guava puree. This pink guava ice cream has a tropical fruity flavor that's just so creamy and sweet to eat. 
Butter Brickle Ice Cream

– Enjoy a toffee-flavored ice cream bread that's made with homemade butter brickle ice cream. The ice cream consists of  butter, vanilla, half-and-half, and toffee pieces, so it's extra flavorful!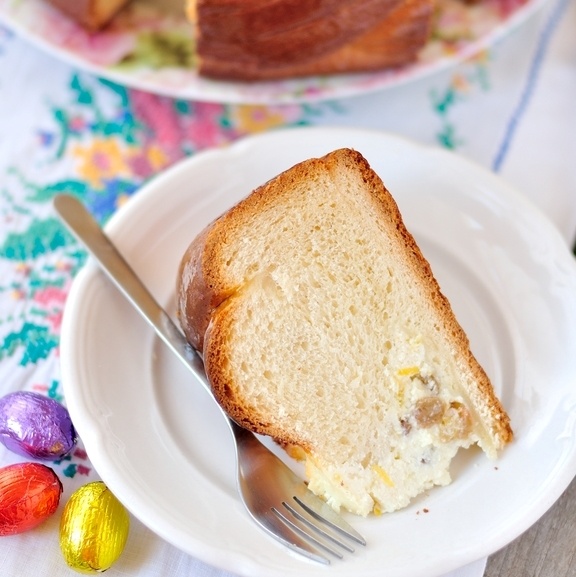 Ice Cream Bread Recipe
How To Make Ice Cream Bread
This simple ice cream bread recipe will help to turn your bread into a sweet treat. Enjoy this easy dessert that's made with softened ice cream, self-rising flour, and sugar.
Ingredients
2

cups

ice cream,

softened, any flavor

1½

cups

self-rising flour

3

tbsp

sugar

rainbow sprinkles,

optional topping
Instructions
Preheat oven to 350 degrees F.

In a large bowl, combine the ice cream, self-rising flour, and sugar together.

Spray a medium loaf pan with cooking spray.

Pour the mixture into the loaf pan and bake for 30 to 35 minutes. Use a toothpick to test its doneness. The toothpick should come out clean after sticking it into the bread.

Let it cool on a cooling rack. Serve this moist and fluffy ice cream bread and enjoy!
Recipe Notes
Tightly wrap any leftover ice cream bread slices in a plastic wrap or aluminum foil, and store in an airtight bag or freezer container. Place this inside the refrigerator to last for up to three to five days, or in the freezer for up to six months. The texture of the bread can change or dry up when frozen for long periods of time, so we highly recommend consuming this tasty bread in about a month or less.

To reheat, allow the bread to defrost at room temperature, then bake at 350 degrees F for about 5 to 10 minutes or until warmed through.
Nutrition
Sugar:

23g

:

Calcium:

92mg

Calories:

341kcal

Carbohydrates:

59g

Cholesterol:

29mg

Fat:

8g

Fiber:

2g

Iron:

1mg

Potassium:

178mg

Protein:

8g

Saturated Fat:

5g

Sodium:

54mg

Vitamin A:

278IU

Vitamin C:

1mg
Nutrition Disclaimer
Frequently Asked Questions
Why does ice cream bread work?
Ice cream bread works because self-rising flour contains all-purpose flour, salt, and baking powder which are the basic components for a quick bread recipe. By adding in the softened or melted ice cream, you're also adding sugar, dairy, and flavorings. As a result, you get a deliciously moist and light dessert bread that you can easily customize with any flavors you want!

What can I use as a substitute for self-rising flour?
As much as possible, this recipe should use self-rising flour. Using all-purpose flour won't allow the bread to rise and bake properly. However, if you really can't find self-rising flour, then you can make this easy substitute. Combine all-purpose flour with a tablespoon of baking powder and ¾ teaspoon of salt. Use this mixture in a 1:1 ratio in place of the self-rising flour.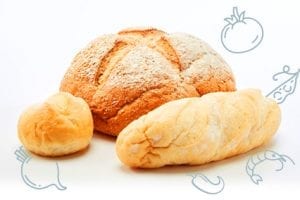 Conclusion
Make a family-friendly dessert with this simple ice cream bread recipe. With just three ingredients, you can make a sweet and delicious treat to serve alongside other tasty dishes. Enjoy this soft and light bread dessert with your family and friends!