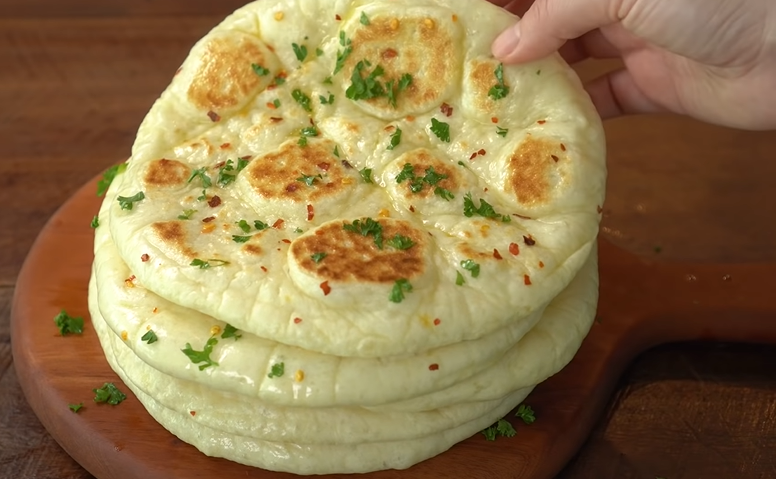 French Peasant Flat Bread Recipe
How To Make French Peasant Flat Bread
French flatbread squares will be great as an appetizer. It's best if you cut it into pieces while warm and add a little butter or jam upon serving.
Ingredients
4½

cups

all purpose flour,

unsifted plus more for the plate

2

cups

warm water,

(110 to 115 degrees F)

active dry yeast

1

tbsp

sugar

2

tsp

coarse sea salt,

or kosher salt

7

tbsp

extra virgin olive oil

cornmeal,

for dusting the pan

2

tbsp

fresh rosemary,

or sage leaves, finely chopped

1

tbsp

freshly ground black pepper

water in a spray bottle,

for misting
Instructions
Sprinkle a dinner plate with flour.

Combine the water, yeast, sugar, and 1 teaspoon salt in a warm, large mixing bowl and stir with a wooden spoon until the yeast, sugar, and salt dissolve.

Stir in enough flour to form a loose dough and scrape out onto the prepared plate with a rubber spatula. Immediately slide the dough back into the bowl, flour side down.

Cover the bowl with plastic wrap and let rise in a warm place such as on a running clothes dryer or kitchen counter over a running dishwasher for 45 minutes.

Grease a rimmed baking sheet with 3 tablespoons olive oil and sprinkle lightly with cornmeal.

Spread the dough over the pan, flattening it, and pressing it down with the fingertips of both hands to entirely cover the bottom of the pan.

Work from above so the angle of your fingers hits the dough at 90 degrees to create an evenly dimpled surface.

Brush or sprinkle the dough with 3 tablespoons olive oil then sprinkle evenly with the rosemary, pepper, and remaining 1 teaspoon of salt.

Loosely cover the dough with plastic wrap and let rise for about 45 minutes depending on how thick you want the cooked bread to be.

Preheat the oven to 425 degrees F. Bake the dough for 10 minutes, remove from the oven, and drizzle with the remaining 1 tablespoon of oil.

Mist lightly with water in a spray bottle and return to the oven.

Reduce the heat to 375 degrees F and bake the bread until the crust is crisp and sizzling on the underside for about 15 minutes.

When the bread is cool enough to handle, slide it onto a cutting board and cut it into pieces as desired with kitchen shears, a chef's knife, or a cleaver.
Nutrition
Calories: 

98.43kcal

Fat: 

3.35g

Saturated Fat: 

0.47g

Monounsaturated Fat: 

2.32g

Polyunsaturated Fat: 

0.41g

Carbohydrates: 

14.90g

Fiber: 

0.58g

Sugar: 

0.47g

Protein: 

1.96g

Sodium: 

156.57mg

Calcium: 

27.28mg

Potassium: 

23.94mg

Iron: 

0.92mg

Vitamin A: 

0.23µg

Vitamin C: 

0.02mg