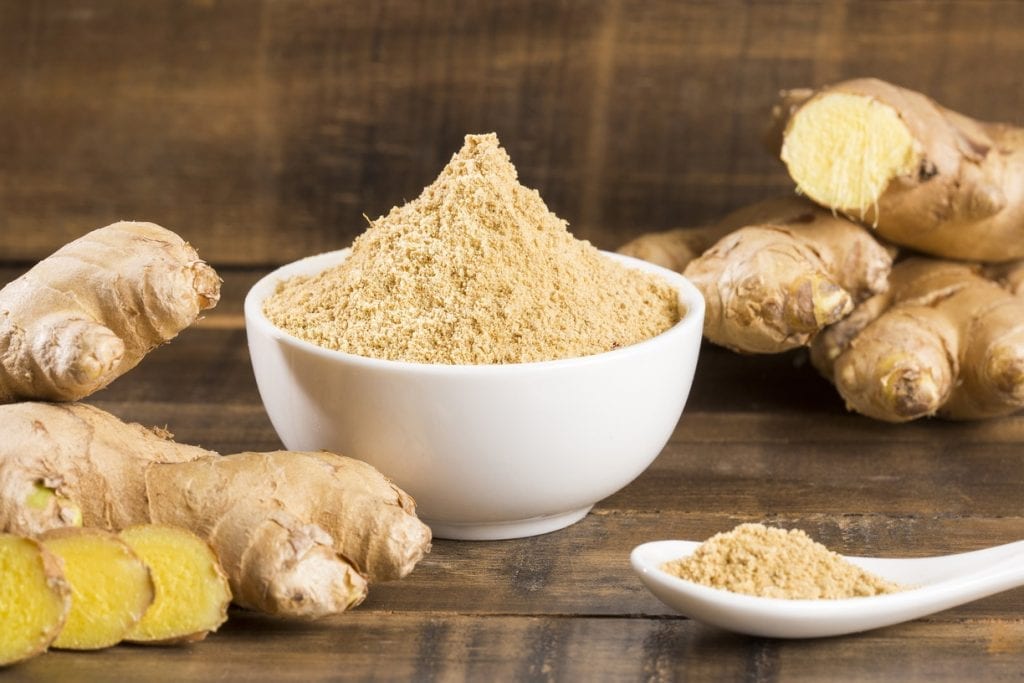 Ground Ginger: What to Use It For & How to Make It
Nothing seems more relaxing than sipping on a cup of tea after savoring a delicious bite of your sweet dessert. But it can sometimes get a little dull, too. This won't have to be the case when you have a jar of ground ginger sitting on your spice rack. 
Earthy with a distinctive punch, ginger lends a zing to sweet savory dishes and drinks, along with complementary herbs like savory herbs and basils. Not only is this spice admired for its zesty flavor, but it's an ancient herbal remedy for several ailments as well! 
Did you know that a cup of ginger tea helps soothe an upset stomach? The anti-inflammatory properties of organic ginger even help reduce inflammation and muscle soreness. Moreover, the antioxidants present in this spice increases collagen production and helps improve the skin's appearance and ability to heal.
Keep on reading and explore everything ginger spice has to offer, specifically in its ground form. Let's dig a little deeper to know more about the wonders of ground ginger and its uses.
What Is Ground Ginger?
What's the difference between fresh ginger and ground ginger? Ground ginger is the dried and powdered form of ginger rhizome, or what is commonly known as ginger root. It's milder than the fresh ones in terms of flavor but it's more concentrated. On the other hand, fresh or raw ginger comes in small pieces and has a pale yellow to brown outer layer. It has a more complex flavor than its powdered counterpart. And when cooked, it tenderizes and lends a pungent flavor to the dish.
How to Make Ground Ginger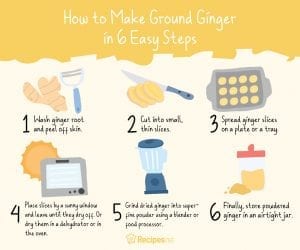 This versatile spice always comes in handy every time you wish to whip up some baked yams or you want to relax with a steaming cup of spiced tea. You can always head to the farmers' market near you should you run out of stock. While you can easily buy powdered ones, making one is just as easy. Let us show you how to make ground ginger at home. Here are the six easy steps:
Wash the ginger root and peel off the skin. 

Next, cut it into small, thin slices so it will dry much faster. 

Spread the slices on a plate, or a dehydrator tray. Make sure the slices don't overlap. 

Dry them in

a dehydrator

or in the oven. You can also place the slices by a sunny window and leave them until they dry off. 

Once the slices are completely dry, grind the

dried ginger

using a blender or food processor until it becomes a super-fine powder. 

Finally, store the powdered ginger in an airtight jar. 
You now have your own ground ginger to use for the next six months if properly stored. Does ground ginger go bad, you're probably wondering. Luckily, powdered spices stay at their best quality for up to three years.
Where to Use Ground Ginger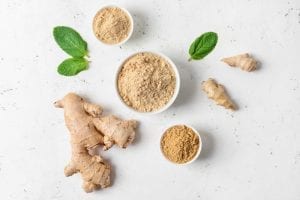 Ground ginger is a truly versatile spice. This superfood can be incorporated into a wide range of dishes and drinks. It's an ideal ingredient for baking and adds a slight punch to savory dishes. And don't forget about this powdered spice if you want to take your drinking experience to another level. We've rounded up some of our best recipes that make use of this spice for you to try. 
But when a recipe calls and you don't have fresh ones on your spice rack, can you substitute ground ginger for fresh? Of course! This spice is actually a convenient alternative to fresh ones. However, use less ground ginger if you don't want the strong taste to stand out in your dish.

Substitutes for Ground Ginger
Ran out of stock? No worries! There are some alternative spices that you can use in place of the powdered ginger. These are the most common flavoring agents used as substitutes for this spice:
Allspice

– Its mildly sweet-and-spicy flavor is similar to that of ginger. It works perfectly with vegetables dishes. 

Cinnamon

– Like ginger, cinnamon can also be added to baked goods. It also lends an aromatic flavor to dishes as well.

Nutmeg

– The spicy sweet flavor of this

ground ginger substitute

also blends well with savory dishes.

Mace

– It has a warm, aromatic taste, which makes it perfect for cakes and cookies. 

Turmeric

– Earthy and bitter, this spice makes a great alternative for ground ginger.
Ground Ginger Is Ideal For Both Savory Dishes and Baked Goods
Ground ginger is a great way to add interesting flavors not only in savory dishes, but also in baked goods as well. You can also add a dash of this powdered spice to your drinks for a spicy spin. For all these reasons and more, you should start including this pungent spice to your grocery list and to your diet as well! And hopefully, with all the easy steps we've mentioned, you'll be able to make your own powdered ginger at home and make some delicious meals with this aromatic ingredient.