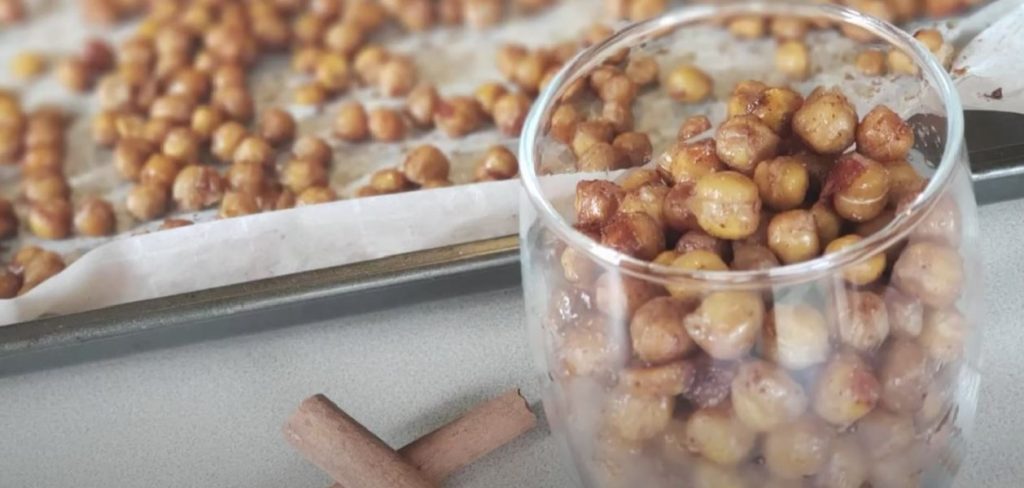 Roasted Cinnamon-Sugar Chickpeas Recipe
How To Make Roasted Cinnamon-Sugar Chickpeas
Toss a sweet vegan snack with these cinnamon-sugar chickpeas. It's made with roasted beans mix with sugar then cooled into a crunchy treat.
Ingredients
15

oz

chickpeas or garbanzo beans,

(1 can)

1

tbsp

olive oil

2

tbsp

granulated sugar,

or packed light/dark brown sugar

1

tsp

ground cinnamon
Instructions
Preheat oven to 400 degrees F. Line a large baking sheet with a silicone baking mat. Set aside.

In a large strainer, rinse and drain the chickpeas very well to remove the starch.

Spread them out onto the prepared baking sheet and pat very dry. The drier the chickpeas, the crunchier they will be. The skin of the bean may peel off while patting dry. That is ok. Remove the skins or leave them on.

Once 100% dry, place chickpeas into the oven and roast for 15 minutes. After 15 minutes, remove from the oven and drizzle with olive oil.

Using a large spoon or spatula, mix the beans around to make sure they are all evenly coated. Mix the cinnamon and sugar together and sprinkle over beans.

Mix around very well to heavily coat each bean. The beans will be flavorless, so make sure each one is thoroughly coated.

Add more cinnamon-sugar if preferred. Place back into the oven and roast for another 15 minutes.

With the chickpeas inside, turn the oven off and crack open the door slightly.

Allow the chickpeas to sit inside as the oven cools down for 30 minutes. This will help them get crunchier as opposed to sitting at room temperature.

Chickpeas are crunchiest on day 1. Store at room temperature.
Nutrition
Calories: 

914.96kcal

Fat: 

19.61g

Saturated Fat: 

2.22g

Monounsaturated Fat: 

7.86g

Polyunsaturated Fat: 

6.52g

Carbohydrates: 

147.39g

Fiber: 

26.63g

Sugar: 

35.25g

Protein: 

43.58g

Sodium: 

51.42mg

Calcium: 

134.41mg

Potassium: 

1532.54mg

Iron: 

9.32mg

Vitamin A: 

6.57µg

Vitamin C: 

8.55mg