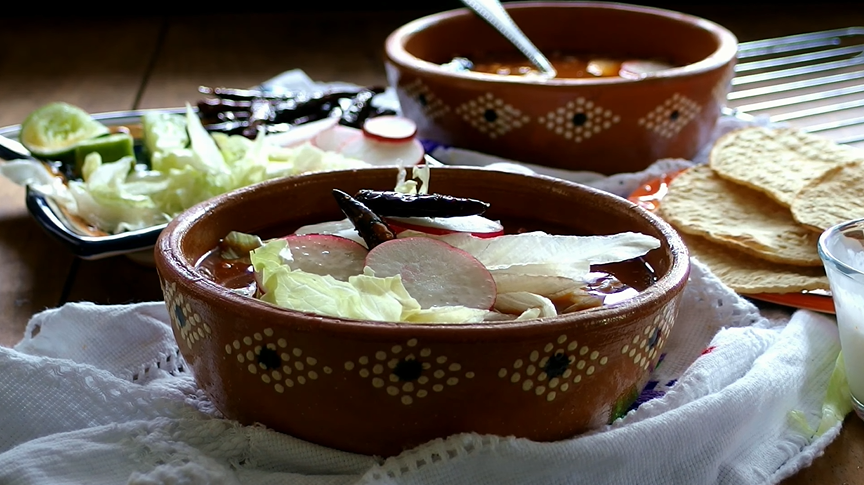 Pinto Posole Recipe
Replace the pork with delicious pinto beans in this classic Mexican dish. This pinto posole soup is spicy, healthy, and savory. Even leftovers taste great.
Ingredients
4

guajillo chili peppers

2

tbsp

extra-virgin olive oil

1

large white onion,

finely chopped

4

cloves

garlic,

pressed or minced

1

tbsp

ground cumin

½

cup

tomato paste

1

bay

leaf

45

oz

pinto beans,

rinsed and drained (3 cans)

15

oz

hominy,

rinsed and drained (1 can)

4

cups

vegetable broth

2

cups

water

½

tsp

fine sea salt,

to taste

¼

cup

cilantro,

chopped, divided

1

lime,

halved
Recommended Garnishes:
avocado,

sliced

green cabbage,

shredded

radish,

chopped

onion

jalapeño
Instructions
Cut off the stem ends of the chilis and shake or flick the chilis to remove as many seeds as possible. Rinse them and pat them dry.

Heat an empty Dutch oven or soup pot over medium heat until a few drops of water evaporate quickly from the pan.

Toast the chilis in the dry pan, pressing them flat with a spatula for a few seconds until fragrant, then flip them over and press them again for a few seconds.

Remove the toasted chilis and set them aside for now.

In the same pot (still over medium heat), warm the olive oil until shimmering. Add the onion and a pinch of salt. Cook for about 5 minutes, stirring often, until the onions are tender and translucent.

Add the garlic and cumin and cook for about 1 minute, until fragrant while stirring. Add the tomato paste and cook for 1 minute, while stirring.

Add the toasted chili peppers, bay leaf, hominy, beans, vegetable broth, and water to the pot. Stir in ½ teaspoon of salt and raise the heat to medium-high.

Bring the mixture to a simmer, then reduce heat as necessary to maintain a gentle simmer, stirring occasionally, and cook for 25 minutes.

Remove the chili peppers and bay leaf from the soup and discard them. Stir the cilantro and juice of ½ of lime into the soup. Taste, and add more salt (at least ¼ teaspoon more), and/or lime juice if necessary. For extra richness, add a little splash of olive oil and stir it in.

Cut the remaining lime into small wedges. Divide the soup into bowls and garnish with lime wedges and other garnishes of your choice. Serve and enjoy!
Recipe Notes
Use 2 peppers for a mild soup and 4 peppers for a spicy soup.

If you want extra-spicy soup, you could also reserve the pepper seeds to add after the soup is cooked, to taste.
If you can't find guajillo chili peppers, dried ancho chili peppers are a good alternative. You can also use 1 tablespoon of mild chili powder instead.
Nutrition
Calories: 

1320.97kcal

Fat: 

12.48g

Saturated Fat: 

1.93g

Monounsaturated Fat: 

6.21g

Polyunsaturated Fat: 

2.68g

Carbohydrates: 

232.27g

Fiber: 

55.61g

Sugar: 

17.14g

Protein: 

73.25g

Sodium: 

1006.65mg

Calcium: 

437.31mg

Potassium: 

5059.77mg

Iron: 

19.68mg

Vitamin A: 

59.69µg

Vitamin C: 

101.65mg
Topics: