The boba milk tea trend has been going on for several years now. This phenomenon originated in Taiwan and has become widely popular all over the world. Jasmine milk tea is not a popular flavor, but its sweet-scented jasmine flowers that filter through the green tea leaves creates an ultimately refreshing drink. Because of that, you won't be able to resist making this homemade milk tea. Pair it with an egg waffle, which is another trendy snack commonly eaten with bubble milk tea.
Tips on Making Jasmine Milk Tea

You won't have to step out of the house anymore when you're craving for milk tea. Although there are dozens of flavors for tea with milk to choose from, our boba tea is one you won't be able to get enough of. Compared to oolong milk tea, this jasmine milk tea recipe is sweeter and lighter with a subtle floral taste. Follow our tips below and save yourself a trip to the tea store.

We don't recommend using honey to sweeten cold milk tea

even if it is healthier than sugar. Consequently, it's difficult for honey to dissolve in cold liquids. You can, however, use it with

hot jasmine

tea.

If you want a stronger and more bitter tasting tea,

you should leave the tea steeping the entire time before adding milk and ice cubes. If you don't want it as strong, just steep for five minutes. You can adjust according to your preference for

jasmine milk tea recipes

.

You can store cooked pearls in a simple syrup made with water and sugar

or just in honey. Nowadays, brown sugar syrup is preferred as well.

It's best to serve boba pearls while they are still warm.

This is because they will still be chewy in the drink. Once they start to cool, they'll also start to harden which is an undesirable texture.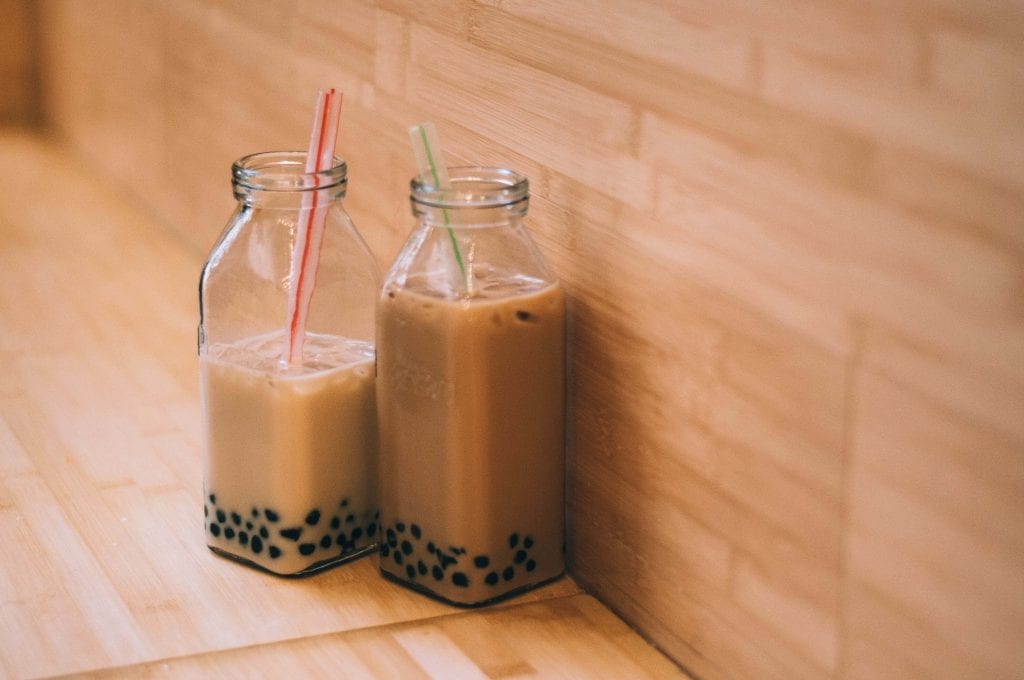 Jasmine Milk Tea with Boba Recipe
How To Make Jasmine Bubble Milk Tea
A cool, sweet jasmine milk tea is perfect for summers and even rainy days because of its comforting nature. With our simple tea and milk recipe, you only need these ingredients to make a refreshing drink: jasmine tea, tapioca pearls, milk, and sugar. Enjoy!
Ingredients
1

cup

sugar

1

cup

black tapioca pearls,

large

6

jasmine tea bags

½

cup

condensed milk,

sweetened
Instructions
Prepare the tea. Put 6 jasmine tea bags into a heat-proof container and pour over 4 cups of boiling water.

Let the tea steep for 20 minutes. Remove the bags and discard. Let the tea cool, and then refrigerate.

In a pot, add sugar and 1 cup of water. Using medium heat, bring to a boil, turn off the heat and allow the mixture to cool down.

Cook the tapioca pearls as suggested in the packet. Stir continuously for 15 minutes until soft and bouncy.

Cover the pot and leave the pearls inside for 15 minutes. Rinse under running water and drain. Place the pearls in an ice water bath.

Put ½ cup of pearls in a cup or glass.

In a separate container, add the tea and sweetened condensed milk and stir. Pour over the pearls.

Add ice cubes and enjoy!
Nutrition
Sugar:

71g

:

Calcium:

109mg

Calories:

316kcal

Carbohydrates:

71g

Cholesterol:

13mg

Fat:

3g

Iron:

1mg

Monounsaturated Fat:

1g

Polyunsaturated Fat:

1g

Potassium:

143mg

Protein:

3g

Saturated Fat:

2g

Sodium:

49mg

Vitamin A:

102IU

Vitamin C:

1mg
Nutrition Disclaimer
Frequently Asked Questions
Is it okay to drink milk tea everyday?
If you choose to drink milk tea everyday, make sure it's in moderation. Tea leaves contain caffeine and drinking too much could lead to some side effects. Among these negative side effects are headaches, sleep disorders, anxiety and problems with digestion. Most people can drink about 2 to 3 cups of jasmine milk tea in a day without any disadvantages. That's really more than enough boba for a day. 

What kind of milk is used in milk tea?
Typically, traditional milk teas use regular, whole fat milk. To make it dairy-free however, you can use oat, almond or soy milk in your tea. Do note that using dairy-free milk may alter the taste of a regular milk tea.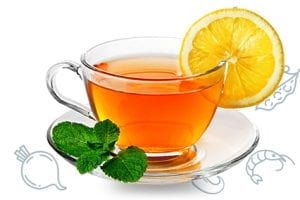 Conclusion
The milk tea craze has definitely not yet come and gone. It's still a popular and sought-after drink all over the world. In Taiwan and Korea, people still line up in the most popular milk drink joints to get a taste of its creamy goodness. Jasmine milk tea is a drink that's easily enjoyed whether it's a piping hot day or if you're really a tea lover (as most of us are!)