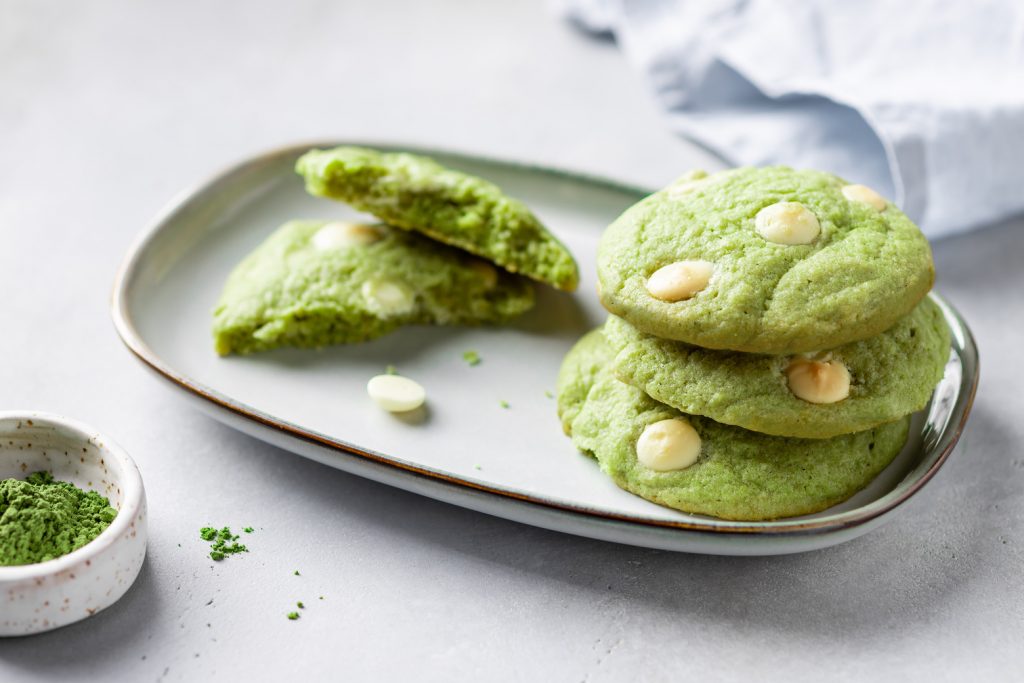 stack of green tea matcha cookies with white chocolate in plate on gray background. Health care, diet and nutrition concept. close-up
How To Make Matcha Cookies (Green Tea Cookies)
Nothing screams Japanese goodies better than these matcha cookies. Satisfy your taste buds with their refreshing green tea hints.
Ingredients
2

cups

all-purpose flour

2½

tbsp

matcha green tea powder

3⁄4

cup

unsalted butter,

softened

1

cup

confectioners' sugar,

or powdered sugar, plus 2 tsp

1⁄16

tsp

kosher salt,

or sea salt

2

large egg yolks

1⁄4

cup

white chocolate chips
Instructions
Gather all the ingredients.

Combine all-purpose flour and matcha green tea powder in a large bowl.

Sift the flour and the matcha powder.

In a stand mixer with the paddle attachment or in a large bowl with a hand mixer, beat unsalted butter until smooth and creamy. It's important to soften the butter ahead of time.

Add salt and blend.

Add powdered sugar and blend until soft and light. Scrape down the bowl as needed.

Add egg yolks and mix well until combined.

Gradually add the flour and matcha mixture and mix until well-incorporated.

Add white chocolate chips and mix them all together.

Cut the dough in half and shape it into 2 cylinders, about 1½x7-inch.

Wrap the logs in plastic wrap and chill in the refrigerator for at least 2 hours until firm. To bake, let sit at room temperature for about 10 minutes before cutting and baking. Do not let the dough fully defrost.

Preheat the oven to 350 degrees Line the baking sheet with parchment paper or silicone baking liner. Remove the dough from the plastic wrap, and with a sharp knife, slice the dough into ⅓-inch-thick rounds. If the dough is too hard, wait for 5 minutes or so. Place them on the baking sheet, leaving about 1-inch between rounds.

Bake the cookies for about 15 minutes, or until the edge of the cookies starts to get slightly golden brown.

Remove from the oven and let cool on the baking sheet for 5 minutes; then carefully transfer to a cooling rack and let cool completely.

Serve and enjoy.