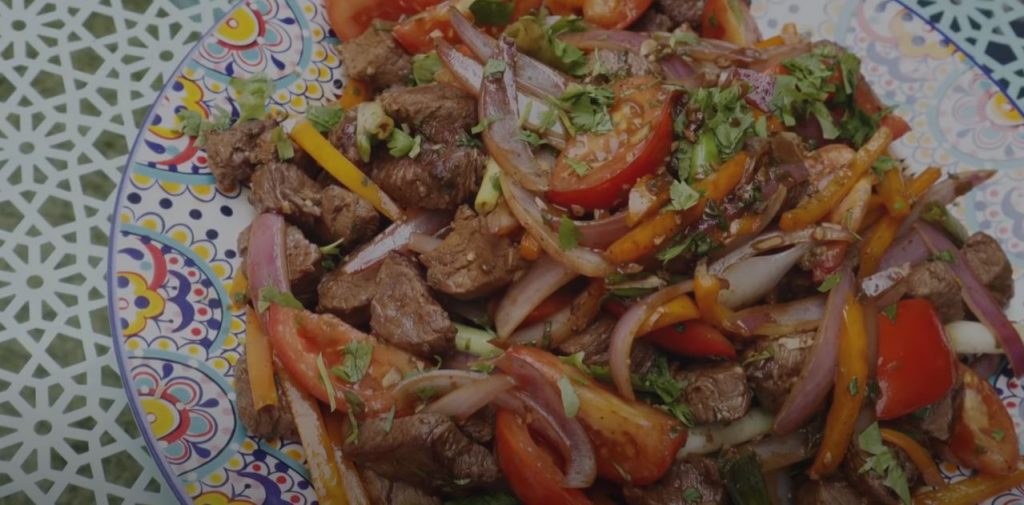 Lomo Saltado (Peruvian Beef Stir Fry) Recipe
How To Make Lomo Saltado (Peruvian Beef Stir Fry)
Lomo saltado is a Peruvian stir-fry dish with sirloin, tomatoes, onions, and french fries. This lightened-up version uses lean sirloin slices.
Ingredients
For Baked Fries:
For Beef:
Instructions
Preheat the oven to 400 degrees F.
Lightly coat a baking sheet with cooking spray.
Cut the potato lengthwise into ⅓-inch thick slices; cut each slice into ⅓-inch fries. Place on the baking sheet and toss with oil to evenly coat. Season with garlic powder, salt, and pepper. Place on a single layer onto the greased baking sheet.
Bake uncovered on the lower third of the oven for about 25 minutes or until tender crisp and golden.
Meanwhile, season meat with salt, pepper and cumin.
Heat a large wok over high heat. When hot add the oil and the steak, cook about 2 minutes, until browned on both sides.
Add the onions, bell pepper, jalapeno and garlic and cook for 2 minutes. Add the tomato, soy sauce and vinegar and cook 1 more minute.
Season with more salt as needed, remove from heat and finish with cilantro.
Serve immediately with french fries and divide evenly between 2 plates.
Nutrition
Monounsaturated Fat: 

12.76g
Polyunsaturated Fat: 

2.97g
Topics: