This fiery shrimp lo mein recipe lets you enjoy an Asian-inspired noodle dish within the comforts of your own home. Our version of this delicious stir fried recipe is filled with tender Chinese egg noodles, crisp vegetables, and juicy shrimps coated in a flavorful hot and sour sauce. The juicy and plump shrimps are tossed in a rich ginger marinade just before cooking to add a layer of complexity and flavor to the entire noodle dish. Pair this appetizing shrimp lo mein noodles with a delectable kung pao chicken dish.
Basic Shrimp Lo Mein Ingredients
So, what is shrimp lo mein? Well, it's a stir fry noodle dish made with boiled lo mein noodles that are then tossed into a pan with a variety of vegetables, meat, and coated in a delicious thick sauce. Classic shrimp lo mein noodle dishes are usually savory and sweet in taste. Its basic main ingredients include shrimps, colorful vegetables, egg noodles, and the homemade sauce. 
For the lo mein noodles, you can buy these fresh, frozen, or dried. They're available in the refrigerated section of most Asian grocery stores. They are light yellow in color, and best consumed after a couple days of purchasing it. We recommend using fresh lo mein noodles since it only takes a few minutes to cook them. If you can't find one, then using the frozen or dried variation also works. Just make sure that you defrost the frozen noodles first in the refrigerator overnight. 
Lastly, the sauce gives life and flavor to the dish. What is lo mein sauce made of? This savory sauce is typically made with soy sauce, oyster sauce, dark soy sauce, sesame oil, and sugar. The noodles are quite bland on their own so combining this sauce into the mix definitely adds flavor to the plain lo mein noodles. Each sauce ingredient is essential to create the unique lo mein taste. For instance, the dark soy sauce gives the lo mein noodles that delicious caramelized color. Combine the oyster sauce, and you'll get a much more balanced taste of salty and sweet. 
Our Hot and Sour Shrimp Lo Mein
For this homemade shrimp lo mein recipe, however, we added some sour and spicy flavors to the sauce to give even more character to the dish. The tang comes from the sauce, with the addition of Chinese black vinegar to the usual mix of lo mein sauce. As for the spice, we made a spicy ginger marinade to coat the shrimp instead of just cooking the shrimps together with the noodles straight away. This fiery ginger marinade mixed with the tangy sauce definitely enhances the dish to a whole other level!
Tips on Making Shrimp Lo Mein
Impress your friends with your knowledge of Asian cuisine by trying out this tasty and easy lo mein with shrimp at home. It's so easy to make this dish since it uses simple ingredients found typically at the International or Asian aisles of your local supermarket. And with our tips below, you'll easily whip up the best lo mein dish anytime.   
Don't rinse Chinese egg noodles after cooking.

The starch from the egg noodles actually helps in thickening the hot and sour sauce. It's starchy enough for the sauce, shrimp, and veggies to cling better when mixed together, making it thick and savory to eat. 
Add in other flavorful veggies.

Feel free to customize some of the vegetable ingredients in this dish to suit your preferences. Try adding in shredded

napa cabbage

, red peppers, and yellow peppers to add some color to the dish. Adding in zucchini, baby corn, chopped spinach, or mushrooms also work in elevating the taste of the dish. These are some of the vegetables that are perfect for stir-frying.
Garnish the dish

with some fresh green onions, chopped peanuts, fresh mung

bean sprouts

, chopped basil or cilantro. For more heat, sprinkle a bit of

red pepper

flakes or

Sriracha chili sauce

. Adding in garnish makes the dish more appetizing and presentable, and gives it a little extra crunch or flavor, depending on which toppings you'll be using. 
How To Make Hot and Sour Shrimp Lo Mein
Pucker up with this tasty recipe for shrimp lo mein made with spicy ginger marinade for the shrimps over noodles coated with sour lo mein sauce!
Ingredients
1½

lb

shrimp,

peeled, scored down the back, deveined and rinsed
For Spicy Ginger Marinade:
3

tbsp

Chinese rice wine,

or sake

1½

tbsp

fresh ginger,

minced

1

tsp

sesame oil,

toasted

3½

tbsp

safflower,

or corn oil

1

medium

red onion,

thinly sliced

2½

tbsp

garlic,

minced

1

tsp

hot chili paste

1½

cup

water chestnuts,

blanched in boiling water for 10 seconds, refreshed in cold water, drained, and patted dry, sliced canned

½

lb

snow peas,

ends snapped and strings removed
For Sour Lo Mein Sauce:
1½

cup

chicken broth,

or water

5½

tbsp

soy sauce

3½

tbsp

dark soy sauce

2

tbsp

oyster sauce

3

tbsp

Chinese rice wine,

or sake

2

tbsp

sugar

2

tbsp

Chinese black vinegar

1

tsp

sesame oil,

toasted

1

tbsp

cornstarch

½

lb

dry or fresh egg noodles,

(lo mein noodles)
Instructions
To make spicy ginger marinade, mix all ingredients well.

To make sour lo mein sauce, mix all ingredients well.

Cook noodles according to package directions. Drain well, do not rinse. Set aside.

In a bowl, combine the shrimp with the ginger marinade, tossing lightly to coat.

Heat a wok or heavy skillet over high heat. Add 2 tablespoons of the oil and heat until very hot but not smoking.

Add the shrimp and toss lightly for about 1½ minutes until they turn pink.

Remove with a handled strainer or a slotted spoon and drain in a colander.

Wipe out the wok.

Reheat the wok over medium-high heat.

Add the remaining 1½ tablespoons of oil and heat for about 20 seconds until hot.

Add the onion, minced garlic, and chili paste and stir-fry for 1½ to 2 minutes until the onion is slightly softened.

Add the water chestnuts and snow peas, turn up the heat to high, and toss until heated through.

Add the lo mein sauce and cook for 2 to 3 minutes until thickened, stirring constantly to prevent lumps.

Add the shrimp and noodles and mix gently.

Transfer to a platter and serve immediately.
Nutrition
Sugar:

10g

:

Calcium:

212mg

Calories:

466kcal

Carbohydrates:

51g

Cholesterol:

286mg

Fat:

13g

Fiber:

4g

Iron:

5mg

Potassium:

460mg

Protein:

32g

Saturated Fat:

1g

Sodium:

1864mg

Vitamin A:

411IU

Vitamin C:

36mg
Nutrition Disclaimer
Frequently Asked Questions
What is the difference between shrimp chow mein and shrimp lo mein?
The main difference between shrimp chow mein and shrimp lo mein is their noodles. Both are Chinese noodles that are cooked differently. Chow mein noodles are basically fried noodles. First, they are partially cooked, and then finished in oil for stir frying. That's why they are crispier and crunchier in texture since they take a longer time to cook in the oil. They also don't have as much sauce as the lo mein. On the other hand, shrimp lo mein are boiled noodles. They are boiled separately from the stir-fry. These cooked noodles are softer in texture, and are tossed in the pan together with the vegetables, shrimp, and sauce so that it all coats and blends with the noodles better.

Is shrimp lo mein healthy?
It's best to eat this shrimp lo mein dish in moderation since it's not really the most nutritious of dishes. Although it's filled with healthy vegetables and protein-loaded shrimp, these lo mein noodles are cooked in an oil-drenched sauce with high sodium content ingredients like soy sauce. Moreover, the noodles are refined carbohydrates that will increase your calorie count.
Conclusion
Make weeknight meals extra delicious with this easy shrimp lo mein recipe made with flavorful ingredients. Its hot, sour, and savory thick sauce blends perfectly with the tender noodles, crisp veggies, and juicy shrimps. Enjoy this noodle dish with your friends and family!
Topics:
Related Recipes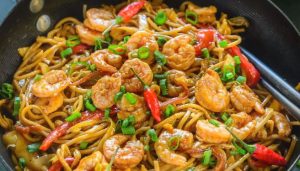 Noodles
Add a nice seafood twist to a traditional Asian noodle dish with our shrimp chow mein recipe. The shrimp flavors blend perfectly with the savory sauce.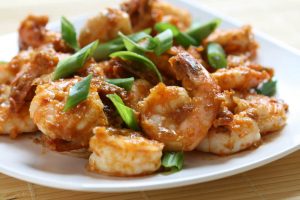 Stir Fry
Bold Asian flavors and spices are what make this Szechuan shrimp dish excellently tasteful! Cook up a filling plate in just under one hour.