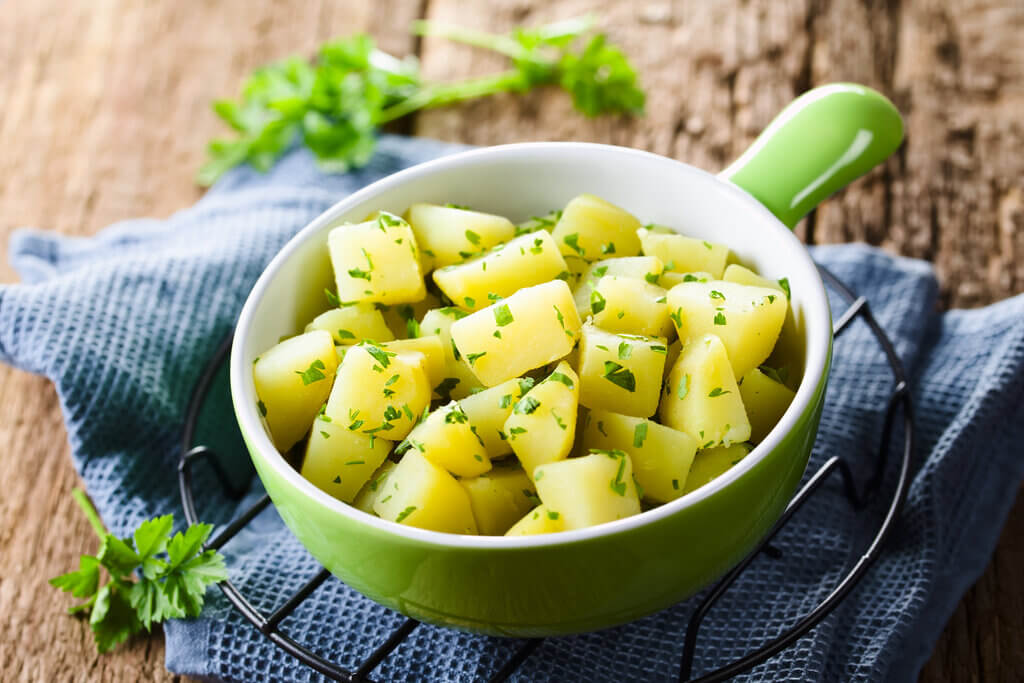 Parsley Potatoes Recipe
If you're wondering what to make with potatoes, then try out my easy buttered parsley potatoes recipe. This potato side dish is one of those healthy recipes that are so simple to cook. I've made these so many times to pair with my home cooked meals, and I'm still amazed by how buttery and savory it is. Each bite is soft and cream-like in texture. I usually just snack on these buttered potatoes sometimes when there are leftovers. But you can even get creative and use the extra boiled potatoes to make a potato salad!
Back to these parsley potatoes, to make them, you'll need the right potato. The best kind of potatoes to use are waxy potatoes like Yukon gold potatoes, new potatoes, red skin potatoes or even baby potatoes. Waxy potatoes are perfect for making these boiled parsley potatoes because they are high in moisture, but lower in starch. It means that they can stand being boiled for long periods of time. You can use larger or smaller sized waxy yellow or red potatoes for this recipe. If you're using smaller ones, you won't need to chop it anymore.
After choosing your potatoes, set up your pot and add in your potatoes. I also sprinkled a bit of salt as well to the boiling potatoes for the best flavor. Boil for a few minutes or until they're tender. You can use a fork or a paring knife to accurately check if the potatoes are soft and ready. The utensil should easily slide through the potato, and when it does, drain the water from the pot. Add and combine melted butter and chopped parsley onto the potatoes, and toss to evenly coat each potato.
When ready to serve, feel free to re-coat the potatoes with any of the butter collected at the bottom. You can also add in other herbs like fresh dill as an alternative for parsley. Avoid using dried herbs for this recipe. I used dried herbs before and it did not go well with the dish. The flavor was more potent and also had crunchy bits, which didn't really complement the potatoes very well. Also, for this parsley potatoes recipe, the herbs are added at the end, so I wouldn't really recommend adding in dried herbs. Dried herbs need to be hydrated so it should be added during cooking. Doing this, however, would affect the taste. That's why I suggest sticking to aromatic and fresh herbs like parsley or dill.
Aside from the herbs, there is also another tasty seasoning for potatoes like garlic powder. Add in a bit of this as well to make a delicious garlic parsley potatoes recipe variation. If not the powdered version, then use minced garlic as a substitute. These are just some ways to elevate the side dish even further. I've tried adding garlic before and it really added a bit of garlicky flavor to the buttery taste which was also really good.
When the parsley potatoes were ready, I served them alongside a main dish. I love pairing these tender potatoes with a delicious serving of lemon roasted chicken. The buttery and soft taste blends beautifully with any meat dish like chicken, pork, or steak. So, if you're looking for good potato recipes to try, then start with this favorite of mine.
How To Make Parsley Potatoes
These creamy parsley potatoes are a fresher and more delicious take on the usual potato side dish with its buttery and subtle herby flavors.
Ingredients
2 lb potatoes, peeled and cut into 2-inch pieces

½ cup butter, melted

¼ cup

fresh parsley

, or

fresh dill

, chopped

salt and pepper, to taste

½ tsp

garlic powder

, to taste, optional
Instructions
Place potatoes in a large saucepan and cover with water. Bring to a boil

, and add 1 teaspoon of salt.

Reduce heat; cover and cook for 10 to 15 minutes or until tender. Drain.

Combine

melted b

utter and

chopped parsley

; po

ur over th

e

boiled potatoes

a

nd toss to coat. Season with salt and pepper.

Serve and enjoy!
Recipe Notes
For a subtle garlicky flavor, add ½ teaspoon of

garlic powder

to the butter and parsley mixture.

Store leftovers in an airtight container, and refrigerate for 3 to 4 days.
Nutrition
Calories: 

190.69kcal

Fat: 

11.64g

Saturated Fat: 

7.33g

Trans Fat: 

0.47g

Monounsaturated Fat: 

2.99g

Polyunsaturated Fat: 

0.49g

Carbohydrates: 

20.19g

Fiber: 

2.65g

Sugar: 

0.91g

Protein: 

2.51g

Cholesterol: 

30.50mg

Sodium: 

301.96mg

Calcium: 

21.50mg

Potassium: 

496.42mg

Iron: 

1.04mg

Vitamin A: 

105.04µg

Vitamin C: 

24.83mg