We're making the best banana cupcakes with your overripe bananas at home! Indulge in a healthy and delicious sweet treat with this quick and easy recipe. Don't worry about not baking enough for the whole family because this recipe serves two dozens of cupcakes that you can all enjoy. Have it as an energizing treat or a luscious after meal dessert with the right sweetness that's incredibly tempting.
The banana and dark chocolate combo is truly comforting. Besides being nutritious, bananas have the flavor and texture that are perfect for baking. They give our batter a thicker consistency and a sweet scent and flavor that we're all guilty of loving. We may have the famous banana bread but we're going for dark chocolate in this banana cupcakes recipe. We're making perfectly baked brown banana cupcakes with dark chocolate chunks topped with a ganache from melted chocolate chips. Yes, it's as good as it sounds!
Bananas work perfectly with chocolate. What better way to repurpose them once they ripen too much than making a chocolate-loaded dessert out of it? For those of you who love this healthy and flavorful fruit, try making our Chocolate Banana Mousse Recipe and Banana Caramel-Drizzled Puffs Recipe for more go-to banana-flavored desserts. Bond with the kids over this quick and simple recipe and enjoy a batch of moist and fluffy banana cupcakes packed with chocolate flavors.
Banana Cupcakes with Dark Chocolate Chunks Recipe Video
How To Make Banana Cupcakes with Dark Chocolate Chunks
Indulge in stunningly delicious banana cupcakes with dark chocolate chunks and melted chocolate ganache frosting and include this quick and easy banana dessert recipe in your sweet favorites.
Advertisement
Continue Reading Below
Ingredients
1½

cups

all-purpose flour

½

tsp

baking soda

¼

tsp

salt

1

cup

sugar

2

eggs,

beaten

½

cup

vegetable oil

4

bananas,

large, ripe, and mashed

¼

cup

buttermilk

2

tsp

pure vanilla extract

¾

cup

dark chocolate,

roughly chopped
For Chocolate Ganache:
¼

cup

heavy cream

½

cup

semisweet chocolate chips

½

tsp

instant coffee granules
Instructions
Banana Cupcakes with Dark Chocolate Chunks:
Place a strainer over a large mixing bowl. Sift the flour and baking soda through the strainer and into the bowl.

Whisk salt and sugar into your dry mixture until everything is well combined and evenly distribute. Add in the eggs and oil and stir just until the dry ingredients are moistened.

Stir in the banana, buttermilk, and vanilla until well combined.

Fold in your dark chocolate chunks.

Preheat the oven to 350 degrees F.

Transfer and divide the batter into the cupcake liners and bake for 17 to 23 minutes, or until a wooden pick inserted in the center comes out clean.
Chocolate Ganache:
Combine the heavy cream, chocolate chips, and instant coffee in a double boiler over simmering water and let them cook until smooth and warm, stirring occasionally. Cool to room temperature and transfer your ganache into a piping bag.

Allow your cupcakes to cool completely before frosting with ganache.

Top your banana cupcakes with the rich chocolate ganache and serve!
Advertisement
Continue Reading Below
Advertisement
Continue Reading Below
Commonly Asked Questions
How do I ripen my bananas faster?
You can place your bananas in a warmer area or place them in a brown paper bag to trap the gas that helps it ripen. If your cravings just can't wait, you can bake the bananas for 20 to 30 minutes in a preheated oven at 300 degrees Fahrenheit. Your banana peels should turn black. Remove the peels and mash the bananas. Heating them in a microwave can soften them but will not affect the favor. We suggest heating partially ripened bananas in the microwave by peeling them and placing them in a microwave-safe bowl then heating on high for about 30 seconds.
How do I store my leftover banana cupcakes?
If you're expecting your cupcakes to be gone within days make sure they have completely cooled before placing them in an airtight container and storing them at room temperature. You can also keep them in the fridge for up to 5 days. If you have plans on freezing them, place them on a baking sheet and freeze for 3 to 4 hours then place in a freezer-safe bag. You can freeze them for up to 3 months. Reheat it by defrosting overnight in the fridge or reheat it in the microwave.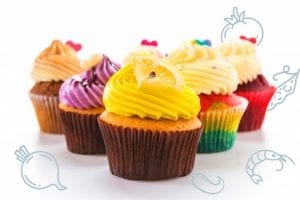 Conclusion
You'll go bananas over this banana cupcakes recipe that also gives you your chocolate fix! We love it because it has minimal ingredients that are so easy to find in your kitchen. These cupcakes will be a staple dessert in your home and you just won't stop craving them.
Advertisement
Continue Reading Below
Topics:
Advertisement
Continue Reading Below
Advertisement
Continue Reading Below