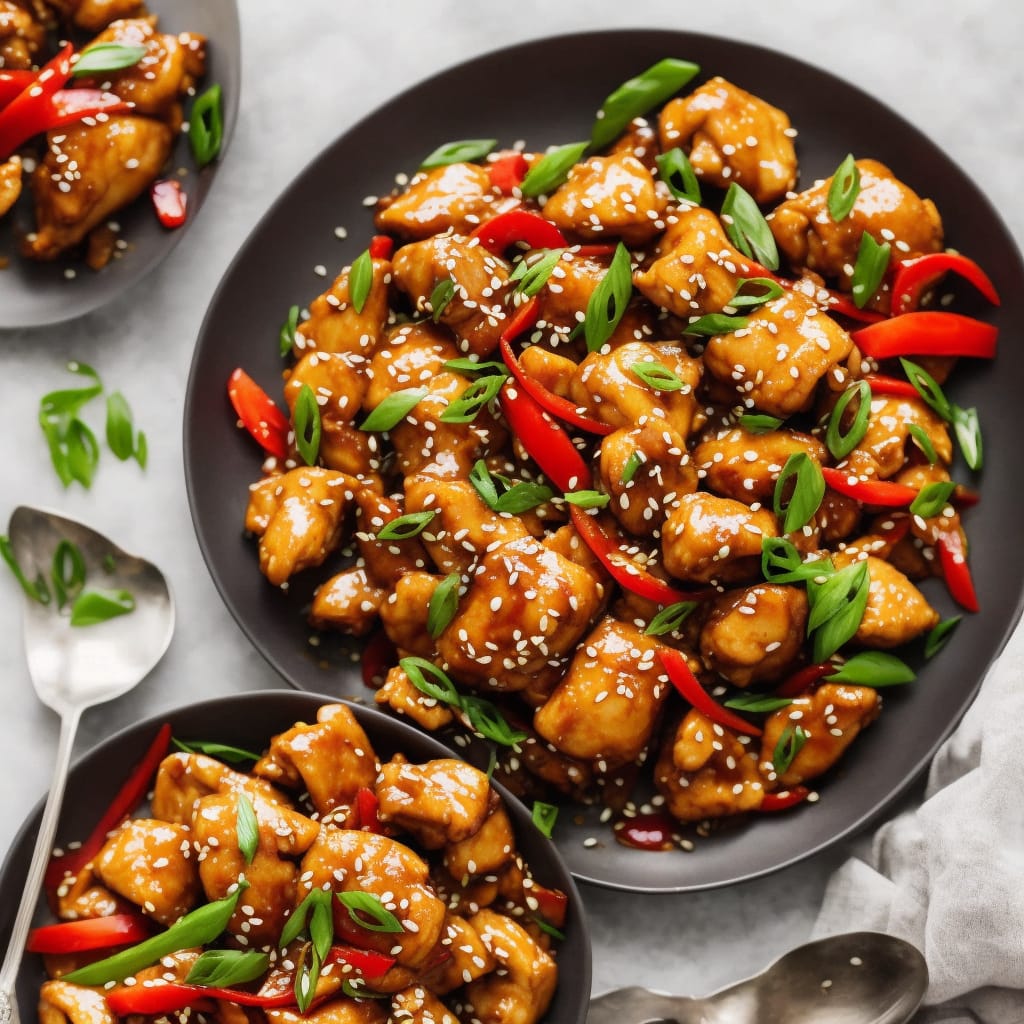 Easy Sweet and Sour Chicken Recipe
How To Make Easy Sweet and Sour Chicken Recipe
Oriental cooking is at its best with these flavorful Chinese recipes! Serve signature Chinese dishes like dumplings, noodles, fried rice, soup, and sauces with our tasty recipes. Taste the spices and seasonings of Asian cuisine when you make these delectable Chinese recipes.
Ingredients
1 lb boneless, skinless chicken breasts, cut into bite-sized pieces
1/2 cup cornstarch
1/4 cup all-purpose flour
1/2 tsp salt
1/4 tsp black pepper
Vegetable oil, for frying
1/2 cup ketchup
1/4 cup rice vinegar
2 tbsp soy sauce
2 tbsp brown sugar
1 clove garlic, minced
1/2 cup pineapple chunks
1/4 cup bell peppers, sliced
1/4 cup onion, diced
Instructions
In a shallow bowl, mix together the cornstarch, flour, salt, and black pepper.

Dip the chicken pieces into the cornstarch mixture, ensuring they are evenly coated.

Heat vegetable oil in a large skillet over medium-high heat.

Place the coated chicken pieces into the skillet and cook until golden brown and cooked through, about 5-6 minutes per side.

Remove the chicken from the skillet and set aside on a paper towel-lined plate to drain excess oil.

In a separate bowl, whisk together the ketchup, rice vinegar, soy sauce, brown sugar, and minced garlic.

In the same skillet used to cook the chicken, add the pineapple chunks, bell peppers, and diced onion.

Cook the vegetables for 2-3 minutes until slightly softened.

Pour the sauce mixture over the vegetables and stir well to combine.

Add the cooked chicken back into the skillet and stir until the chicken is evenly coated with the sauce.

Cook for an additional 2-3 minutes until the sauce has thickened.

Serve the sweet and sour chicken over steamed rice or noodles.
Nutrition
Calories :

320kcal

Total Fat :

9g

Saturated Fat :

1.5g

Cholesterol :

75mg

Sodium :

950mg

Total Carbohydrates :

35g

Dietary Fiber :

1g

Sugar :

14g

Protein :

24g