If you're craving for oriental food, this pineapple chicken recipe is a must-try! We're serving Chinese style pineapple chicken with steamed rice and it's the perfect tropical dinner! It's a quick and easy recipe that you can whip up at home and it's pretty special. It's got that sweet and tangy flavor that we all love.
You might not know this, but pineapples used to be really expensive in America. It was served at luxurious parties and used as centerpieces because of its majestic and crown-like appearance. Now, it's being widely sold and distributed all throughout America and the world, so we get to enjoy the sweet and sour goodness of this fruit. Besides its unique flavor, we also get to enjoy the benefits of this fruit to our health, being good for our digestion and in reducing inflammation. Pineapples also make the perfect desserts like Pineapple Macarons, Pineapple and Coconut Panna Cotta, or Hawaiian Sponge Cake.
This pineapple chicken recipe stir-fries chicken, pineapple chunks, and vegetables in a rich and savory sauce. The meat, chicken, fruit, and vegetables when combined will give you a perfectly balanced and complete meal. Meanwhile, the strong aromatic flavor of the sauce will leave you wanting more. This is a pineapple chicken recipe that will give you an easy-to-make chicken dinner that the whole family will love. It's a healthy and complete dish with flavors that give you the sweet and sour touch that you won't forget.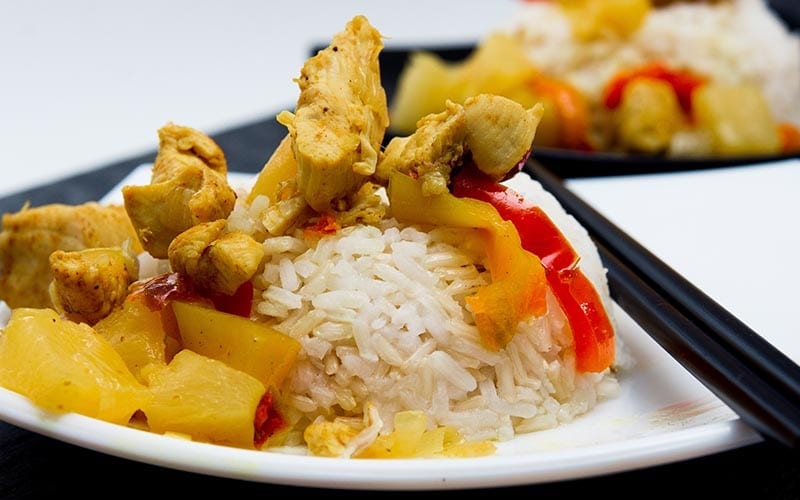 Pineapple Chicken Recipe
How To Make Pineapple Chicken
Try out this pineapple chicken recipe and get a refreshingly tropical take on flavored chicken. It's stir-fried chicken with fruits and vegetables swimming in flavorful sweet and sour sauce. It's quick, easy, and healthy!
Ingredients
For the chicken:
1

lb

chicken thighs or breast,

cut into 1" pieces

½

tsp

salt

1

tbsp

dry sherry

⅓

cup

cornstarch

4

tbsp

peanut oil
For the sauce:
¾

cup

pineapple juice

2

tbsp

soy sauce

2

tbsp

rice vinegar

1

tbsp

brown sugar

1

tbsp

cornstarch
For the stir-fry:
1

cup

pineapple slices,

cut into 1" chunks

1

bell pepper,

cut into 1" pieces

1

tbsp

ginger,

minced
Instructions
In a medium-sized bowl, add the chicken pieces, salt, and dry sherry then mix them well. Marinate while preparing the other ingredients.

In a medium-sized bowl, combine all the ingredients for the sauce. Stir well until the sugar is dissolved. Set aside the mixture.

Add cornstarch to the marinated chicken and make sure to completely coat the chicken pieces.

In a large nonstick skillet, heat oil over medium-high heat.

Shake the excess cornstarch off the chicken and spread the pieces into the pan without overlapping. Let it cook for 2 minutes or more until the bottom turns brown. Flip to cook the other side until browned for another 2 minutes. Transfer the chicken to a plate and let it cool.

Reduce the oil in the pan and make sure to leave one tablespoon of it. Heat the skillet over high heat and add in the pineapples and peppers. 

Add the ginger on top of the vegetables and allow them to cook undisturbed for 1 to 2 minutes until the pineapples caramelize and the peppers begin to blister. Then stir a few times.

Stir the sauce and make sure to dissolve the cornstarch. Pour the mixture into the pan and let it cook until the sauce is fully thickened.

Take the pan off the heat and add in the chicken. Stir to make sure that the chicken pieces are fully coated with the sauce.

Top your steamed rice with the chicken and sauce and your oriental flavored chicken is ready to be served.
Recipe Notes
You can garnish your meal with sesame seeds and green onions before serving.
Nutrition
Sugar:

17g

:

Calcium:

24mg

Calories:

508kcal

Carbohydrates:

33g

Cholesterol:

111mg

Fat:

33g

Fiber:

2g

Iron:

1mg

Potassium:

461mg

Protein:

20g

Saturated Fat:

7g

Sodium:

886mg

Vitamin A:

1049IU

Vitamin C:

48mg
Nutrition Disclaimer
Frequently Asked Questions
What other ingredients can be used as a substitute for pineapple?
You can use papaya, guava, or mango as substitutes for pineapple. Meanwhile, for pineapple juice, you can use orange juice and grapefruit juice as alternatives. If you want substitutions that are a bit closer to pineapple you can try combining papaya with green apple, or making a mixture of mango, lime juice, orange juice, and brown sugar.
Can I substitute fresh pineapple for canned pineapple?
You can use fresh pineapples and canned pineapples interchangeably. Just make sure to have them in equal measurement.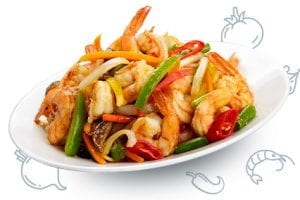 Conclusion
This pineapple orange chicken recipe gives us an oriental style chicken that's perfect on a hot day when you're craving a sweet and sour dish paired with a chilling cold drink. It's a fabulous meal that's very easy to make! It seems like a sophisticated dish, but you just basics lly marinate your chicken then stir-fry everything to create this sweet and sour wonder. It's a quick and easy dish that takes us on a tropical vacation and we can't say no!