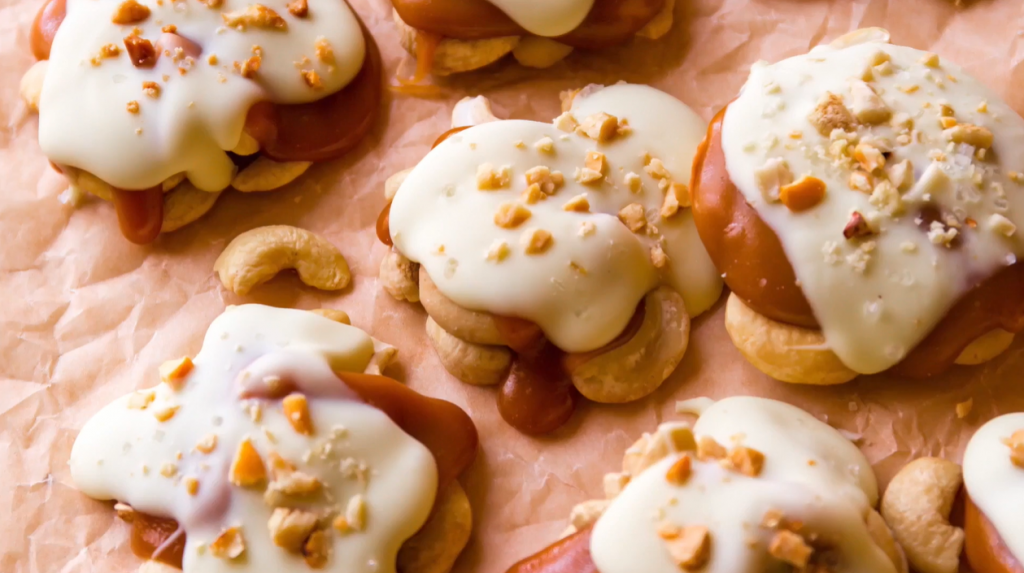 White Chocolate Caramel Cashew Clusters Recipe
How To Make White Chocolate Caramel Cashew Clusters
These white chocolate-covered cashew clusters are easy no-bake desserts paired with a simple caramel and a dash of sea salt for the best sweet-salty treat!
Instructions
Line 2 large baking sheets with parchment paper or silicone baking mats.
Arrange 35 clusters of cashews each with 1 to 2 inches between them. Use about 11 to 12 cashew halves per cluster.
Set some extra cashew aside, if any. Crush them up to sprinkle on top of the clusters later.
Place the caramels in a medium microwave-safe bowl. Pour the cream on top and microwave for 3 minutes total, stopping and stirring every 20 seconds to prevent the caramels from scorching.
If the caramel seems too thick after 3 minutes, stir in 1 to 2 more tablespoons of cream.
Spoon 2 teaspoons of caramel onto the center of each cluster. Set aside.
Melt the chocolate in the microwave or use a double boiler. If using the microwave, place chocolate in a medium microwave-safe bowl and microwave for 1 to 2 minutes, stopping and stirring every 20 seconds until completely melted and smooth.
Spoon the melted chocolate on top of each cluster, then top each with any crushed cashews and a sprinkle of sea salt.
Allow the chocolate to completely set in the refrigerator for 30 minutes.
Serve and enjoy!
Recipe Notes
Store leftover clusters in the refrigerator.
Nutrition
Monounsaturated Fat: 

3.34g
Polyunsaturated Fat: 

1.18g