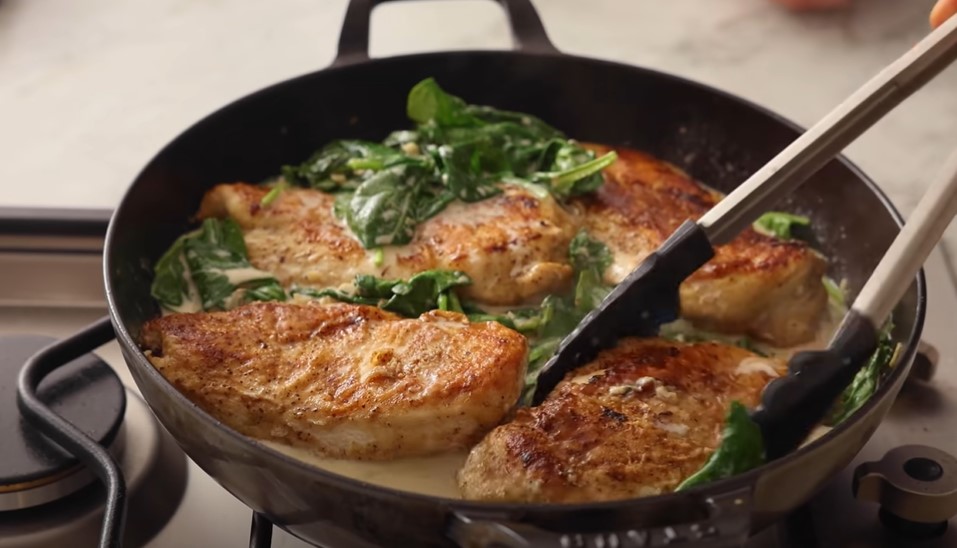 Chicken Florentine Pesto Pasta Recipe
How To Make Chicken Florentine Pesto Pasta
This flavorful Chicken Florentine Pesto Pasta dish introduces a new world of flavor with a medley of chicken with creamy florentine mixed with basil pesto.
Ingredients
12

oz

short pasta,

dried, such as bowties, penne, gemelli, etc.

4

chicken breast cutlets,

(1 to 1½ lbs in total)

salt and black pepper

2

tbsp

extra-virgin olive oil

1

medium onion,

(about 1 cup) chopped

3

cloves

garlic,

minced

½

cup

white wine,

or stock

16

oz

fresh spinach,

washed, long stems removed, chopped

¼

cup

heavy whipping cream

¼

cup

pesto,

or more
Instructions
Bring a large pot of salted water (add enough salt so that the water tastes salty) to a boil.

Add the dried pasta and cook until al dente.

While preparing the pasta, cook the chicken.

Sprinkle the chicken breasts with salt, heat the olive oil in a sauté pan, and brown the chicken breasts on both sides over medium-high heat. (Don't cook all the way through, just browned.)

Remove the chicken from the pan and set aside.

Add the chopped onion to the pan and sauté 2 to 3 minutes, stirring occasionally.

While the onions cook, slice the chicken into strips.

Put any pieces that are cooked all the way through in 1 pile, and put the ones that still need a little cooking in another pile.

When the onions are just beginning to brown, add the garlic and cook for another 1 minute.

Add the white wine or stock and boil vigorously until the liquid is reduced by ½.

Add the spinach and the undercooked pieces of chicken to the pan.

Using tongs, turn them over to coat them with the juices in the pan.

Continue to cook, turning and stirring often for about 2 minutes, until the spinach is wilted and the chicken cooked through.

Turn off the heat and add some black pepper, the pile of cooked chicken pieces, and the pesto. Stir to combine.

Drain the pasta put it in a large bowl. Add the cream to the sauté pan and stir well to combine.

Add the contents of the pan to the bowl with the pasta and mix well.

Serve at once.
Recipe Notes
To wash spinach, fill up a clean sink basin with cold water, and let the spinach soak in the water. Move it around a bit to loosen any dirt. Fresh spinach is usually pretty dirty, so there may be a need to do a couple of soakings. Remove the spinach and shake off excess water. Lay the spinach leaves down on a clean towel and pat dry.
Nutrition
Calories: 

372.52kcal

Fat: 

14.93g

Saturated Fat: 

4.21g

Trans Fat: 

0.06g

Monounsaturated Fat: 

5.50g

Polyunsaturated Fat: 

1.91g

Carbohydrates: 

37.12g

Fiber: 

3.16g

Sugar: 

2.32g

Protein: 

19.82g

Cholesterol: 

47.02mg

Sodium: 

477.25mg

Calcium: 

99.76mg

Potassium: 

584.37mg

Iron: 

2.89mg

Vitamin A: 

310.21µg

Vitamin C: 

17.35mg