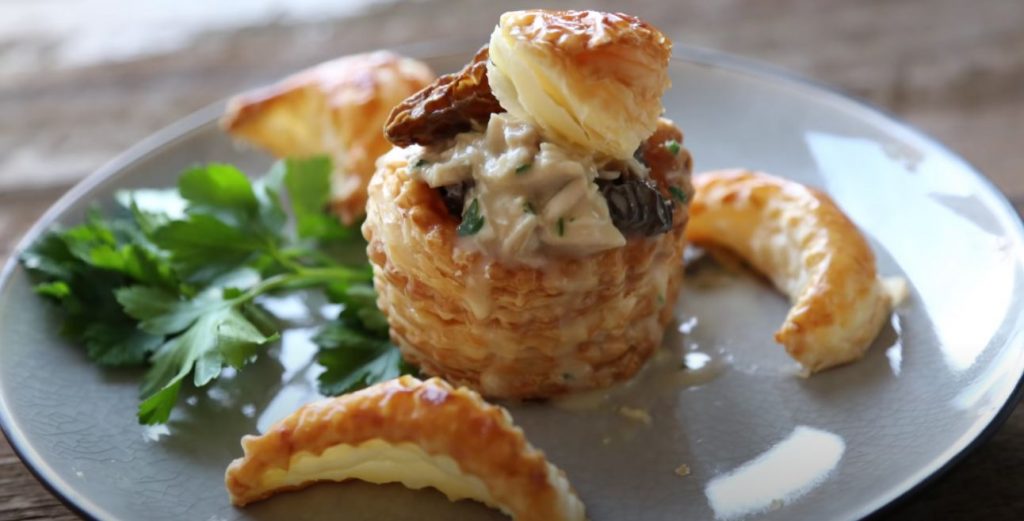 Vol Au Vent Recipe
An elegant puff pastry case, this French vol au vent makes versatile baked goodies! Be it chicken or veggies, enjoy a tasty 2-ingredient bite.
Ingredients
500

g

puff pastry

1

egg yolk,

for glazing
Instructions
Start rolling out the puff pastry.

Roll the puff pastry to a thickness of 5-millimeter. Using a 10-centimeter round pastry cutter, cut the pastry into discs.

Slightly twist the cutter on a floured worktop to make sure the disc is cut in a perfectly neat shape. The pastry disc will detach easily from the puff pastry slab.

Cut as many discs as possible.

Arrange 6 pastry discs on a Silpat baking mat, placed on top of a baking sheet.

Using a pastry brush, glaze the discs with eggwash.

With the 6 other pastry discs on the floured worktop, cut a hole in the center with a smaller pastry cutter.

Repeat the operation for all discs. This should make 6 pastry rings.

Carefully arrange the rings on top of the pastry discs. The rings will adhere to the glazed pastry discs easily.

Glaze the pastry rings and store in the fridge for about 2 hours before baking.

Remove from the fridge and apply another brush of eggwash along the rings.

Place small 6-centimeter dariole molds in the 4 corners of the baking sheet. This will help control the rise of the puff pastry shells while baking and place a baking sheet on top of the dariole molds.

Bake in a fan-assisted oven at 375 degrees F for 20 to 25 minutes.

20 minutes later, the pastry cases should have risen to a regular height. Remove the baking sheet on top.

Bake for a further 5 or 10 minutes. Gently lift the vol au vent cases to check if the pastry shells are well cooked.

When cooked, remove from the oven then place the tray on the kitchen worktop and leave to cool.

Fill with a choice of filling. Enjoy!
Recipe Notes
Ideally, start the recipe the day before and refrigerate overnight to prevent the pastry from shrinking during baking.
Topics: