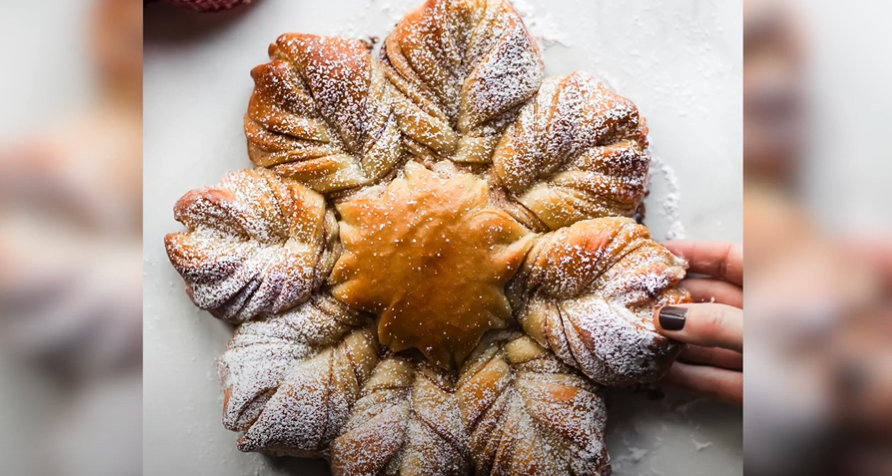 Star Bread From Scratch Recipe
How To Make Star Bread From Scratch
Impress with this beautiful and tasty star bread! It's made with layers of dough and layers of your fave filling, then twisted into a star-shaped goodness!
Preparation:
2 hours 30 minutes
Ingredients
2

tsp

instant or active dry yeast

3

tbsp

sugar

¾

cup

whole milk

¼

cup

unsalted butter,

softened to room temperature

1

large egg

2⅓

cups

all purpose flour,

spoon and leveled, plus more as needed

1

tsp

salt

preferred filling,

such as cinnamon sugar, Nutella, or jam

1

large egg,

beaten with 1 tbsp milk

2

tbsp

confectioners' sugar
Instructions
Dough:
 Place the yeast and sugar in the bowl of a stand mixer fitted with a dough hook or paddle attachment. Or, if a stand mixer is not

Heat the milk to about 110 degrees F on the stove or in the microwave until warm to the touch. Pour warm milk on top of yeast/sugar.

Whisk gently to combine, then loosely cover with a clean kitchen towel and allow to sit for 5 to 10 minutes. The mixture will be frothy.

 Add the butter, egg, flour, and salt. Beat on low speed for 3 minutes. The dough will be soft.

Using lightly floured hands, form it into a ball. If the dough is too sticky to handle, add 1 to 3 more tablespoons of flour.

Place the dough in a greased bowl (nonstick spray is fine) and cover with plastic wrap or aluminum foil. Place in a slightly warm environment* for around 60 to 90 minutes to rise until doubled in size.
To Assemble the Bread:
Line a large baking sheet with parchment paper or a silicone baking mat and prepare the star bread filling.

Punch down the dough to release the air. Place dough on a lightly floured work surface. Divide into 4 equal pieces and, with a floured rolling pin, roll each out into a thin 10-inch circle.

Place the bottom circle on the prepared baking sheet. If it lost its circle shape, use hands to form the edges back into a round shape. Top with filling, then layer the remaining circles and filling on top. 

The top layer does not have filling on it, so only 3 of the 4 circles will be topped with filling. Using a sharp knife or pizza cutter, cut any scraps around the edges to have an even circle.

Place a 3-inch round object or bowl in the center and make an indent. This is the center of the star.

Cut strips from the edge to the center 3-inch circle. Using a pizza cutter, cut 16 even strips. Using both hands, grab two strips and twist them away from each other twice, then press the two ends together to make a point. The star bread will have 8 points.

 Cover the shaped bread with plastic wrap or aluminum foil and let it rest for 20 minutes.
To Bake the Bread:
Preheat oven to 350 degrees F.

Using a pastry brush, lightly brush the star bread with egg wash. This ensures a shiny golden brown bread. Bake for about 25 to 30 minutes or until golden brown on top.

If the top or points browning too quickly, loosely tent the star bread with aluminum foil. Remove from the oven and cool for 5 minutes.

Dust confectioners' sugar on top and enjoy warm. Cover and store leftover star bread at room temperature for 1 to 2 days or in the refrigerator for 4 to 5 days.
Recipe Notes
For a warm environment, preheat the oven to 150 degrees F, then turn the oven off after preheating. Place the covered bowl inside and shut the oven door.
Nutrition
Calories: 

244.57kcal

Fat: 

8.12g

Saturated Fat: 

4.53g

Trans Fat: 

0.24g

Monounsaturated Fat: 

2.21g

Polyunsaturated Fat: 

0.65g

Carbohydrates: 

36.11g

Fiber: 

1.25g

Sugar: 

7.94g

Protein: 

6.52g

Cholesterol: 

64.04mg

Sodium: 

201.42mg

Calcium: 

40.49mg

Potassium: 

97.88mg

Iron: 

1.95mg

Vitamin A: 

79.04µg

Vitamin C: 

0.00mg