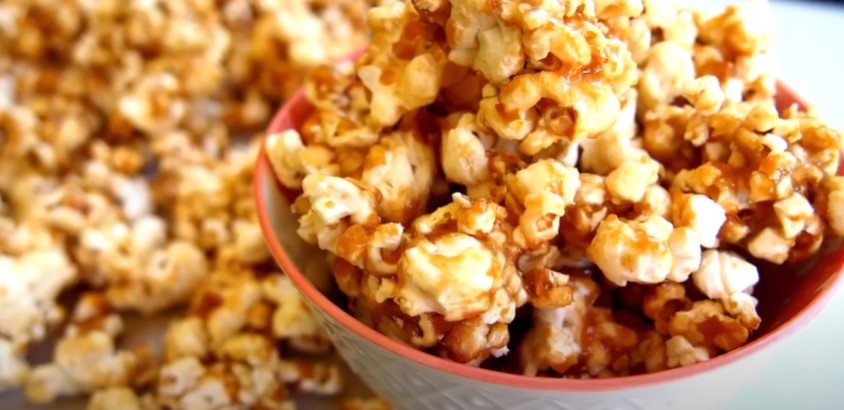 Sesame Caramel Corn Recipe
How To Make Sesame Caramel Corn
Natural sweeteners are used for this vegan caramel corn. Sesame seeds, tahini, and vanilla extract add an extra oomph to this recipe.
Ingredients
For Popcorn:
⅓

cup

popcorn kernels

1

tbsp

coconut oil or extra-virgin olive oil
For Tahini Caramel:
½

cup

real maple syrup

3

tbsp

tahini

1½

tsp

vanilla extract

¼

tsp

fine sea salt

¼

tsp

cinnamon,

plus more for sprinkling

2

tbsp

sesame seeds
Instructions
Preheat oven to 350 degrees F. Line a rimmed baking sheet with parchment paper.
Popcorn:
First, place a large mixing bowl near the stove. Pour the oil into a large, heavy-bottomed pan with a lid. Turn the heat up to medium, add 2 kernels of corn, and cover.

Once the kernels pop, remove the lid and pour in the remaining popcorn kernels. Cover the pot and give the pot a little shimmy to distribute the kernels evenly.

Cook over medium heat, shaking the pot occasionally. Crack the lid just a smidge so the popcorn stays crisp, and cook until the popping sound slows to about one pop per every few seconds.

Remove the pan from heat and dump the popcorn your bowl, taking care not to pour in any unpopped kernels at the bottom of the pot. If necessary, pick out any unpopped kernels that made it into the bowl with a spoon.
Tahini Caramel:
In a small, heavy-bottomed saucepan, bring the maple syrup to a boil over medium heat. Keep a watchful eye on the syrup and continue boiling for 2 minutes and 30 seconds, reducing heat only if necessary to prevent overflow.

Remove the pot from heat. Add the tahini, vanilla extract, salt and cinnamon to the pot of maple syrup. Whisk until well blended, then drizzle the maple mixture over the popcorn.

Gently toss with a rubber spatula or big spoon until well mixed. Pour the popcorn onto the parchment-covered baking sheet and arrange it in a single layer. Evenly sprinkle sesame seeds over the popcorn.

Bake the popcorn for 6 minutes, then rotate the pan and cook for another 2 minutes. Remove from oven and sprinkle with additional cinnamon and salt, to taste.

The popcorn will continue to crisp up as it cools. Once it's cool, break the popcorn into pieces (or leave them in chunks!) and serve.

This popcorn stays crisp for up to 3 days in an air-tight container.
Nutrition
Calories: 

177.90kcal

Fat: 

8.09g

Saturated Fat: 

2.78g

Monounsaturated Fat: 

2.29g

Polyunsaturated Fat: 

2.63g

Carbohydrates: 

25.04g

Fiber: 

1.96g

Sugar: 

16.11g

Protein: 

2.55g

Sodium: 

108.93mg

Calcium: 

89.57mg

Potassium: 

121.05mg

Iron: 

1.35mg

Vitamin A: 

0.24µg

Vitamin C: 

0.00mg