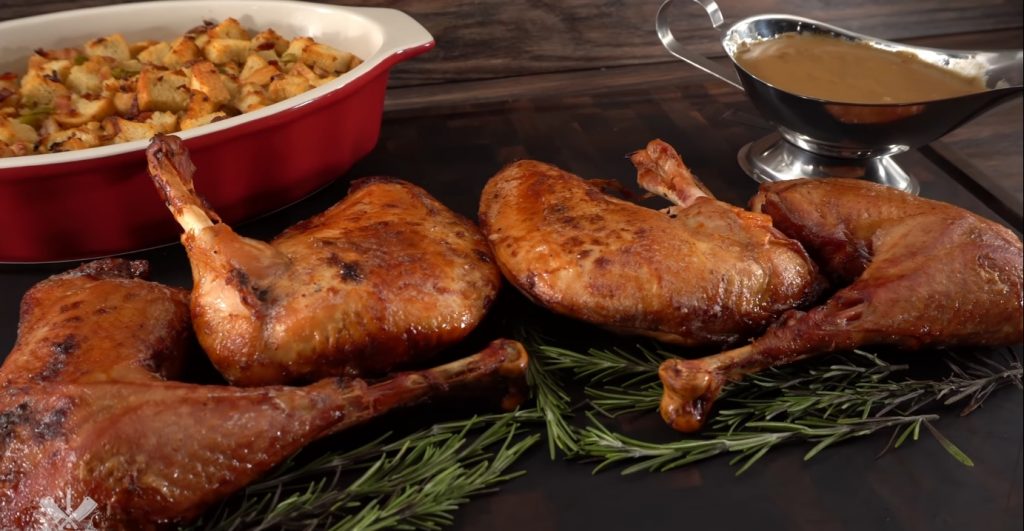 Sous Vide Turkey Recipe
How To Make Sous Vide Turkey
Elevate the star of your Thanksgiving table with this sous vide turkey! It's brined in herbed chicken stock and serves perfectly juicy bites.
Ingredients
12

cups

organic chicken stock

¾

cup

kosher salt

1

tbsp

dried rosemary

1

tbsp

dried thyme

1

tbsp

dried savory

1

tbsp

dried sage

15

lbs

turkey,

neck and giblets removed
Instructions
Combine chicken stock, salt, rosemary, thyme, savory, and sage in a bowl.

Place turkey in the brining bag and fill with brine, making sure to fill the cavity. Transfer the bag to a 5-gallon pot filled with water. Slowly push the brining bag under the water while sealing it, squeezing the air out; remove as much air as possible so bag does not float.

Attach sous vide cooker to the edge of the pot. Wrap it in a dish towel for insulation. Cover the pot with plastic wrap to reduce evaporation. Set temperature to 150 degrees F; cook for 18 to 24 hours.

Preheat the oven to 375 degrees F.

Remove turkey from the brining bag and transfer to a large roasting pan. Discard brine.

Bake in the preheated oven for about 30 minutes until nicely browned. An instant-read thermometer inserted into the thickest part of the thigh, near the bone, should read 165 degrees F.

Remove from the oven, cover with a doubled sheet of aluminum foil, and allow to rest in a warm area for 10 minutes before slicing. Enjoy!