Imagine succulent, juicy pork tenderloin seasoned with salt and pepper seared with butter and aromatic herbs till it's brown and crispy. Sounds impressive, right? Indeed, any dinner table will look extra fancy with a platter of sous vide pork loin. And you can make deliciously stunning sous vide pork tenderloin at home with our easy recipe. Complete the menu with California blend vegetables and cranberry applesauce on the side for a healthy and filling dinner.
Tips on Making Sous Vide Pork Tenderloin
Since pork tenderloin is lean and tender, traditional methods of cooking could easily dry it out. Sous vide cooking extends the leeway to up to 4 hours before the meat gets overcooked. Here are more tips on how you can perfect this sous vide pork tenderloin recipe at home:
Make sure that the bath bag is fully submerged

and that it's empty of any air bubbles so that the pork will cook evenly. If you're cooking more than one

whole pork tenderloin

, put each piece in an individual bag. 

Cook the pork tenderloin sous vide at the optimal temperature of 140 degrees F for up to 4 hours only and not exceed it.

This gives the best medium pork tenderloin. Otherwise, it'll overcook and have a chalky texture. For frozen tenderloin, just add 30 minutes to the total cooking time.

Use a cast-iron skillet and rice bran oil, if it's available, for searing

the sous vide pork tenderloin. They give the pork the best browning because both cast iron and rice bran oil are excellent in handling high heat. Alternatively, you can also char the

pork roast sous vide

using a blow torch.

Enhance the flavor of the pork loin sous vide by adding your preferred fresh herbs and spices. You can add dill weed, tarragon, or oregano into the bag. Lemon juice goes in in the searing stage or on the side upon serving.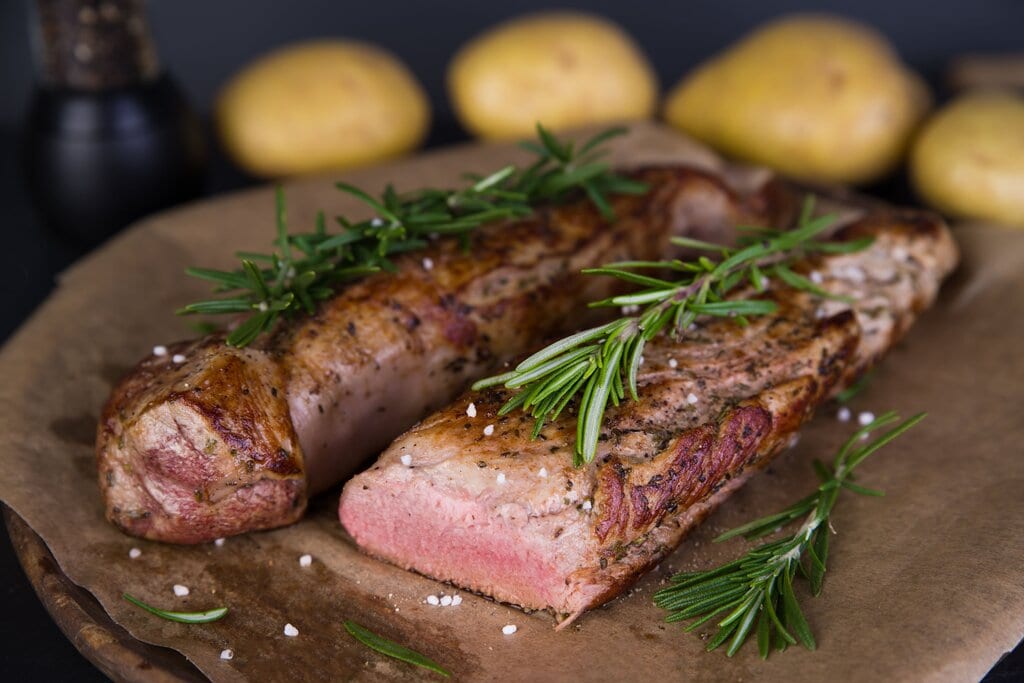 Sous Vide Pork Tenderloin Recipe
How To Make Sous Vide Pork Tenderloin
Enjoy juicy sous vide pork tenderloin packed with flavors from fresh herbs seared to perfection. This recipe is perfect for a fancy dinner!
Ingredients
1

lb

pork tenderloin

1

tsp

kosher salt

½

tsp

black pepper,

freshly ground

6

sprigs

fresh thyme

6

sprigs

fresh rosemary,

separate 2 sprigs

2

tbsp

garlic cloves,

minced and divided

4

tbsp

small shallots,

sliced and divided

2

tbsp

canola oil,

or vegetable or rice bran oil

2

tbsp

butter
Instructions
Set up your sous vide according to the manufacturer's instructions. Preheat the sous vide to 139 degrees F.

Season the pork with kosher salt and black pepper generously on all sides.

Place the pork in a vacuum-seal or ziplock bag together with the herbs, and half of the minced garlic and sliced shallots. Seal the bag using a vacuum sealer.

Submerge the bag into the water bath and cook for 1½ hours.

When this is done, carefully remove the meat from the vacuum bag, then gently pat dry the meat using paper towels.

On a large heavy skillet, sear the tenderloin on high heat with oil for about 2 minutes, turning occasionally until most sides are well-browned.

Add the butter with garlic, shallots, and rosemary. Spoon the melted butter over the pork and continue cooking for about 45 seconds.

Discard the rosemary and slice the pork before serving.

To serve, you can choose to make a homemade sauce and spoon it on top of the pork slices. Pour the drippings from your pan over the pork, simply sprinkle them with coarse sea salt, or serve them as is. Enjoy!
Nutrition
Sugar:

2g

:

Calcium:

56mg

Calories:

528kcal

Carbohydrates:

7g

Cholesterol:

147mg

Fat:

33g

Fiber:

1g

Iron:

3mg

Monounsaturated Fat:

17g

Polyunsaturated Fat:

8g

Potassium:

1023mg

Protein:

48g

Saturated Fat:

6g

Sodium:

1417mg

Trans Fat:

1g

Vitamin A:

661IU

Vitamin C:

9mg
Nutrition Disclaimer
Commonly Asked Questions
What is the best temperature for pork tenderloin?
To get the best texture and flavor, we recommend cooking the pork tenderloin to an internal temperature of 140 to 160 degrees F. This gives you medium doneness where the meat is firm but still tender and juicy.

Can you eat pork tenderloin medium rare?
Yes, it is completely safe to eat pork tenderloin cooked to medium-rare (130 degrees F). Medium-rare sous vide pork tenderloin, however, has more of a gummy texture because the temperature is not hot enough for the protein to firm up. So we suggest you stick to medium, such as in this recipe.

Can you overcook pork tenderloin?
Yes. Though sous vide pork loin doesn't get burnt because of the low cooking temperature, the texture changes from tender to dry and mushy when it's left to cook for too long. It is still safe to eat, but not the most palatable.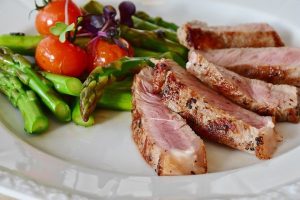 Conclusion
With a juicy pork tenderloin seasoned with herbs and spices and seared to a beautiful golden brown perfection, your family and friends will surely be impressed. Make this sous vide pork tenderloin the star of your next dinner!