What better way to celebrate with family and friends, or even with a special someone than with a juicy and perfectly tender steak, right? We all love a good herb-infused steak oozing with butter in every bite. There are several ways to enjoy a wonderful ribeye cut. Sous vide cooking is a fool-proof cooking technique that will give a lot more flavor and juiciness in a tenderly cooked meat covered in a nice crust. If you're more of a cook-and-mingle type of person, this might be the perfect way for you to make the most tender steak. 
What we love about this cooking process is it's a no-fuss cooking procedure. With the help of sous vide equipment, it won't require our constant attention in the kitchen. You can leave your steak cooking while you do other things. Like preparing another dish, finishing your preparations, or setting up the table and decorations. Aside from cuts of beef, you can also sous vide other meat like chicken breasts and salmon. As surprising as it sounds, you can even sous vide eggs! Achieve the perfect doneness of steak recipes by using this clever cooking technique.
How To Sous Vide Your Steak?
Cooking sous vide steak requires a two-step preparation. Initially, you will need a vacuum-sealed bag. Because it's where you will place the ribeye cut along with aromatics such as rosemary and garlic. Second, you will need sous vide equipment like an Immersion Circulator. A device that heats water and enables it to stay at the temperature you set. When you place your meat on a vacuum-sealed bag and soak it on the sous vide device, it will cook your meat at a precise temperature of your choosing. You don't have to worry that your steak will get past your desired doneness.
Once your steak absorbs the temperature of the water bath, it will remain at the same temperature for the entire cooking period giving the meat consistency—that is, the right texture and doneness that you want in your steak. You can leave it there for 1 to 2 hours at maximum to get the ideal steak texture. If you leave the steak for more than 2 hours, it will not affect the doneness of the meat. However, it will result in a much different texture. Another thing you should remember is to not cook your steak for longer than 2 and a half hours at 130 degrees F or higher for food safety reasons.
After cooking it sous vide, you will still have to sear your steak to crisp your crust. Sous vide cooking also gives us the freedom to post sear steaks and enables us to cook the steak's crust to our liking. Just be careful not to sear the meat for too long after cooking it sous vide. Searing it for too long will cook the steak more and lose the doneness you set, losing the purpose of why we used sous vide to cook it.
Cooking Sous Vide Without an Immersion Circulator
If you're not ready to purchase such a fancy machine yet, you can improvise using a regular pot, a kitchen thermometer, clamps, and resealable bags. When sealing the bag, you want to submerge half of it in water to remove as much air as possible. Basically, what a sous vide machine does is regulate the temperature of your water bath. You can mimic the same process by mounting your thermometer to the side of your pot and setting it to medium-low heat. Once it reaches the desired temperature, you can now submerge your sealed steak. If you're aiming for a perfect medium-rare steak, check it every 5 minutes to change your temperature. Do this for an hour repeatedly.
Choosing The Right Steak
Just by thinking about how sous vide works, you might have several ideas on your head on what to cook next. Now we don't want to limit the juiciness and tenderness to just one type of meat, don't we?
In this recipe, we used a thick and juicy rib-eye steak. You can always sous vide any cut of meat like brisket or a rack of pork ribs. Just note that sous vide steak works best with thick meat that's at least an inch thick or 2. Have the juiciest and finest steak without having to pay for the price of a 5-star restaurant!
Steak Cook Chart:
Follow this guide to get the ideal doneness of steak according to your preference:
| | | |
| --- | --- | --- |
| Very Rare to Rare | 120 to 128 degrees F | 2½ hours |
| Medium Rare | 129 to 134 degrees F | 1 hour |
| Medium | 135 to 144 degrees F |  1 hour |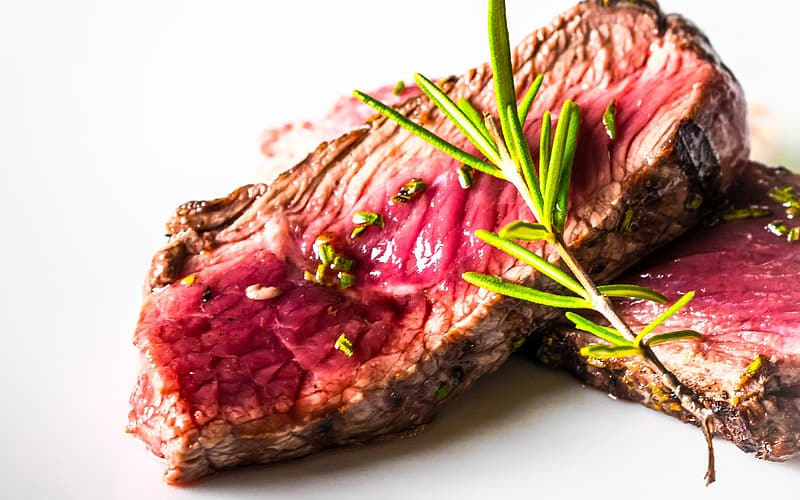 Sous Vide Steak Recipe
How To Make Sous Vide Steak
Seared to perfection to achieve the well desired charred texture. Well-seasoned and tender ribeye steak with hints of rosemary. Giving you the juiciest and finest steak with this sous vide recipe.
Ingredients
2

rib-eye steaks,

1½-inch thick

kosher salt

ground black pepper

2

sprigs

rosemary,

or thyme, oregano, or other herbs of your choice

2

tbsp

canola oil,

and more for searing

1

tbsp

butter
Instructions
To Sous Vide:
Fill a large pot with water.

Place your sous vide equipment into the water bath.

Set the temperature to 130 degrees F.

Sprinkle kosher salt and ground pepper on both sides of the steak

Spread 1 tablespoon of butter on each steak, along with a sprig of rosemary.

Place the steak inside a resealable bag. Each steak should be placed in its own bag.

Remove as much air as possible from the resealable bag. If possible, use a vacuum sealer to release air. Seal.

Place the sealed bags of steak into the water bath.

After 1 to 2 hours, take the ribeye steak off the water bath.

Remove from the bags and pat them dry with paper towels.
To Sear:
Season the steaks again with salt and pepper.

Add canola oil in a cast-iron skillet until well-coated.

Warm over high heat. Let the oil heat up for a few seconds.

Once heated, use tongs to sear the ribeye steaks for 1 minute on each side.

Toss in the sprigs of rosemary from the sous vide onto the skillet for added flavor.

Transfer the steak onto a plate, slice against the grain, and serve!
Recipe Notes
Make sure your pot is large enough to hold your steaks, especially if you're serving for more than 2 people.

You can also clip the sealed bag to the side of the container. This will help to keep them from submerging or moving around while they're cooking. 

Feel free to add more of your favored seasonings before searing for a richer plate.
Nutrition
:

:

Calcium:

16mg

Calories:

645kcal

Carbohydrates:

1g

Cholesterol:

138mg

Fat:

52g

Iron:

4mg

Potassium:

606mg

Protein:

46g

Saturated Fat:

16g

Sodium:

184mg

Vitamin A:

284IU
Nutrition Disclaimer
Commonly Asked Questions
Can I pre-sear my steak?
There's no harm in pre-searing your steak. A quick sear helps with sanitizing your meat. Killing bacterias before you put them in a resealable bag. It's a good idea for long cooking meat recipes. Other than that, it speeds up the browning of your steak a little before you sous vide. There's almost no significant improvement on its taste or texture other than the browning of your crust and preferred doneness. But even when you decide to pre-sear, the crust you formed will go away after you have finished cooking your meat sous vide. You will still have to sear it the second time around before serving it. Which causes the browning to intensify a little more.
Does sous vide steak need to rest?
We usually do the resting time allotted for the traditional steak to secure the temperature inside the meat to create a perfect pinkish meat gradient. Since sous vide steak is evenly cooked at a consistent temperature, you can serve them immediately after searing.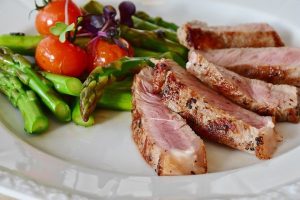 Conclusion
This sous vide steak recipe will change your ribeye steak game for good. You don't have to pay an exorbitant price to get a taste of the finest, even better than a restaurant-grade steak. Knowing this efficient cooking technique, you can make any dish so much better. Throw some more herbs and aromatics for a fuller flavor.