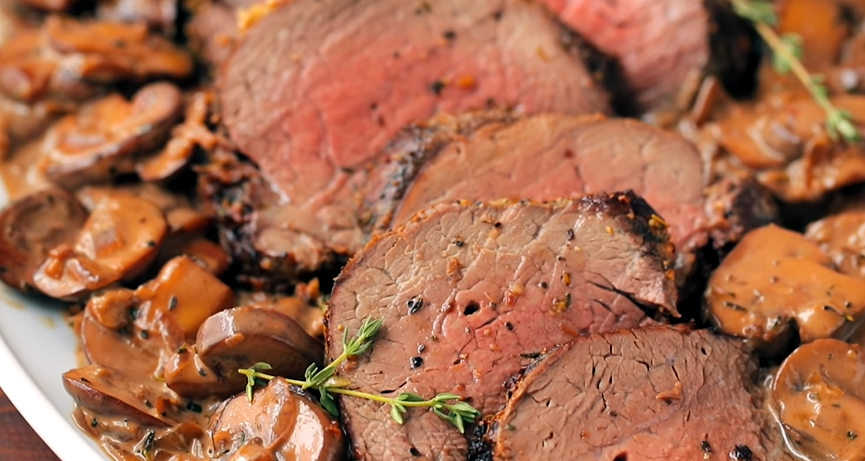 Grilled Beef Tenderloin with Herb-Garlic-Pepper Coating Recipe
How To Make Grilled Beef Tenderloin with Herb-Garlic-Pepper Coating
Beef tenderloin is seasoned and coated with a mix of garlic, rosemary, and thyme then grilled to perfection to create a savory and incredibly tasty dish.
Ingredients
5

oz

whole beef tenderloin

6

tbsp

olive oil

8

large

garlic cloves,

minced

2

tbsp

fresh rosemary,

minced

1

tbsp

dried thyme leaves

2

tbsp

black pepper,

coarsely ground

1

tbsp

salt
Instructions
Trim off excess fat with a sharp knife. Fold thin tip end under to approximate the thickness of the rest of the roast. Tie with butcher's twine, then keep tying the roast with twine every 1½ to 2 inches (to help the roast keep its shape).

Snip silverskin with scissors to keep roast from bowing during cooking. Then, mix oil, garlic, rosemary, thyme, pepper and salt; rub over roast to coat. Set meat aside.

Either build a charcoal fire in half the grill or turn all gas burners on high for 10 minutes. Lubricate grate with an oil-soaked rag using tongs.

Place beef on hot rack and close lid; grill for about 5 minutes until well-seared. Turn meat and close lid; grill until well-seared on second side. This will take another 5 minutes.

Move meat to the charcoal grill's cool side, or turn off burner directly underneath the meat and turn remaining one or two burners (depending on grill style) to medium.

Cook for 45 to 60 minutes or until a meat thermometer inserted in the thickest section registers 130 degrees for rosy pink, depending on tenderloin size and grill. Let meat rest for 15 minutes before carving.
Nutrition
Calories: 

90.07kcal

Fat: 

8.26g

Saturated Fat: 

1.68g

Monounsaturated Fat: 

5.39g

Polyunsaturated Fat: 

0.75g

Carbohydrates: 

1.88g

Fiber: 

0.45g

Sugar: 

0.04g

Protein: 

2.49g

Cholesterol: 

9.27mg

Sodium: 

50.56mg

Calcium: 

17.84mg

Potassium: 

62.99mg

Iron: 

0.62mg

Vitamin A: 

1.06µg

Vitamin C: 

1.12mg