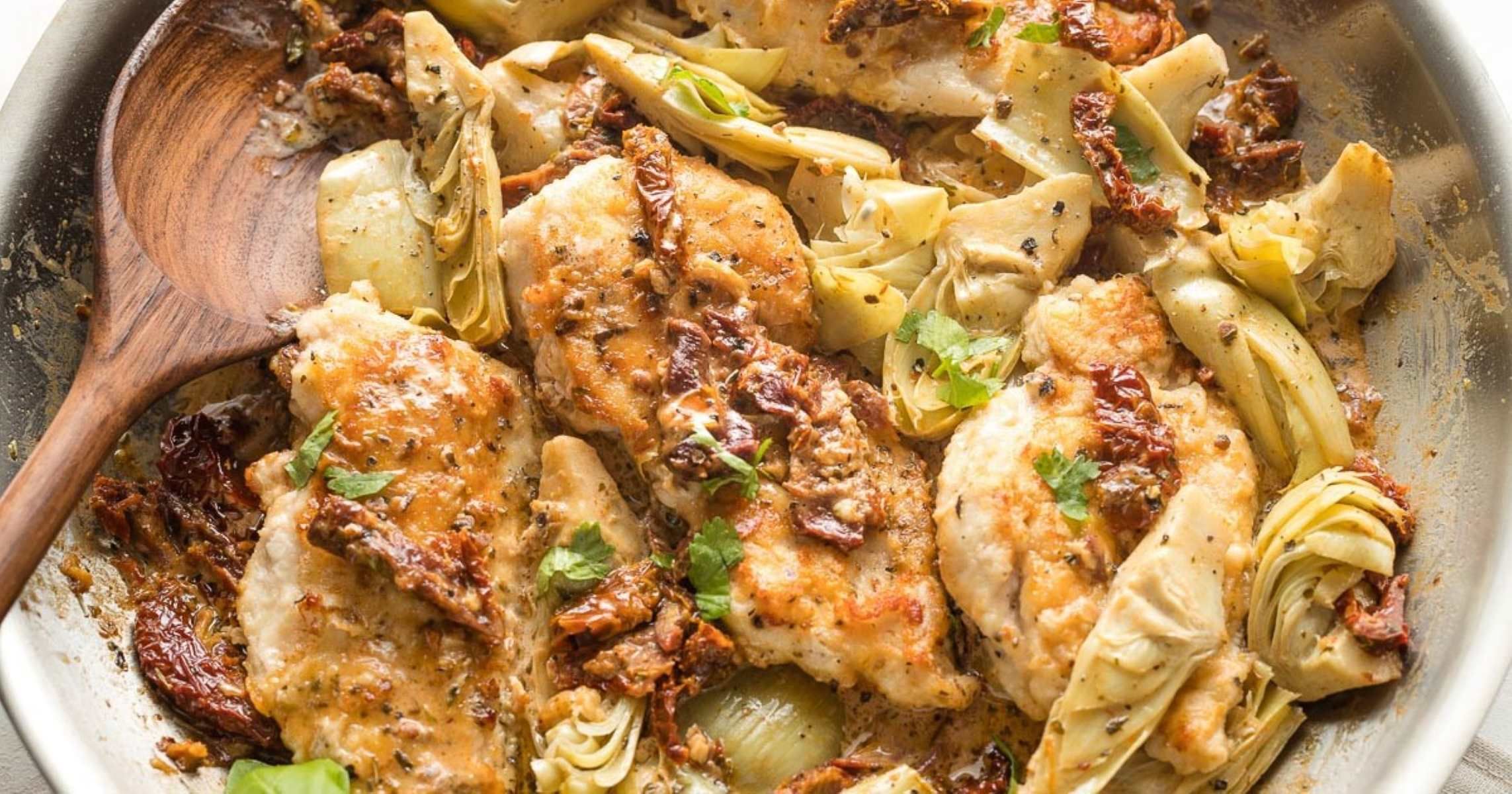 Chicken with Artichokes and Sundried Tomatoes Recipe
How To Make Chicken with Artichokes and Sundried Tomatoes
Chicken and pasta? Count us in! At first glance, this combo might sound a tad unconventional. But, there's something about a pairing of lean protein and noodles that'll surely satisfy all your pasta cravings. Check out this collection of chicken pasta recipes, so you can explore different ways of combining these two ingredients. You can either choose from classic Italian dishes, casseroles, and more! Really, the possibilities are endless with this duo.
Ingredients
4 chicken breasts, boneless and skinless
1 cup of marinated artichoke hearts, drained
1/2 cup of sundried tomatoes, chopped
2 cloves of garlic, minced
2 tablespoons of olive oil
1 tablespoon of Italian seasoning
Salt and pepper, to taste
Instructions
Preheat the oven to 375°F (190°C).

Season the chicken breasts with salt, pepper, and Italian seasoning.

Heat the olive oil in a large oven-safe skillet over medium-high heat.

Add the chicken breasts to the skillet and cook for 4-5 minutes on each side, until browned.

Remove the chicken from the skillet and set aside.

In the same skillet, add the minced garlic and cook for 1 minute until fragrant.

Add the artichoke hearts and sundried tomatoes to the skillet and cook for another 2 minutes.

Return the chicken to the skillet, nestling it among the artichokes and tomatoes.

Transfer the skillet to the preheated oven and bake for 15-20 minutes, or until the chicken is cooked through.

Serve the chicken with artichokes and sundried tomatoes over a bed of rice or with a side of roasted vegetables.
Nutrition
Calories :

320kcal

Total Fat :

12g

Saturated Fat :

2g

Cholesterol :

90mg

Sodium :

450mg

Total Carbohydrates :

12g

Dietary Fiber :

3g

Sugar :

6g

Protein :

40g