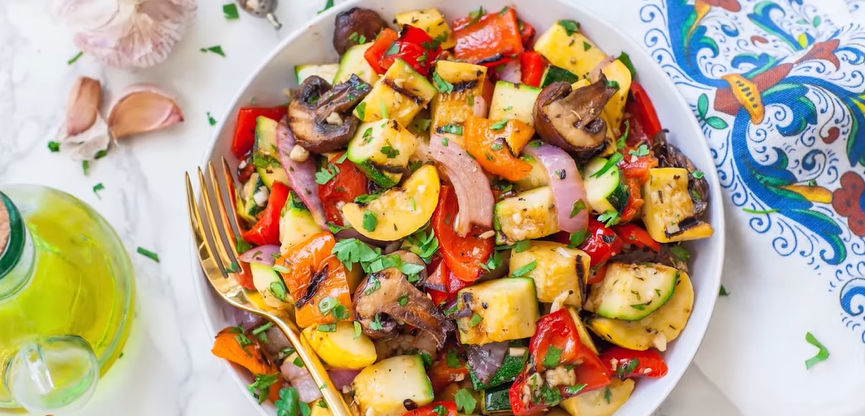 Grilled Vegetables with Lemon and Herbs Recipe
How To Make Grilled Vegetables with Lemon and Herbs
These deliciously charred grilled vegetables made up of zucchini, eggplant, and bell pepper are served with a drizzle of a tasty lemon-herb dressing.
Ingredients
1

large eggplant,

or 2 baby eggplants

sea salt and freshly ground pepper

4

zucchini,

or yellow squash, or any combination of the two

1

red bell pepper

1

cup

olive oil

1

garlic clove

3

tbsp

lemon juice,

fresh

½

cup

fresh herbs,

such as basil, marjoram, thyme, chives, flatleaf parsley, or any combination of the five, chopped
Instructions
Cut the eggplant into ⅓-inch thick slices.

Sprinkle the eggplant with 1 teaspoon of salt, and let drain in a colander 30 minutes.Pat dry with paper towels.

Preheat grill to medium heat; and if using a grill pan on stovetop, heat to medium-high).

Cut the zucchini and/or yellow squash lengthwise into ¼-inch slices. Cut the peppers in half and remove the seeds and stems.

Grill the peppers, skin side down. When the skins have blackened and blistered, put the peppers in a paper or plastic bag and close it.

Allow peppers to cool, then slip off their skins using the fingers.

Brush the zucchini and eggplant with ⅓ cup of olive oil. Grill in batches, about 5 minutes on each side.

Arrange the cooked vegetables on a platter with peppers.

Chop the garlic and, using a mortar and pestle or the tines of a fork on a plate, mash it with ½ teaspoon of salt. Place the mixture in a small bowl. Add the lemon juice, then mix in the remaining ⅓ cup of olive oil.

Drizzle the vegetables with the dressing. Sprinkle with the herbs, and salt and pepper to taste.

Cover with a sheet of foil, and set aside until ready to serve.

Serve and enjoy!
Recipe Notes
If using a baby eggplant, cut in half lengthwise and score the flesh about ¼-inch deep in a crisscross pattern with a knife.
Do not refrigerate.
Nutrition
Calories: 

572.59kcal

Fat: 

55.16g

Saturated Fat: 

7.72g

Monounsaturated Fat: 

39.48g

Polyunsaturated Fat: 

6.04g

Carbohydrates: 

20.37g

Fiber: 

8.38g

Sugar: 

12.56g

Protein: 

4.80g

Sodium: 

1097.86mg

Calcium: 

68.71mg

Potassium: 

1042.36mg

Iron: 

2.18mg

Vitamin A: 

99.98µg

Vitamin C: 

91.48mg