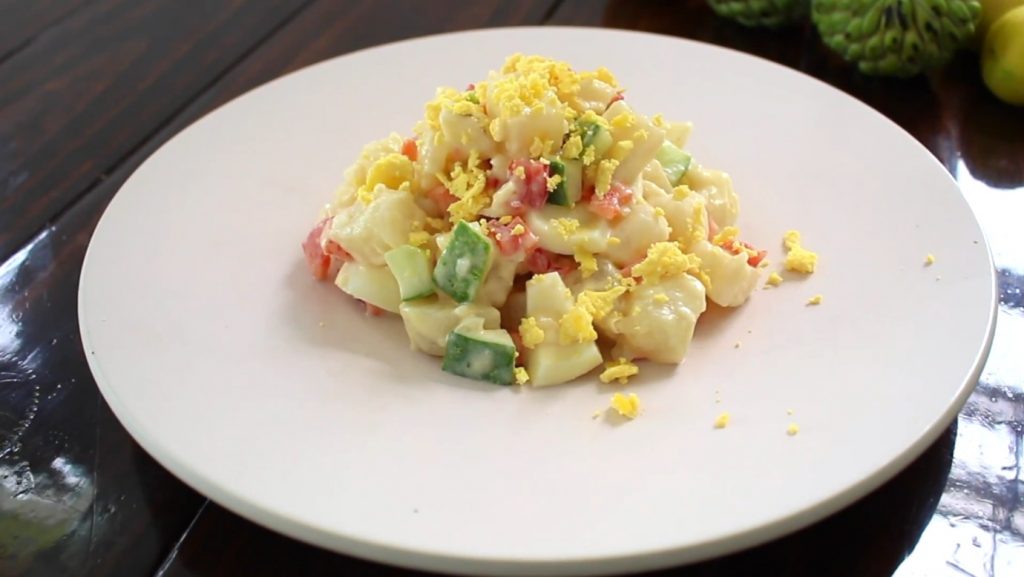 Korean Potato Salad Recipe
How To Make Korean Potato Salad
Amp up your side dish game to new heights with this Korean potato salad, made with apple, carrots, and cucumber, for crunchy bites.
Ingredients
1

lb

russet potatoes,

(2 potatoes)

1

cup

carrots,

(2 carrots)

3

eggs

1

cup

Persian cucumbers,

(2 cukes)

1

cup

Fuji apple,

(½ cup) or honeycrisp

⅜

tsp

sea salt,

for seasoning, plus ⅛ tsp for cooking

¼

tsp

sugar

½

cup

mayonnaise
Instructions
Make hard-boiled eggs. Start cooking the egg in cold water on medium-high, bring to a boil, cover then turn heat off and leave for 10 minutes. When eggs are done, put them in ice water, peel them.

Roughly chop cooked eggs into small pieces.

Peel potatoes and carrots. Cut potatoes into ¾-inch thick discs then further into 1-inch or so squares. Cut carrots into ½-inch discs then cut the thicker parts into halves. Carrots should be about ½ the side of a potato.

Add potatoes to a pot and add enough water to fully cover it and then some. Add ⅛ teaspoon of salt. Bring to a boil and then boil on medium heat for 8 to 9 minutes then add the carrots. Cook about 8 minutes more until the potatoes kind of crumble when cutting with a fork and the carrots should be just softly cooked but not mush.

While potatoes are cooking, cut cucumbers into cubes.

Cut the apple into cubes. For color, core them and cut with peels on. But if the apple is not organic or is waxed, peel it and then cut it into cubes.

Drain potatoes and carrots. Set aside and let it cool.

In a large bowl, add potatoes, carrots, cucumbers and apples.

To the bowl, add mayonnaise and gently mix them all up. Then add chopped eggs. Mix again.

Add salt and sugar to taste.

Mix and taste again. By now, potatoes will most likely have disintegrated and become total mush. But it's also fine if it is still holding shape.

Using a sieve, grate the egg yolk on top of the potato salad.

Serve room temperature or cold from the fridge. Enjoy!