Upgrade your usual sandwich spread with this rich tasting turkey salad recipe. It's a quick and easy recipe made from combining chopped turkey meat with mayonnaise, Dijon mustard, and sour cream. These thick and cream-like ingredients add that tasty tanginess to the white or dark meat of the turkey. Mix this with the celery, sliced apples, and chopped nuts for that added layer of crunchiness. Serve over croissants or bread to make a tasty turkey salad sandwich with a delicious roasted acorn squash soup and some mashed potatoes on the side.  
Tips on Making Crunchy Turkey Salad 
This crunchy turkey salad recipe combines simple ingredients to make a perfect salad spread for your bread or crackers. It's a versatile recipe that you can make even more delicious with some of these helpful tips and variations.
Use a food processor to finely chop the turkey meat.

Whether it's

leftover turkey

or store-bought, save some time and use a food processor to get finer cuts. It's faster and easier to control as well, and achieves the best results for this turkey salad recipe. 
Try adding in sweet pickle relish

to the mix. If you want that added crunch and slight tang, then add about ½ cup of pickle relish. It's the typical ingredient to pair with the taste of the mayonnaise.
Add more fresh herbs.

Mix and match other fresh herbs into the salad mixture. Aside from chopped parsley, you can try adding or replacing it with chives, thyme, tarragon, or sage. These are some of the herbs that go well with the turkey meat.
Try toasting the chopped nuts

for added crisp and a subtle earthy flavor in your turkey salad. You can also try other types of nuts for toasting like almonds or pecans.
Mix in other fruits.

Aside from the tasty tart apples, you can add in

dried cranberries

, grapes, or even plain raisins as alternatives.

You can also experiment with

cranberry sauce

for added thickness and depth.

These fruity flavors add another layer of sweetness to balance the tanginess of the sour cream, mustard, and mayonnaise.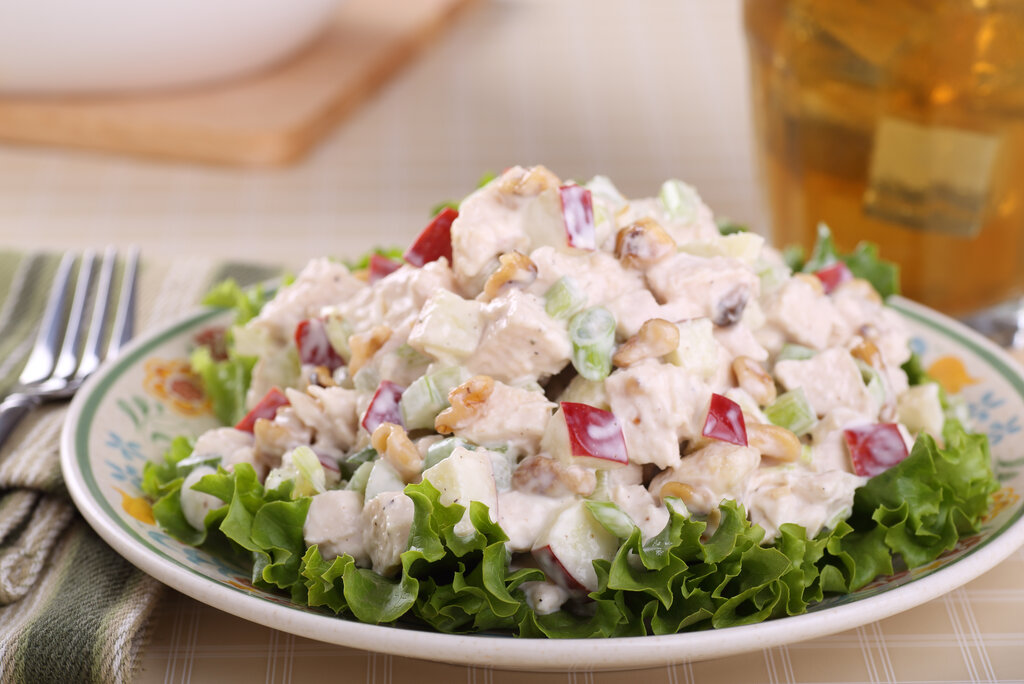 Crunchy Turkey Salad Recipe
How To Make Crunchy Turkey Salad
Have turkey leftovers for Thanksgiving? Turn them into a tasty leftover turkey salad! Fill pita bread or line plates with lettuce then place scoops of this crunchy apple, celery, walnut and turkey salad on top.
Ingredients
3

cups

turkey meat,

cooked and chopped

2

celery,

chopped

2

tart apples,

cored and cubed

½

cup

walnuts,

chopped, (or pecans)

¼

cup

sour cream

¼

cup

mayonnaise,

(or Miracle Whip)

2

tbsp

fresh parsley,

chopped

2

tbsp

lemon juice

1

tbsp

Dijon mustard,

prepared

1

tsp

honey

¼

tsp

salt

ground black pepper ,

to taste
To Serve:
pita breads, slice of bread, croissants, or crackers

salads with chopped lettuce
Instructions
Combine chopped turkey, celery, tart apples, and walnuts in a large mixing bowl.

In a separate small bowl, prepare the dressing. Whisk together the sour cream, mayonnaise, fresh parsley, lemon juice, Dijon mustard, salt and pepper. Mix until well combined.

Pour over the turkey mixture and toss to evenly coat. Refrigerate until chilled.
Nutrition
Sugar:

15g

:

Calcium:

50mg

Calories:

329kcal

Carbohydrates:

21g

Cholesterol:

37mg

Fat:

24g

Fiber:

4g

Iron:

1mg

Potassium:

327mg

Protein:

11g

Saturated Fat:

4g

Sodium:

348mg

Vitamin A:

389IU

Vitamin C:

10mg
Nutrition Disclaimer
Frequently Asked Questions
Can I substitute cream cheese for sour cream?
Yes, you can. Cream cheese is a good substitute for sour cream since it also has that mild tangy flavor. It's also creamier and thicker than sour cream which can help add volume to your salad spread. Use softened cream cheese so it's easier to blend. Add about an ounce of cream cheese to replace the sour cream in the mixture.

Can you freeze turkey salad?
Yes, but we don't recommend freezing turkey salad. It will be too watery when it's thawed. Any mayo-based salads should not be stored in the freezer for long periods of time. It's better to store this dish inside the refrigerator. Transfer the mixture to an airtight container, then place in the fridge where it should last for 3 to 4 days.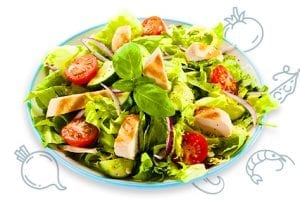 Conclusion
Enjoy making this quick and easy turkey salad recipe. It has that subtle sweet and savory taste that goes well with any slice of bread. The added tart apples and chopped nuts give the spread that wonderful finishing crunch!