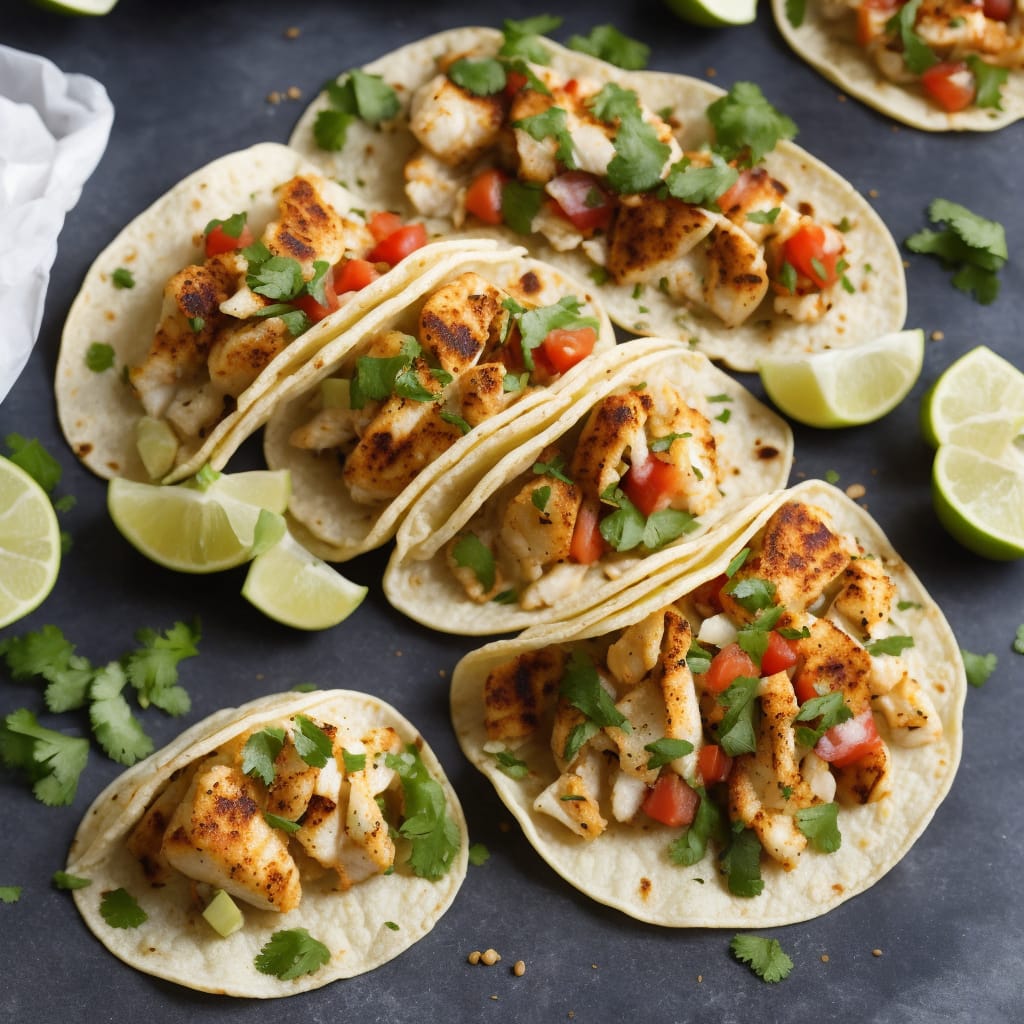 Baked Cod Fish Tacos Recipe
How To Make Baked Cod Fish Tacos
If you're looking for a meal that requires little effort to make, look no further from our baked recipes! Place your favorite dishes in the oven, and let it do the work for you. Our array of baked recipes are easy to make, each more delightful than the other. Serve up some delightful desserts ranging from baked cheesecakes and crumbles. Or try out a savory dish with some flavorful casseroles, cheesy baked potatoes, and more. So turn up the oven, and start making those delightfully baked tasty snacks and full meals!
Ingredients
4 cod fillets
1 tbsp olive oil
1 tsp chili powder
1 tsp paprika
1/2 tsp cumin
1/2 tsp garlic powder
Salt and pepper to taste
8 small tortillas
1 cup shredded lettuce
1 cup diced tomatoes
1/2 cup diced red onion
1/4 cup chopped fresh cilantro
1/4 cup sour cream
1 lime, cut into wedges
Instructions
Preheat the oven to 400°F (200°C) and line a baking sheet with parchment paper.

Rinse the cod fillets under cold water and pat dry with a paper towel.

In a small bowl, mix together the olive oil, chili powder, paprika, cumin, garlic powder, salt, and pepper.

Brush both sides of the cod fillets with the spice mixture and place them on the prepared baking sheet.

Bake in the preheated oven for 15-20 minutes, or until the fish is cooked through and flakes easily with a fork.

While the fish is baking, warm the tortillas in a dry skillet over medium heat until soft and pliable.

To assemble the tacos, place a piece of the baked cod on each tortilla and top with shredded lettuce, diced tomatoes, diced red onion, chopped cilantro, sour cream, and a squeeze of lime juice.

Serve the baked cod fish tacos immediately.
Nutrition
Calories :

325kcal

Total Fat :

7g

Saturated Fat :

1g

Cholesterol :

67mg

Sodium :

434mg

Total Carbohydrates :

30g

Dietary Fiber :

4g

Sugar :

3g

Protein :

35g