For those of you who aren't much of a sweet lover, these savory Pumpkin Pancakes are the best breakfast meal to start your morning. In addition, you can switch things up by using winter vegetables for this recipe.
In addition, you can replace pumpkin puree with any variety of squash puree. If you can't find pumpkin for this recipe, go ahead and try sweet potato. It's got great health benefits and is a great way to add vegetables to your family's diet.
These healthy pumpkin pancakes are so fluffy, you won't believe they're 100% whole grain. This pumpkin pancake recipe is sure to become your favorite. Jazz up your breakfast today with these simple, no-hassle savory pumpkin pancakes!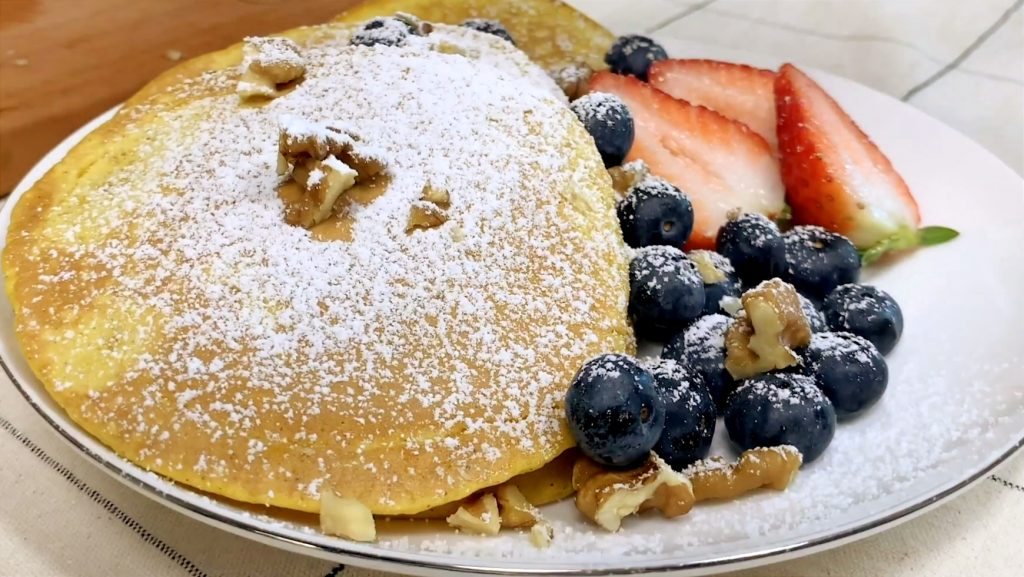 Savory Pumpkin Pancakes
How To Make Savory Pumpkin Pancakes
Fluffy pumpkin pancakes drizzled with chopped parsley and melted butter, it's just perfect for a savory brunch meal.
Ingredients
2

cups

all-purpose flour,

sifted

1

cup

pumpkin puree,

grated

kosher salt,

to taste

½

cup

pancake flour

½

cup

milk

½

cup

cheddar cheese,

shredded

2

large eggs

1

tbsp

parsley,

finely chopped

1

tbsp

butter,

unsalted
Instructions
Add grated pumpkin to a large mixing bowl.

Next, add salt.

Use a spatula to combine the salt into the pumpkin mash.

Add all-purpose flour to the mixing bowl.

Add the wet ingredients. Pour in room temperature milk.

Next, crack eggs into the mixture. Using a metal whisk, mix the ingredients until fully combined.

Combine shredded cheddar cheese.

Next, in order to have the right pancake consistency and texture, mix in pancake flour and whisk till combined.

In a small saucepan, add butter and allow to melt till it foams. Make sure to heat at a low flame.

Now add in finely chopped parsley and turn off the heat.

At low-medium heat, add 1 spoonful of pancake batter into a skillet or a non-stick pan to cook.

Once tiny bubbles are forming on the pancake use a spatula and flip carefully.

Adjust the heat if necessary. Cook the other side for 1 to 2 minutes or until golden brown.

Serve a stack of pancakes on a plate.

Drizzle with chopped parsley melted butter. Enjoy!
Recipe Notes
For a vegan and gluten-free option, you can substitute all-purpose flour with chickpea flour. Chickpea flour has a unique texture and this nutty-tasting flour will add nutrition and fiber to your pancakes. Use almond milk instead of dairy milk and omit the two large eggs.
Commonly Asked Questions
How to make pumpkin puree?
It's really easy to make! Here are the basic steps: Begin by peeling and cubing your pumpkin. Cook the pumpkin in a large saucepan of boiling water for 10-15 minutes or until tender. Using a stainless steel colander, drain the boiled pumpkin well. Return to the saucepan and mash well. There you go, easy to make pumpkin puree! Tip: Be sure to drain the cooked pumpkin well so the puree isn't too wet and holds its shape.
Can I use other cheese besides cheddar?
If you can't get cheddar cheese, go ahead and use grated mozzarella or monterey jack.
How should the consistency of the pancake batter be?
The batter should be thick enough to easily coat the back of a spoon. If it's too thick, add more milk to thin it.
Can I add pumpkin seeds to my pancakes?
Sprinkle some pumpkin seeds in your pancake batter. Not only do they add texture to your pancakes but they are a great source of protein.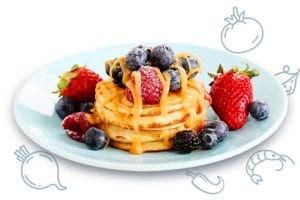 Conclusion
Golden Brown on the outside and moist on the inside, this savory pumpkin pancake recipe is sure to be a great hit with the family! Breakfast is sure to be good with this savory starter!