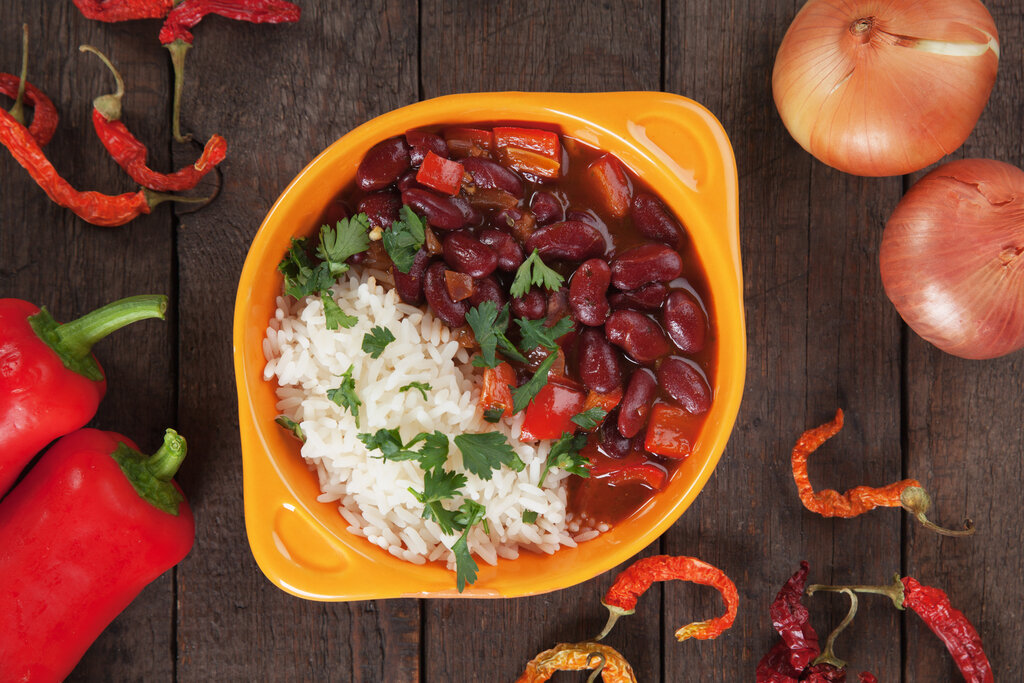 Vegan Red Beans and Rice Recipe
With this Cajun-style vegan red beans and rice recipe, I get to enjoy a meat-free version of the traditional Louisiana dish. It's actually easy to recreate the taste of the iconic red beans and rice dish, just without the sausages. Although, you can choose to add in vegan sausage as an alternative for those who still want a bit of meat-like flavor. But even without those added ingredients, most of the bold flavors come from the perfect blend of herb spices and vegetables. When combined with the red beans, the entire dish becomes even better.
It's so easy to make this plant based protein dish. What you need is a lot of patience though as it can take awhile to prepare the entire dish. This is because you'll need to soak the dried red kidney beans first before starting. I recommend soaking the dried beans overnight so it's really soft and tender when mashed, but doing it eight hours before will also work. Once I had my beans soaked, I prepared the vegetables and seasonings next.
The secret to making this recipe extra delicious is the herb spices. I used a few essential Cajun spices and herbs such as dried thyme, dried oregano, cayenne pepper, and bay leaves. You can also use creole seasoning and spices that have smoked paprika as well for hints of spicy and smoky flavors. And if you want more heat, then adding crushed red pepper flakes or a dash hot sauce works as well. Other people would even include a tablespoon of red wine vinegar into the mix for a bit of tang, which also tastes good.
Besides the seasonings, cooking the seasoned beans in veggie broth is also a great way to add more flavor to the dish. I highly recommend using vegetable broth instead of water to cook both the bean mixture and white rice. This is because the veggie broth brings out a much fuller taste, which is essential for most vegetarian or vegan food dishes. It will provide that missing richness that you usually get from meat.
After combining both the vegetables and tender beans, I just had to wait a few more minutes for it to cook and then I served it over white rice. You can also use brown rice for this recipe as a substitute. Just take note that cooking this rice takes a bit longer. Brown rice has more fiber and micronutrients than white rice so it's a good healthy alternative. Both are delicious when paired with the seasoned beans. You can even sprinkle a bit of sliced green onions or chopped parsley on top for added texture and flavor.
Overall, these vegan red beans and rice make for the perfect meal prep dish especially when it's served with the rice. You can even try cooking this dish using an instant pot or slow cooker, if you have one at hand.
How To Make Vegan Red Beans and Rice
Cooked with celery, bell pepper, and a blend of herb spices, these vegan red beans and rice make a perfect meat-free dish. Enjoy it over warm rice.
Cooking:
2 hours 15 minutes
Total:
10 hours 25 minutes
Ingredients
16

oz

dry red kidney beans,

(1 package)

3

celery stalks,

chopped

1

medium onion,

coarsely chopped

1

green bell pepper,

chopped

6

large cloves garlic,

peeled

2

tbsp

vegetable oil

2

tsp

dried thyme

1

tsp

dried oregano

½

tsp

ground black pepper

½

tsp

ground cumin

¼

tsp

cayenne pepper

8

cups

water,

divided

4

dashes

liquid smoke flavoring

2

bay leaves

1

cup

white rice,

uncooked

salt,

to taste
Instructions
Place red beans into a large container and cover with several inches of cool water. Let soak for 8 hours to overnight. Drain and rinse.

Add celery, onion, bell pepper, and garlic to a blender and process until just shy of a puree.

Add vegetable oil to a saucepan or stockpot over medium heat. Cook and stir vegetable mixture for 5 minutes.

Add thyme, oregano, black pepper, cumin, and cayenne pepper. Cook, stirring regularly, for 2 minutes more.

Add 6 cups water, the beans, liquid smoke, and bay leaves. Stir to combine and turn the heat up to high.

Bring to a boil, reduce heat to low, and let simmer for 2 to 3 hours until beans begin to fall apart.

Bring remaining water and rice to a boil in another saucepan. Reduce heat to medium-low, cover, and simmer for 20 to 25 minutes until rice is tender and water has been absorbed.

Pour most of the cooking liquid from the beans into a bowl and reserve. Remove bay leaves.

Mash about ⅓ of the beans, adding as much of the reserved liquid as necessary to reach the preferred thickness. Mix with the unmashed beans and season with salt.

Serve beans over rice.
Nutrition
Calories: 

438.24kcal

Fat: 

5.87g

Saturated Fat: 

0.53g

Trans Fat: 

0.04g

Monounsaturated Fat: 

3.53g

Polyunsaturated Fat: 

1.36g

Carbohydrates: 

77.70g

Fiber: 

12.89g

Sugar: 

3.17g

Protein: 

20.13g

Sodium: 

1146.54mg

Calcium: 

112.27mg

Potassium: 

1201.36mg

Iron: 

6.26mg

Vitamin A: 

11.01µg

Vitamin C: 

22.86mg