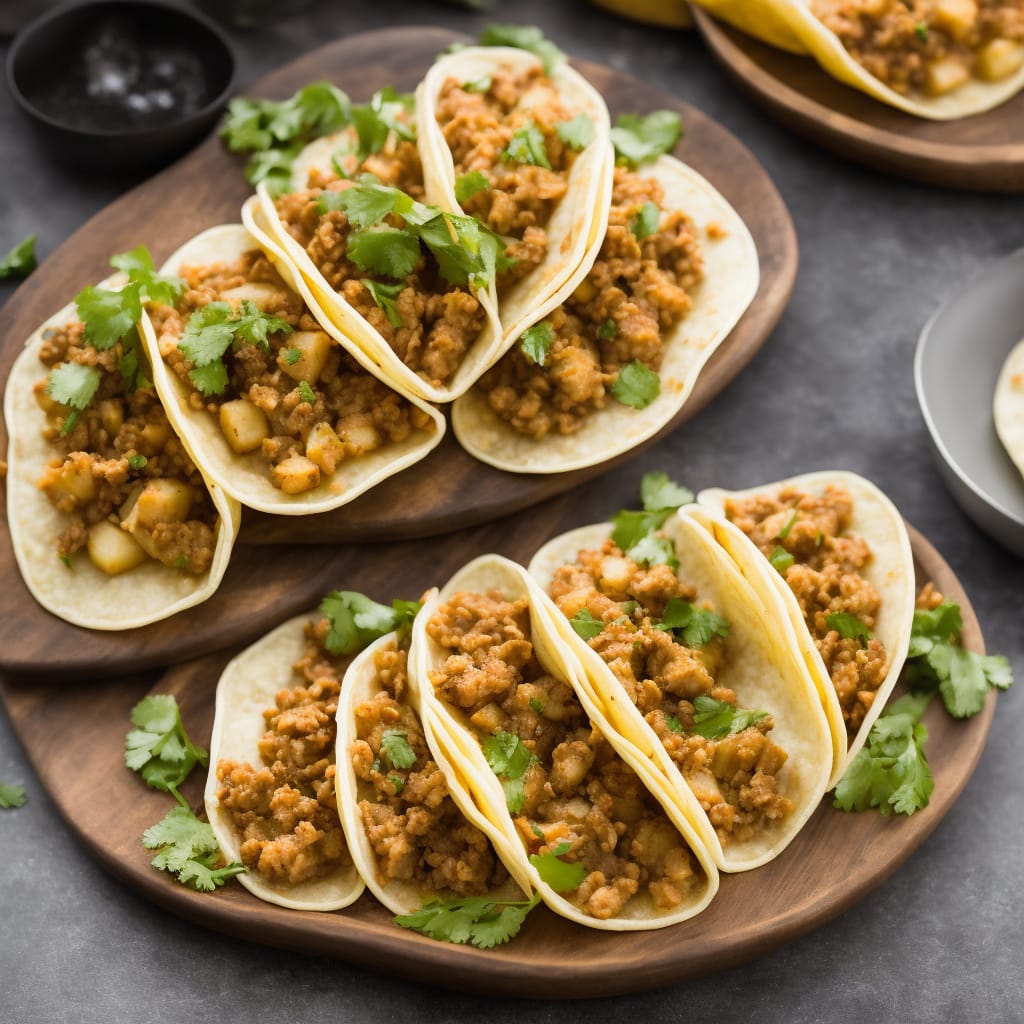 Tacos de Papa (Potato Tacos) Recipe
How To Make Tacos de Papa (Potato Tacos)
Spice up your meals with these easy-to-follow Mexican recipes! Explore a variety of dishes and new flavors to try out for your next big meals. We have it all from the classic tacos, crunchy empanadas, freshly made margaritas, and more. These exciting Mexican recipes are sure to please any crowd. So try them out for your next big gathering, or simply cook them up for when you're craving some Mexican cuisine.
Ingredients
4 large potatoes, peeled and cubed
2 tbsp vegetable oil
1 small onion, finely diced
2 cloves of garlic, minced
1 tsp ground cumin
1 tsp chili powder
1/2 tsp salt
1/4 tsp black pepper
8 small corn tortillas
Vegetable oil for frying
Toppings: salsa, guacamole, chopped cilantro
Instructions
Boil the potatoes until tender. Drain and mash them.

Heat 2 tbsp of vegetable oil in a skillet over medium heat. Add the diced onion and minced garlic, cook until translucent.

Add the mashed potatoes, ground cumin, chili powder, salt, and black pepper to the skillet. Stir well to combine.

Cook for 5 minutes, stirring occasionally, until the flavors are well combined.

Heat vegetable oil in a separate skillet over medium heat. Fry the tortillas for about 1 minute on each side, until they become slightly crispy.

Remove the tortillas from the skillet and drain on paper towels.

Place a spoonful of the potato mixture onto each tortilla. Fold in half and secure with toothpicks if necessary.

Heat vegetable oil in a deep skillet or pot over medium-high heat. Fry the filled tortillas until golden brown and crispy.

Remove from the skillet and drain on paper towels to remove any excess oil.

Serve the potato tacos with your choice of toppings, such as salsa, guacamole, and chopped cilantro.
Nutrition
Calories :

320kcal

Total Fat :

12g

Saturated Fat :

1g

Cholesterol :

0mg

Sodium :

400mg

Total Carbohydrates :

52g

Dietary Fiber :

6g

Sugar :

2g

Protein :

6g