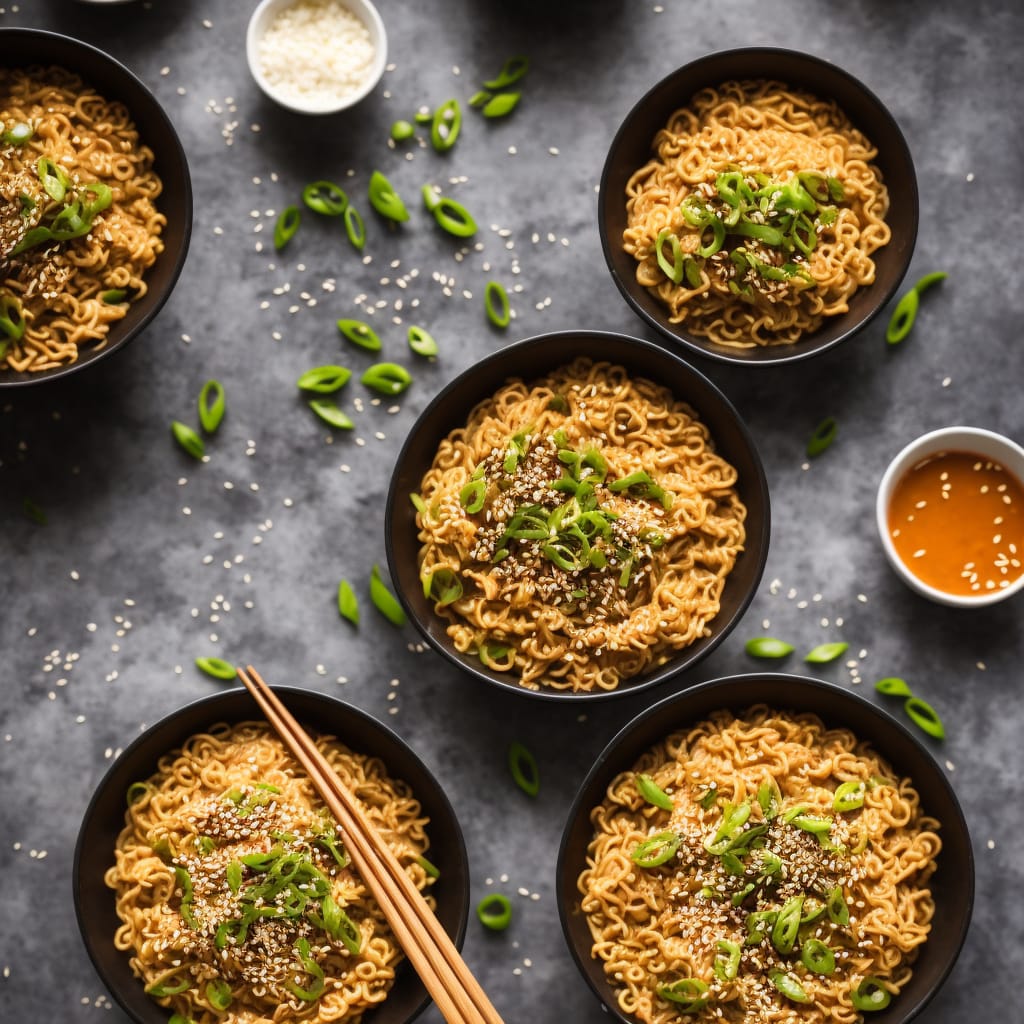 Spicy Asian Ramen Noodles Recipe
How To Make Spicy Asian Ramen Noodles
Looking to level up your instant noodle game? Or do you want to learn how to make noodle soup from scratch? Regardless of whatever type of ramen you're trying to achieve, you'll find them all here in this collection of ramen recipes. There are plenty of renditions to recreate: from the traditional shoyu, to the likes of the more experimental kimchi ramen. You can even try your hand at stir-frying the noodles for a change! So take your pick, and learn the ins and outs of perfecting this Japanese noodle dish.
Ingredients
4 packs of instant ramen noodles
2 tablespoons of vegetable oil
1 onion, thinly sliced
2 cloves of garlic, minced
1 teaspoon of ginger, grated
1 red bell pepper, thinly sliced
1 carrot, julienned
1 cup of mushrooms, sliced
1 tablespoon of soy sauce
2 tablespoons of sriracha sauce
1 tablespoon of hoisin sauce
2 green onions, chopped
Sesame seeds, for garnish
Instructions
Cook the ramen noodles according to the package instructions. Drain and set aside.

In a large skillet or wok, heat the vegetable oil over medium heat. Add the onion, garlic, and ginger. Cook until the onion is translucent.

Add the red bell pepper, carrot, and mushrooms. Cook for another 3-4 minutes, until the vegetables are tender.

In a small bowl, whisk together the soy sauce, sriracha sauce, and hoisin sauce. Pour the sauce over the vegetables and stir to coat.

Add the cooked ramen noodles to the skillet and toss to combine with the vegetables and sauce.

Cook for an additional 2-3 minutes, until everything is heated through.

Serve the spicy Asian ramen noodles topped with green onions and sesame seeds.
Nutrition
Calories :

350kcal

Total Fat :

12g

Saturated Fat :

2g

Cholesterol :

0mg

Sodium :

1200mg

Total Carbohydrates :

55g

Dietary Fiber :

4g

Sugar :

6g

Protein :

10g