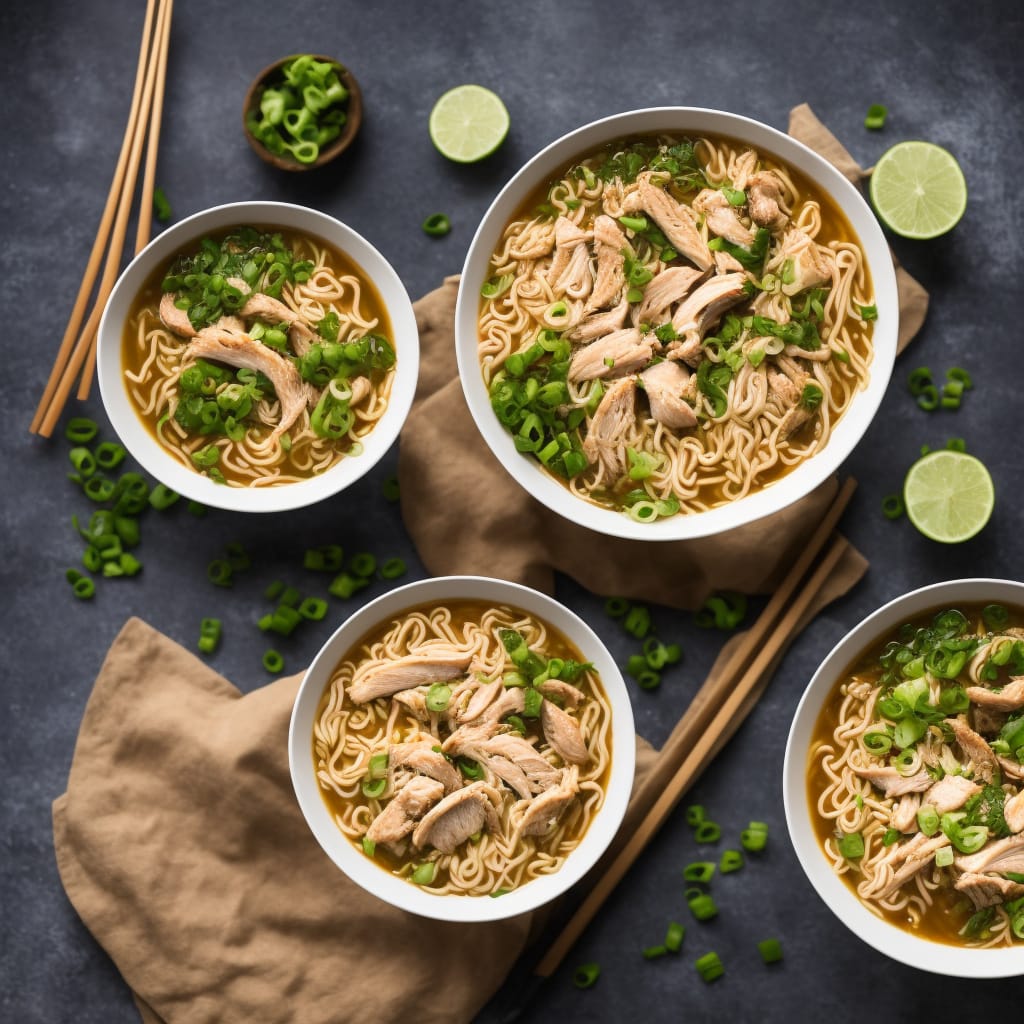 Chicken Ramen Bowl Recipe
How To Make Chicken Ramen Bowl Recipe
Looking to level up your instant noodle game? Or do you want to learn how to make noodle soup from scratch? Regardless of whatever type of ramen you're trying to achieve, you'll find them all here in this collection of ramen recipes. There are plenty of renditions to recreate: from the traditional shoyu, to the likes of the more experimental kimchi ramen. You can even try your hand at stir-frying the noodles for a change! So take your pick, and learn the ins and outs of perfecting this Japanese noodle dish.
Ingredients
4 chicken thighs, boneless and skinless
8 cups chicken broth
4 packs of ramen noodles
1 cup sliced mushrooms
2 cups chopped bok choy
4 soft-boiled eggs
4 green onions, sliced
2 tablespoons soy sauce
1 tablespoon sesame oil
Salt and pepper to taste
Instructions
In a large pot, bring the chicken broth to a boil. Add the chicken thighs and cook for 20 minutes or until cooked through. Remove the chicken and shred it.

Cook the ramen noodles according to the package instructions, then drain and set aside.

In the same pot, add the sliced mushrooms and bok choy. Cook for 5 minutes until tender.

Add the shredded chicken back to the pot. Stir in the soy sauce and sesame oil. Season with salt and pepper.

To serve, divide the cooked ramen noodles among 4 bowls. Ladle the hot broth with chicken, mushrooms, and bok choy over the noodles. Top each bowl with a soft-boiled egg and sliced green onions.
Nutrition
Calories :

500kcal

Total Fat :

18g

Saturated Fat :

4g

Cholesterol :

250mg

Sodium :

1800mg

Total Carbohydrates :

54g

Dietary Fiber :

3g

Sugar :

4g

Protein :

35g