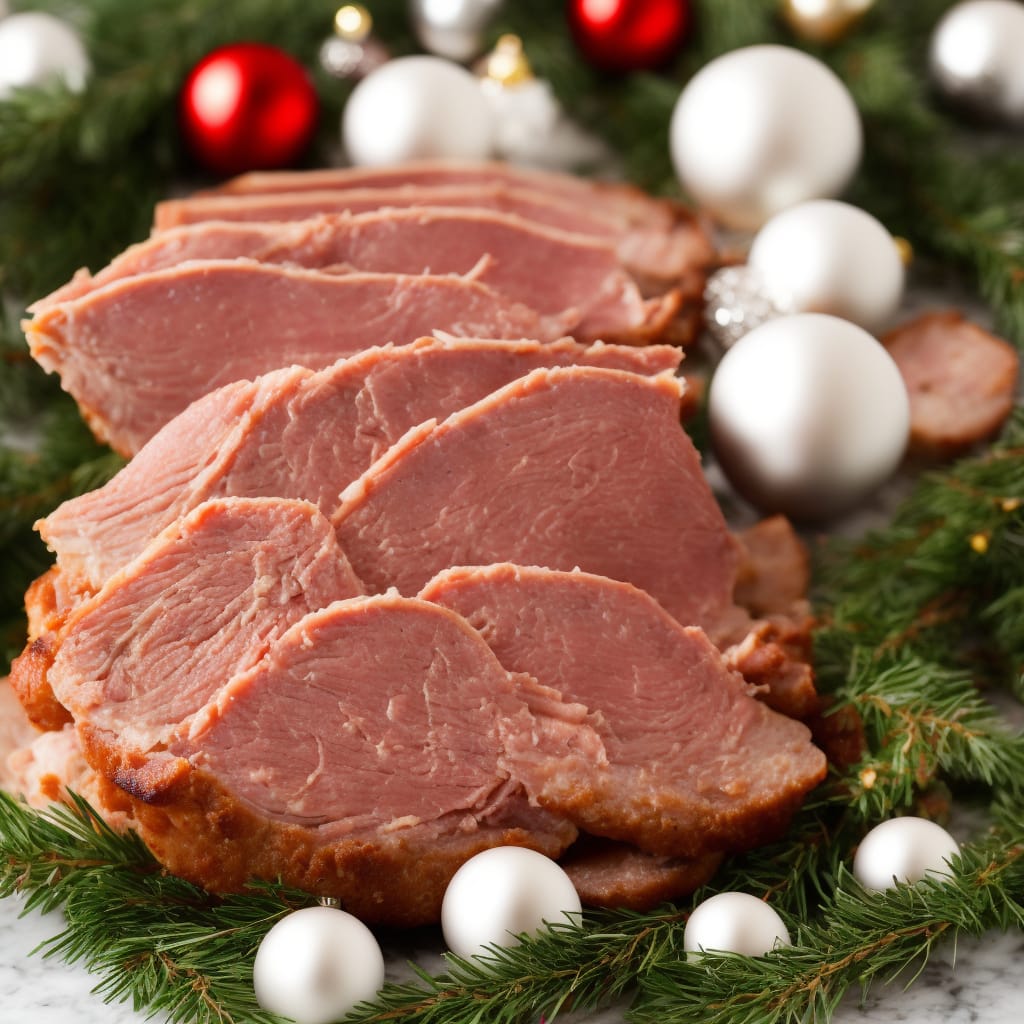 Home-Cured Holiday Ham Recipe
How To Make Home-Cured Holiday Ham
It's always the season for merry making and nothing gets merrier than a full stomach. These Christmas recipes will do the trick for happy smiles and bellies. Nobody goes on diet and no tummy goes hungry during Christmas!
Cooking:
2 hours 30 minutes
Total:
2 hours 40 minutes
Ingredients
1 boneless ham (about 4 lbs)
1 cup brown sugar
1/2 cup kosher salt
1/4 cup black peppercorns
2 tablespoons whole cloves
2 tablespoons ground cinnamon
1 tablespoon ground nutmeg
1 teaspoon ground allspice
1/4 cup Dijon mustard
1/4 cup maple syrup
Instructions
Rinse the ham under cold water and pat dry with paper towels.

In a large container, mix together the brown sugar, kosher salt, black peppercorns, cloves, cinnamon, nutmeg, and allspice.

Rub the mixture all over the ham, pressing it into the meat. Make sure to coat all sides.

Place the ham in a large resealable bag or wrap it tightly with plastic wrap. Refrigerate for at least 24 hours, or up to 3 days.

Preheat your oven to 325°F (165°C). Remove the ham from the refrigerator and let it come to room temperature for about 30 minutes.

In a small bowl, whisk together the Dijon mustard and maple syrup.

Brush the mustard-syrup mixture all over the ham.

Place the ham on a rack in a roasting pan, with the fat side up. Add about 1 inch of water to the bottom of the pan.

Cover the ham loosely with aluminum foil and roast for 2 hours, or until the internal temperature reaches 145°F (63°C) when measured with a meat thermometer.

Remove the ham from the oven and let it rest, covered with foil, for at least 15 minutes before slicing.

Serve the home-cured holiday ham warm as the main course for your holiday feast.
Nutrition
Calories :

440kcal

Total Fat :

15g

Saturated Fat :

5g

Cholesterol :

116mg

Sodium :

4706mg

Total Carbohydrates :

44g

Dietary Fiber :

1g

Sugar :

38g

Protein :

33g