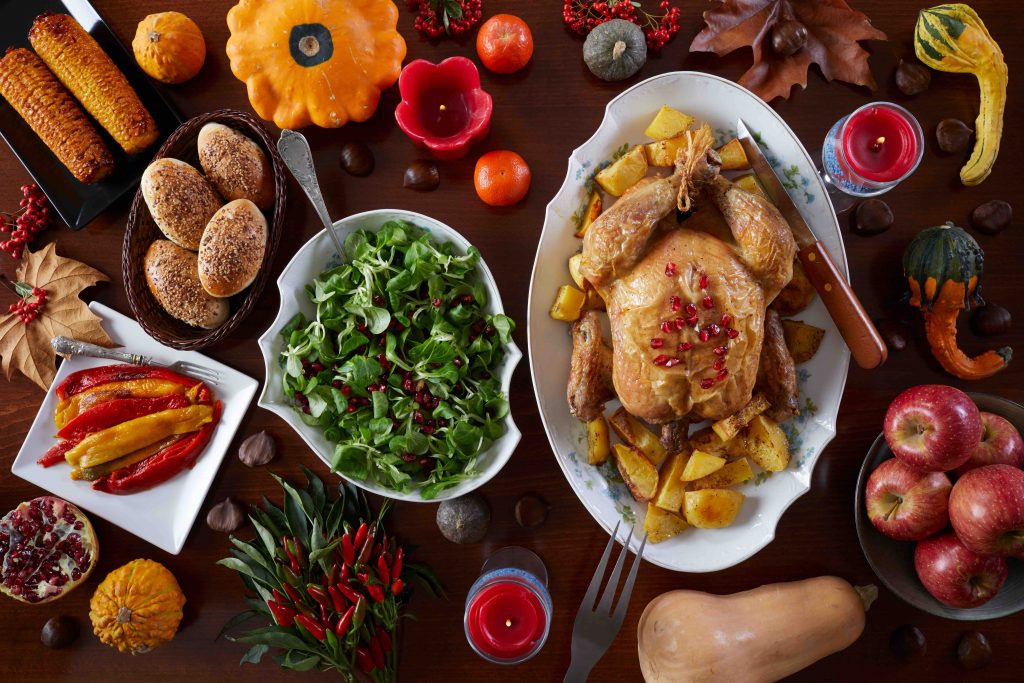 55 Classic Thanksgiving Side Dishes To Impress Your Guests
The holiday season, which begins in late November, is just around the corner. Amongst all the holiday traditions, there is one that young working adults await in nervous anticipation: family reunions. Now, what better way to stay ahead than to plan for the massive dinner party in advance? Whether you're seeking to recreate traditional recipes or to supplement your amateur culinary skills with the most popular Thanksgiving side dishes, you are sure to find everything you need in this list. Here are 55 classic Thanksgiving side dishes that will surely impress your guests!
---
Best Thanksgiving Vegetable Side Dishes
Narrowing down your side dishes for Thanksgiving can be difficult, especially when the Internet gives you nothing but information overload. Set your worries and the overwhelming to-do list aside as we got you covered some of the best Thanksgiving side dishes.
---
Traditional Thanksgiving Sides
It's finally your turn to whip up a great Thanksgiving dinner spread. What better way to impress your friends and family than by reliving the scents and taste of childhood. These traditional Thanksgiving side dishes are sure to leave everyone feeling nostalgic.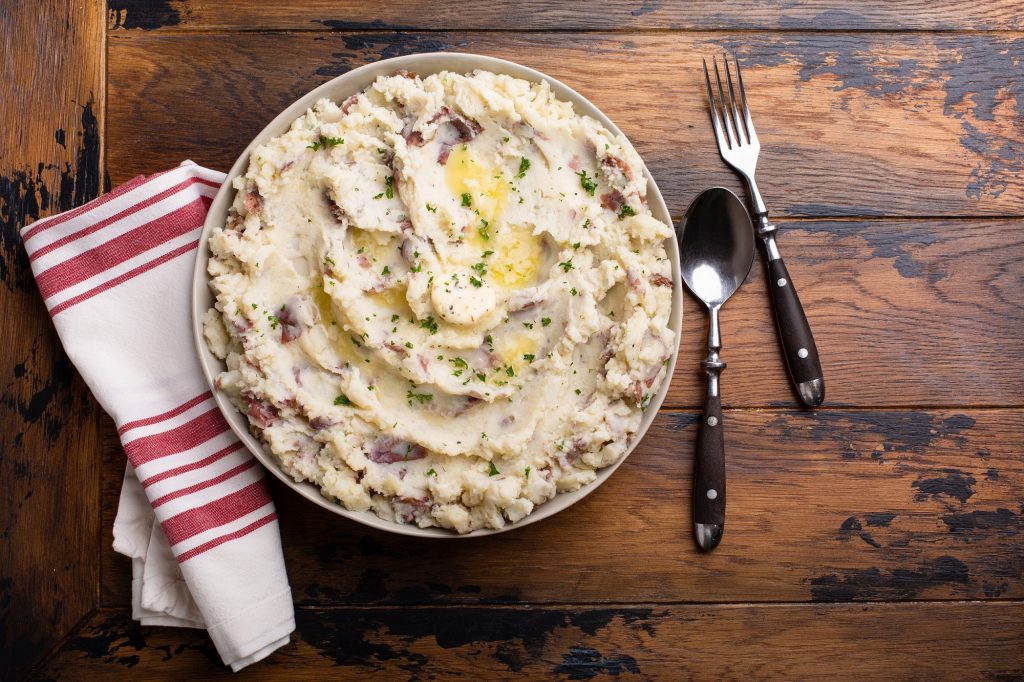 17 of 55
Roasted Garlic Mashed Potatoes
Love both roasted potatoes and mashed potatoes? Why settle for one alternative when you can have both! The spicy garlic flavor is intense and beautifully complemented with the buttery taste of the creamy mashed potatoes.

Try Recipe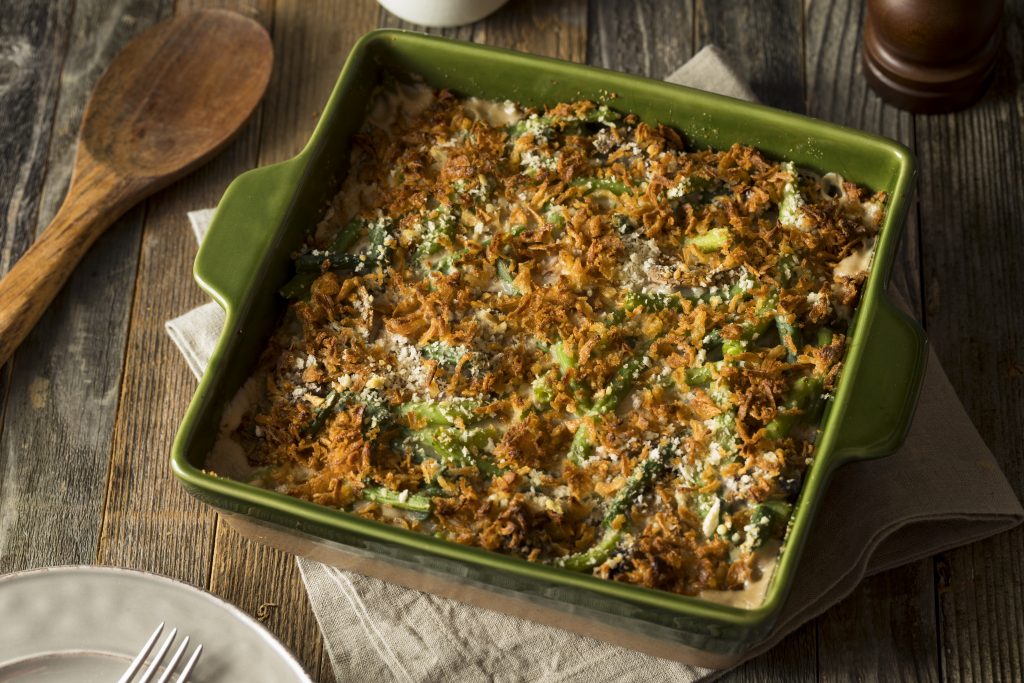 18 of 55
Green Bean Casserole
Entirely worth the effort, this Thanksgiving side dish promises an explosion of flavors. You'll first taste the fragrant crispy onions, followed by the creamy mushroom sauce and tender green beans.

Try Recipe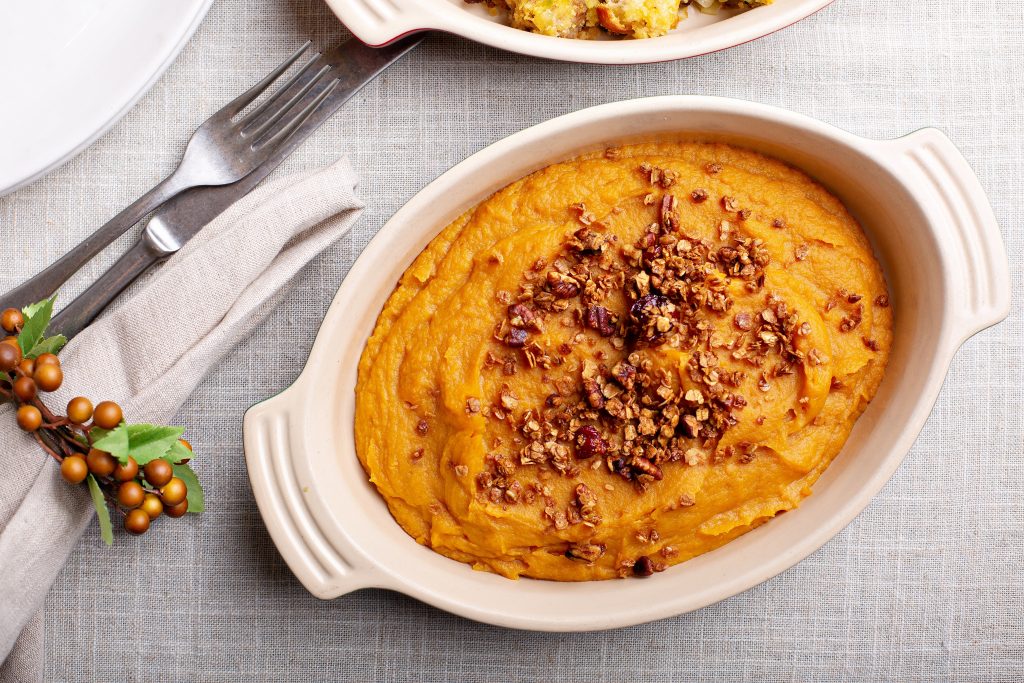 19 of 55
Sweet Potato Casserole
An easy-bake Thanksgiving side dish, this sweet potato casserole is topped with a savory sweet brown sugar and pecan crumble. And beneath the crispy streusel topping lies a sweet velvety inside for a truly perfect holiday dish.

Try Recipe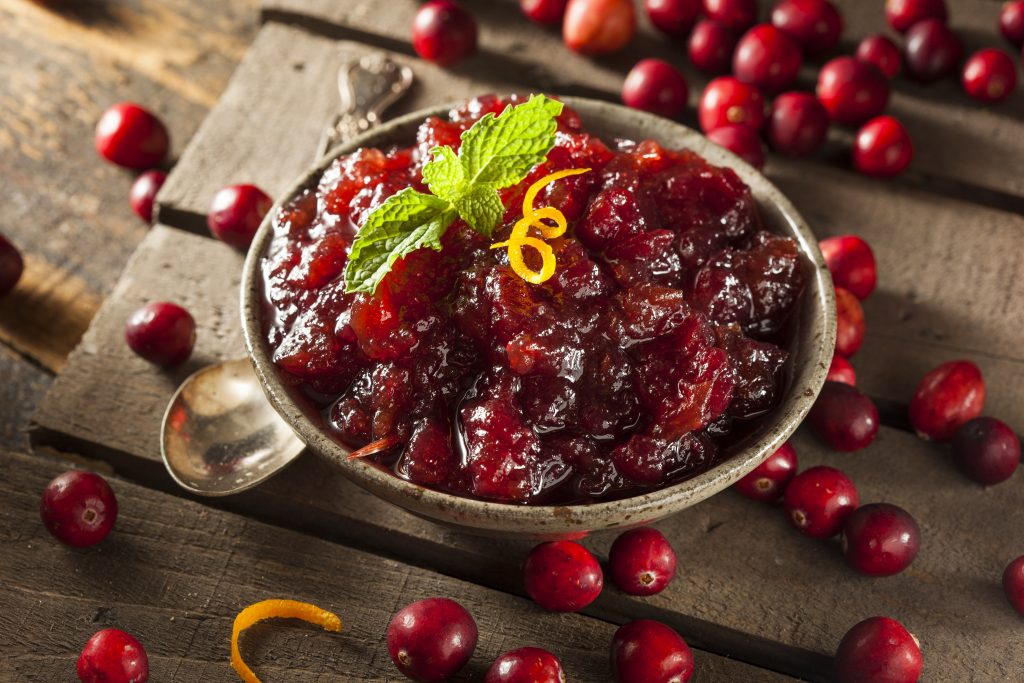 20 of 55
Cranberry Sauce
This side dish has been a staple component of all Thanksgiving meals for over a hundred years. As culturally significant as it is, cranberry sauce is unsurprisingly easy to perfect. The secret to this crowd-pleasing side dish boils down to the act of rhythmic stirring, low heat, and generous seasoning.

Try Recipe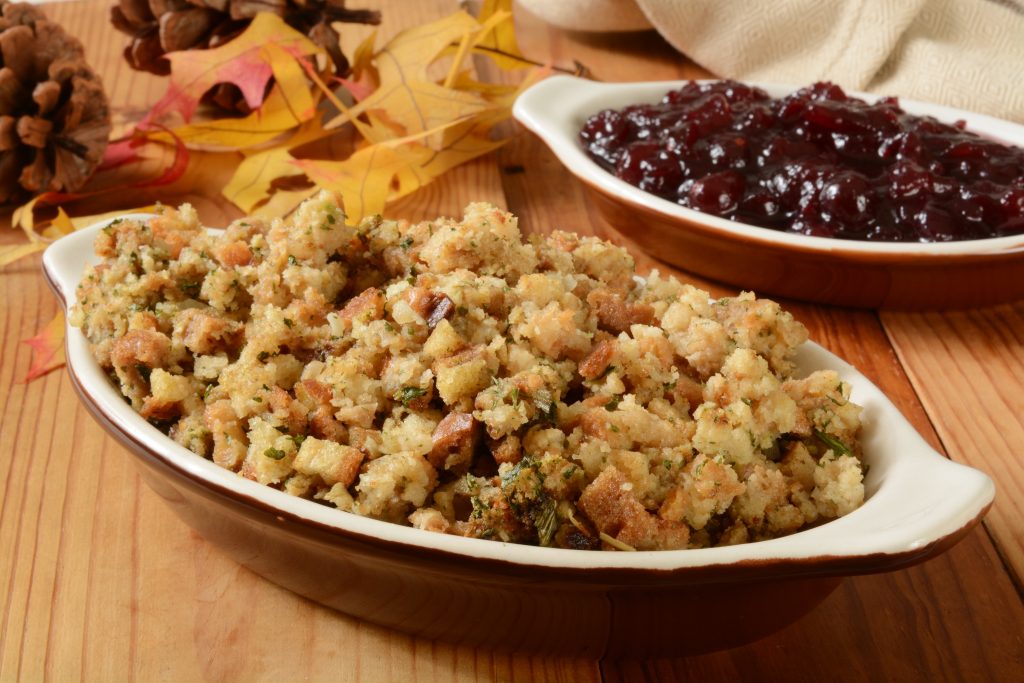 21 of 55
Sausage Stuffing
The traditional turkey stuffing is given the upgrade with Italian sausages in this sausage stuffing recipe. Crumbled Italian sausages are mixed into the typical turkey stuffing ingredients like chicken broth, celery, butter, and bread cubes for a deeper, more robust finish.

Try Recipe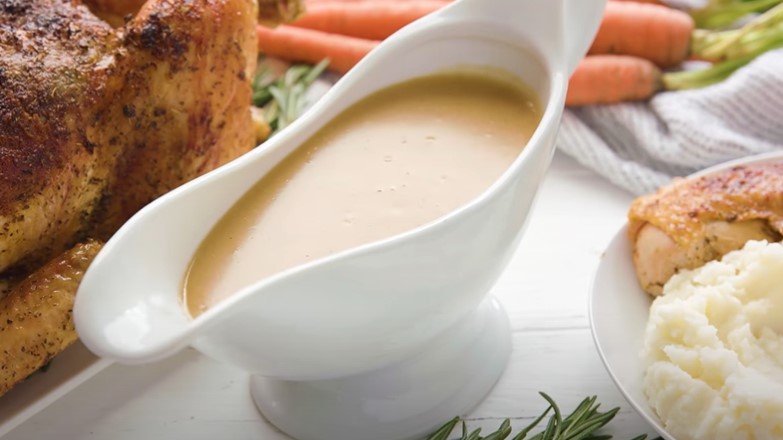 22 of 55
Turkey Gravy
This light and flavorful turkey gravy will make the perfect dip for your meat-based mains. One of the easiest and quickest Thanksgiving side dishes, it will only require an estimated 15 minutes of your undivided attention. Infused with rich turkey juices, it is gloriously thick, smooth, and aromatic.

Try Recipe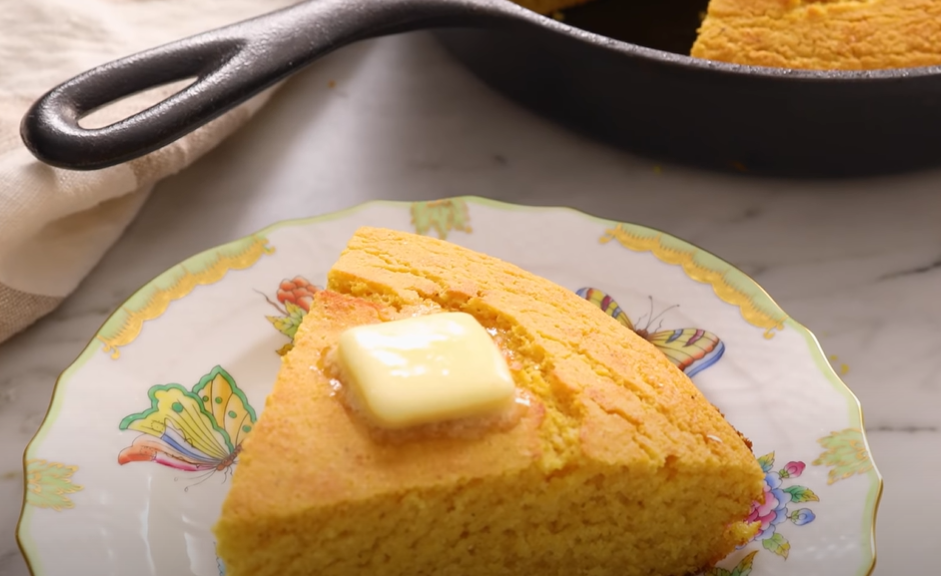 23 of 55
Sour Cream Cornbread
This Thanksgiving side dish is revered particularly in the South and is extremely easy and affordable to make. This particular recipe is made special with the addition of sour cream which gives the cornbread a tart piquancy accentuated by a thick creaminess.

Try Recipe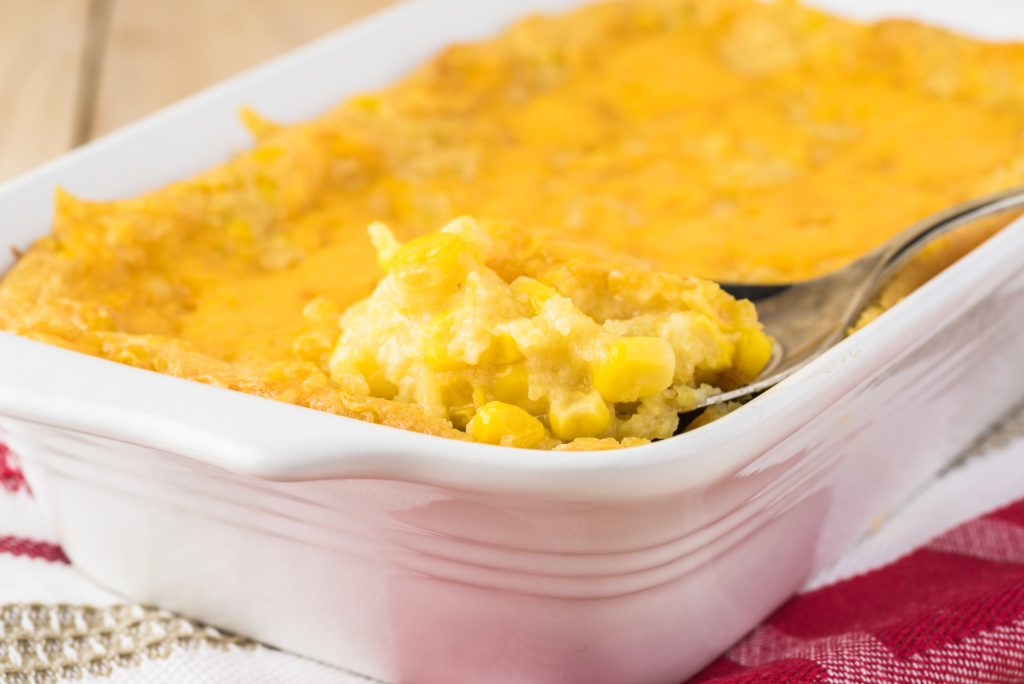 24 of 55
Corn Pudding
Arguably most popular in the South, corn pudding is the perfect Thanksgiving side dish for those who seek a sweet yet filling snack. With no other vegetables thrown in to compete with it in flavor, you'll savor the complete sweetness of the corn.

Try Recipe
25 of 55
Dinner Rolls
Be it Thanksgiving or not, dinner rolls are a great staple to serve at any dinner party. Baked to a beautiful golden brown, you'll love these fluffy, sweet, and buttery buns!

Try Recipe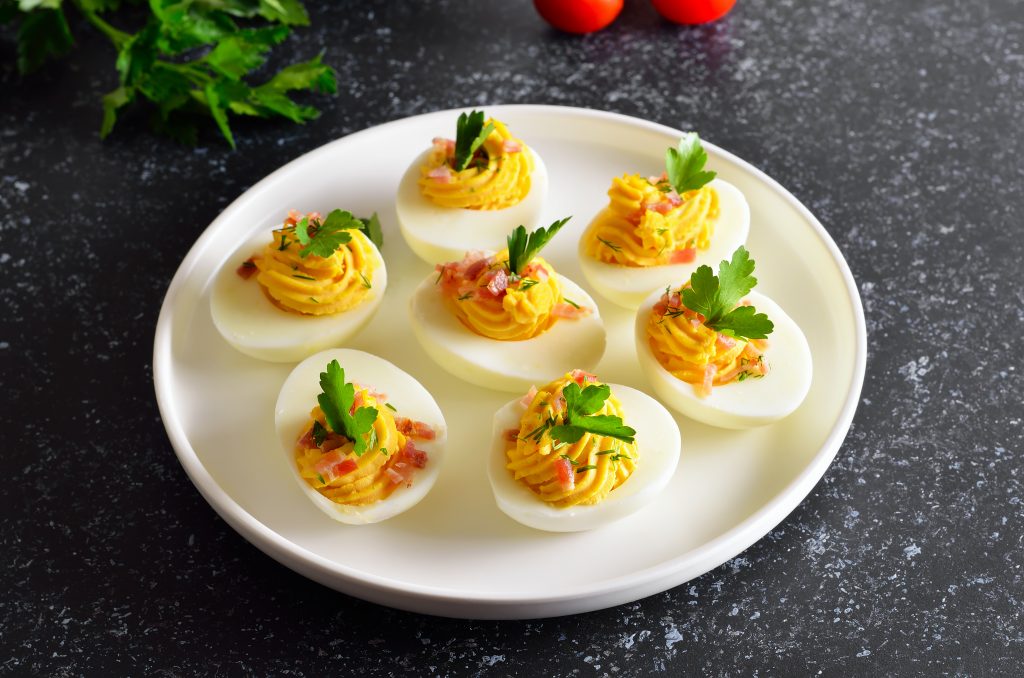 26 of 55
Deviled Eggs
Despite its questionable name, deviled eggs are an eye-catching addition to any Thanksgiving dinner spread. Topped by a mixture of egg yolk, crispy bacon, and hot sauce, this dish is relatively easier to make than it looks.

Try Recipe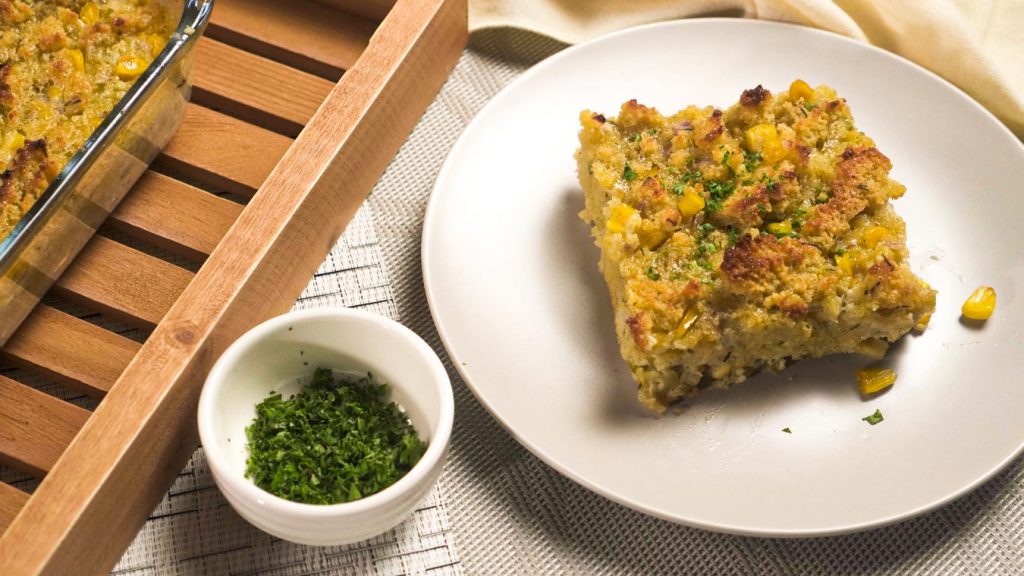 27 of 55
Cornbread Stuffing
Besides serving cornbread in traditional slices, you can also transform them into stuffing! You can choose to simply have it as a side or have it stuffed in a turkey. Whatever way you have it, you'll always enjoy the crunchy sweet flavor of this unique stuffing.

Try Recipe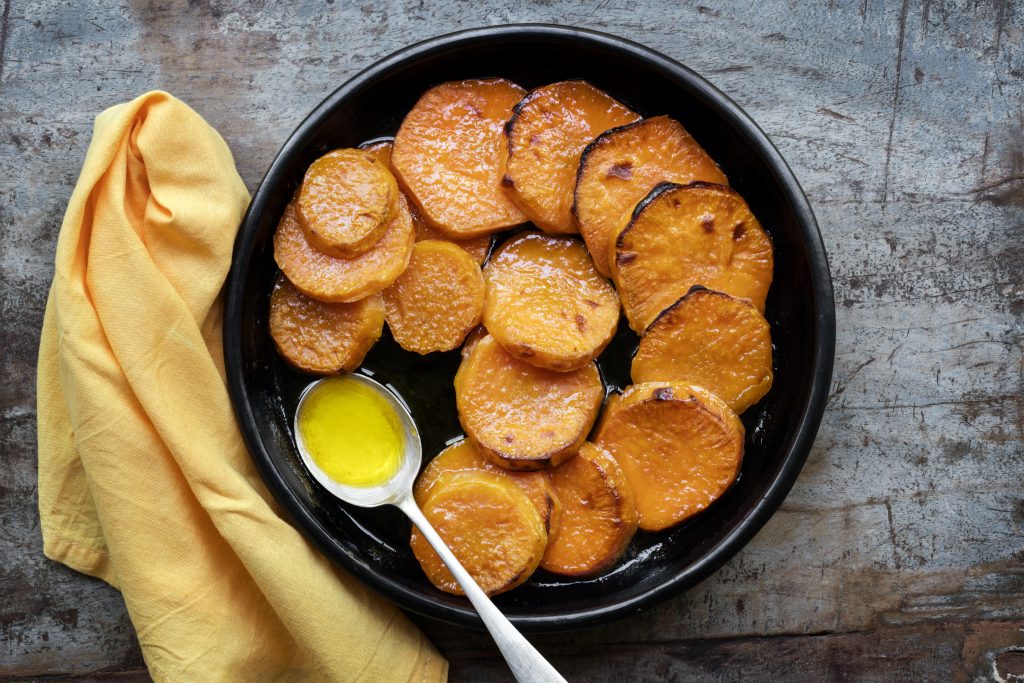 28 of 55
Candied Yams
These candied yams are a nutritious and fun Thanksgiving treat. A classic Southern Thanksgiving side dish, the pumpkin pie spice adds a zesty boost of aroma to the sweet candied yams.

Try Recipe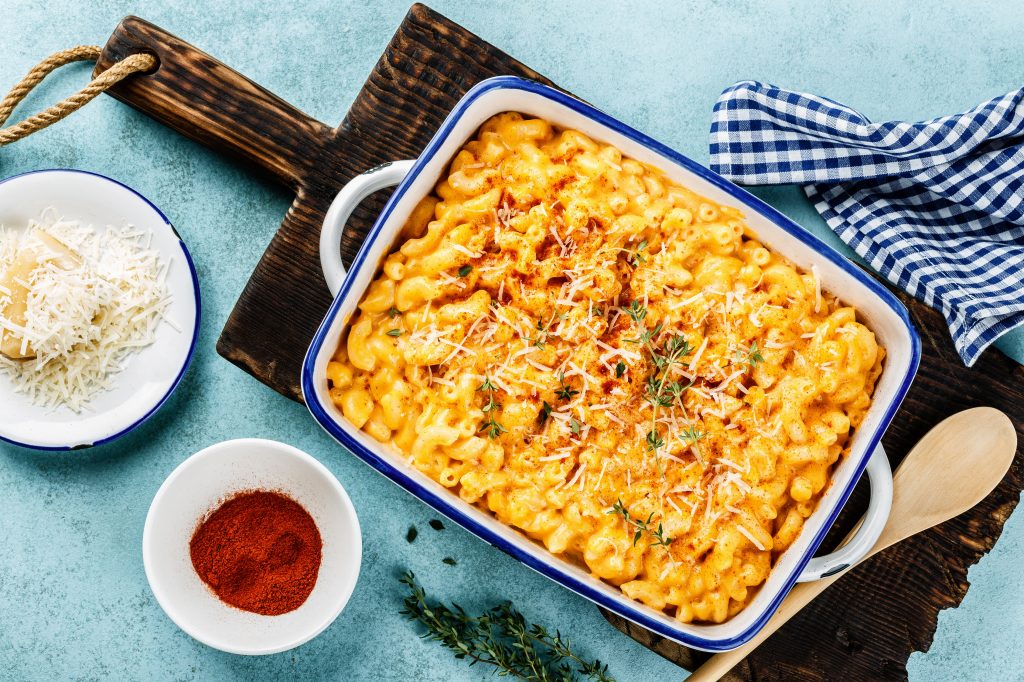 29 of 55
Baked Mac and Cheese
We all love a good mac and cheese. This comforting Thanksgiving side dish which features tender macaroni coated in a rich and creamy cheese sauce will have your guests circling the table for more!

Try Recipe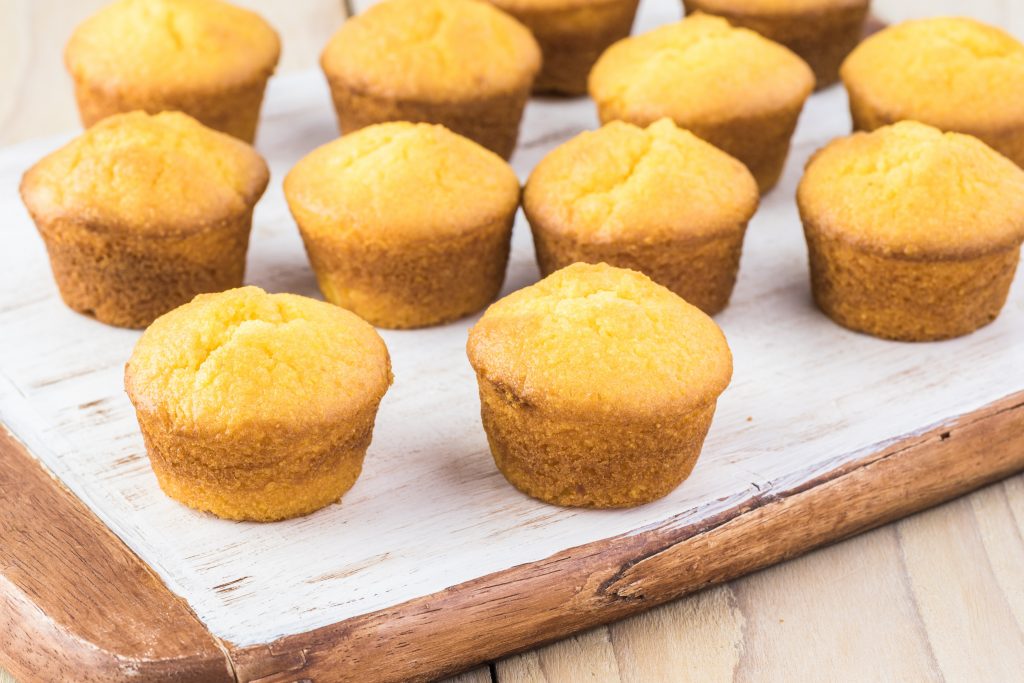 30 of 55
Cornbread Muffins
Pretty much a cuter rendition of the traditional cornbread, these cornbread muffins are also lighter and fluffier! And these are even topped with whipped honey butter for an even more delectable taste.

Try Recipe
---
Easy Thanksgiving Side Dishes
Nothing beats the confidence of knowing a recipe like the back of your hand. Put aside the overcomplicated recipes, and make way for the easiest side dishes for Thanksgiving!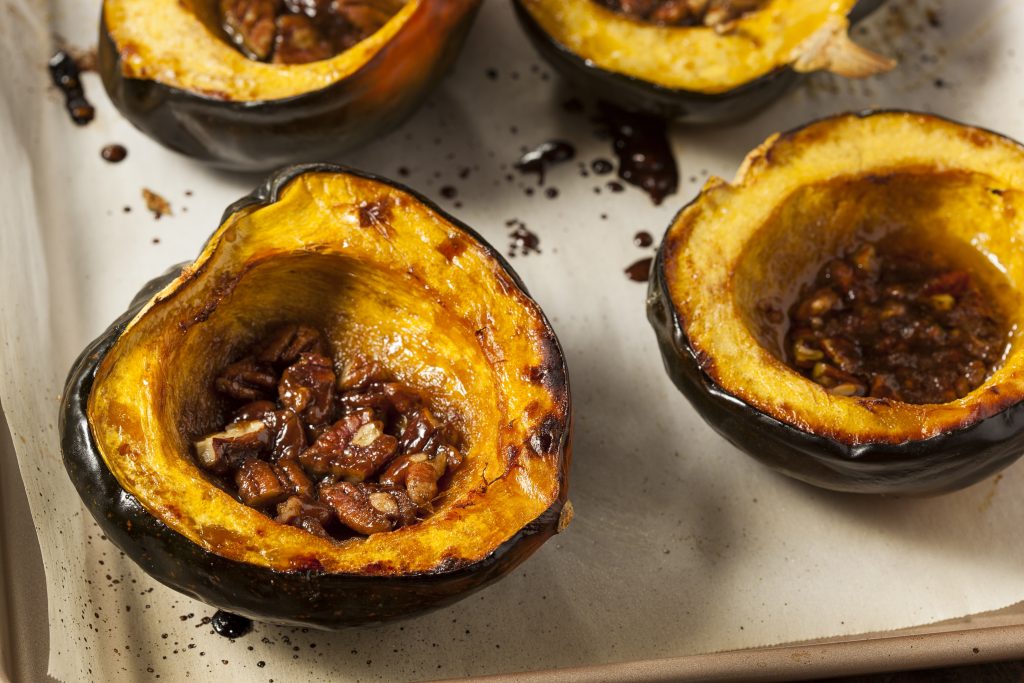 31 of 55
Roasted Acorn Squash
Whether you're a home-cooking pro or a beginner, this four-ingredient acorn squash recipe is guaranteed to be a hit! Oven-roasted with simple seasonings, this roasted acorn squash exudes a natural citrusy and nutty aroma with rich buttery vanilla notes.

Try Recipe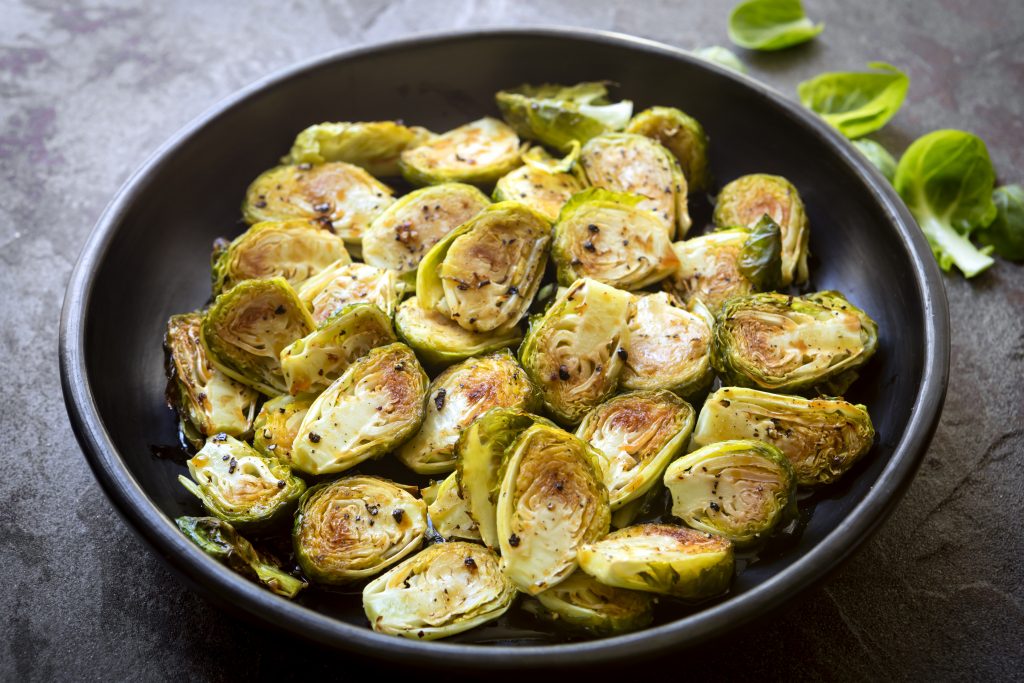 32 of 55
Roasted Brussel Sprouts
For those who loathe the raw taste of brussels sprouts, this recipe is for you. Get ready to munch on crispy tender roasted brussels sprouts in 30 minutes! Add a drizzle of balsamic vinegar to further elevate its natural sweet nutty taste!

Try Recipe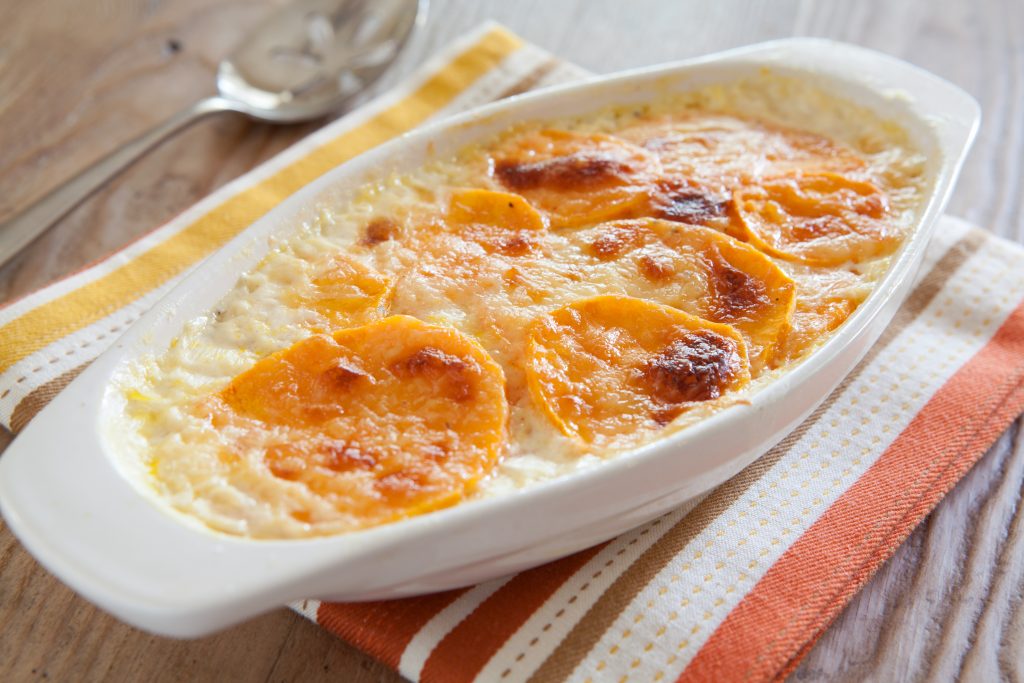 33 of 55
Sweet Potatoes Au Gratin
Cheese and sweet potato lovers, this sweet potatoes au gratin is for you. This simple four-step recipe sees our favorite sweet potatoes doused in parmesan, heavy cream, cinnamon, and nutmeg.

Try Recipe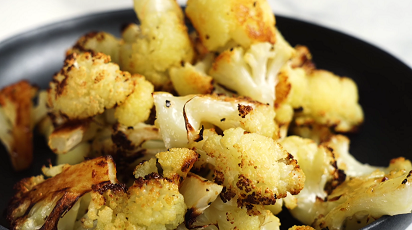 34 of 55
Roasted Cauliflower
Great on their own as a side, these roasted cauliflowers also make great toppings for pasta and salads. Its mildly nutty and sweet flavors with a crunchy texture also make it easy to pair with other festive Thanksgiving side dishes.

Try Recipe
35 of 55
2-Ingredient Pumpkin Soup
If you thought the previous recipe was easy, wait till you try this two-ingredient pumpkin soup! In just four steps, you can easily achieve a thick and creamy consistency. Enjoy its earthy-sweet flavors combined with peppery spices!

READ ALSO: 29 Easy Fall Soup Recipes For Cozier Autumn Nights

Try Recipe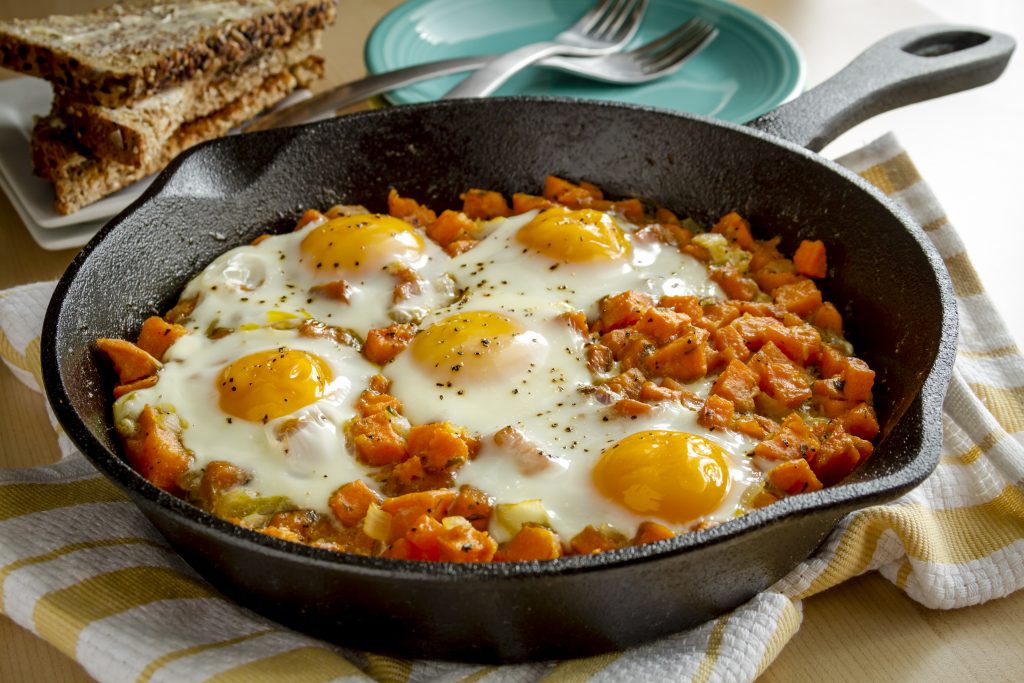 36 of 55
Sweet Potato Hash
This sweet potato hash is not just beginner-friendly, but also a feast for the eyes. And all you need to do is just to make a few wells in between the hash, crack some eggs, and voila! A visually stunning yet absolutely simple masterpiece.

Try Recipe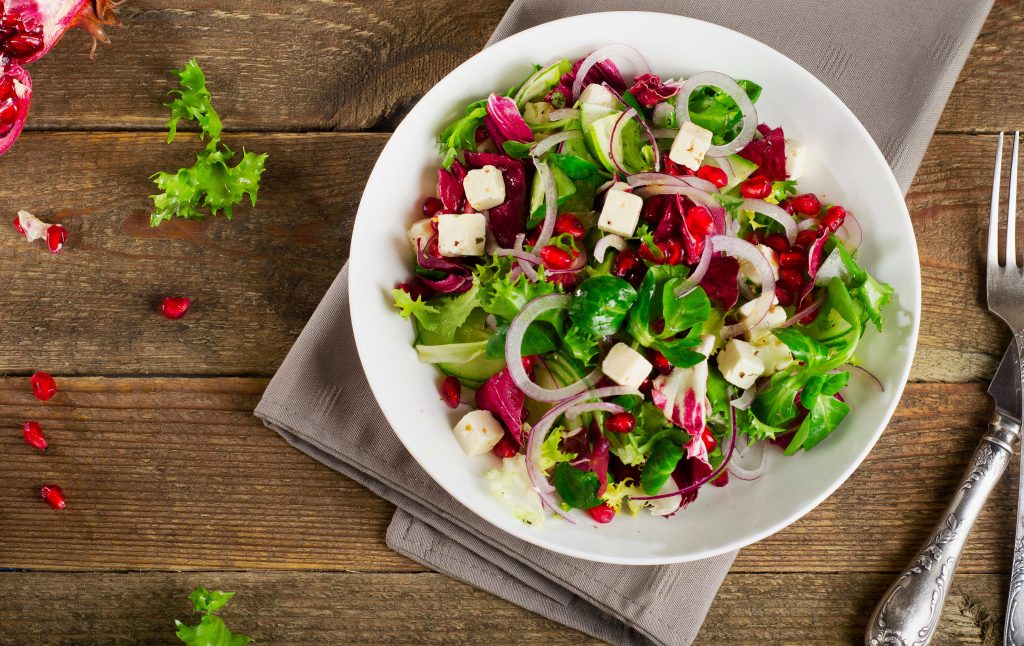 37 of 55
Easy Arugula Salad
When you're feeling nauseous from the overload of meat and potato-based options, consider balancing the menu with an easy arugula salad! With the bitter greens mixed with fruity goodness, this multi-textured arugula, berry, and walnut salad is certainly a great palate cleanser!

Try Recipe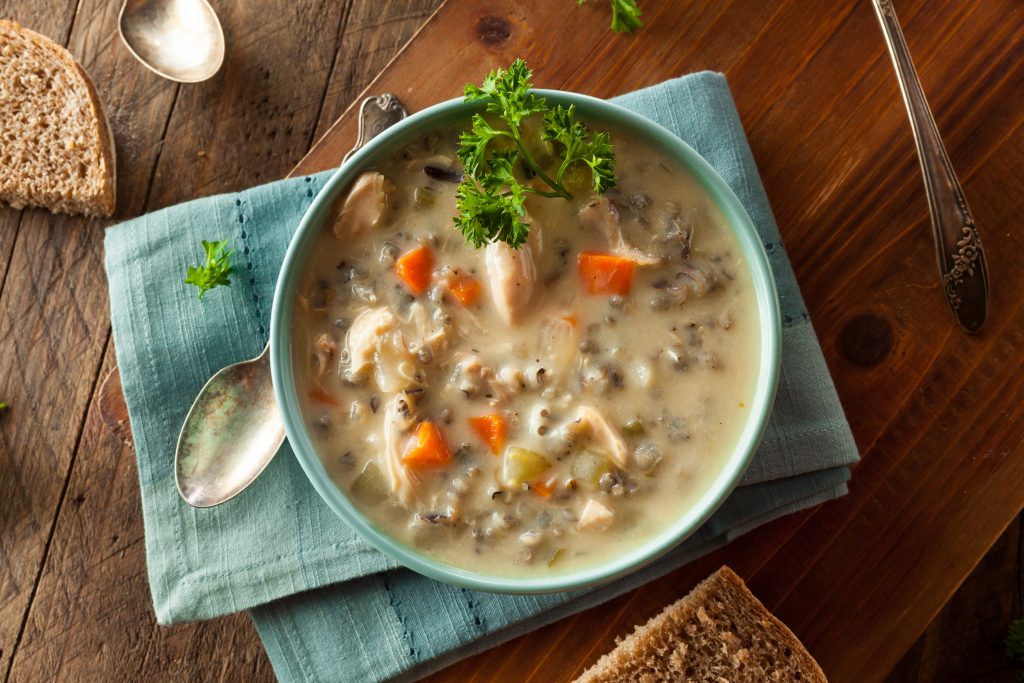 38 of 55
Creamy Turkey Wild Rice Soup
Unfortunately, most festive get-togethers rarely end without food wastage. Thankfully, with a little bit of creativity, last night's leftovers can quickly form the base of a new side dish, keeping you one step ahead of the party. This 30-minute creamy wild rice soup recipe is sure to be the answer to all your leftover turkey worries!

Try Recipe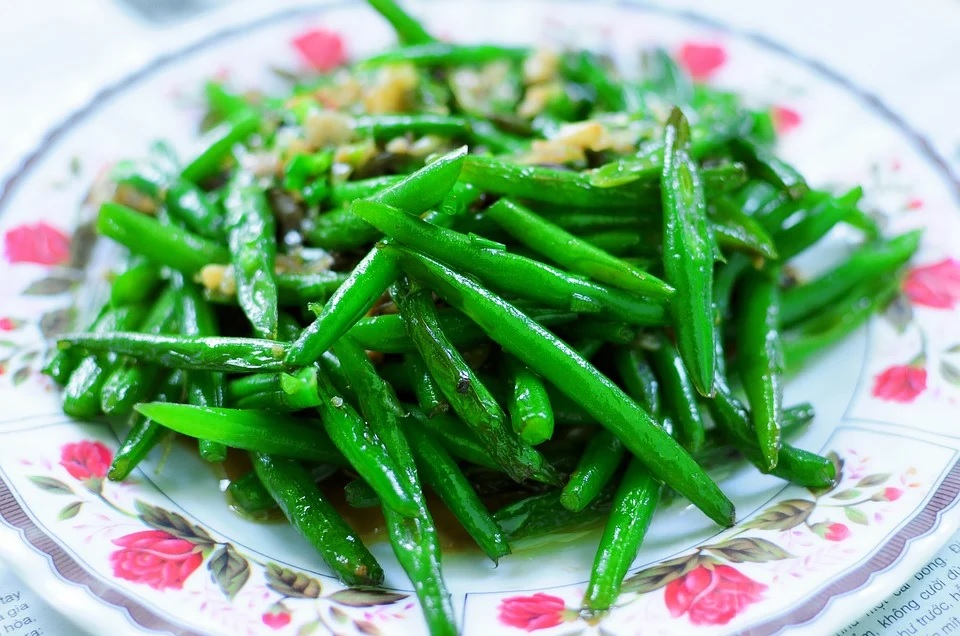 39 of 55
Roasted Green Beans
Bring your roasted green beans to another level with a sprinkle of garlic powder. As one of the easiest Thanksgiving side dishes, it takes just 25 minutes to complete.

Try Recipe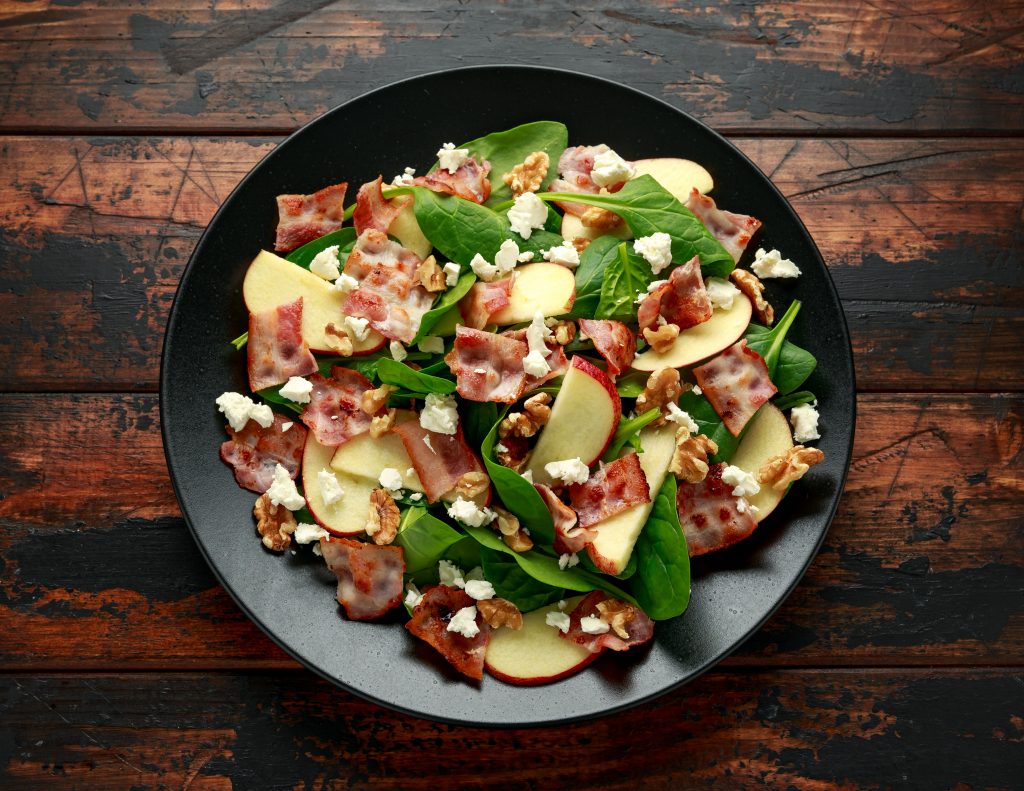 40 of 55
Apple Bacon Cranberry Salad
A combination of fresh spinach, apples, salty bacon, and dried cranberries creates an unmatched salad in terms of texture and taste. Savor an explosion of flavors and complex textures in this unique cranberry salad!

Try Recipe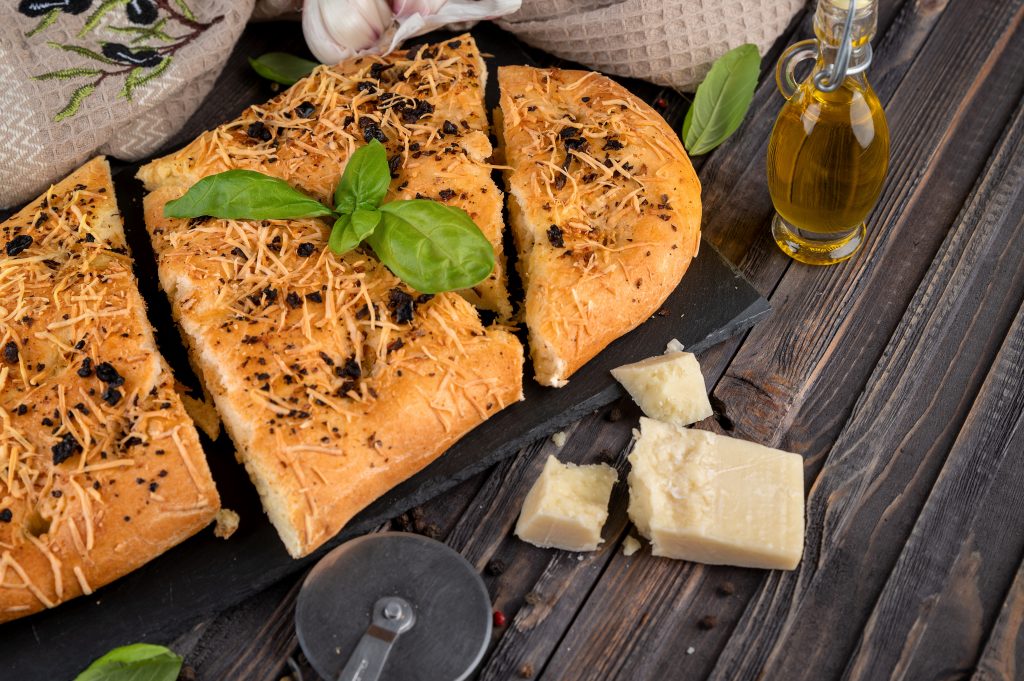 41 of 55
Parmesan Focaccia Bread
Looking for an Italian flair to your dinner table? Try some focaccia bread instead of the traditional dinner roll! Often likened to pizza dough, it can be made both sweet or savory depending on your preference. This version gives it a cheesy spin with a generous sprinkling of Parmesan cheese.

Try Recipe
42 of 55
Southern Collard Greens
Old school Southern dishes are incredibly popular come holiday season. Slow-cooked to perfection, these Southern-style collard greens have an extra smoky and earthy flavor due to the inclusion of ham hocks.

Try Recipe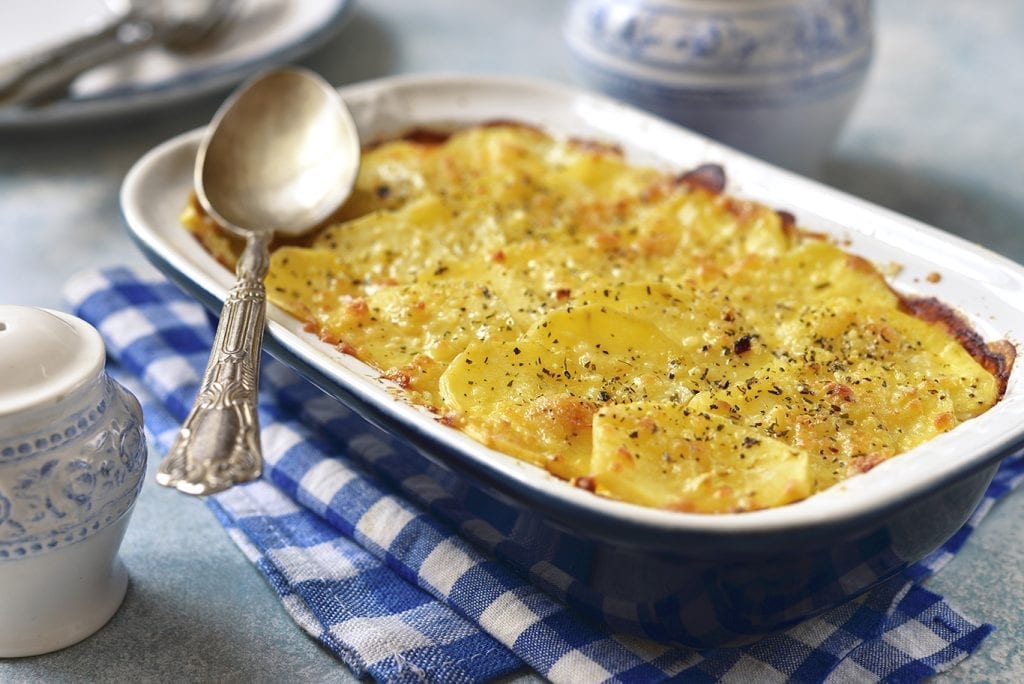 43 of 55
Scalloped Potatoes
These scalloped potatoes are significantly easier to make than they look. All you need for this classic holiday side dish is just some patience. You won't regret tasting the layers upon layers of potatoes and ham enveloped in a rich creamy sauce!

Try Recipe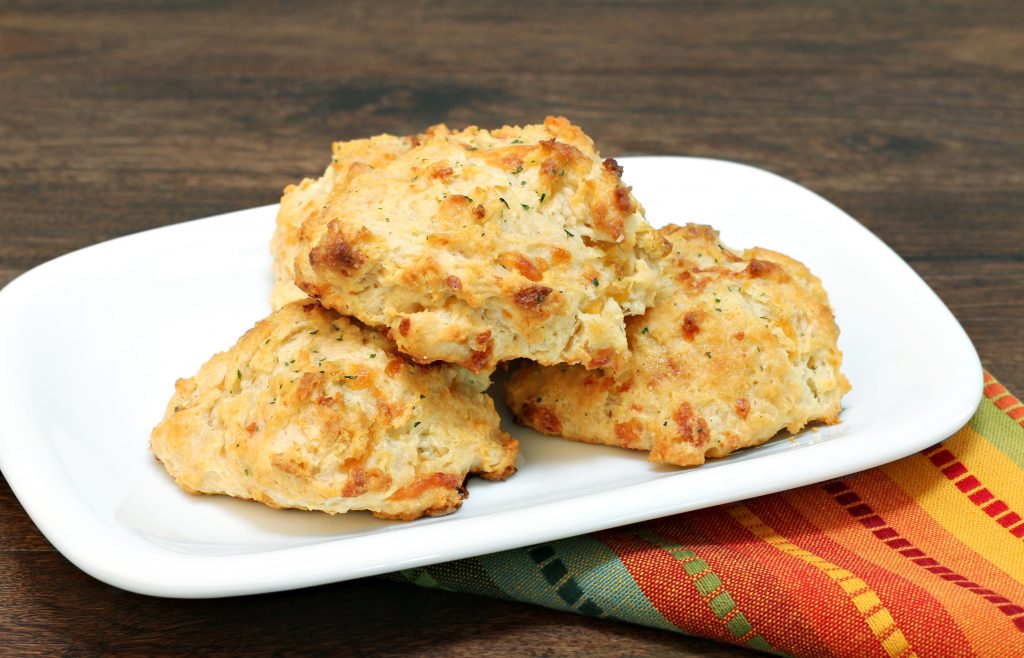 44 of 55
Garlic Cheddar Biscuits
This Thanksgiving side dish can be served on its own or alongside any soup of your choosing. Made easy with Bisquick, you can bake a fresh batch of buttery garlic cheddar biscuits in just 25 minutes.

Try Recipe
---
Healthy Thanksgiving Sides
Who says delicious Thanksgiving side dishes have to be unhealthy? Indulge your cravings to the fullest and forget about counting the carbs with these healthy side dishes for Thanksgiving!