Parsley is often used as a garnish in the culinary world, but it can also be used to enhance the flavor of your most favorite dishes. Now, while it can elevate flavors and give finishing touches to your priced recipes, you only need a couple of leaves and sprigs of it. This may leave you wondering what to do with the rest. Hence, answers to how to store parsley should be something that you know well when you're in the kitchen.
Anyone who bought fresh parsley in the market knows that it just may end up looking slouched and look wilted on the way home. And so, prolonging its life is your next option. This way, you can still use it for your stuffed mushrooms or parsley chicken. So, in this article, we listed 7 secret hacks on how to store parsley to keep it fresh for your next dishes.
7 Methods to Keep Parsley Fresh
Stored Uncovered in Glass Jar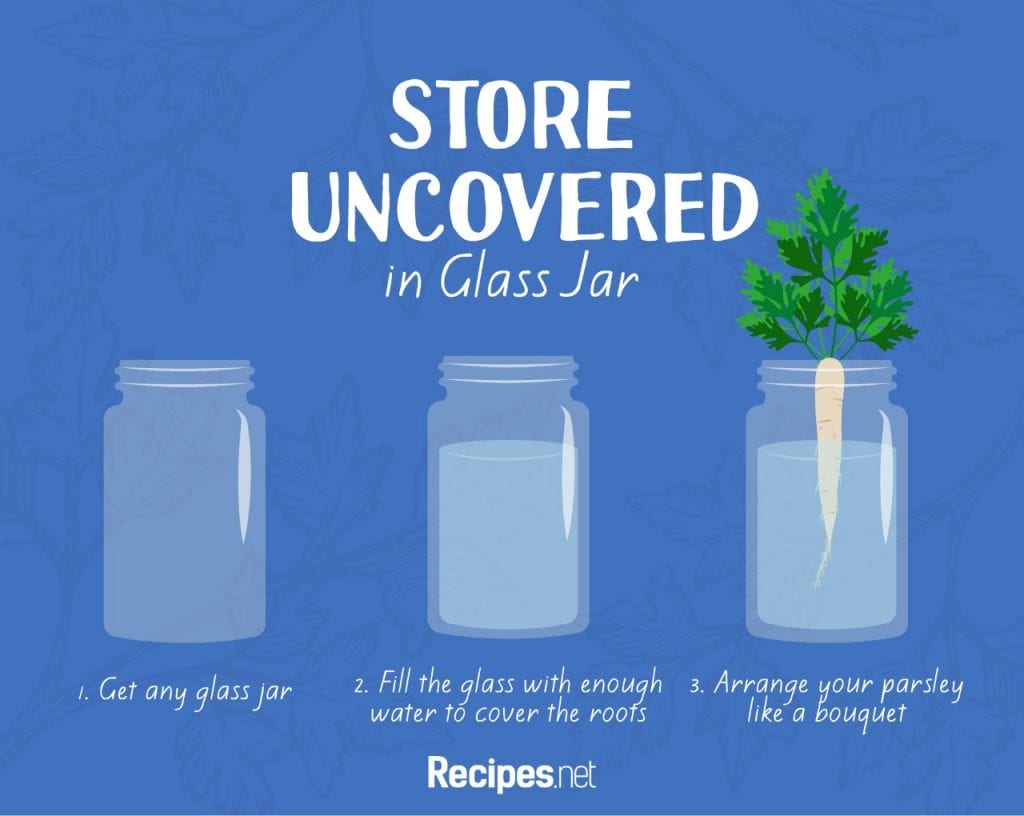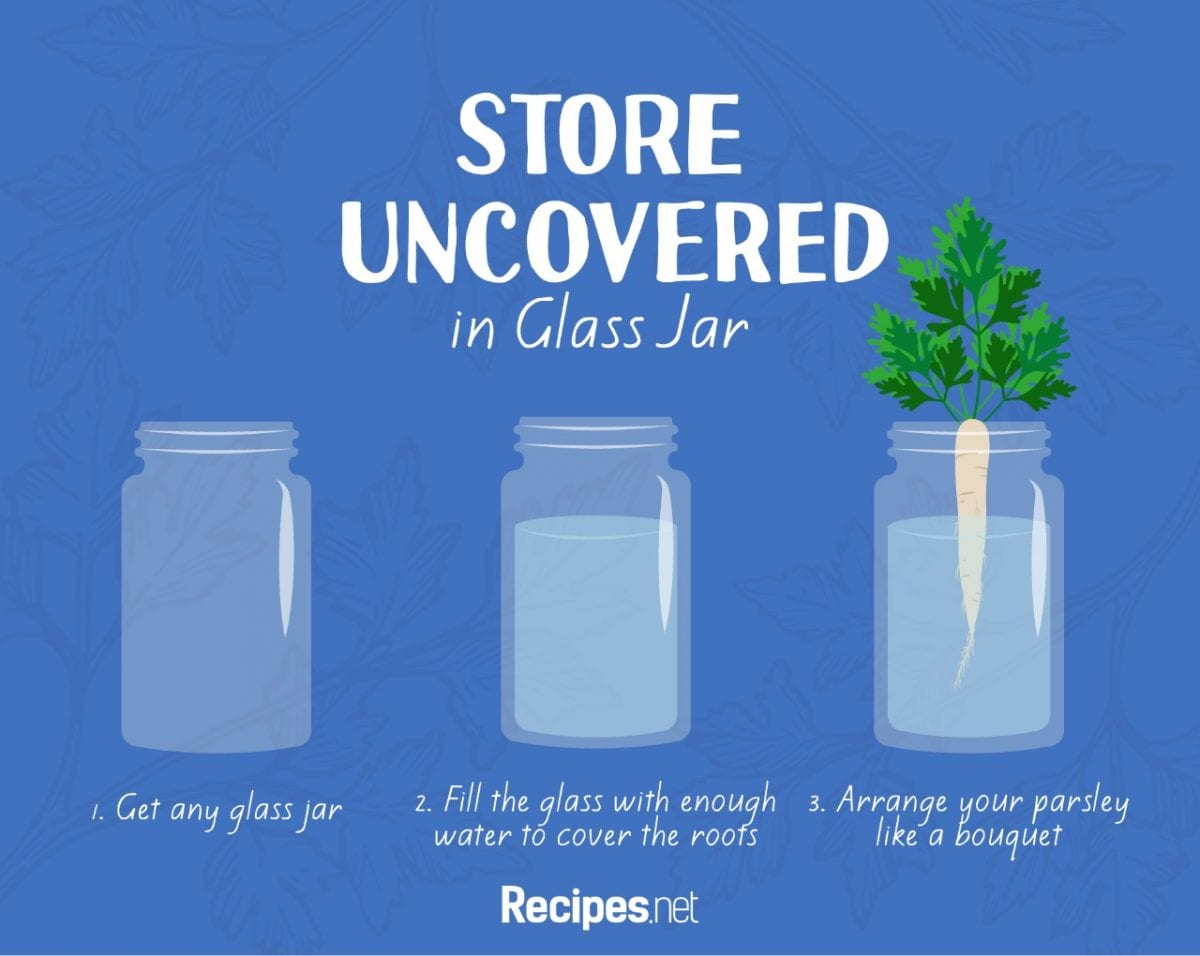 For this first method, you'll need a mason jar or any glass jar you can put your parsley in.
Next, you need to fill your glass with tap water and place your fresh parsley in it, like you would a bouquet of flowers.
Keep in mind that you don't have to completely fill the glass jar with water. You can put just enough to submerge the roots of your parsley, and then store it in a cool, dry place away from too much heat and moisture.
If you're looking for a sure way to prolong the life of your fresh parsley, then this will do the trick nicely. However, know that there are claims that parsley leaves will still wilt and get mushy and moldy with this method. To avoid this, don't wash your parsley. You can't wash them until you are about to use them as the excess moisture will make the leaves mushy and slimy. So, keep in mind that if you want this trick to work, do not leave the leaves and sprigs wet. Save this for when you're finally putting them in the jar full of water.
With this method of preservation, you can try making any parsley recipe you so desire! You can try this delicious tarragon pesto to go with either pasta or bread.
Stored in a Covered Glass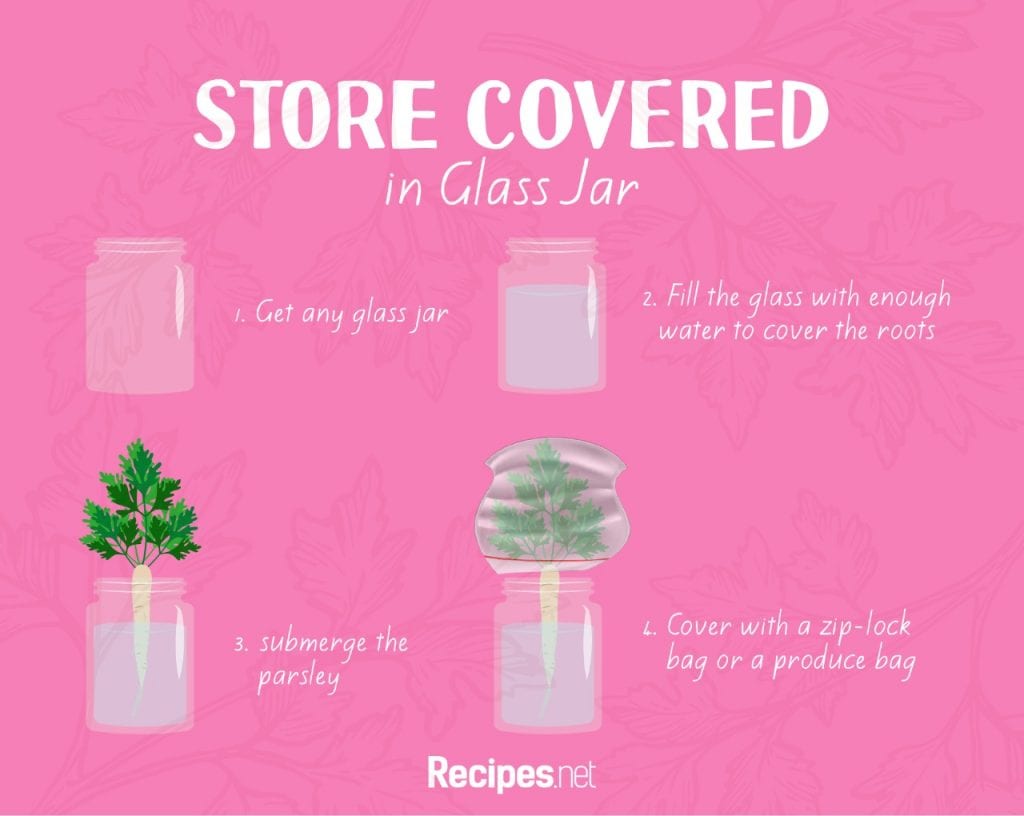 This one is just like the first "bouquet" method, the only difference is you use a zip-lock bag or any bag to cover the whole herb. According to this article from NC State University, the bag is for two things: to lock the moisture in and to avoid excess moisture and heat from going in. As mentioned earlier, too much moisture will make herbs slimy while too much heat will make them wilt.
The secret to this method is storing your parsley in a cool and dry place like the uncovered bouquet method. Though this one just ensures added protection.
This covered bouquet method is perfect for chilled calamari salad with lemon and parsley. That extra oomph of freshness that parsley brings is perfect during the hot season! After all, it is the time when you need a refreshing dish the most.
Covered With Dry Kitchen Towel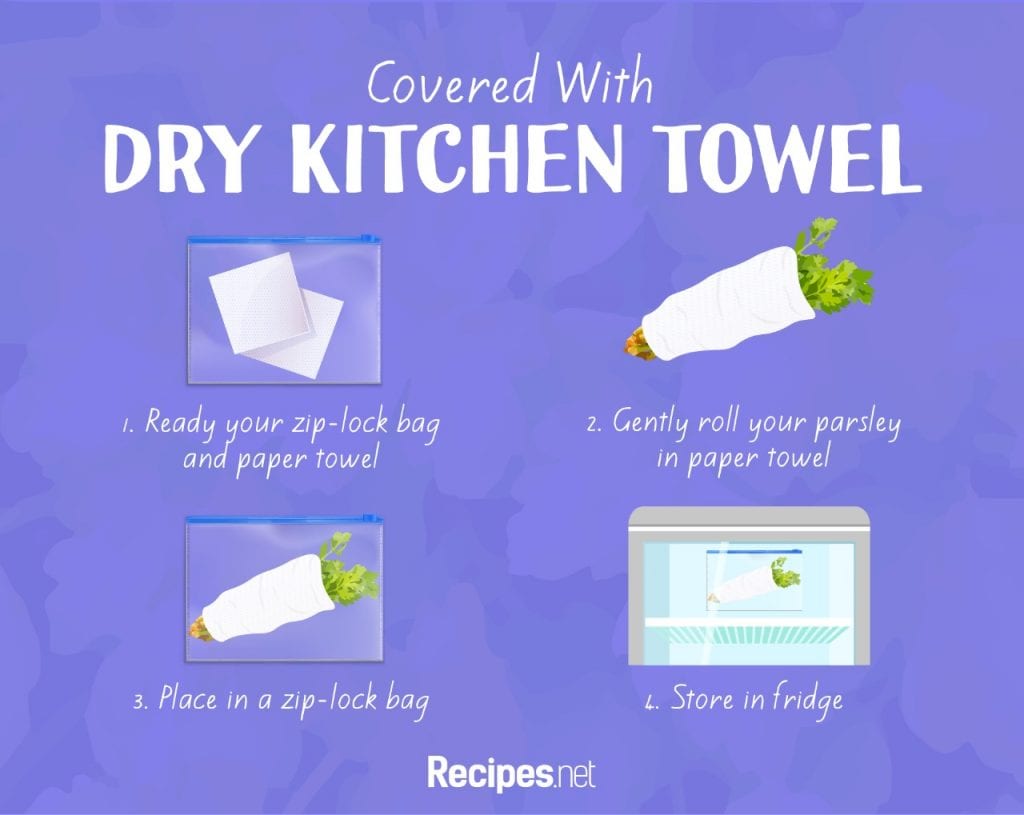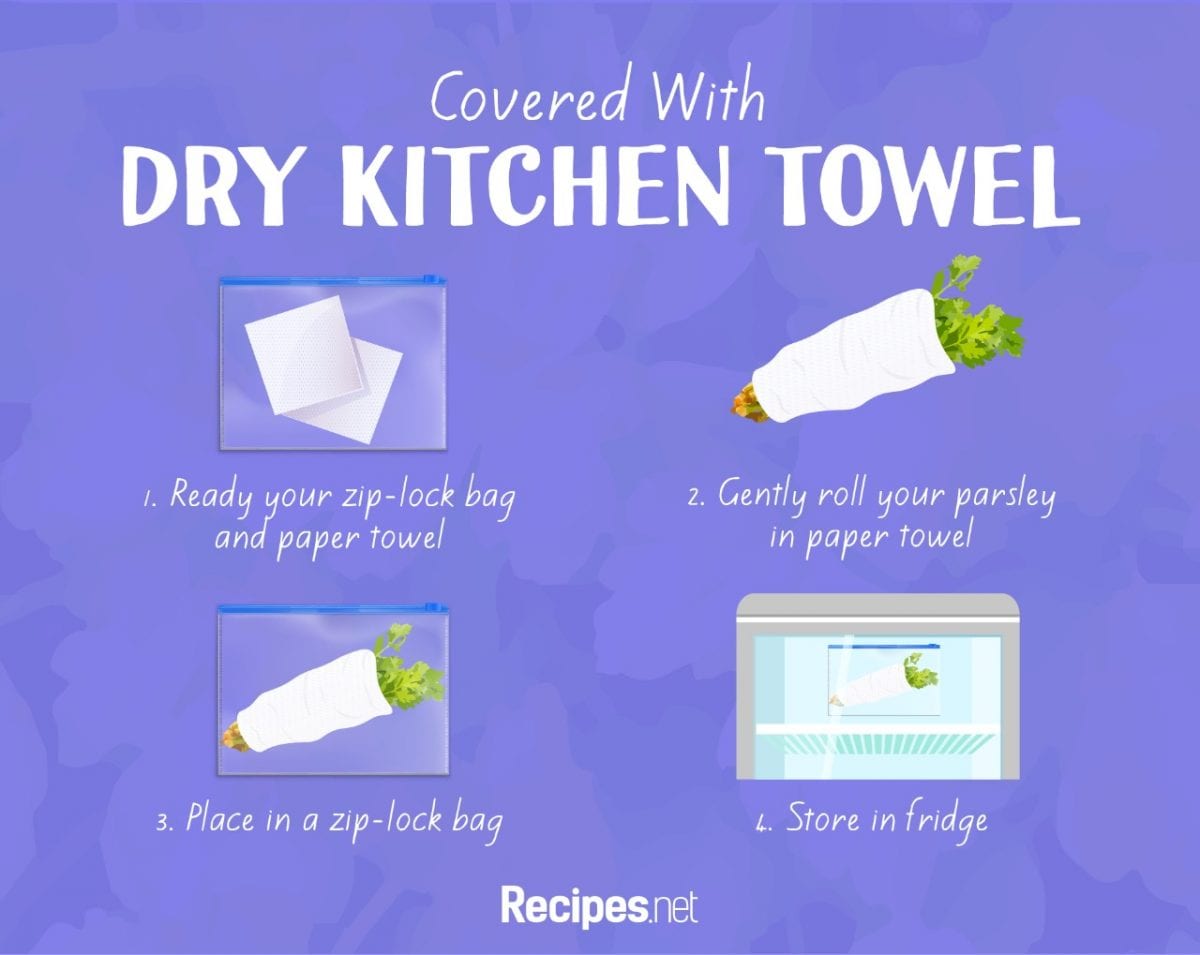 This is perhaps the most famous method online and amongst any household.
Get a ziplock, a paper towel, and your parsley.
Gently wrap a bunch of parsley in the dry paper towel.
Put it in a ziplock bag, and stow them in your fridge, and you're done!
Here, the paper towel acts as a paper bag just like in the covered bouquet method. Only, instead of locking the moisture in, the paper towel absorbs all the moisture that prevents the parsley from developing mold. Your parsley will come out as just the right garnish for this delicious cheeseburger casserole recipe!
Covered With Damp Kitchen Towel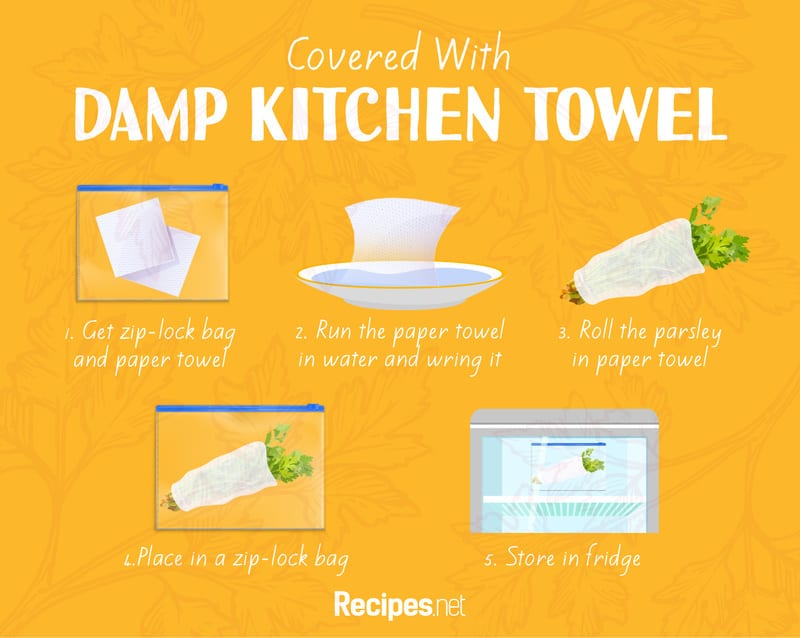 The damp kitchen towel method is just as effective as the others, no matter how disconcerting a damp paper towel may sound. It's quite tricky, though. For this method, you'll need a paper towel that's been wet and wrung out of excess moisture and a zip-lock bag for this method. Just repeat the steps from the covered paper towel method from earlier and stow the precious parsley in the fridge.
Remember when we told you that too much moisture will make the parsley slimy and mushy? In this method, instead of adding too much moisture, we're preventing the parsley from wilting by giving it just the right amount of moisture so it can stay fresh.
With that said, remember that all you need is a damp, not wet, paper towel. This will give your parsley just enough moisture to retain its freshness. Now you can use the fresh parsley as a garnish for your yummy oyster omelette, paired perfectly with a steaming bowl of rice.
Placed Inside Plastic Bag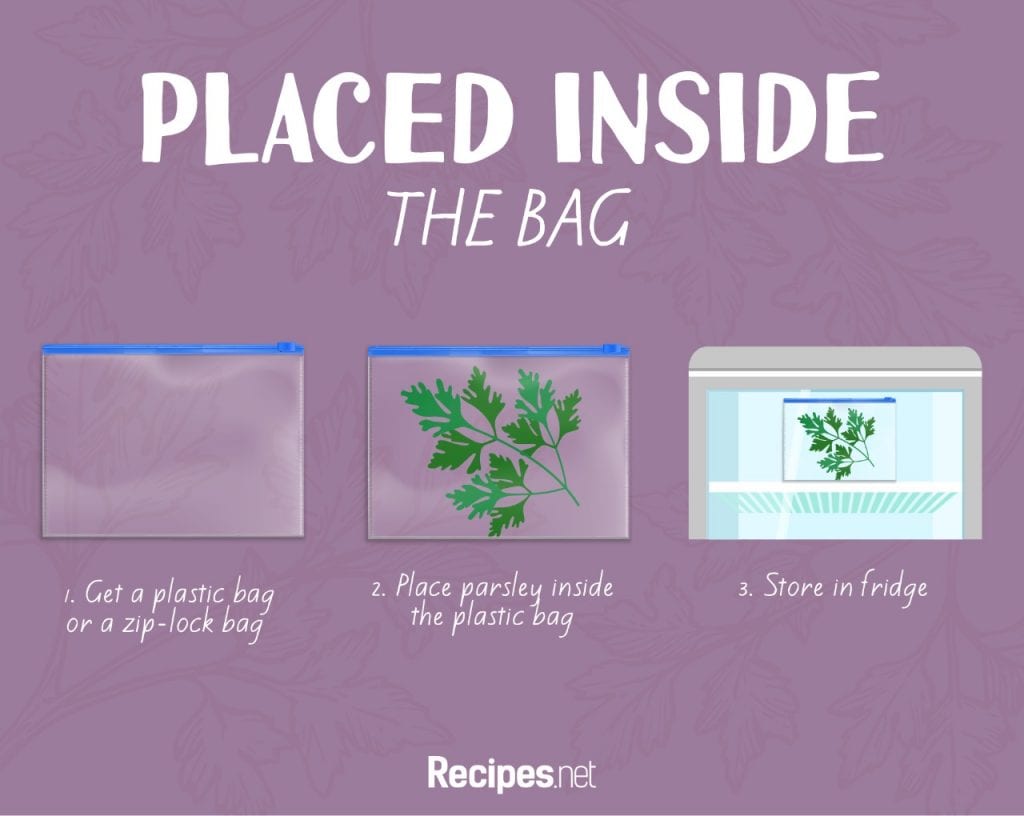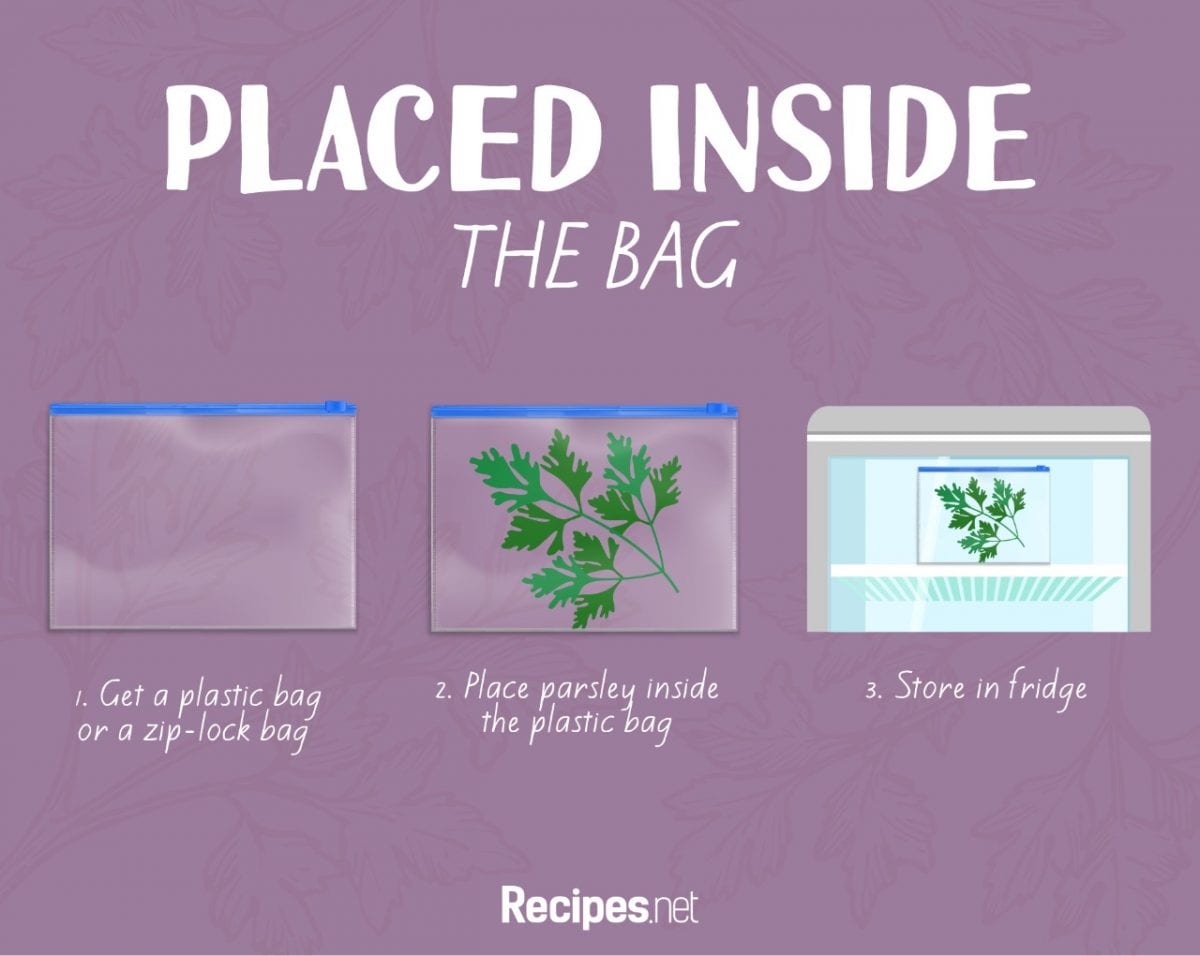 This method is probably the easiest method of the rest listed here, so we suggest that busy parents out there try this hack. You don't need to do anything elaborate at all: no washing or drying and cutting the roots.
Get a bag and your freshly bought parsley from the market.
Put the parsley in a plastic bag.
Place it inside your fridge, and you're done!
While it may sound like that it won't do much, this method is actually highly capable of giving you fresh herbs effectively. Some of the parsley leaves will still wilt, but considering how the method is totally fuss-free, we say this method is still a winner.
You can use your saved parsley from this method for your chopped chickpea salad!
Frozen and Rolled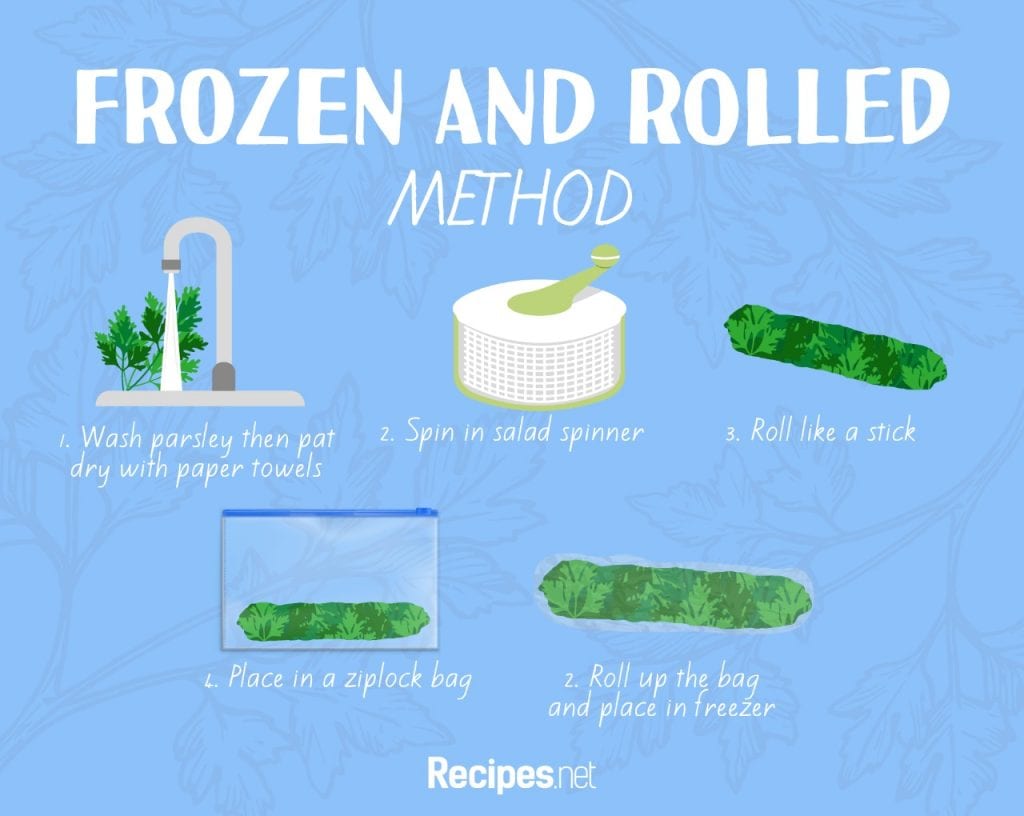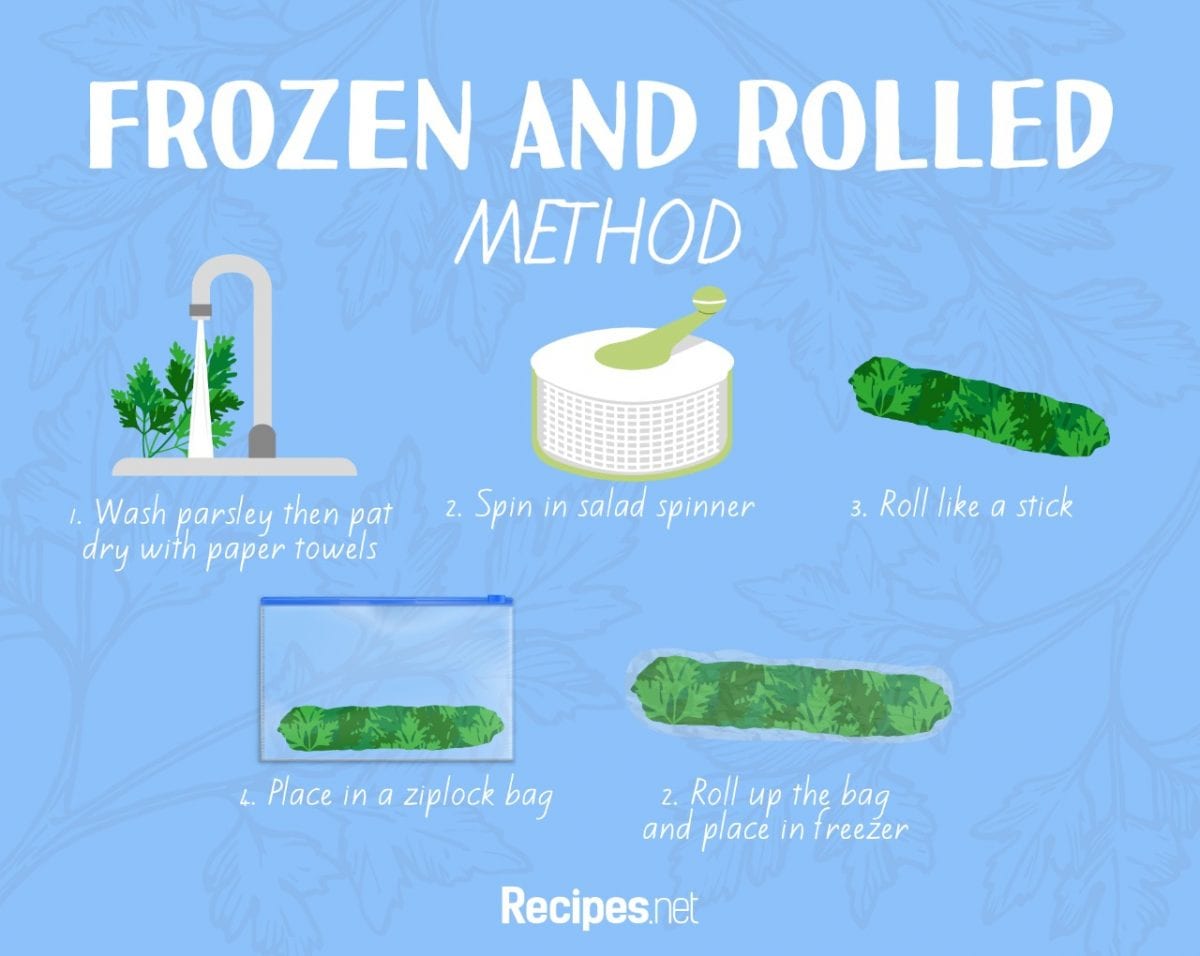 For those who are not sure when they'll use their parsley and would like to keep it for a couple more weeks, then this method is for you! Nothing preserves herbs, especially parsley, better than this freezing method.
Be warned though that this method takes time. So for those who are constantly on the clock, this method might not be the most ideal.
To start, wash your parsley, making sure to remove any dirt that's stuck to the sprigs.
Afterward, pat it dry with paper towels.
Then, put it in your favorite salad spinner to effectively remove any moisture.
For extra precaution to avoid freezer burn, dab it again with paper towels.
Finally, put your now clean parsley in a zip-lock bag and just roll them into a stick. Make sure to roll it as tight as possible to let the air out of the bag.
This frozen method works like a charm for this tangy chimichurri recipe that's loaded with parsley, cilantro, and oregano. Just put the frozen parsley sticks along with the rest of the ingredients in the food processor and you're done.
Frozen Cubes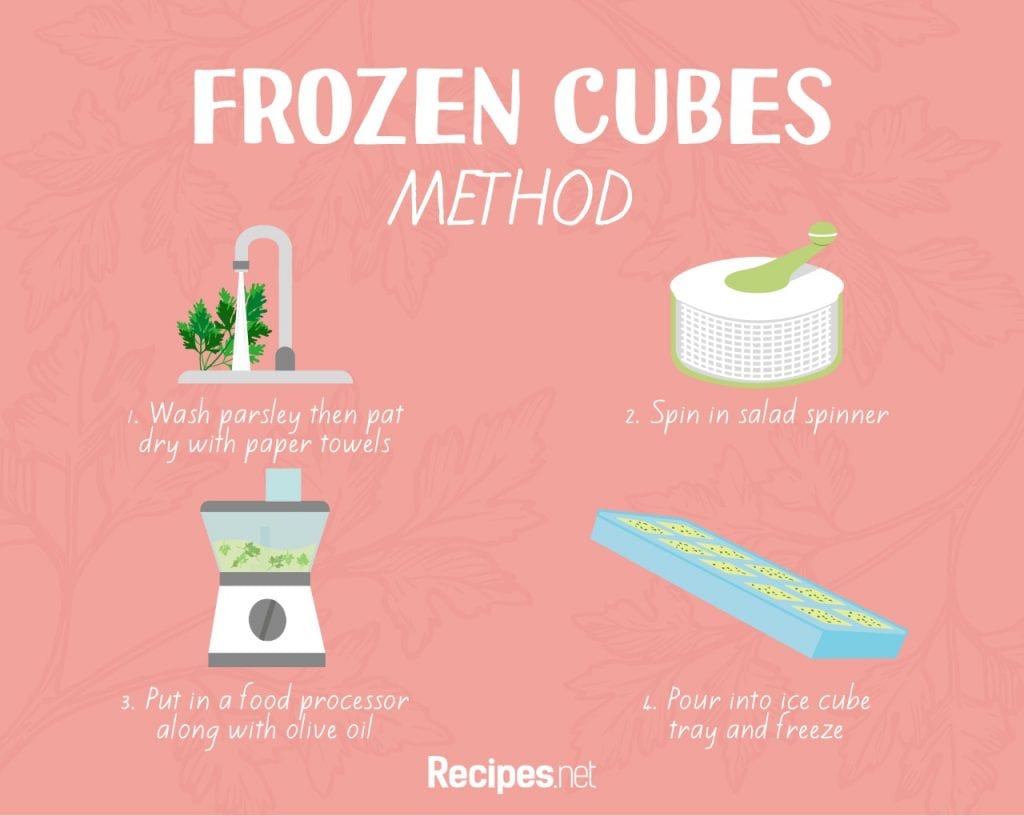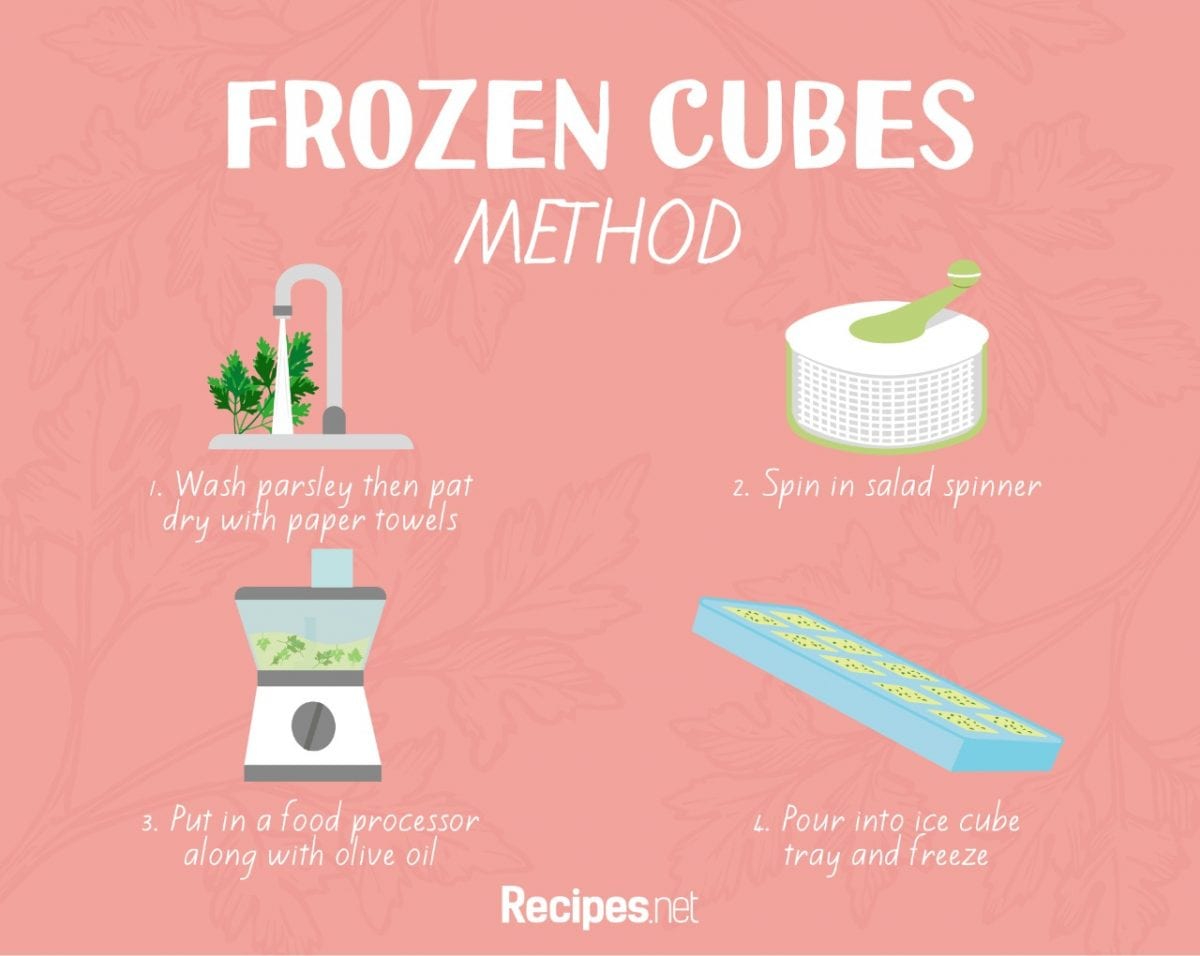 If rolling parsley into sticks is too much of a task for you, you can also try this freezing method. It works with the same principle, with just the addition of olive oil.
Proceed by washing your parsley as instructed in the frozen and rolled method, and then chop them as desired.
You can also pulse it in the food processor along with two tablespoons of vegetable oil or olive oil.
As a closing for this method, put a spoonful of the chopped parsley into each ice cube tray, press lightly, and then just pop it right in the freezer.
The frozen parsley cube method is perfect for soups and stews like this meatball tortellini soup or easy Irish stew that's best served with bread and butter!
How to Store Parsley: Different Methods for Different Needs and Recipes
Although there's no specific winner which method is the best, every hack on how to store parsley on this list is effective and useful in keeping your parsley fresh. It's just a matter of what method suits best for your recipe.
If being busy is your second nature, you can try the plastic grocery bag method to save time. If you have time to spare, try the rolled method and frozen cube method which are perfect for stews and soups!
Although, we highly suggest that you try every method and see for yourself what suits your culinary needs best.