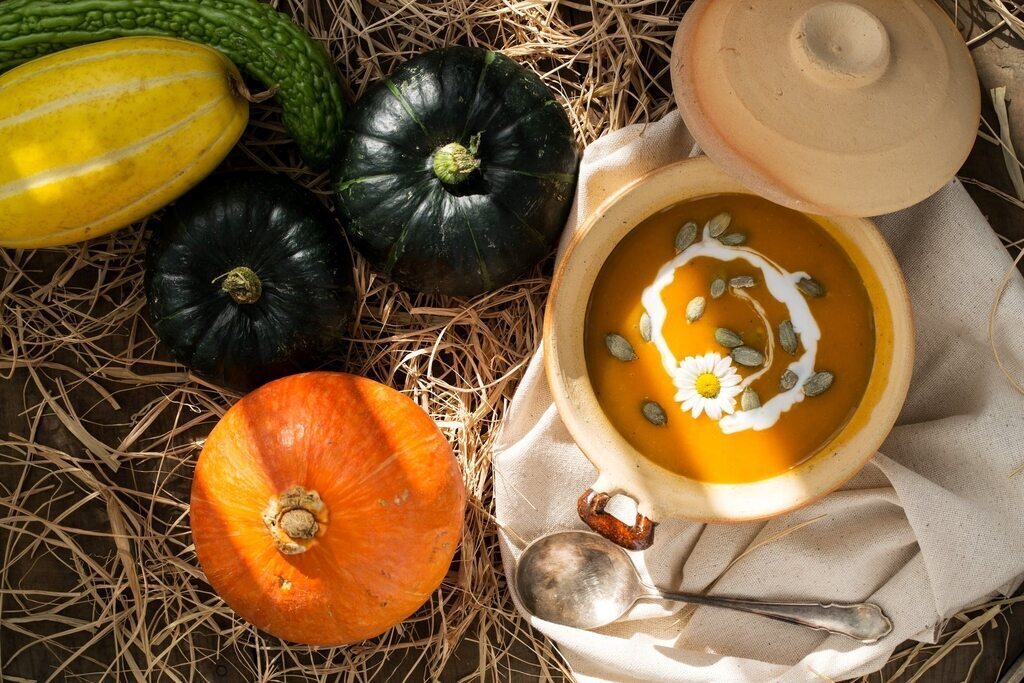 29 Easy Fall Soup Recipes For Cozier Autumn Nights
Autumn means cold weather. After all, it's the season just before winter. Of course, cold weather means it's time for cuddly sweaters and warm, comforting meals. And what better to have than these hearty fall soup recipes! There's nothing more comfortable than sipping a bowl of warm soup while you enjoy the first nights of autumn.
We know running out of ideas to cook can be frustrating. So here, we listed fall soup recipes you can make during the fall season. Choose from a variety of recipes from creamy and hearty to quick and easy to healthy vegan recipes. Give these recipes a shot and explore some you don't know yet. Maybe you'll find your fall soup staple in this list!
---
29 Homemade Fall Soup Recipes To Try
Amp up your soup repertoire this time of the year by employing the help of these rich and comforting recipes. Below is a list of 29 homemade fall soup recipes guaranteed to give you cozier autumn nights.
Easy Fall Soup Recipes
Busy or perhaps don't have experience yet in the kitchen? No worries! These simple soup recipes may look intimidating especially on a fancy bowl, but trust us, they're simpler than they look. We also listed set-and-forget recipes you can cook with the help of Instant Pots and slow cookers.
Slow Cooker Beef Stew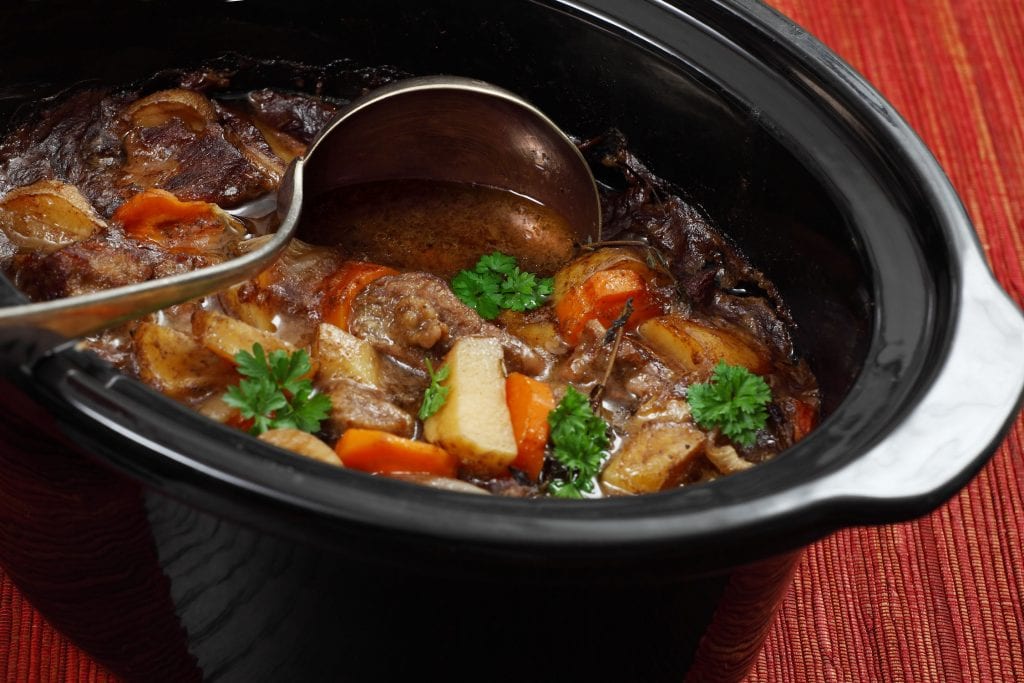 Everyone's favorite stew is made easy using a Crock Pot! Sometimes hours of cooking pay off, especially when the finished dish is rich, tender, hearty, and comforting. Just what you need in the chilly autumn season.
This recipe only needs 20 minutes of meal prep, but cooking time is 12 hours. But don't worry. With the help of a slow cooker, you can just set it the night before and let it cook overnight. By the time you wake up, you'll have a tasty beef stew to enjoy.
Recipe for Inspiration: Easy Overnight Slow Cooker Beef Stew
Chicken Noodle Soup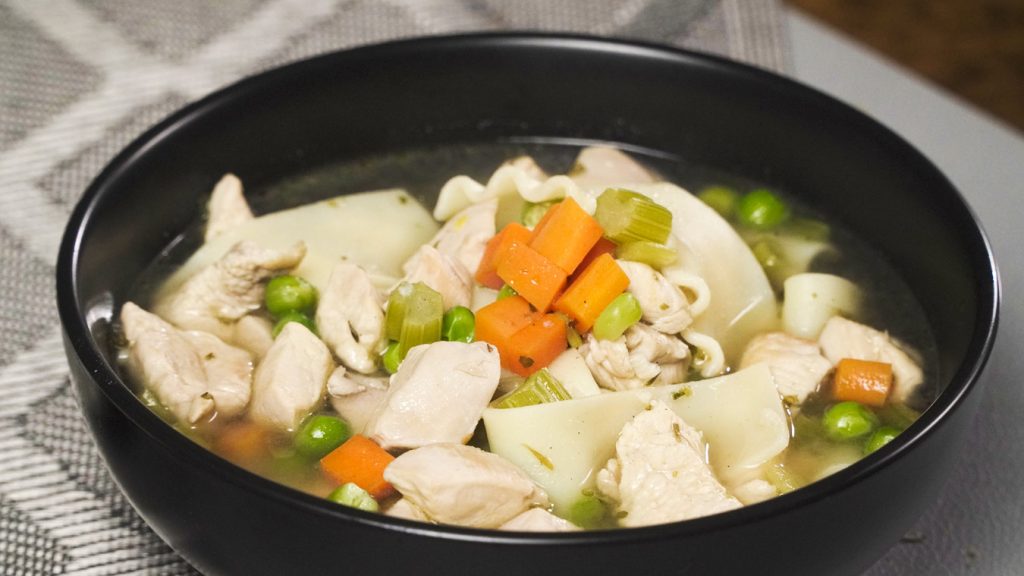 Cozy up to this all-time favorite chicken noodle soup! The bite-sized chicken breasts make for a filling meal alongside wide egg noodles, the perfect comfort food for the sick as it helps relieve clogged noses. And with savory and warm chicken broth, we guarantee you this dish will also keep the chill at bay!
Recipe for Inspiration: Copycat Panera Chicken Noodle Soup
Chicken Tortilla Soup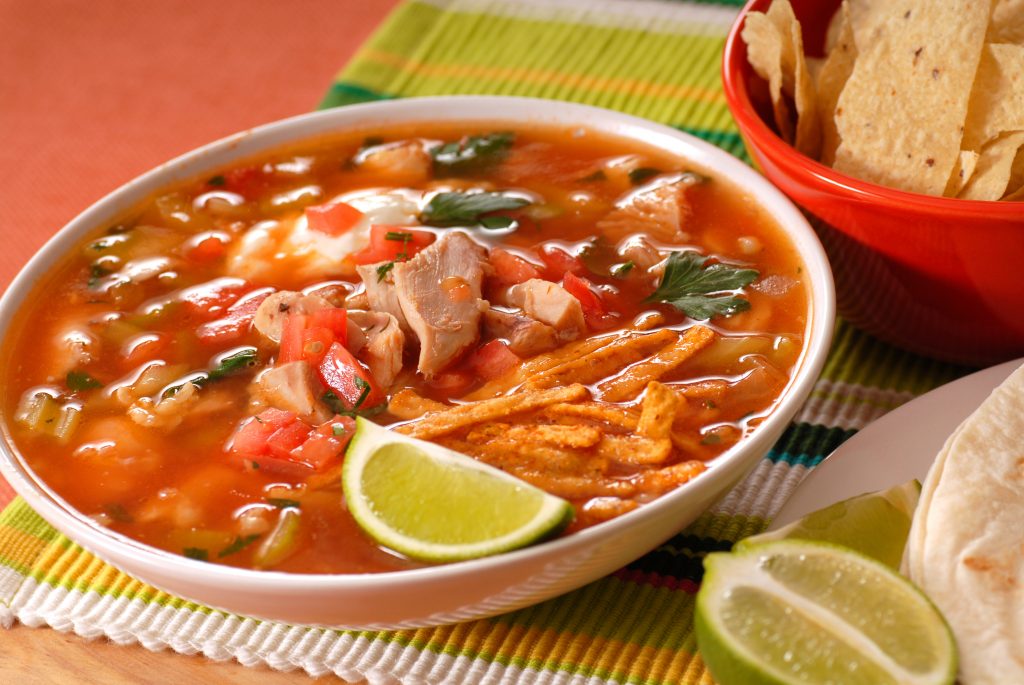 Who said you can't enjoy a good serving of tortilla chips with warm comforting soups? Bursting with Mexican flavors, this chicken tortilla soup is your next soup favorite to add to your list of fall soup recipes.
This soup has a healthy helping of black beans, corn kernels, green chilies, and cilantro. Know what ingredient can elevate this dish a little more? Cheese, no doubt! As they say, a topping of cheese elevates any dish by a few knots.
Recipe for Inspiration: Chicken Tortilla Soup
Chicken Wild Rice Soup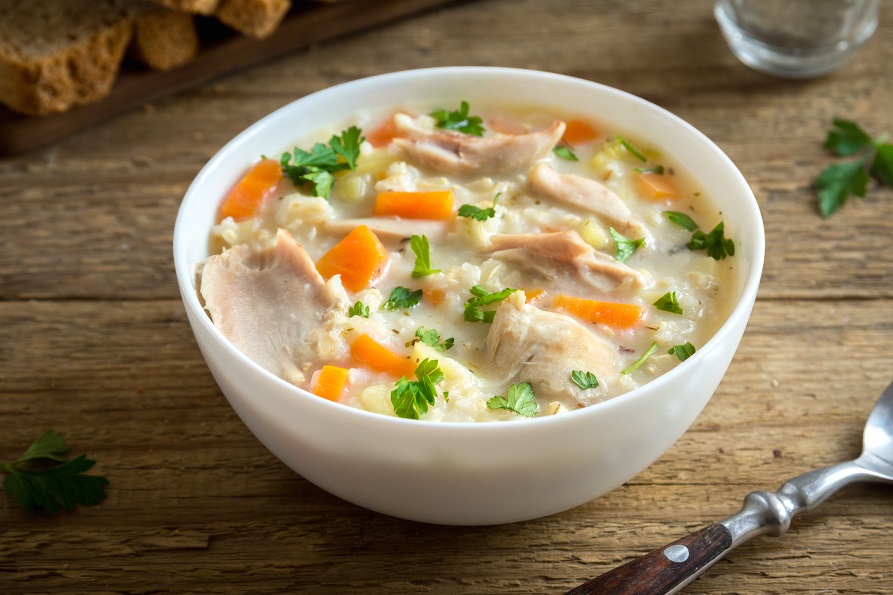 Any chance you have left-over chicken breasts in the fridge? No? Well, not to worry! Maybe this is the perfect chance to learn how to boil chicken the right way. After all, a flavorful soup lies in the chicken broth you will make from boiling chicken.
In this recipe, satisfy your tastebuds with tender chicken and the velvety creamy flavor of the soup. This dish is hearty, rich, and creamy. Possibly all that you're looking for in a soup!
Recipe for Inspiration: Chicken Wild Rice Soup
Cream of Chicken Soup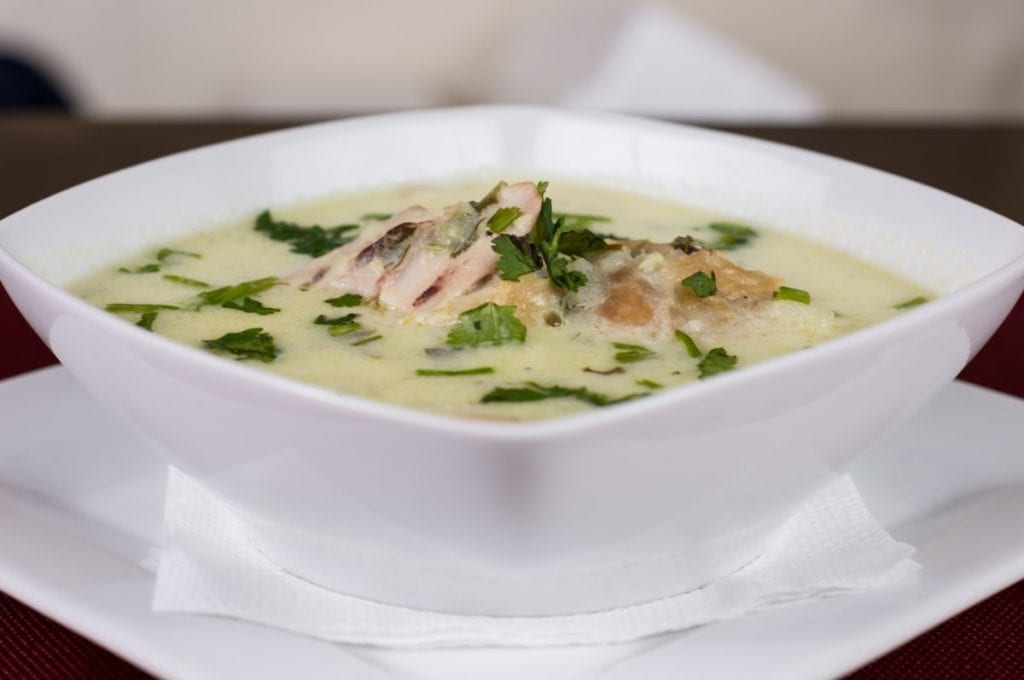 Tired of reheating canned chicken soup over and over again only to get bland, overly salty flavor? Forget about store-bought soup. In our defense, how can you not favor homemade ones especially a recipe as easy as this one? You can try it today and you'll be surprised how easy and quick it is to prep and cook. You can finally say goodbye to the unhealthy canned chicken soup!
Recipe for Inspiration: Cream of Chicken Soup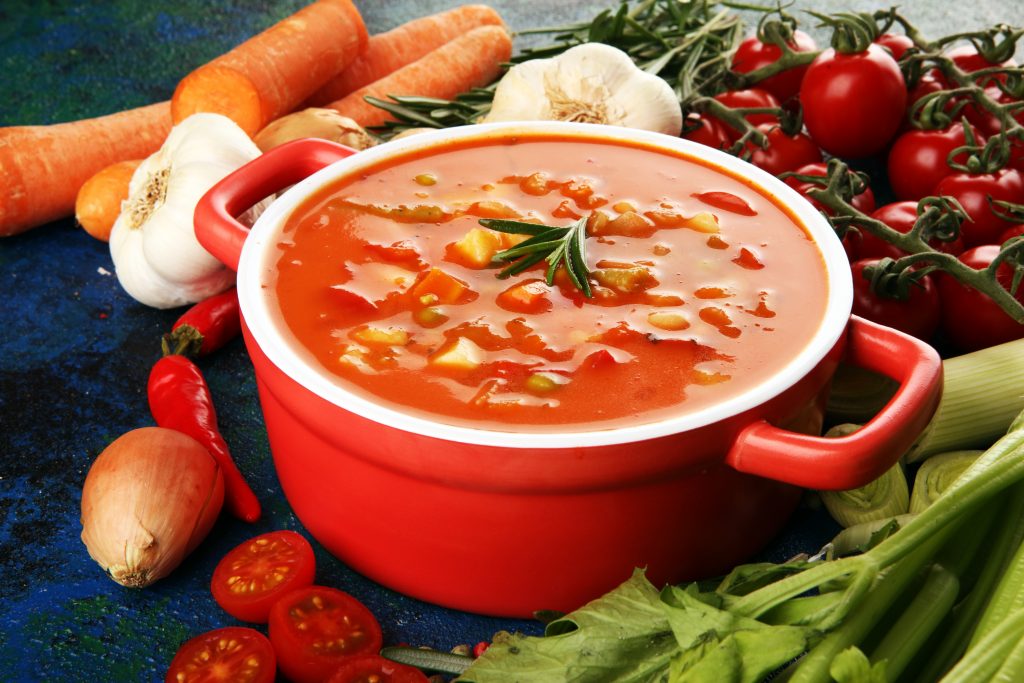 Tender ground beef, filling white rice, gooey cheese, saucy tomatoes, and sweet bell pepper? This recipe has everything you love and look for in classic stuffed bell pepper. Only it's served in comforting soup-form, of course.
But another thing we like about this recipe? It doesn't take long to cook, unlike the classic one that takes forever to bake! So if you're looking for fall soup recipes that whip in a snap, then you should get your hands on this delicious soup.
Recipe for Inspiration: Stuffed Pepper Soup
---
Quick Fall Soup Recipes
Are you so busy that easy fall soup recipes do not work with your busy schedule? Well, find a way around it using these quick recipes you can cook this fall.
READ ALSO: 29 Fun Halloween Dinner Ideas For A Spooky Celebration
Sweet Potato Soup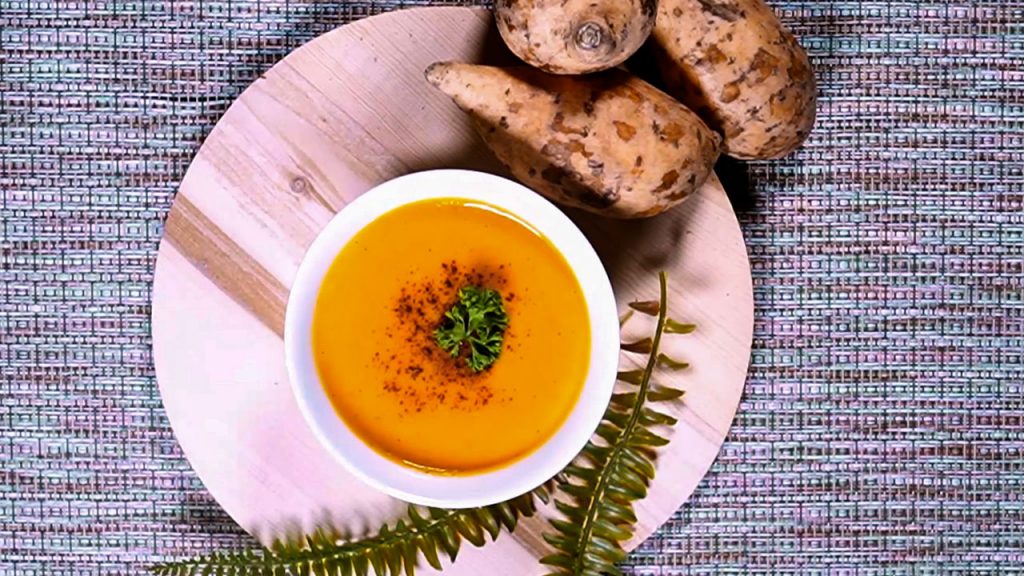 Holed up in a corner with a bowl of this comfort food goodness is more than enough to curb your craving. Indeed that's the case when we tried this recipe. We're sure you can't help but get second helpings of this sweet potato soup too.
One more reason to try this recipe? It's incredibly quick and easy to make. In just 20 minutes you'll have comforting soup on your table. Add a sprinkling of cinnamon for a spicy-sweet kick.
Recipe for Inspiration: Easy Sweet Potato Soup
Pumpkin Soup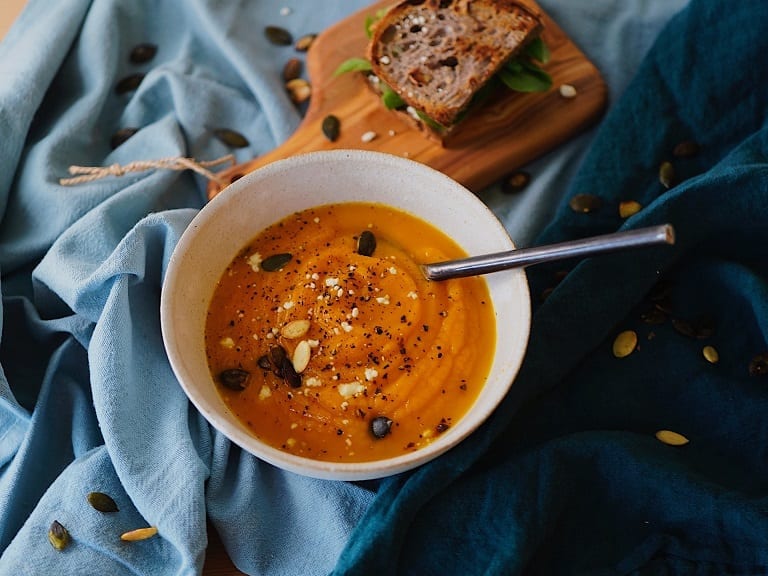 It's the pumpkin season! So would we forget to add pumpkin soup? Of course not. Put the abundance of pumpkin during the fall season to good use and head over to the nearest farmers market and puree your pumpkin for this autumn soup staple.
READ ALSO: 6 Reasons Why You Should Shop At A Farmers Market
But if going to the market isn't ideal for you at the moment, don't fuss. We have the perfect recipe for canned pumpkin puree. Since you'll be using the canned variety for this recipe, prep time is only ten minutes, perfect for busy parents.
Recipe for Inspiration: Spicy Pumpkin Appetizer Soup Recipe
Easy Chinese Egg Drop Soup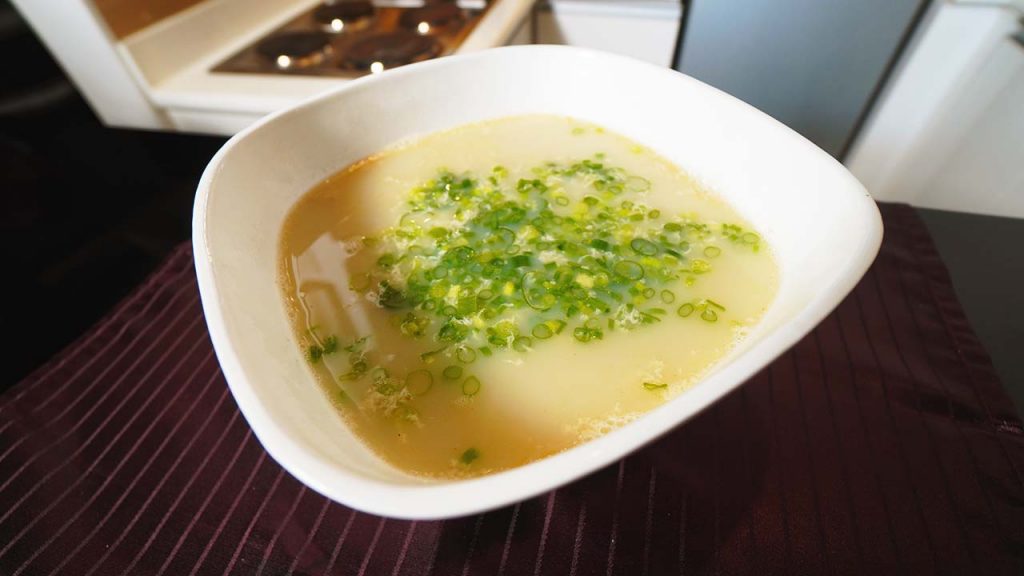 Quick and easy, yet rich and flavorful. That's how you describe this Chinese egg drop soup. What is it? It's just one of the classic soups you can order in every Chinese and other Asian restaurant. True to its name, egg drop soup is made by dropping an egg directly into boiling chicken stock.
But how quick is it to make? Just 10 minutes! This is exactly the reason why it's worth adding to your list of fall soup recipes. It also has a rich flavor that anyone can grow to love.
Recipe for Inspiration: Easy Chinese Egg Drop Soup
Instant Pot Tomato Soup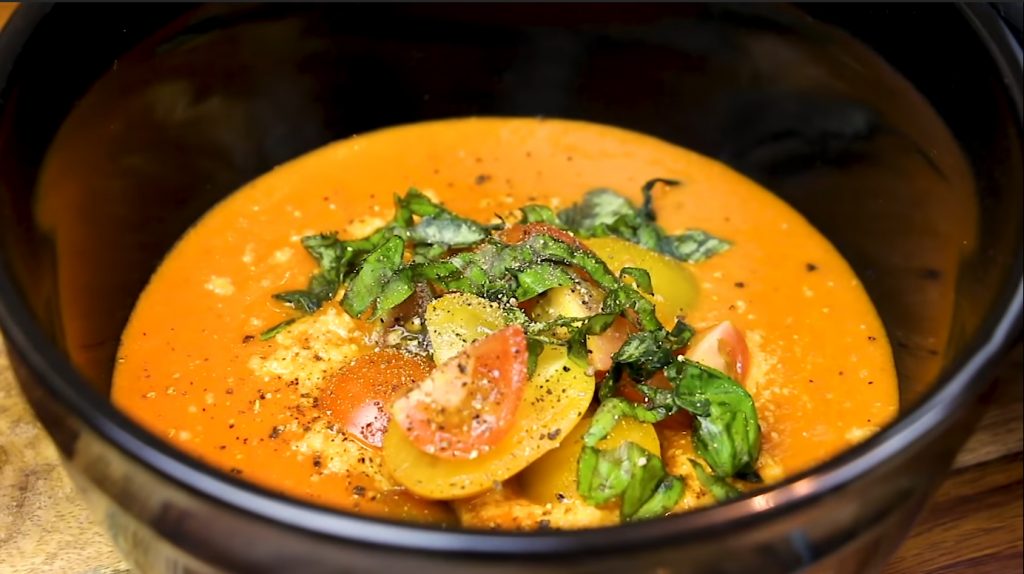 Work with your Instant Pot to make hearty and flavorful fall soup recipes. You can start with this Instant Pot tomato soup. Vegetarian? You can count on this recipe too! Simply swap chicken broth with vegetable broth and you're good to go.
You can eat this on its own but we love that we can play with its pairings. The classic grilled cheese sandwich is always a crowd favorite. Mozzarella sticks work too! Healthier options? Try salad and corn.
Recipe for Inspiration: Instant Pot Tomato Soup
Poblano White Chicken Chili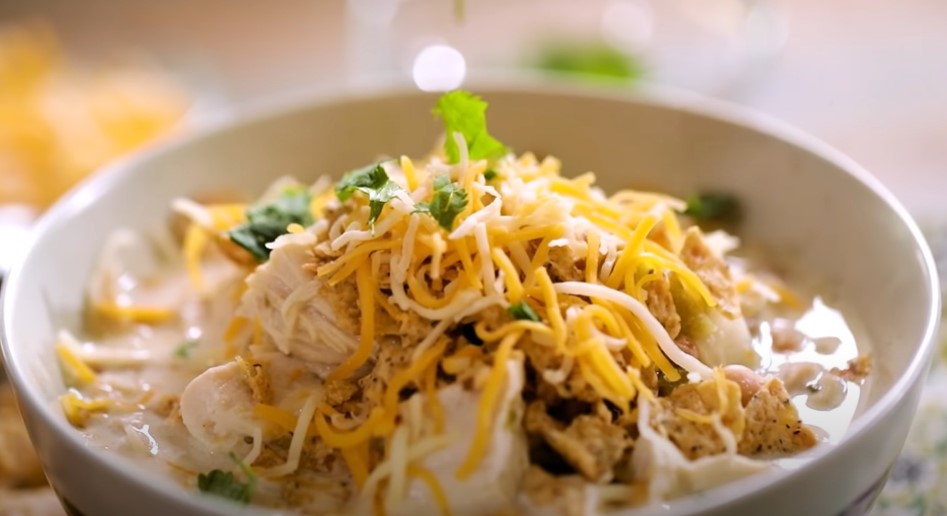 Soup that comes together in less than an hour? Count this recipe in! To be exact, you only need 30 minutes of total cooking time. This recipe is made of mild, savory-flavored chicken stock, tender pinto beans, and filling chicken. You can also top it with avocado, lime wedges, sour cream, and cheese, just to name a few. As we said, cheese makes everything better!
Recipe for Inspiration: Poblano White Chicken Chili
Mexican Corn Chowder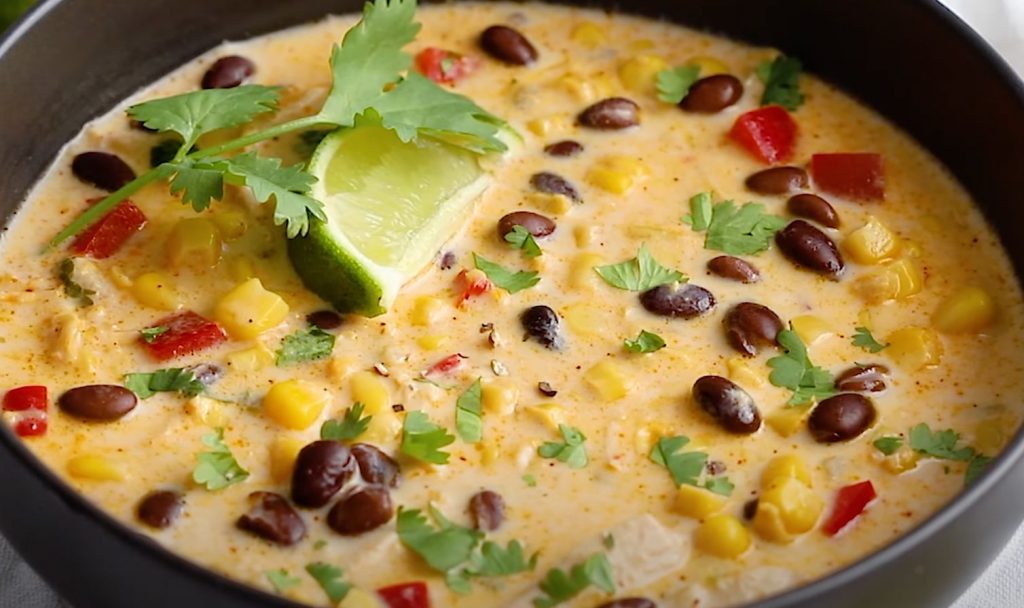 Here's another recipe loaded with Mexican flavors — Mexican chicken corn chowder! Just as the name suggests, there's a healthy serving of chicken and corn in this recipe. These are simmered in a creamy, velvety smooth soup made of homemade chicken broth and cream. With these, you'll be able to bring flavors of Mexican food right into your bowl.
Recipe for Inspiration: Mexican Chicken Corn Chowder
Creamy Tomato Basil Soup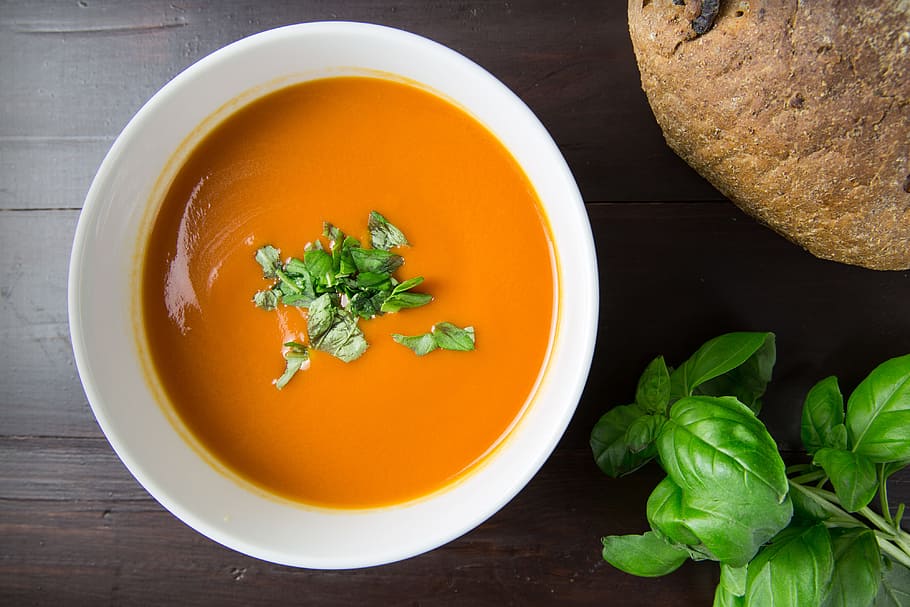 Can't get over your tomato soup craving? Try this another tomato soup recipe with the addition of fresh basil. It's quick, easy, and tasty! All that you're looking for when you're craving on an autumn night. For that, it deserves a spot on your list of easy (and quick) fall soup recipes.
Recipe for Inspiration: Creamy Tomato Basil Soup
---
Healthy Vegan Soup Recipes
Don't think we forgot to add a list for vegans out there! Below you'll find a list of healthy vegan recipes. More particularly, sumptuous vegan soups you can cook to keep you warm on a chilly autumn (even winter if you ask us).
Roasted Butternut Squash Soup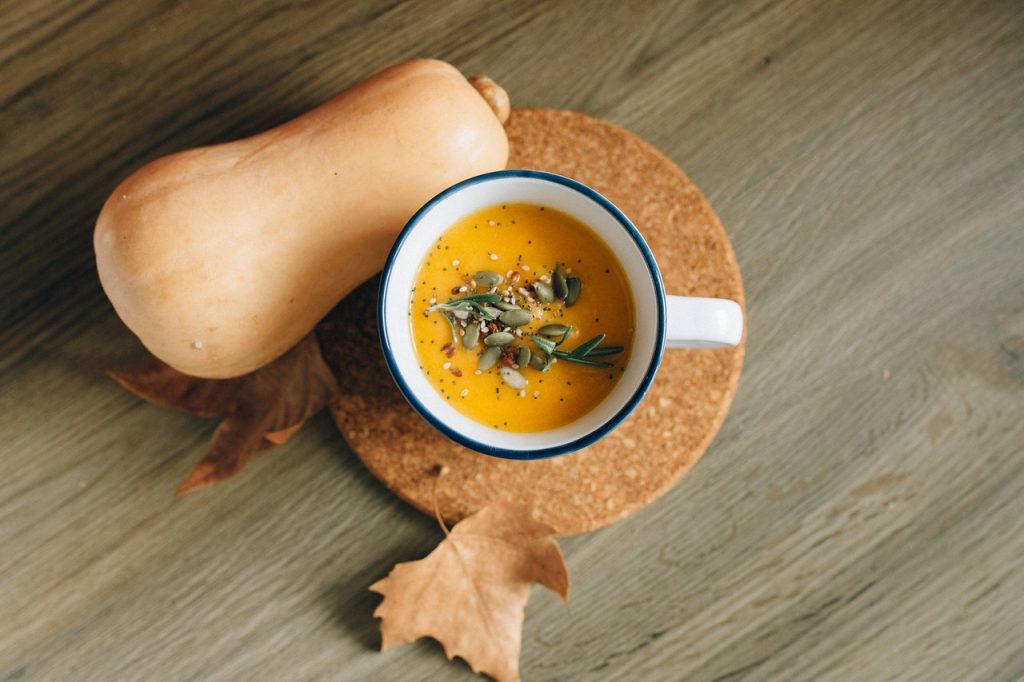 This super creamy butternut squash soup and fall go together like peanut butter and jelly were made for each other. There's just something so comforting sipping a bowl of this while snuggling on a couch with your special someone. And butternut squash is in season this time of the year too. So that makes this even more ideal!
Don't forget to use your handy food processor or blender to make this soup velvety smooth!
Recipe for Inspiration: Roasted Butternut Squash Soup 
Autumn Minestrone Soup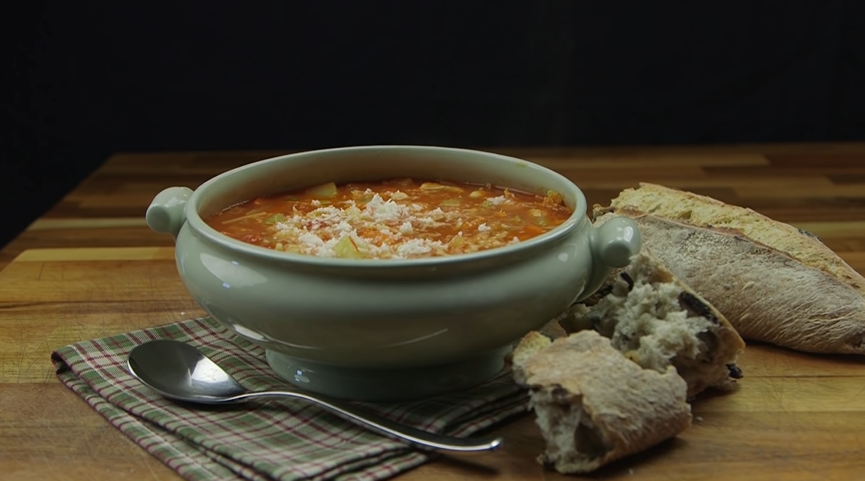 Chock-full of seasonal fall vegetables like zucchini and kale, autumn minestrone looks like it's made to be included on your list of fall soup recipes. Autumn minestrone is surprisingly tasty and filling along with being vegan-friendly.
Recipe for Inspiration: Autumn Minestrone Soup
Curried Lentil Soup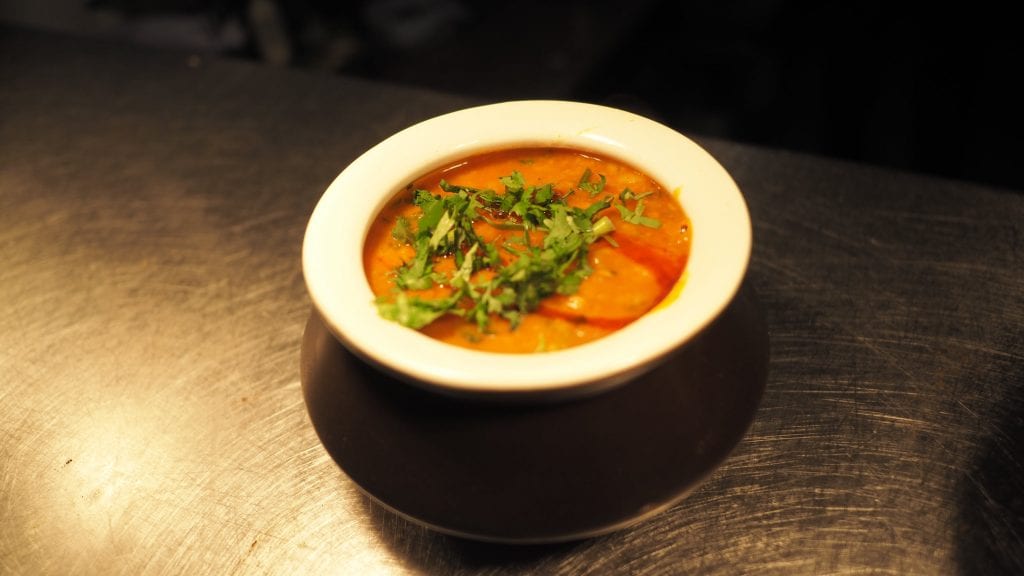 Have high spice tolerance like we do? Well, not exactly spicy but it's enough to give a flavorful kick. This recipe has plenty of earthy and almost peppery flavors from cumin, curry powder, and lentils. So if you love spice, give this a try.
Recipe for Inspiration: Curried Lentil Soup
Curried Cauliflower Soup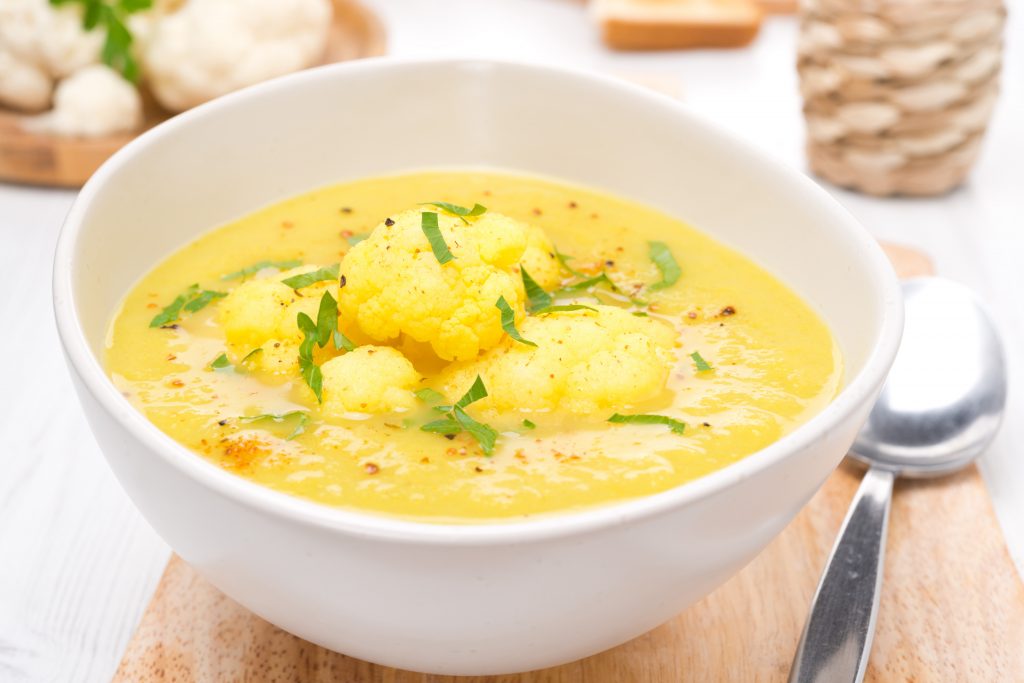 Sleeping early on a chilly autumn night? Then you're in for some healthy yet light soup recipes. Vegan recipes are usually light but more so with this curried cauliflower soup made of mildly flavored vegetable broth and light coconut milk.
Recipe for Inspiration: Curried Cauliflower Soup
Vegetable Soup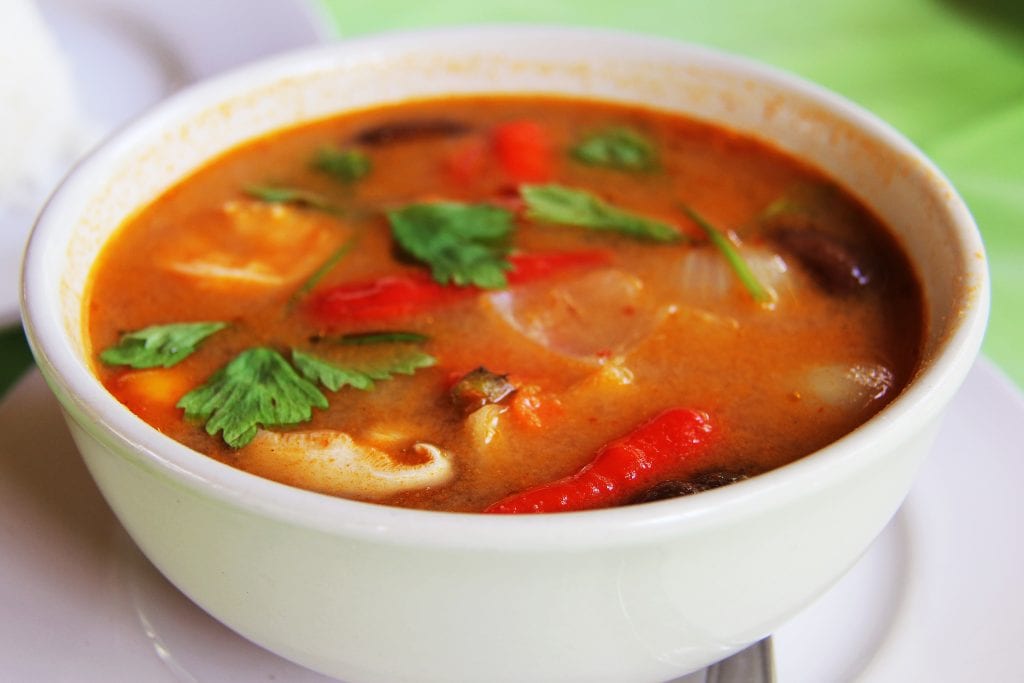 You can cook practically anything in an Instant Pot — rice, flan, blueberry cobbler, and even chicken. But it does wonders for soups too! As you well know, Instant Pot recipes are known for being quick and easy. So is this recipe for vegetable soup! As easy as that, prepare your ingredients and set your Instant Pot. Come back after 35 minutes, and voila! It's ready to serve.
Recipe for Inspiration: Instant Pot Vegetable Soup
Spicy Black Bean Soup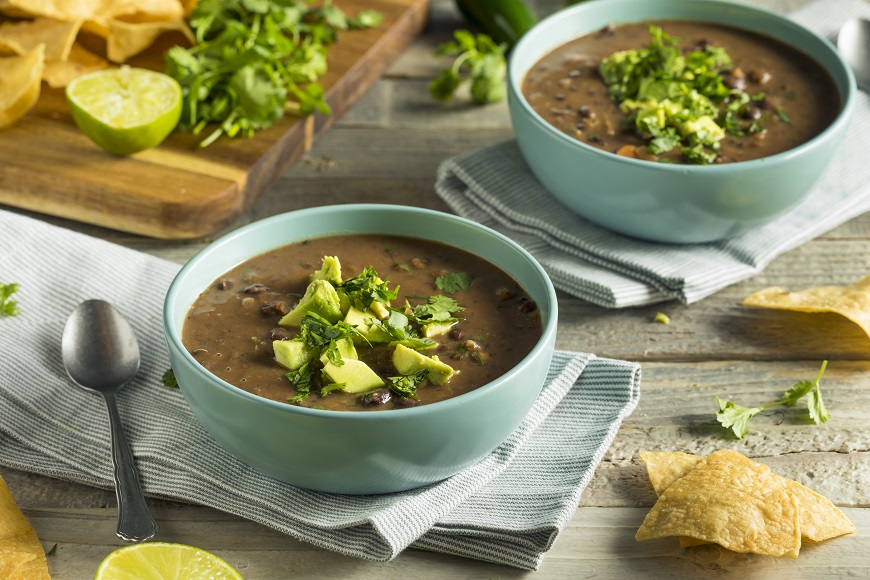 Just because it's time for soups this time of the year doesn't mean you have to say goodbye to black beans in your chili con carne. Why not transform them into heartwarming dishes like this spicy black bean soup? Plus, the spice adds another heating element to this dish. It will help you keep warm.
There are also a few garnishes you can try for this recipe so it won't get boring. Take your pick among avocado, cilantro, radishes, and of course, tortilla chips.
Recipe for Inspiration: Spicy Black Bean Soup
Carrot Ginger Soup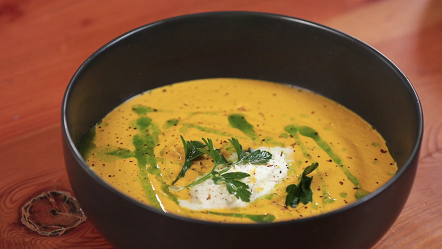 Happen to have a bunch of carrots in your pantry from your last visit to the farmers market? Don't throw them just yet. Turn them into mouthwatering soups. After all, you will only need a few ingredients aside from salt and pepper.
Another thing we love about this recipe? You can easily swap sour cream with coconut milk. We're sure vegetarians and vegans will love this recipe.
Recipe for Inspiration: Carrot Ginger Soup
---
Creamy & Hearty Fall Soup Recipes
Creamy and hearty soup recipes for those nights you're craving filling meals? We got you! Continue reading to find more soup recipes you can try along with your favorite fall recipes.
Panera French Onion Soup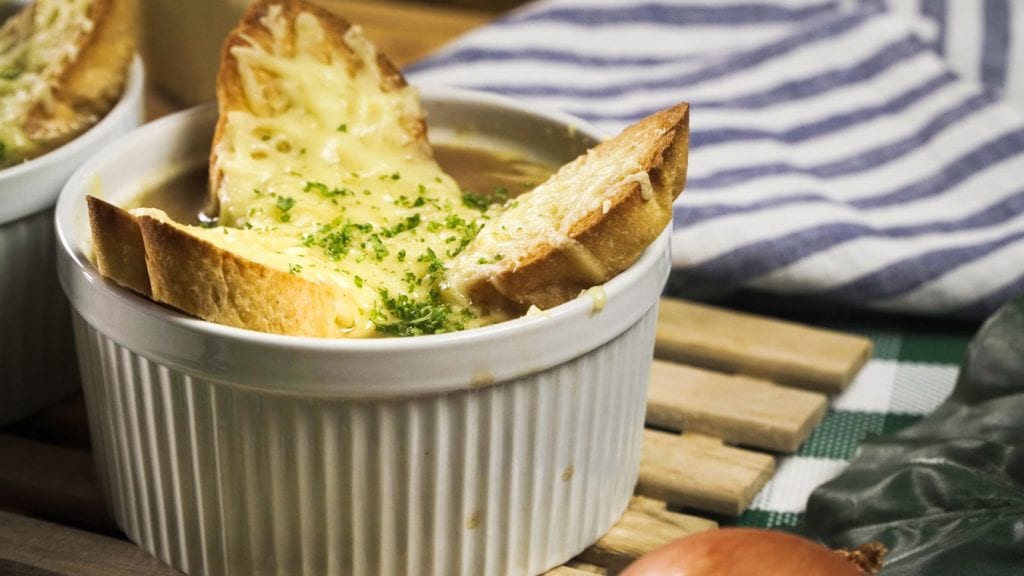 Midnight and craving for Panera Bread's French onion soup? You don't have to get out of your way to enjoy their soup anymore. We managed to find a copycat recipe for their French onion soup. And it's easy to make after all.
Firstly, the base soup is made of beef stock and caramelized onion. Other ingredients include flour, thyme, red wine, and brandy for added flavor and aroma. A cup of gruyere cheese finishes this creamy soup. Top it with baguette croutons and more cheese for a truly creamy and hearty meal.
Recipe for Inspiration: Panera French Onion Soup Recipe (Copycat)
Chicken Pot Pie Soup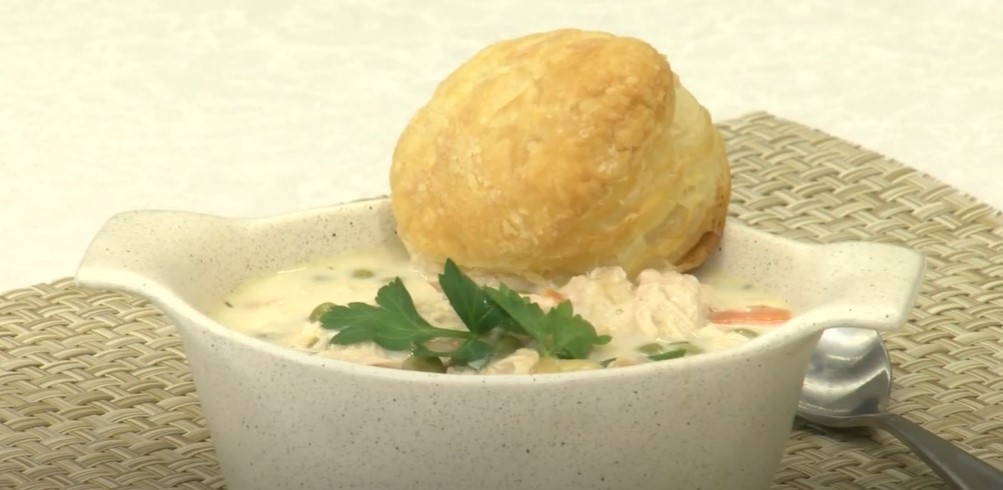 Chicken pot pie in soup form? Where do we sign up? Chicken pot pies are creamy, hearty, and full of rich flavors. However, the original dish takes time and effort to make. Either you end up baking a runny pot pie or they're too dry. Sometimes you just can't get it right.
In this chicken pot pie soup, you won't have any problems like that. Using this recipe we found for you and your trusty slow cooker, you can have this all-time favorite in no time. And it's fuss-free!
Recipe for Inspiration: Slow Cooker Chicken Pot Pie Soup
Trio of Mushroom Soup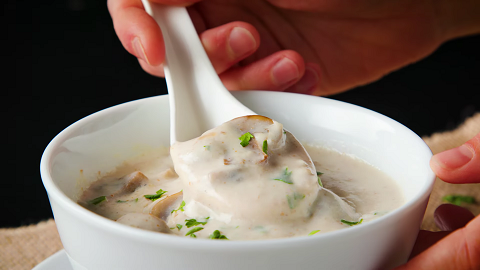 This soup isn't called the trio mushroom soup for nothing. You'll find exactly three mushrooms in this recipe: portobello, baby bella,  and oyster mushrooms. Together they make a creamy and hearty soup.
But what does it taste like? This mushroom soup tastes like beef stroganoff. With the broth and cream complementing well with each other, this soup brings a lot of flavor to your dinner table. It's great on its own, but served with crunchy sides like chicken tenders make this dish even more filling.
Recipe for Inspiration: Trio of Mushroom Soup
Broccoli Cheddar Soup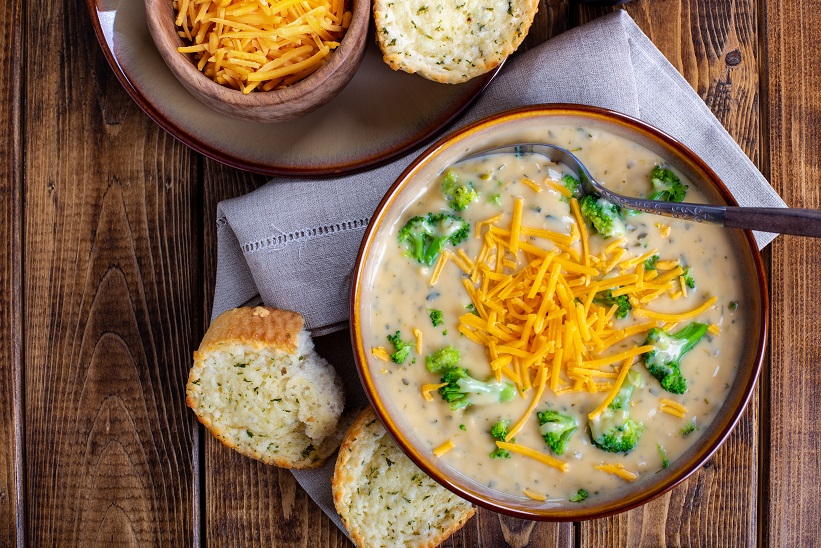 This classic recipe is well-loved by the whole family and is a staple for many households. Why? It's loved because of three things: it's tasty, easy, and can serve big groups.
So, if you have a big family or a large party to feed, trust this recipe to help you out. Not much work either! You just have to remember to cook this dish ahead of time because it takes time.
Recipe for Inspiration: Crockpot Broccoli Cheddar Soup
Italian Sausage and Tortellini Soup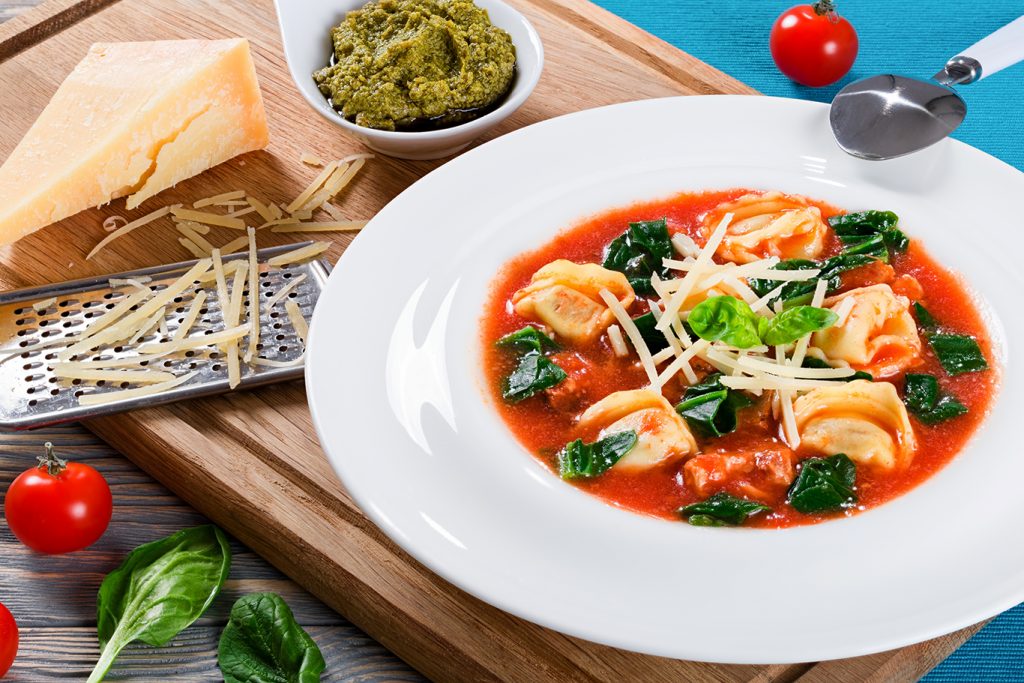 Your favorite fall soup recipe is about to change once you set your eyes (and taste buds) on this Italian Sausage and tortellini soup. All bathed in savory and warm tomato soup, this meal hits the spot during chilly autumn or winter days!
Recipe for Inspiration: Italian Sausage and Tortellini Soup
Loaded Baked Potato Soup
Now, this is no doubt a crowd-pleaser. Topped with bacon and cheese, we're sure no one can say no to the Loaded Baked Potato Soup. It comes together in under an hour which is a plus for busy parents.
Recipe for Inspiration: Loaded Baked Potato Soup
Roasted Acorn Squash Soup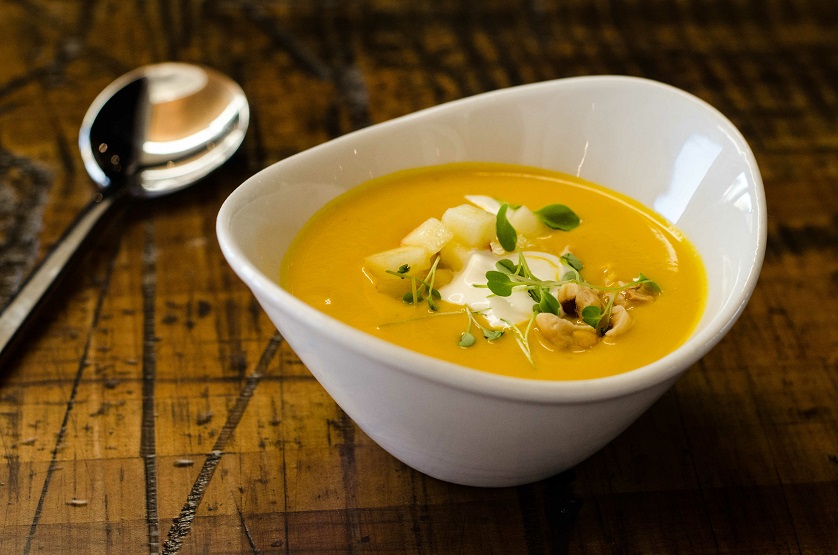 Acorn squash, horseradish, and apples. Who knew they go so well together? Not sure yet how they would taste? To give you a head start, it's sweet, nutty, and slightly savory thanks to chicken stock and horseradish.
And by the way? Acorn squash has a fibrous texture so you will need a food processor if you want velvety smooth soup.
Recipe for Inspiration: Roasted Acorn Squash Soup with Horseradish and Apples
Ham and White Bean Soup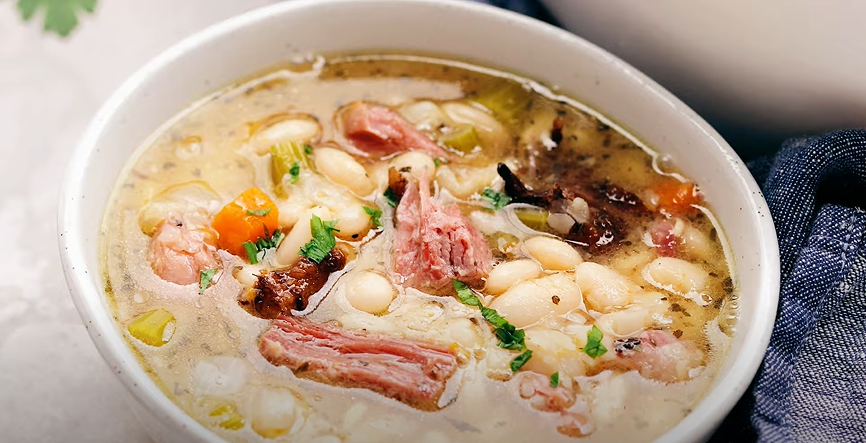 This ham and white bean soup is made rich by incorporating ham shanks. If you have left-over ham, this dish is perfect with those too. But if you want truly satisfying and rich broth soup from ham shanks, then don't take shortcuts. The recipe below satisfyingly hits all the right notes and has everything you're looking for in a soup: white beans, tender meat, and rich soup.
Recipe for Inspiration: Ham and White Bean Soup
Split Pea Soup
Last on our list for fall soup recipes is split pea. This dish has a sweeter flavor that complements well with carrots, celery, and onion. Before you think it tastes bland, check the ingredients list again. This recipe is also bursting with meaty flavors thanks to the tasty ham bone.
Split pea soup is said to be reminiscent of lentil soup, only without the earthy flavor. But overall, their textures are the same. So if you happen to love lentil soup, try your hand at this recipe as well!
Recipe for Inspiration: Old Fashioned Split Pea Soup