Turkey Baster Guide: 12 Best Basters For Your Thanksgiving Feast
What is a turkey baster and what is it used for? Essentially, it's an easy-to-use kitchen tool that functions like a needleless syringe. A turkey baster is used for pumping fluids like meat juice, melted butter, herbs, sauces, and other condiments onto a piece of roast meat, poultry, and even fish. It's most useful for browning the skin and infusing the meat of your juicy roast turkey for special holidays like Thanksgiving.
If you don't have one yet, then we highly recommend getting one especially if you're fond of making succulent roasts. So, continue reading to find out our top picks. We've also listed a few key factors to note before making your purchase, to make sure that you'll be getting the best turkey baster for all your cooking needs.
Our Favorite Turkey Basters at a Glance
12 Best Turkey Basters for Your Kitchen
To select our featured products, we carefully considered the most important factors like brand reputation, overall customer reviews, and their special qualities. Feel free to browse this section for a more in-depth discussion of our top 12 turkey baster picks.
READ ALSO: Top 10 Roasting Pans To Buy in 2022
How to Find the Right Turkey Baster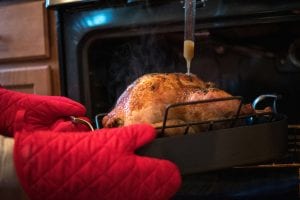 With the wide option of kitchen tools available on different shopping platforms, it can be quite difficult to find the best turkey baster for your kitchen. We've listed below a few factors that'll help you figure out the type that is best suited to your needs and preference.
Type of Baster
Generally, there are three types of basting tools that you can go for: a suction baster, a basting brush, or a basting spoon. A traditional turkey baster may also come with a syringe attachment. You can use this to prong the meat and let the juices penetrate the insides better. Go for a basting brush if you'll mostly be working with thick sauces. That way, you'll be able to spread the condiments evenly. Lastly, you can go for a spoon if you want a utensil that can be used for more than just basting.
READ ALSO: 6 Reasons Why You Should Shop At A Farmers Market
Material Used
Turkey basters can either be made of plastic, glass, or stainless steel. The pros of getting a clear plastic baster are it's often lightweight, and it's transparent so you can check the water level inside of the tool. However, you have to make sure that the plastic material used is food-safe, BPA-free, and heat-resistant. If you're wary about using plastic, a glass baster is a good alternative since it's also see-through.
You should also ask yourself, how often do you baste a turkey? If the answer is often, then you'll definitely benefit more if your tool is made of sturdier materials like stainless steel. The only downside to this is you won't be able to monitor the contents of your utensil. If you aren't particular about that matter, then you should be fine as long as you know the capacity of the product you're getting.
Size
An extra-long turkey baster will be most useful for you if you'll be using it on the grill. If not, you'll be fine with having a regular-sized one with a one to two-ounce capacity. Just make sure that its length gives you enough distance from the hot food to avoid burns and other accidents.
Ease of Cleaning
We highly recommend going for products that come with their own custom cleaning brush. This inclusion will be very useful and convenient for cleaning since you can use it to scrub the parts of the tool that can't be reached by a normal sponge.