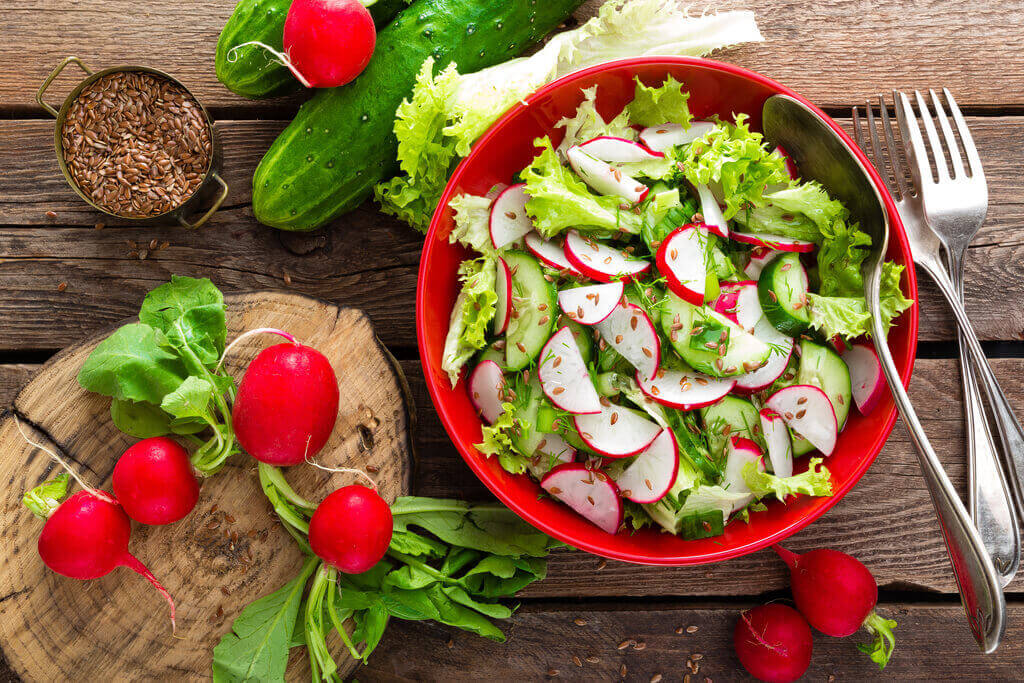 19 Best Radish Recipes You Must Try
Radish is definitely one of the world's most underrated vegetables. There are five common types of radishes: watermelon, French breakfast, daikon white, Malaga, and white hailstone. Whichever type, they do not exist only to be pickled or to be made into an oshinko (a sort of Japanese pickled daikon radish). There are plenty of radish recipes you can make that don't involve pickling or eating them raw! In fact, this veggie gets even more versatile when you cook it because it is milder with a more rounded earthiness and sweetness that other veggies don't have. Turn it into a whole meal, add it as a garnish to your cocktail,  or as a topping to your hot dog! 
Zero experience with cooking radishes? Learning how to cook radishes is actually quite easy! Browse the list of radish recipes below to help you get started. We're sure by the end of the list you have curated a menu or at least picked your favorites!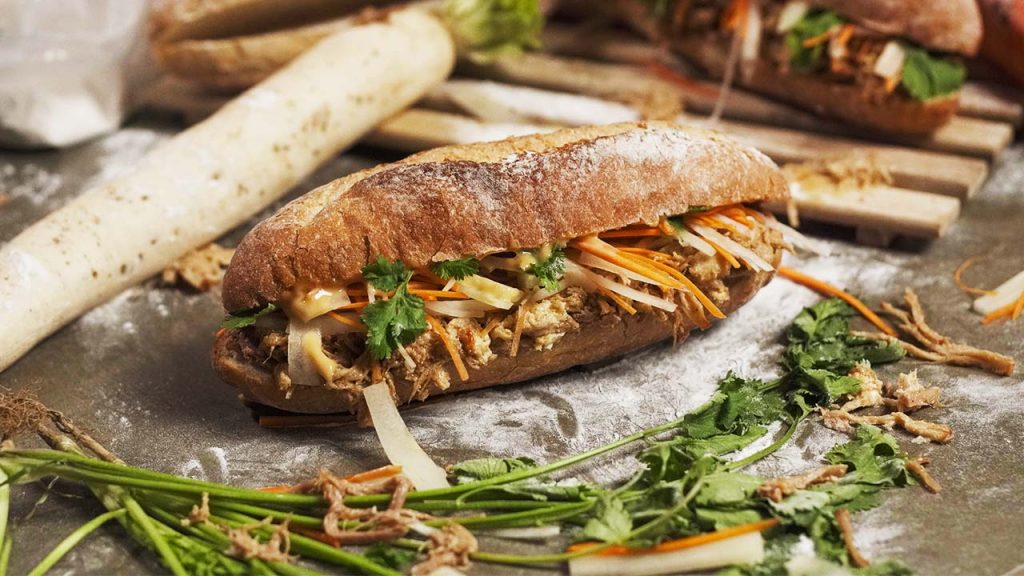 01 of 19
Pork Banh Mi Sandwich
How to eat radish you might ask? This well-loved Vietnamese dish is probably one of the best recipes with radishes that you can try. To start, it uses vegetables such as carrots, cucumber, and of course radish to give it its signature sweet and tangy flavor. The hallmark of a well-pickled vegetable, you'll also notice a crunchiness that adds overall appeal to this sandwich.

To make the veggies, all you have to do is julienne them into thin strips and coat them in rice vinegar. Besides the tasty filling, the banh mi also has smoky, savory pulled pork and a tangy, fresh cilantro flavor. All this is encased in a crisp and airy banh mi roll or French baguette.

Try Recipe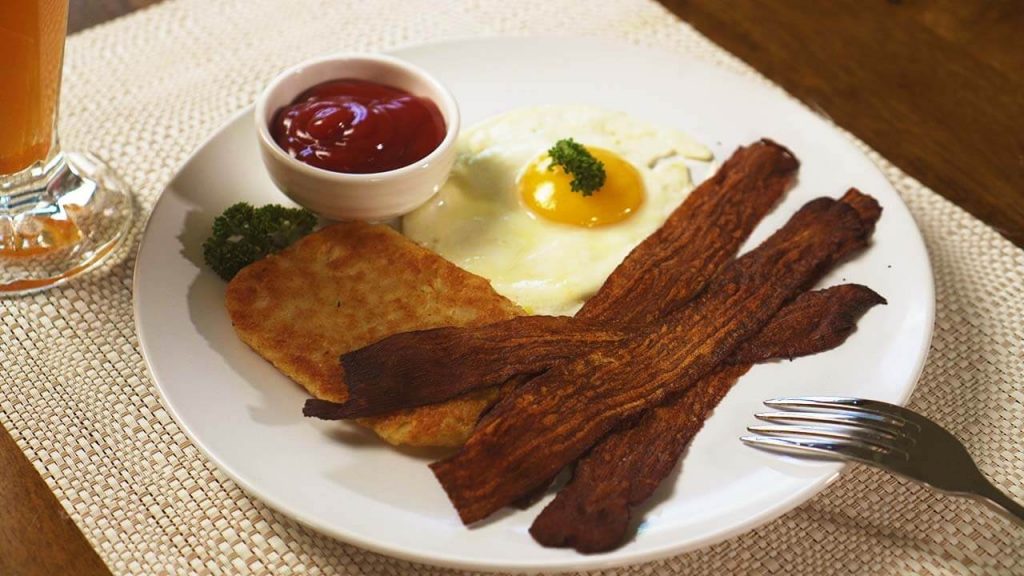 02 of 19
Daikon Bacon
Bacon gets all the attention. If you're vegan, you're probably in constant war whether to get that small bite of this irresistible dish. Good news! You don't have to say goodbye to this culinary wonder, at least not completely. You can make a vegan-friendly version made of radish!

Bacon's signature characteristic is its thin cut. To replicate that, employ the help of a mandoline slicer or any similar tool you have at home that makes thin cuts of radish. Just like the original, this version is just as indulgent. It has smoked paprika, soy sauce, garlic powder, and maple syrup to mimic the salty yet sweet flavor of bacon that's so addicting! You'll hardly notice the difference.

Try Recipe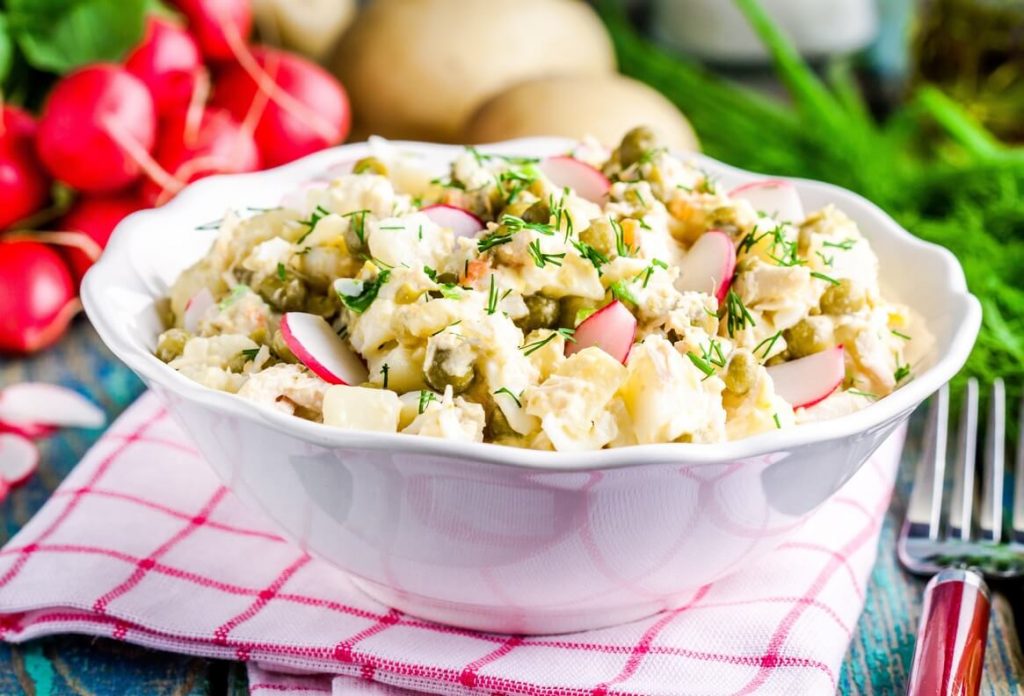 03 of 19
Potato Salad with Radishes
Potato salad is a healthy side to add to your dinner menu. It is tasty and compliments almost any dish you have prepared. However, most salads lack the texture and the bite that you're sometimes looking for. By now, we can all agree that our regular potato salad needs variation and crunch. For this slightly elevated version, the crunchy, bright flavor of chives and thinly sliced radish gives this dish the additional kick it needs. The radish is crunchy and sweet — a combination that best complements soft and buttery potatoes.

Try Recipe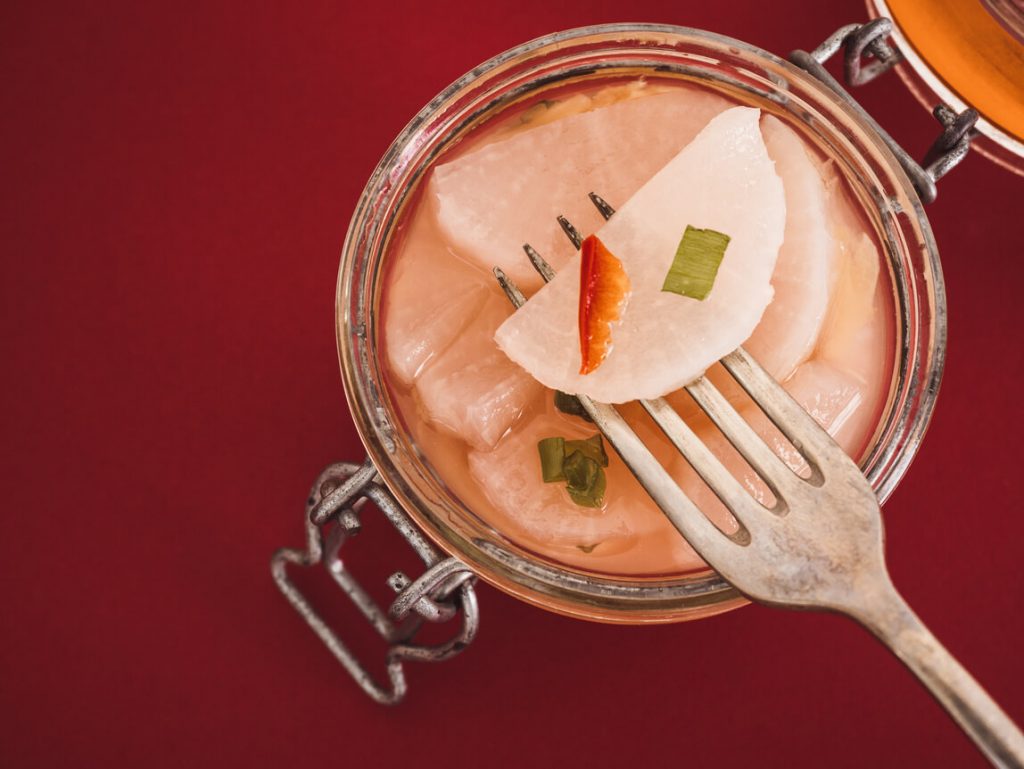 04 of 19
Pickled Daikon
Next on our list of recipes with radishes is no other than pickled daikon. This favorite side completes any dish you can imagine, from as simple as instant ramen to something more elaborate like Korean barbecue.

Now, we know pickling vegetables in your kitchen sounds like a chore because of all the chopping, brining, and the long period of waiting until it's ready. However, nothing really beats the taste of homemade pickled veggies. What's more, this recipe only needs five easy-to-find ingredients too. So we say, it's definitely worth a shot! If you need a quick pickle to serve with your barbecue or other radish recipes, then this pickled recipe does the trick.

Try Recipe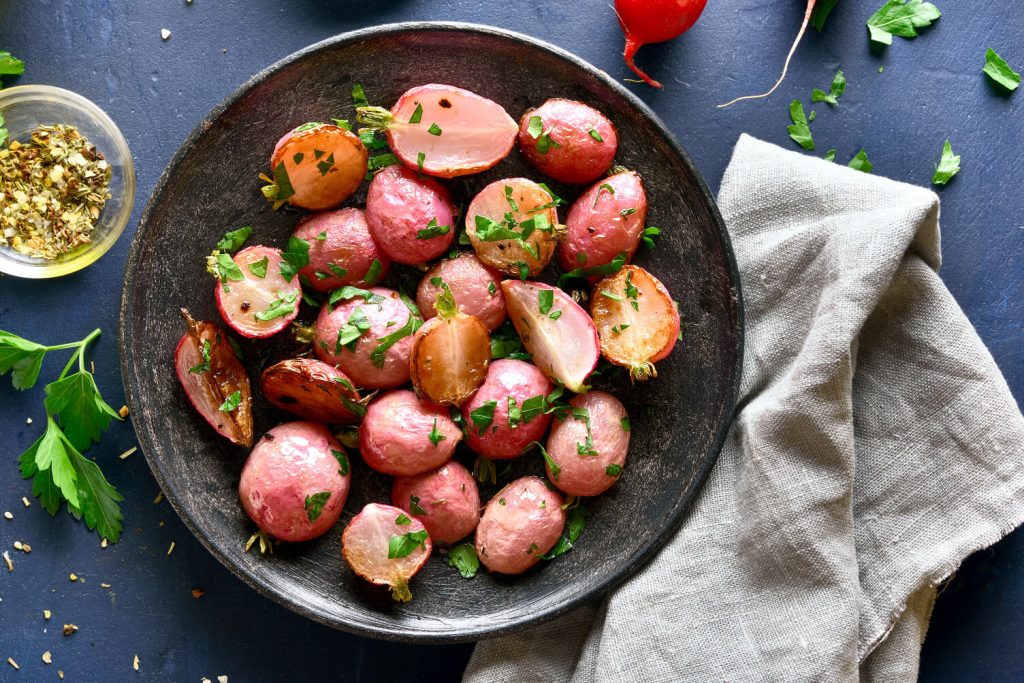 05 of 19
Roasted Radishes
You know radishes are in their crunchy state when you eat them raw or pickled. But radishes actually adopt the texture of a potato when they're cooked. They even share a similar taste. That said, if you want a healthier, low-carb replacement for your regular baked potatoes, this roasted radishes recipe is also a great option.

Try Recipe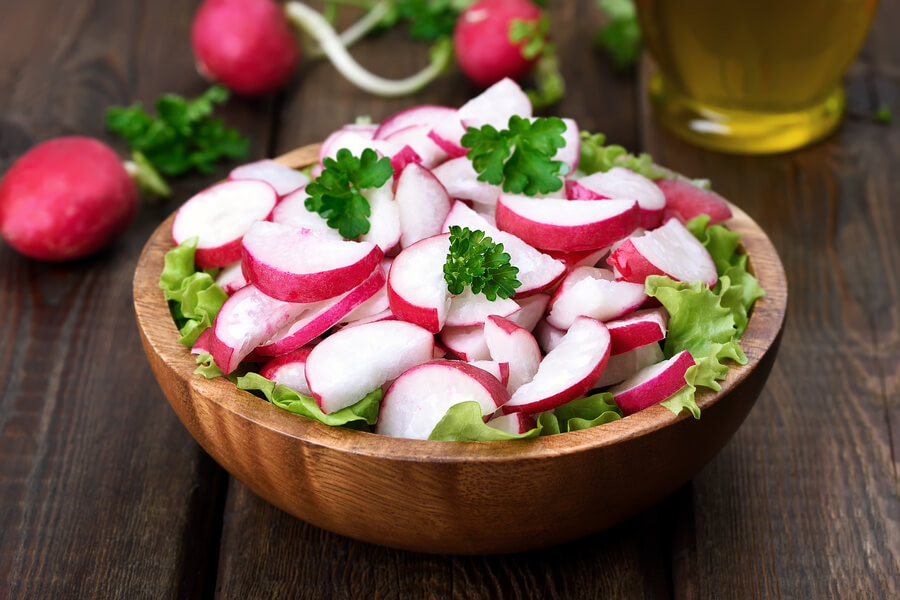 06 of 19
Radish Salad
Spring means an abundance of radish is coming. Besides roasting and pickling them, using up your stock fast by turning them into a fresh, crisp salad is one good way to prevent them from going bad! This recipe uses ingredients already in your pantry, so all you have to do is chop a few red onions, cilantro, and of course, radish and combine them in a bowl alongside apple cider, orange juice, and more. All in all, you'll be left with a bowl of salad packed with bright, fresh flavors of spring.

Try Recipe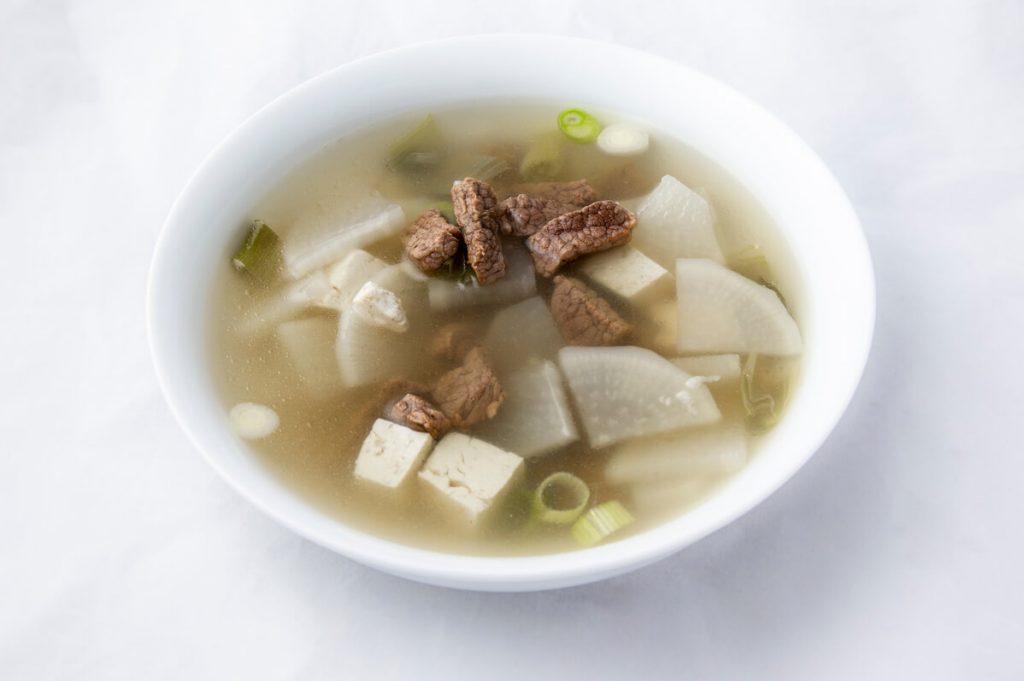 07 of 19
Radish Soup (Muguk)
Muguk is a staple in Korean homes as much as chicken noodle soup is in American homes. Just as the name suggests, this soup's main ingredient is radish. In particular, this soup uses Korean radish or mu. Mu has a very juicy taste with a slightly sweet and peppery flavor. Aside from mu, this recipe also has sauteed beef pieces seasoned with Korean soy sauce before submerging in a bowl of umami beef-based broth. With the light flavor of radish and the texture and umami flavor of the beef pieces, the soup highlights Asia's favorite flavor: umami.

Try Recipe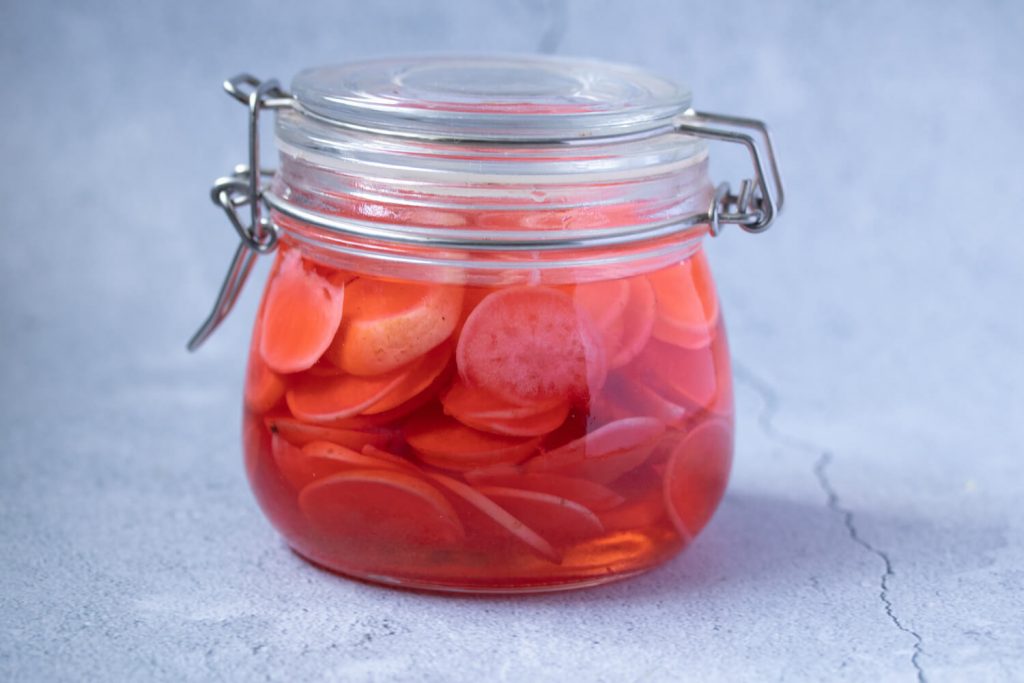 08 of 19
Quick Pickled Radish
Now that you know there are pickled radish recipes you can make in only a few hours, you're probably thinking if it's possible to make one with red radishes. You can and it cuts back on preparation time by a lot. This recipe needs only 10 minutes of preparation and 5 very accessible ingredients already in your pantry! A simple pickling mix made with rice vinegar, white sugar, and salt is good without cutting back on taste.

This quick and easy pickle recipe is great for filling tacos, burgers, and sandwiches because of its crunchy texture and sour, yet sweet flavor. Of course, it's a great partner for almost anything or as a palate cleanser for heavy savory dishes.

Try Recipe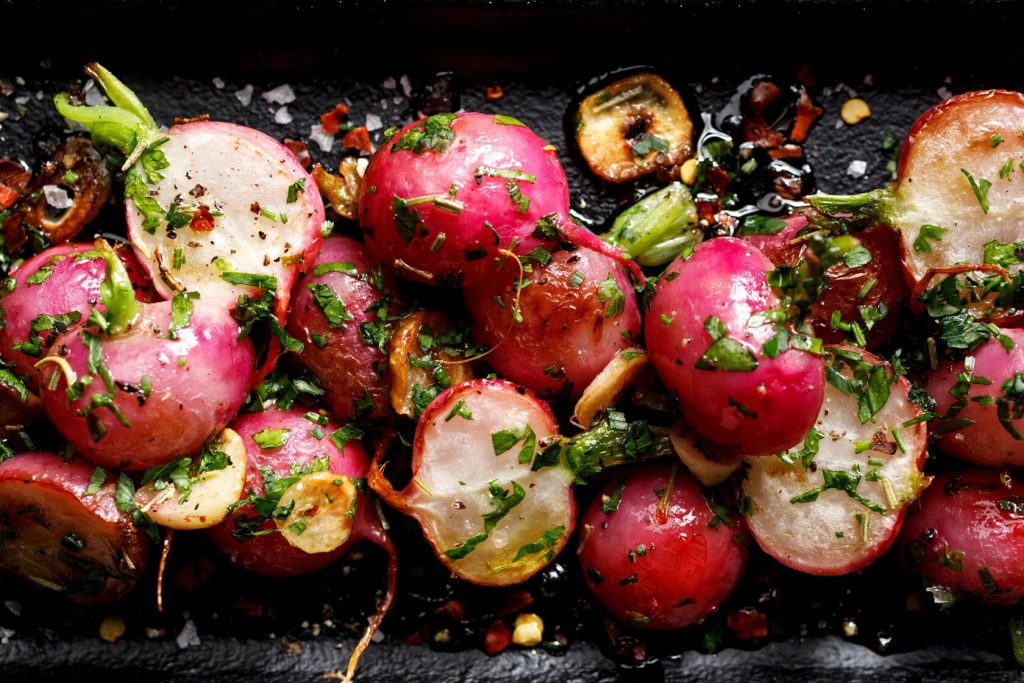 09 of 19
Grilled Radishes
We don't know about you, but there's just something about grilled food that makes them so tasty. Well, grilled radish recipes are probably last on your mind when you consider what to make with your huge stock. But grilling them gives them a smoky, crispy exterior as well as a soft interior that makes them almost similar to potatoes.

This recipe does not contain any aromatic herbs but you can personalize it to cater to your preferences (or your main dish). Here are a few ideas: add either thyme, rosemary, or basil to make the flavor more sophisticated, much like the well-loved baked potato you eat with roasted turkey or chicken!

Try Recipe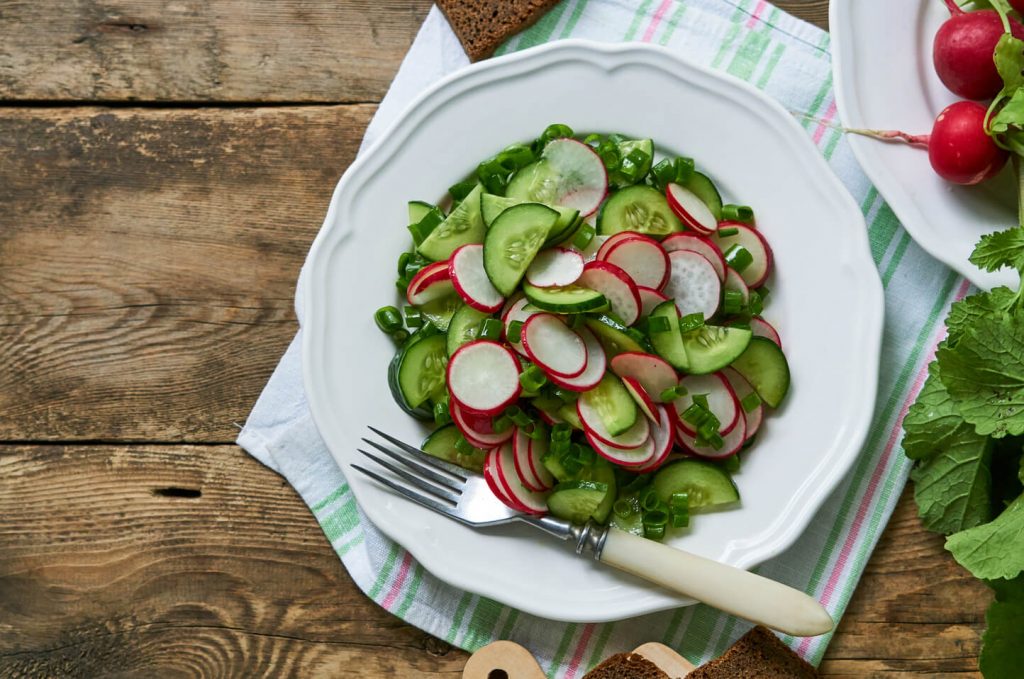 10 of 19
Cucumber Radish Salad
Out of all the radish recipes on this list, this cucumber radish salad screams summer above all. It features a refreshing flavor and the crunchy bite of cucumber plus the light and sweet flavor of radishes. The salad is then drenched in olive oil and brightened with the flavor of lemon juice and green onion. Together, they make a very refreshing salad perfect for cookouts!

Try Recipe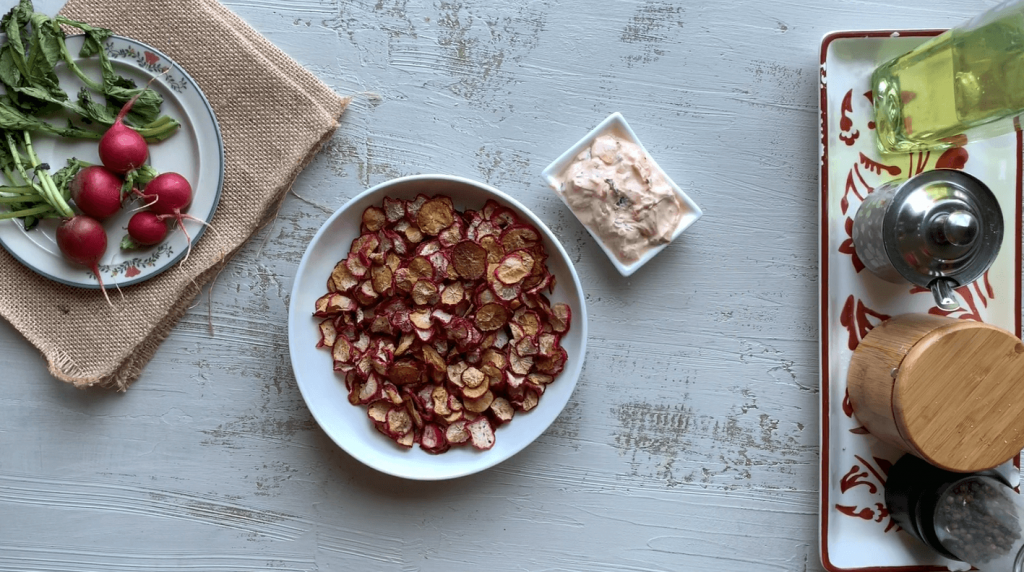 11 of 19
Radish Chips
When it comes to healthy chips, alternatives such as banana, carrot, turnip, and beetroot always come to mind first. However, there is a substitute that's even better to replace potatoes (aside from sweet potatoes, of course). We're thinking radishes. Their texture does not only replicate the potatoes once they are deep-fried, but the taste becomes milder and sweeter, much like the original chip. If you're on a keto diet, then this low-carb replacement will suit you perfectly!

Try Recipe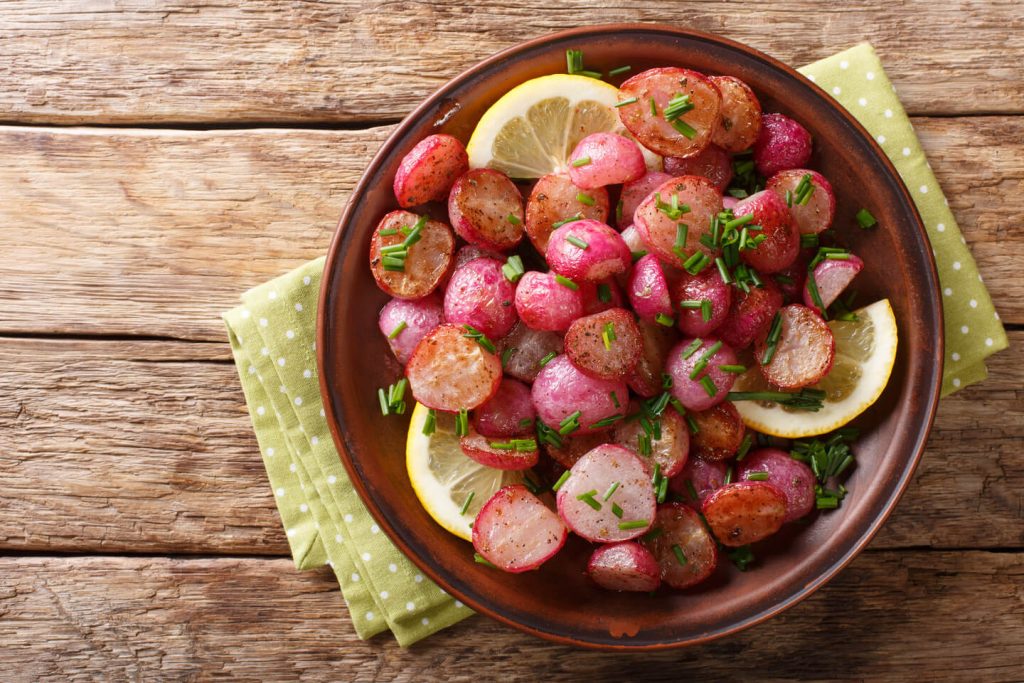 12 of 19
Sauteed Radishes
Don't have the time for complicated or time-consuming radish recipes? Then this quick and easy recipe can save you prep time. It only has two ingredients (four if you count salt and pepper)! You just need butter and radishes, and that's it.

Before you roll your eyes at this simple recipe, these sauteed radishes taste great. Think sauteed or roasted potatoes. The radishes are light and soft with a savory taste that comes from the butter, creating a dish that melts in your mouth. There are a lot of combinations that work great for this recipe, but we suggest pairing it with traditional potato combos such as roasted chicken or steak!

Try Recipe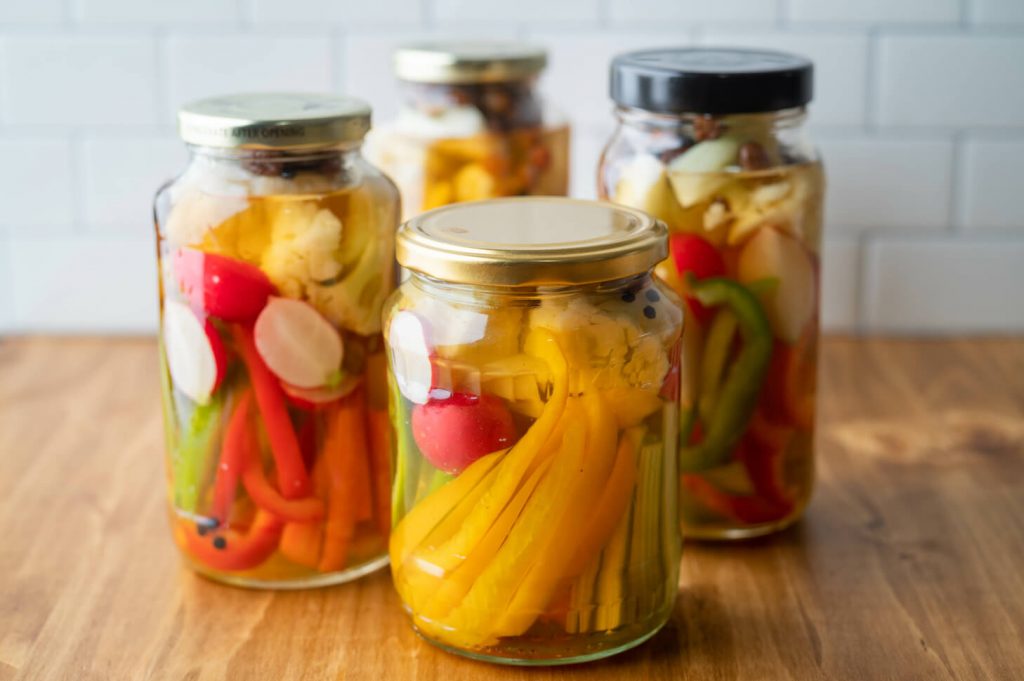 13 of 19
Asian Pickled Vegetables
These Asian pickled vegetables is the ingredient responsible for the tangy yet sweet flavor you love in steamed bao buns. Good thing you can recreate it at home using this quick and easy veggie side dish recipe. The recipe calls for julienned carrots, cucumbers, and daikon radishes submerged in a flavorful mixture of rice wine vinegar, sugar, and light soy sauce. Besides steamed tofu bao buns, this pickled veggie dish tastes amazing with lettuce wraps and sandwiches!

Try Recipe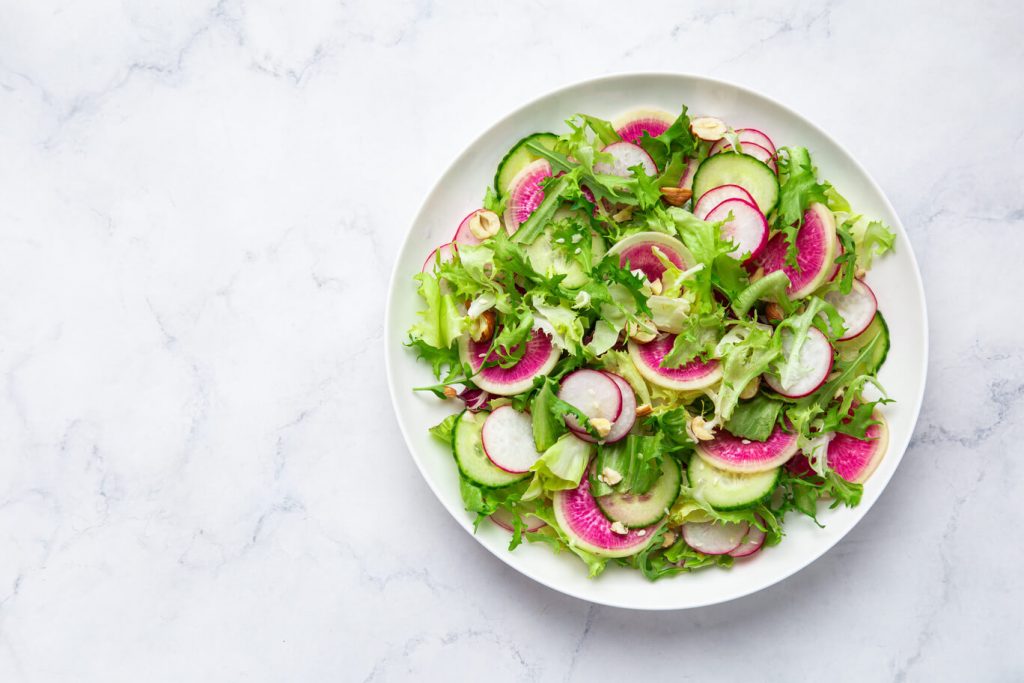 14 of 19
Watermelon Radish Salad
This simple salad highlights the slightly sweet yet peppery flavor of watermelon radishes. To balance the peppery taste, a smooth avocado dressing made of olive oil, lemon juice, vinegar, and chives gently coats the watermelon radish, creating a bright and refreshing salad you can serve for spring. For a delightful pairing, we recommend grilled salmon or perhaps a crusty bread for a filling and complete meal.

Try Recipe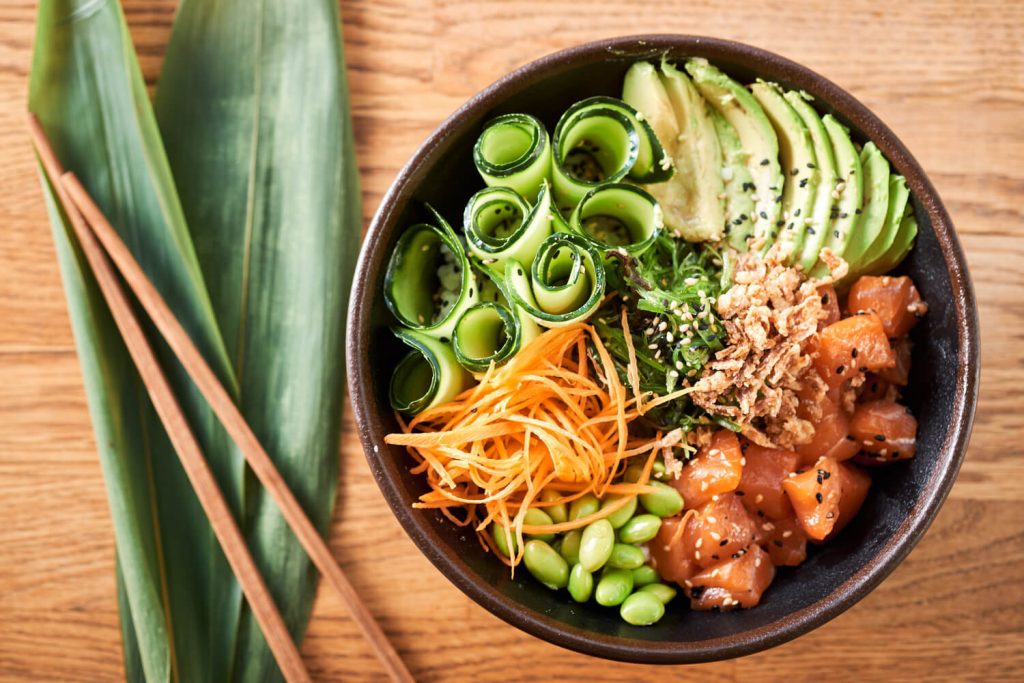 15 of 19
Salmon Avocado Poke Bowl
In Hawaii, a poke is a sort of rice bowl with assorted toppings such as thinly sliced (usually marinated) fresh seafood and vegetables such as cucumber and radish. In this recipe, you'll be featuring the buttery flavor of a sashimi-grade salmon seasoned with rice vinegar, soy sauce, and sesame oil. The salmon isn't fishy at all. In fact, it's buttery, firm, and almost sweet. Finish the bowl with a sprinkling of furikake and red pepper flakes for an extra kick!

Try Recipe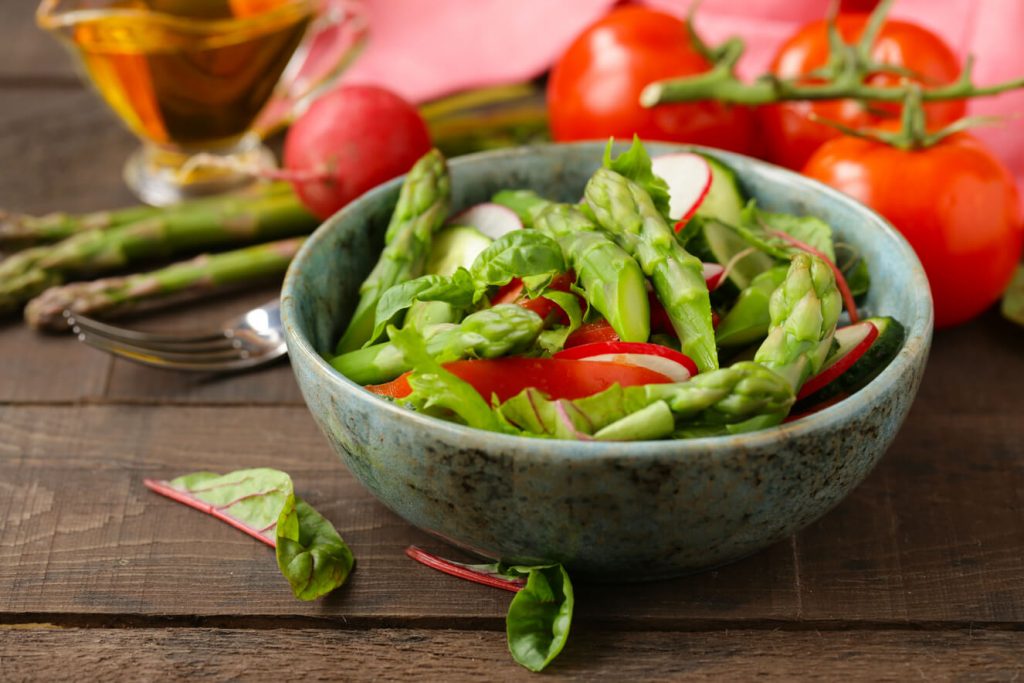 16 of 19
Asparagus Salad with Lemon Vinaigrette
Tired of the usual leafy salad without an ounce of crunch on them? You came to the right place! This dish features the crisp texture of asparagus and radish thrown in a zesty and bright lemon vinaigrette. Crumbled feta cheese also decorates the whole plate, resulting in a refreshingly bright salad.

From the soft and leafy spinach to the crunchy asparagus and radish along with the juicy tomatoes, this salad is a myriad of textures and flavors that go so well together.

Try Recipe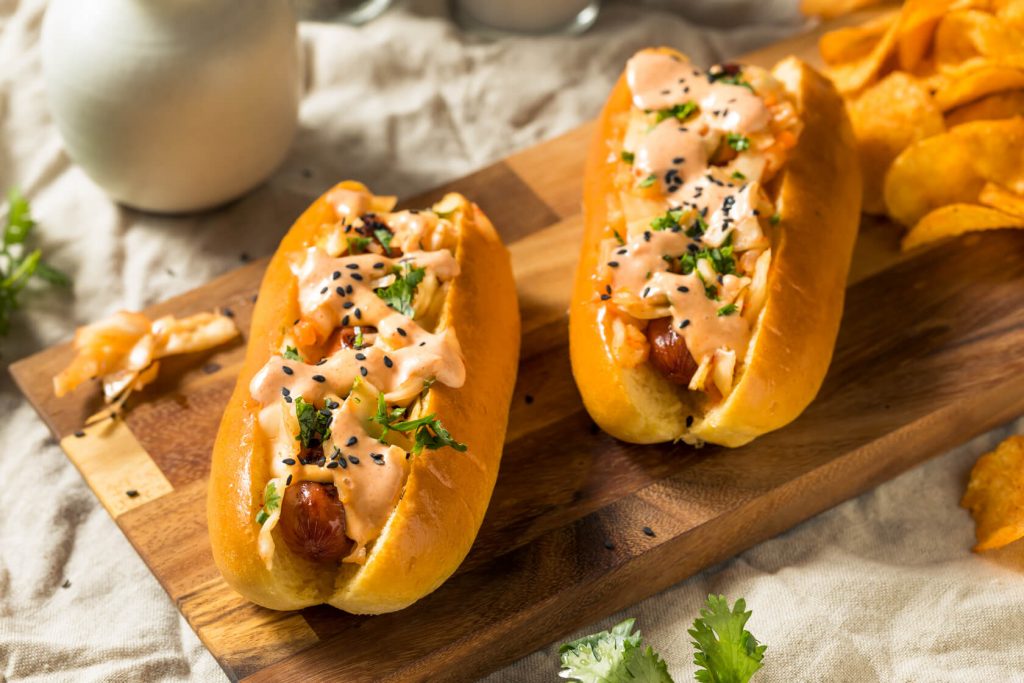 17 of 19
Kimchi Hot Dog
Korean cuisine is slowly, but steadily, rising on the global food scene. Kimchi is only one of the Korean dishes that have grown massive popularity all over the world. Today you can see kimchi in fried rice, in sandwiches, and hot dogs! Take this recipe for example. The base is simply hot dogs and buns topped with kimchi slaw and gochujang sauce. Overall, the savory and salty flavor of the hot dogs is balanced out by the spicy and tangy flavor of the slaw. It may be at the bottom of our list of radish recipes but we recommend you try this fusion dish.

Try Recipe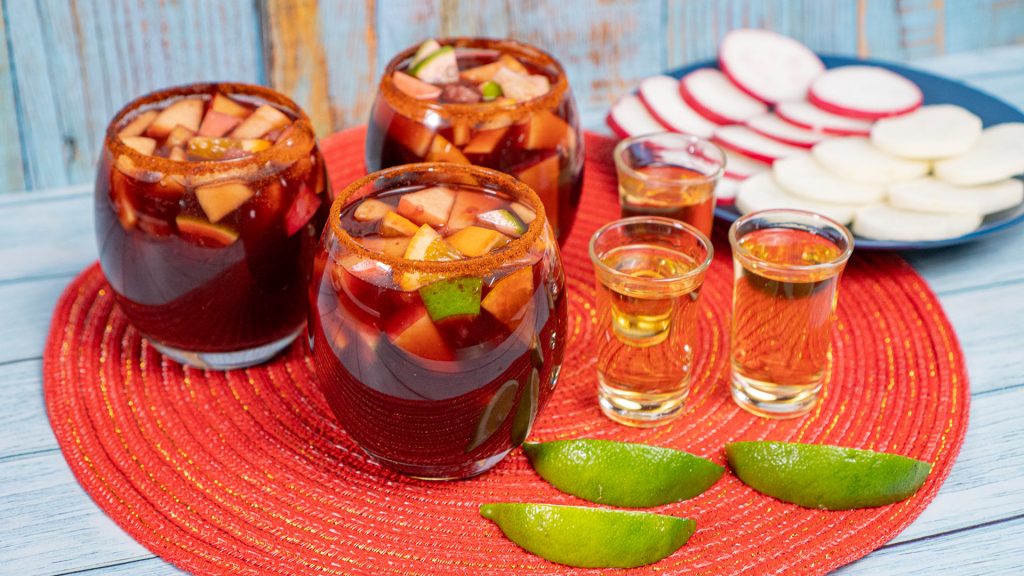 18 of 19
Tequila with Sangria
Lemon, lime, and orange wedges are not the only garnishes you can put to your cocktail. In Mexico, tequila with sangria is often served with a few sweet radishes and jicama slices to munch on while you take on the strong kick of tequila.

Try Recipe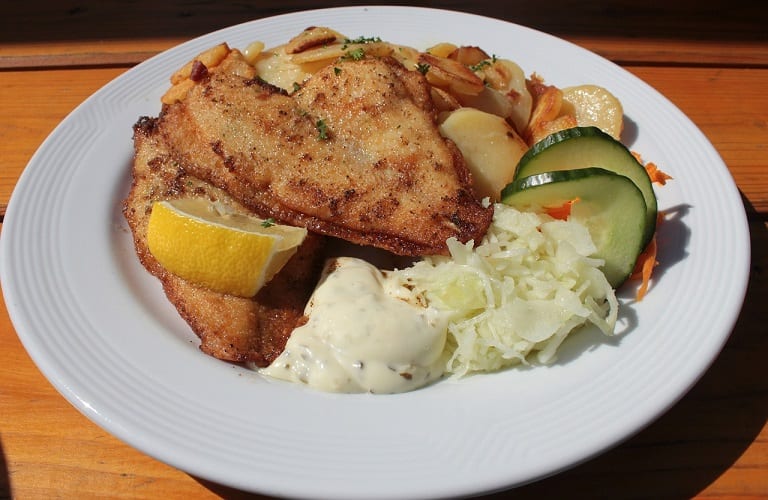 19 of 19
Tilapia with Cucumber Radish Relish
Last on our list of radish recipes is this quick and easy tilapia recipe. Judging from how it looks, you'd think it would take at least an hour to make. But, it really just needs five minutes of preparation time and another 12 minutes to cook the tilapia. The relish made of cucumber and radishes submerged in tarragon vinegar and sugar cuts the fishy taste of the tilapia. If you're not too fond of this fish, you can swap it with swai fish or salmon instead!

Try Recipe