13 Best Gooseneck Kettles For Your Coffee Upgrade This 2022
A gooseneck kettle is the best tea kettle and coffee boiler for making a cup of joe using the ol' reliable pour-over method. It has a distinctly elongated and curved spout, hence the name. This isn't only for decorative purposes, though. As a matter of fact, this shape actually promotes a better and more consistent flow rate compared to the usual types, giving you more control over making the drink that your heart desires!
So, you'll definitely benefit from this article if you're particular about perfecting your daily coffee brewing or tea ritual. So, continue reading to find out our top gooseneck kettle selections for this year. We've also broken down some factors to consider when deciding the right one for you and answered some of the most frequently asked questions regarding this handy piece of kitchen equipment.
The Best Gooseneck Kettle Options At A Glance
13 Best Gooseneck Kettle Options This 2022
There are lots of gooseneck kettles available in the market today. To narrow down your options, we've curated this list to feature 13 products that are deserving of a spot. We carefully selected each one based on key considerations such as brand reputation, product specs, and overall customer reviews. Feel free to browse our selection below.
What to Look For in the Best Gooseneck Kettle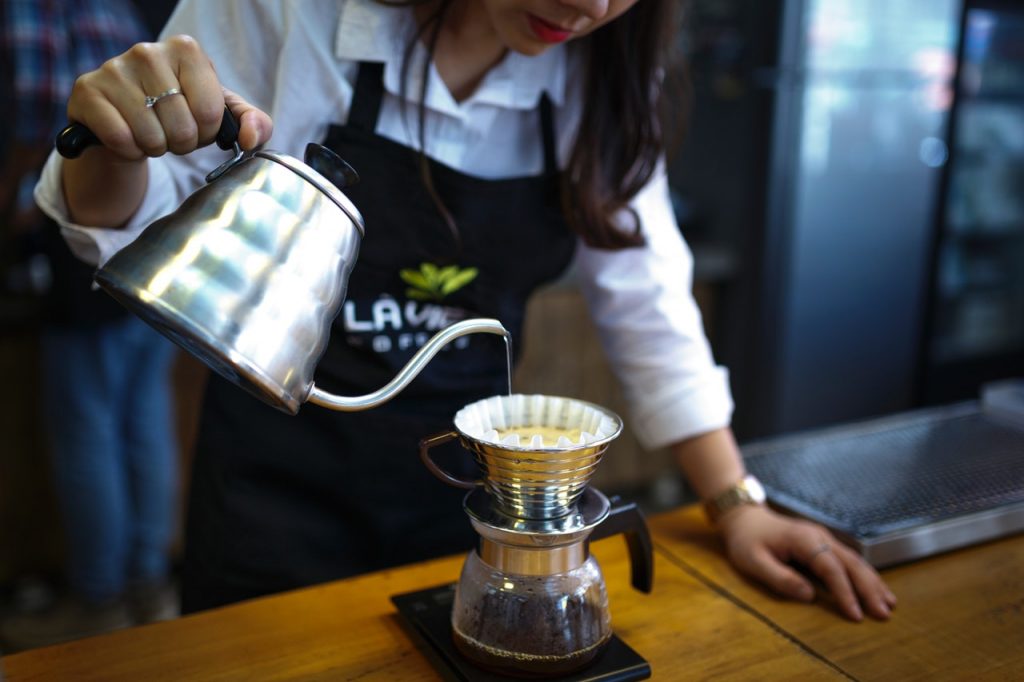 Considering the large amount of stovetop and electric kettles for sale both in physical stores and online, it's understandable that choosing the right one can be quite challenging. Here are a few factors that you can consider upon choosing the right gooseneck kettle for your kitchen:
Stovetop vs Electric
There are two types of gooseneck kettles: stovetop and electric. A stovetop kettle is a more inexpensive choice, although monitoring its temperature can be tough. The best stovetop kettle to get is one with an accompanying temperature gauge. Meanwhile, an electrical kettle is best for precise temperature controls, although they do fall on the pricier side. Typically, a cheap electric kettle is still more expensive than most stovetop versions.
READ ALSO: Coffee Maker With Grinder: 12 of the Best For Coffeeholics
Material
At the very least, your gooseneck kettle should be made using food-grade materials. Stainless steel brewing kettles are a good option for this. That's because a metal kettle likely won't contain harmful chemicals like BPA, which is found in some plastics. Although some may also come with wood or BPA-free plastic parts for a cool-touch surface.
For a more traditional feel, go for metal models. These kettles are produced either with a bare stainless steel body, or finished with a matte or glossy coating (like copper). If you lean towards something more decorative, you can check out designer kettles, too. Aside from the differences in core materials and finish, goosenecks also come in all kinds of shapes and forms. So, the choice ultimately boils down to your personal preference.
Capacity
Generally speaking, a portable kettle with a capacity of around 0.8 liters is good for personal use, travel, and tight spaces. If you have more counter space to spare, a one-liter model is a standard. For large servings, you can opt for one with a capacity of anywhere between 1.2 to 1.7 liters. 
Flow Rate
The best hot water kettle should have just the right flow rate. It's also ideal if the water flow is consistent. This will give you better control over the water so that you don't pour coffee too fast or too slow.
Special Features
You may want to check out some special features that a gooseneck kettle model may offer. Stovetop kettles may have a temperature gauge and electric kettles may have additional functionalities that can improve your daily coffee routine. You can opt for some of the fastest electric kettles on the market that offer a fast-boiling capability. Variable temperature kettles let you customize the settings so you achieve the perfect temperature for your beverage.
READ ALSO: 10 Must-Have Coffee Percolators for Coffee Lovers This 2022
Ease of Cleaning
A hot kettle may be the last thing you want to clean up. Luckily, there are dishwasher-safe options available in the market. Others may also come with a scrub for reaching the nooks and crannies of the gooseneck's elongated spout.
Frequently Asked Questions
Why should I invest in a gooseneck kettle?
A gooseneck kettle's special design helps elevate your pour-over kettle coffee or tea. While other types of kettles may be able to boil water just as well, the gooseneck gives you unparalleled control over the flow rate of liquid that goes into your cup. It's definitely the best brewing kettle that you can get for yourself.
Do gooseneck kettles whistle?
Some models may make noise, but they generally don't whistle. Although you can get one with an alarm that goes off when you reach your desired temperature if you want some sort of signaling system.
Can you use a gooseneck kettle for tea?
Yes, although a gooseneck is well known as a stovetop or electric pour-over kettle, you can definitely use it for both tea and coffee. On the whole, a standard green tea is best brewed at around 180 degrees F which a gooseneck can absolutely handle.