Advertisement
Continue Reading Below
Beer is one of the most classic alcoholic drinks you can find at a bar. There's just something about that malty aftertaste and strong buzz that adults enjoy. If you're one of many true beer lovers, why not try making your own beer at home? Home brewing kits come with all the equipment and ingredients you need to make good beer. Home brewing is generally cheaper than buying bottles upon bottles of beer. Plus, you can even customize the flavors to your liking!
We have a wide range of home brewing kits, with a little bit of everything for everyone. There are kits for beginners, cheap kits, and even kits that use high-tech equipment. Whatever way you choose to make your drink, we have a beer kit that will work for it!
Some of the biggest benefits to making homemade beer is that you can make them in batches. Most of our kits cover for up to 6 gallons of beer, which can serve a whole crowd at a party! Another great plus to making home brewed beer is that you can adjust the flavors. That, in particular, works amazingly if you love adding beer to your food. Just check out one of our cooking with beer recipes like this Grilled Beer Chicken for a tasteful experience.
If you're still unsure how it could all possibly work, worry not! We've got a few tips and tricks up our sleeve on how to make beer that can help you to start with the basics.
How To Brew Your Own Beer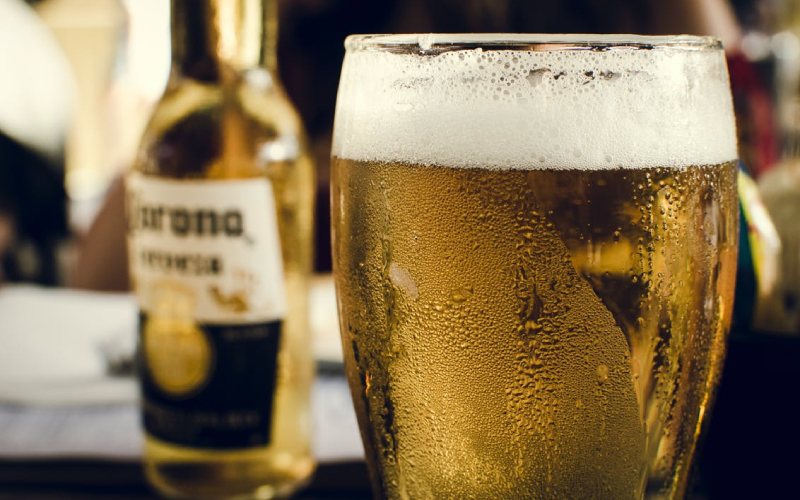 If there's anyone that loves beer more, it's the great people of Michigan. They have more than a dozen breweries and even have their own brewers guild. Each Michigan beer is different from any other, as the state produces unique beer flavors. What's more, their citizens, especially from Lansing, are true home brewers. Their method of home brewing has inspired the making of several home brewing kits today.
Now each home brewing kit comes with very basic ingredients. The most common have specialty grains, malt extract, hops, and yeast. Each ingredient will vary depending on the kit, but these are the basics you'll be looking out for.
Sanitizing your equipment is a vital instruction in any home brewing kit. Home brewing is a very delicate process, and any bacteria could ruin the chances of a good beer. But after that, you begin boiling water to steep the specialty grains in a muslin bag. Once the water reaches a roiling boil, you toss in the malt extract and hops. And when that's all combined, the unfermented beer or wort is poured into a fermenter bottle. The beer is then fermented in a room temperature environment for about 2 weeks. Afterward, you can start siphoning them into a beer bottle.
It sounds pretty easy to make, right? Now that you know the principles of how home brewing works, let's dive right into the right kit for you!
Best Beginner Beer Brewing Kit
Mr. Beer: Craft Beer Kit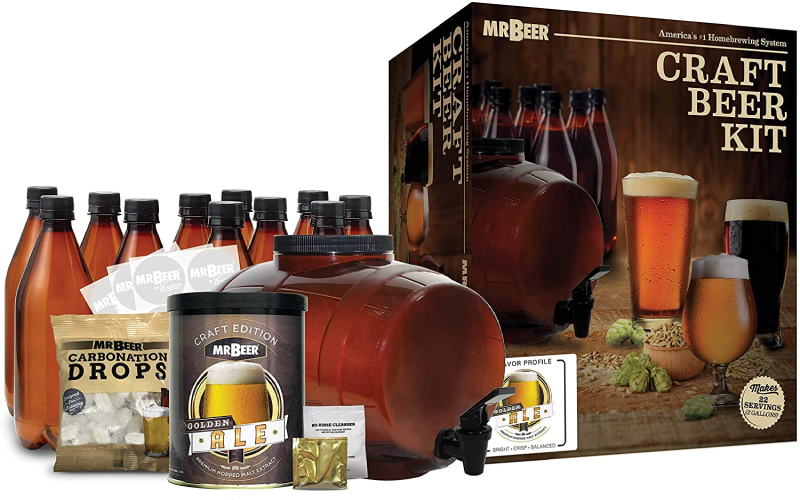 Price: $68.54

If you're looking for the easiest way to start off your home brewing experience, Mr. Beer has the kit for you. The Mr. Beer Premium Gold Edition 2 Gallon Homebrewing Craft Beer Making Kit is effortless to use. It comes with a two-gallon fermenter, shatter-proof bottles and more. This kit also provides you with all-natural malted barley and hops for the best quality beer. You don't need to worry about any complicated processes with its step-by-step directions on how to make beer. This is a great gift to give to your beer loving friends or to help you on the path to making the best beer at home!
Get your own Mr. Beer Complete Beer Making 2 Gallon Starter Kit on Amazon.
Best For Advanced Brewers
Northern Brewer – Essential Brew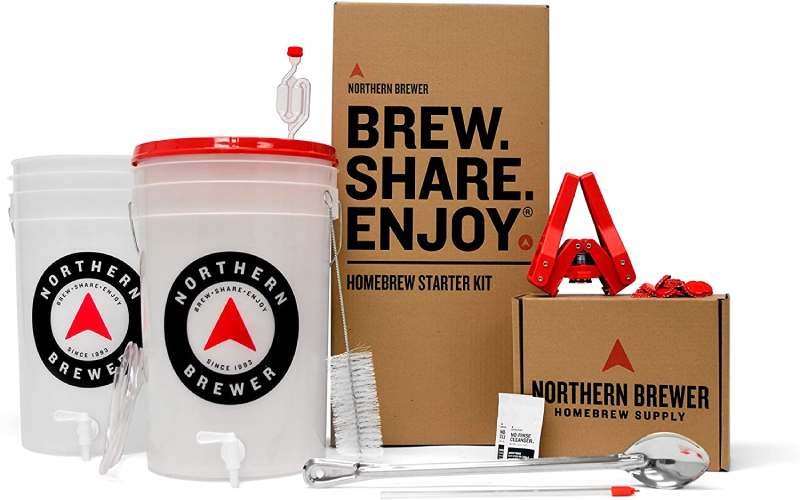 Price: $89.99
The Northern Brewer beer making kit will help you understand the science behind beer making. And this is a fun kit where you can start adding your own flare into making beer. Each home brewing kit includes a 5-gallon kettle, a wort chiller, a plastic fermenter, an 8-gallon mega pot, and more. It also comes with quality ingredients to make the best flavored beer. This kit produces a Block Party Amber Ale that gives off a toasty, caramel-like flavor. Go ahead and impress your guests with your beer making skills using the Northern Brewer today.
Purchase the Northern Brewer – Essential Brew HomeBrewing Starter Set on Amazon.
Advertisement
Continue Reading Below
Best All-Grain Beer Home Brew Kit
Brooklyn Brew Shop Beer Making Kit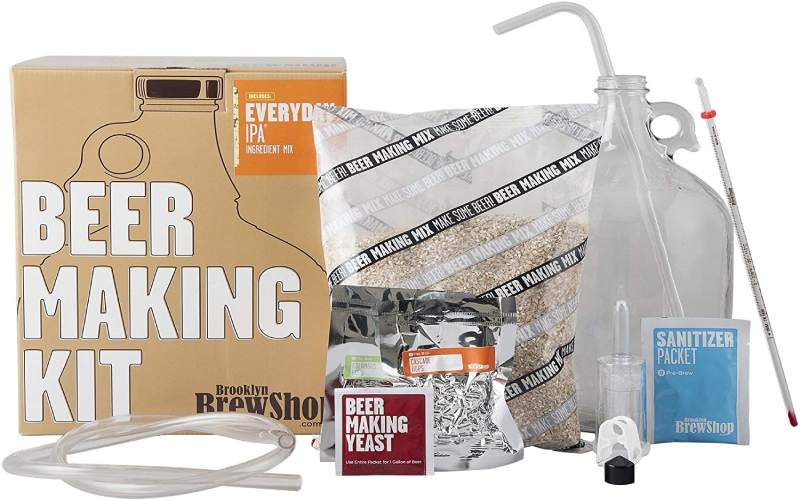 Price: $47.95
The Brooklyn Brew Shop's Beer Making Kits come with a six-step process. It's incredibly versatile, allowing you to brew a ton of different beer styles. They will help you produce a delicious batch of all-grain beer for a proper beer experience. Each kit includes a classic beer mix, a 1-gallon reusable glass fermenter, a spirit-filled thermometer, vinyl tubing, and more. You can even choose your beer flavors, the most common being the Everyday IPA. Two other classic favorites are the Afternoon Wheat and the Bruxelles Blonde. Make these easy on your stovetop, and invite a couple of friends to help make delicious, all-grain beer.
Buy the Brooklyn Brew Shop Blonde Beer Beer Making Kit on Amazon.
Best Bang for the Buck
Muntons Craft Beer in a Bag Beer Making Kit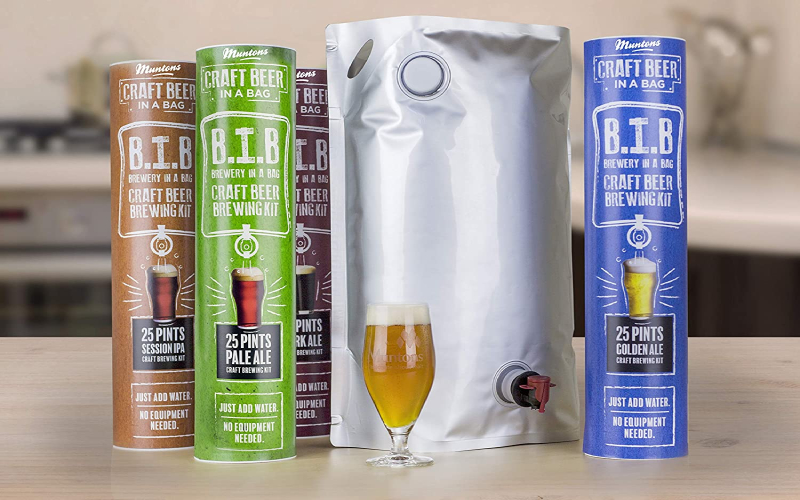 Price: $29.99
If you're not into using too much brewing equipment to get a proper craft beer, then consider the Muntons Craft Beer in a Bag kit. It makes about 25 pints of beers, with an array of flavor profiles to choose from. This kit comes equipped with a brewing bag, caps, hopped malt extract, and dried yeast. Not exactly the most creative means to make beer, but it's effortless and all made in one bag. Your friends won't even be able to tell the difference because the beer it makes is just that tasty!
Get this cheap Muntons Craft Beer in a Bag kit on Amazon.
Best Effortless Home Brewing Kit
PicoBrew Pico C Beer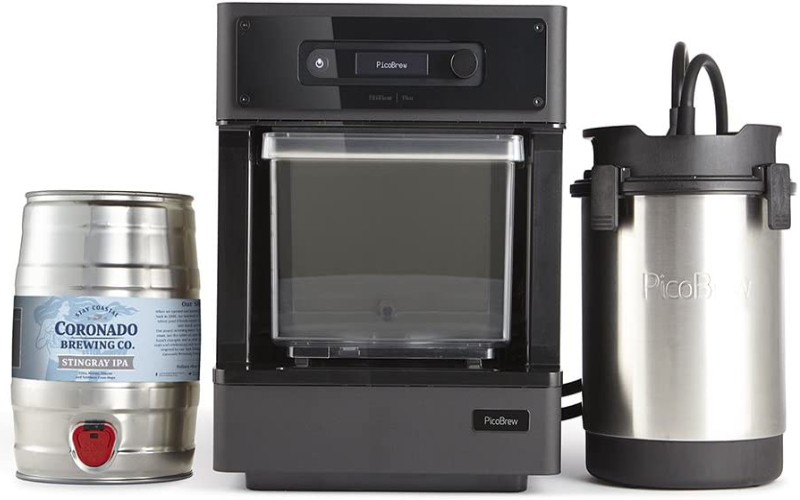 Price: $235.99
Home brewing has evolved over many years. So it's no surprise that high-tech home brewers like the PicoBrew Pico Model C have entered the fray. It's a kit worth investing in, thanks to the many craft beer recipes you can make in it. The Pico Model C brews 5 liters of beer and has pre-packaged grains, hops, and yeast with exact ratios. And the best part about this machine? It lets you do the brewing for you. So you can skip all the many pieces of equipment and switch it up for an easy kit like this. Simple, sophisticated, and worth investing in for true beer aficionados.
Buy this no-fuss PicoBrew Pico Model C on Amazon.
Advertisement
Continue Reading Below
Best for Fermenting
BrewDemon Craft Beer Brewing Kit Pro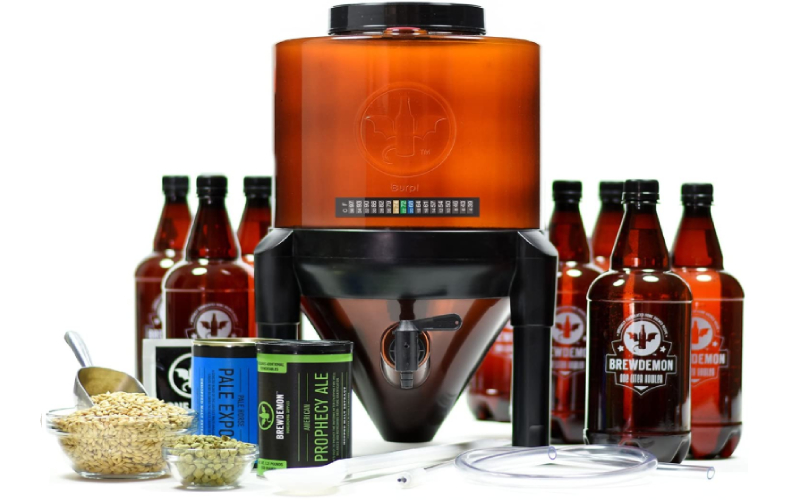 Price: $99.00
The BrewDemon Craft Beer Brewing Kit uses a conical fermenter. This is the type of fermenter that is typically used in larger breweries. So if you want to learn how to make beer authentically, this kit has everything for you! Using a conical fermenter will produce clearer beer and eliminate all the nasty byproducts. This kit makes two gallons of beer, perfect for your guests in a small gathering. It's equipped with a temperature gauge, venting plug, 12 bottles, a bottle filler, and more. They also contain a recipe that's handcrafted in New Zealand for the best flavorful beer.
Get the BrewDemon Craft Beer Brewing Kit on Amazon.
Best High-tech Home Brewing Kit
BeerDroid Fully Automated Beer Brewing System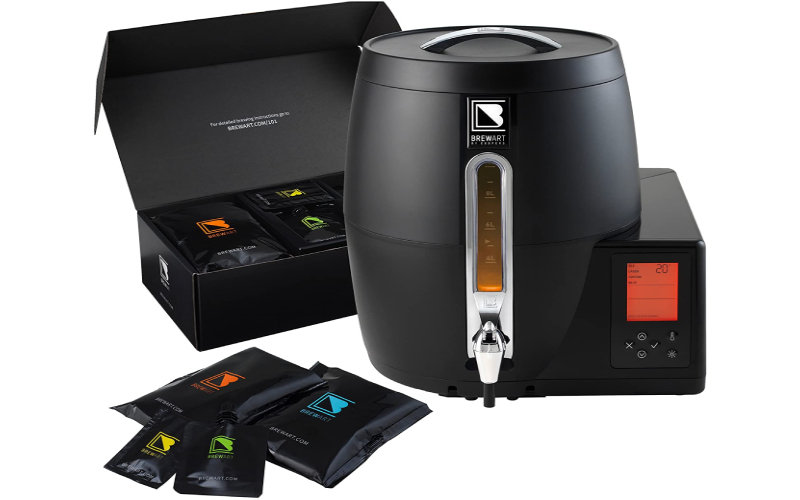 Price: $449.28
Now here's how to brew beer in the easiest way possible. For the best modern features, go for the BeerDroid Full Automated Beer Brewing System. It's amazingly the first fully automated personal brewer. This kit is WiFi-enabled, temperature-controlled, and has preset brewing programs. The machine also automatically detects when a batch is ready for kegging. You no longer need to worry about over or under fermenting your beer with this home brewing kit! The BeerDroid makes about 2.6 gallons of quality beer with a push of a button. You can also enjoy making beer with their all-natural and free from preservatives ingredients. This new high technology will be the star of your beer-making adventures.
Purchase this advanced BeerDroid Full Automated Beer Brewing System on Amazon.
Best Kid-Friendly Home Brew Kit
Mr. Root Beer Home Brewing Root Beer Kit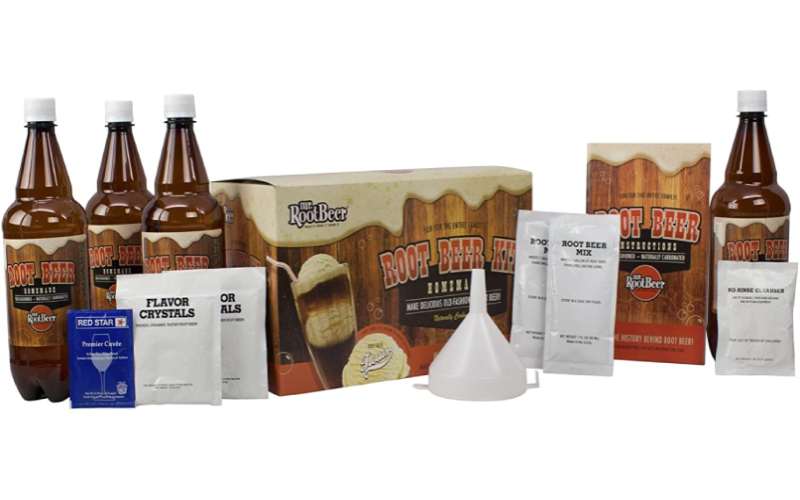 Price: $29.24
We know that alcoholic beer is not exactly the most kid-friendly drink out there. So if you're looking to take a step back and have your kids enjoy something sweet, the Mr. Root Beer Kit is here to help. This kit brews 2 gallons of creamy, old-fashioned root beer. It's equipped with 4 1-liter bottles with caps and a funnel. For flavors, you get root-beer extract, flavor crystals, and a package of root-beer yeast. Have fun making these with the kids with its easy to follow instructions!
Buy this simple Mr. Root Beer Kit on Amazon.
Advertisement
Continue Reading Below
Best for Small Batch
Simply Beer – Small Batch Beer Making Starter Kit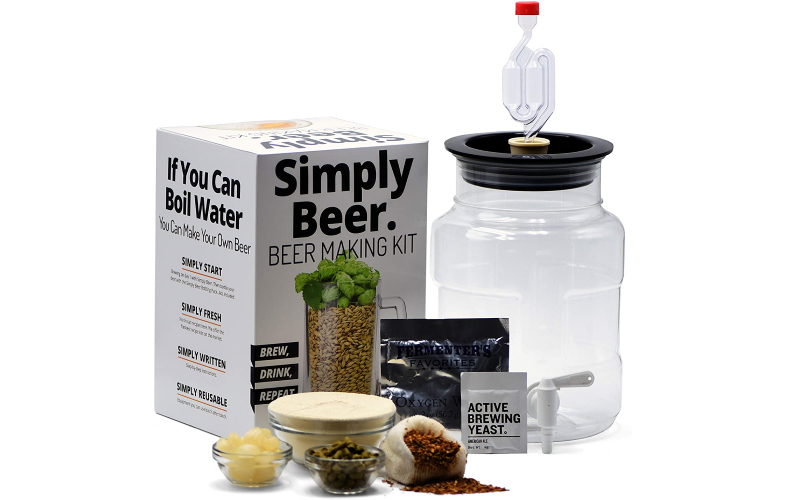 Price: $39.99
For some easy home brewing equipment that makes a smaller batch, try the Simply Beer Beer Making Starter Kit. It includes a siphonless fermenter, a lid, airlock, and a recipe kit of ingredients. Each home brew kit comes with the usual dry malt extract, steeping grains, premium hops, and brewer's yeast. This makes about a healthy 1 gallon of Cascade Pass Pale Ale. It's straightforward with its instructions on how to brew beer for a fuss-free brewing experience.
Purchase your own Simply Beer Beer Making Starter Kit on Amazon.
Best Classic Home Brewing Kit
Coopers DIY Home Brewing Kit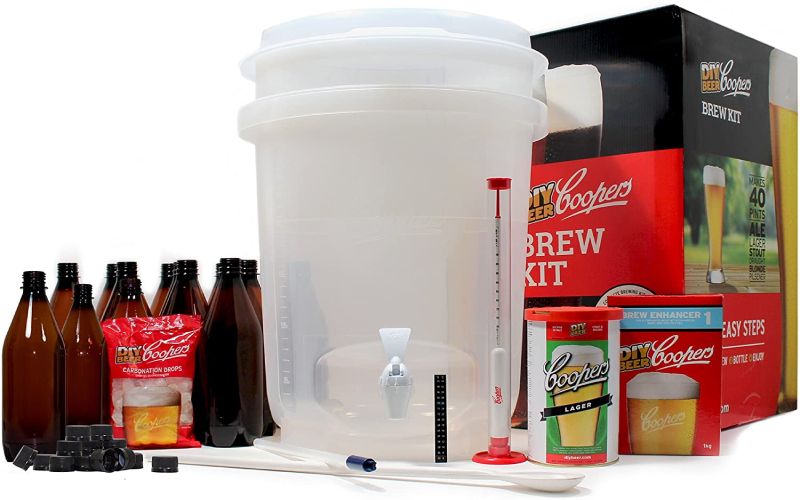 Price: $133.01
Last but certainly not least, let's go back to basics with the Coopers DIY Home Brewing Kit. This is the only beer kit designed by a brewery. Coopers Brewery has been making beer for more than 150 years and is a big exporter of home brew kits. Their brewing kit comes with a conical fermenter as used in many breweries. Apart from the fermenter, the kit also equips you with a hydrometer, bottling valve, reusable bottles, and more. This delightful Australian brewery has been perfecting beer for years. Their kit contains quality ingredients that are just like you'd get from a Coopers beer. Use this home brewing today to get 6 gallons worth of delicious, world-class flavor.
Get this Coopers DIY Home Brewing Kit on Amazon.
Advertisement
Continue Reading Below
Advertisement
Continue Reading Below