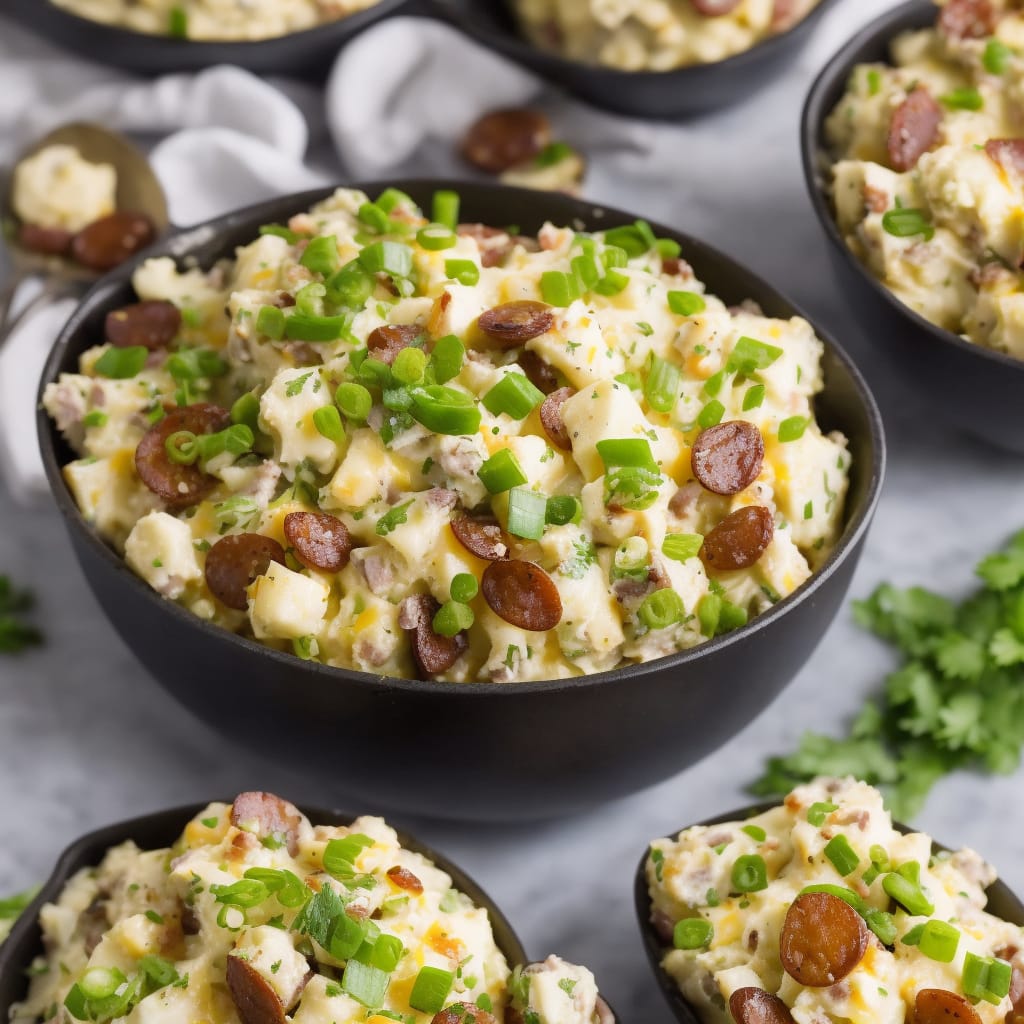 All-American Loaded Baked Potato Salad Recipe
How To Make All-American Loaded Baked Potato Salad Recipe
Salads are great for integrating your daily dose of healthy greens into your meals. Check out these salad recipes to throw together a salad that's not only healthy, but also delicious as well!
Ingredients
4 large russet potatoes
1/2 cup mayonnaise
1/4 cup sour cream
1/4 cup diced red onion
1/4 cup diced dill pickles
1/4 cup cooked and crumbled bacon
1/4 cup shredded cheddar cheese
2 tablespoons chopped fresh parsley
Salt and pepper to taste
Instructions
Preheat the oven to 400°F (200°C).

Wash and scrub the potatoes, then pierce them several times with a fork.

Place the potatoes directly on the oven rack and bake for 40-45 minutes, or until they are fork tender.

Remove the potatoes from the oven and let them cool slightly.

Once the potatoes are cool enough to handle, cut them into bite-sized cubes and place them in a large bowl.

In a separate bowl, mix together the mayonnaise, sour cream, diced red onion, diced pickles, crumbled bacon, shredded cheddar cheese, chopped parsley, salt, and pepper.

Pour the dressing mixture over the potatoes and gently toss until all of the potatoes are evenly coated.

Cover the bowl and refrigerate for at least 1 hour, allowing the flavors to meld together.

Before serving, give the potato salad a final stir and adjust the seasoning if needed.

Serve chilled and enjoy!
Nutrition
Calories :

412kcal

Total Fat :

22g

Saturated Fat :

6g

Cholesterol :

25mg

Sodium :

387mg

Total Carbohydrates :

48g

Dietary Fiber :

4g

Sugar :

2g

Protein :

7g