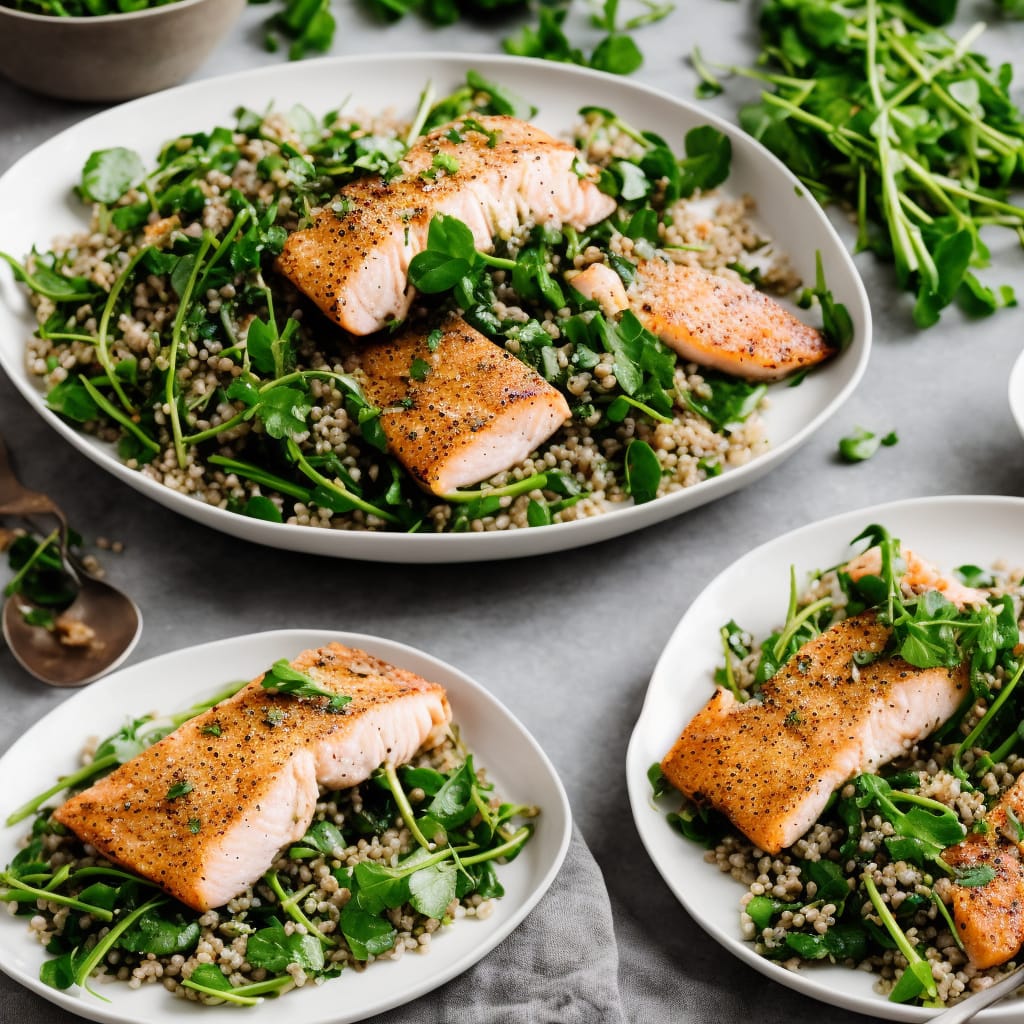 Sea Trout & Buckwheat Salad with Watercress & Asparagus Recipe
How To Make Sea Trout & Buckwheat Salad with Watercress & Asparagus
Cooking fish can be very tricky, especially if some are too delicate to be cooked. Well, with our fish recipes, it'll be easy as 1-2-3. We've got the details on different cooking methods for the perfect fish dish.
Ingredients
4 sea trout fillets
Salt and pepper, to taste
1 cup buckwheat
2 cups water
1 bunch asparagus, trimmed
4 cups watercress
2 tablespoons olive oil
2 tablespoons lemon juice
1 tablespoon Dijon mustard
1 tablespoon honey
1/4 cup sliced almonds
Instructions
Season the sea trout fillets with salt and pepper.

In a medium saucepan, bring 2 cups of water to a boil. Add the buckwheat, reduce heat, cover, and simmer for 10 minutes or until tender. Drain any excess water.

Meanwhile, heat a drizzle of olive oil in a skillet over medium-high heat. Add the asparagus and cook for 5 minutes or until tender-crisp. Remove from the skillet and set aside.

In the same skillet, add another drizzle of olive oil and cook the sea trout fillets for 2-3 minutes per side or until cooked through.

In a large serving bowl, combine the cooked buckwheat, watercress, cooked asparagus, and sliced almonds.

In a small bowl, whisk together the olive oil, lemon juice, Dijon mustard, and honey. Season with salt and pepper.

Drizzle the dressing over the salad and toss to combine.

Serve the sea trout fillets on top of the salad.

Enjoy!
Nutrition
Calories :

320kcal

Total Fat :

15g

Saturated Fat :

2g

Cholesterol :

68mg

Sodium :

190mg

Total Carbohydrates :

24g

Fiber :

5g

Sugar :

4g

Protein :

23g